We just spent a day and a night at Legoland Florida, and had the most fabulous time. It is hard to believe that Legoland Florida is celebrating 10 years and we had never been! In fact, we used to rent our garage apartment to a stunt artist who opened the park in 2012!
Our kids grew up in the Orlando theme parks and they were blown away by Legoland. In fact, I think we were all surprised at just how cool the park is, and we didn't even have time to test the Legoland Water Park, which we've heard is amazing!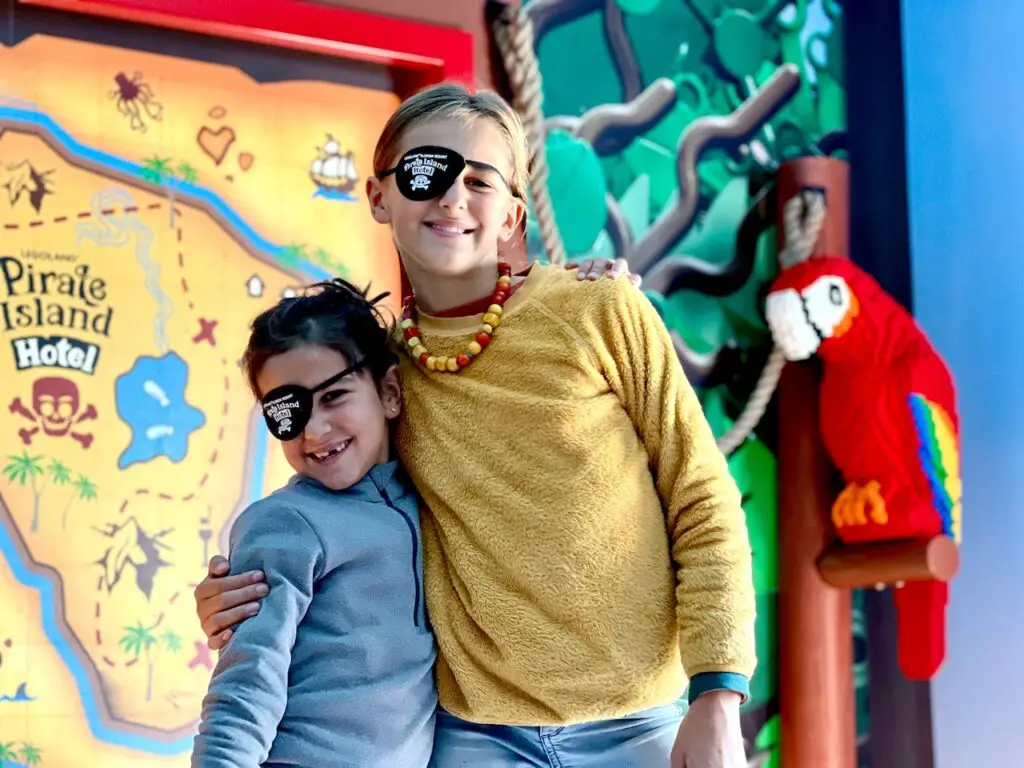 Let's move on to our 10 tips for visiting Legoland Florida with kids, and make sure to read our answers to 5 of your most commonly-asked questions!
Tip 1: Book A Themed-Room
Legoland Florida has three hotels. We stayed at the Pirate Island Hotel, which is gorgeous and more immersive than any other theme park hotel we have ever stayed at. The pirate-themed rooms are very impressive and include a fun in-room treasure hunt with gifts, a Lego-building station in the kids area, and beautiful decor.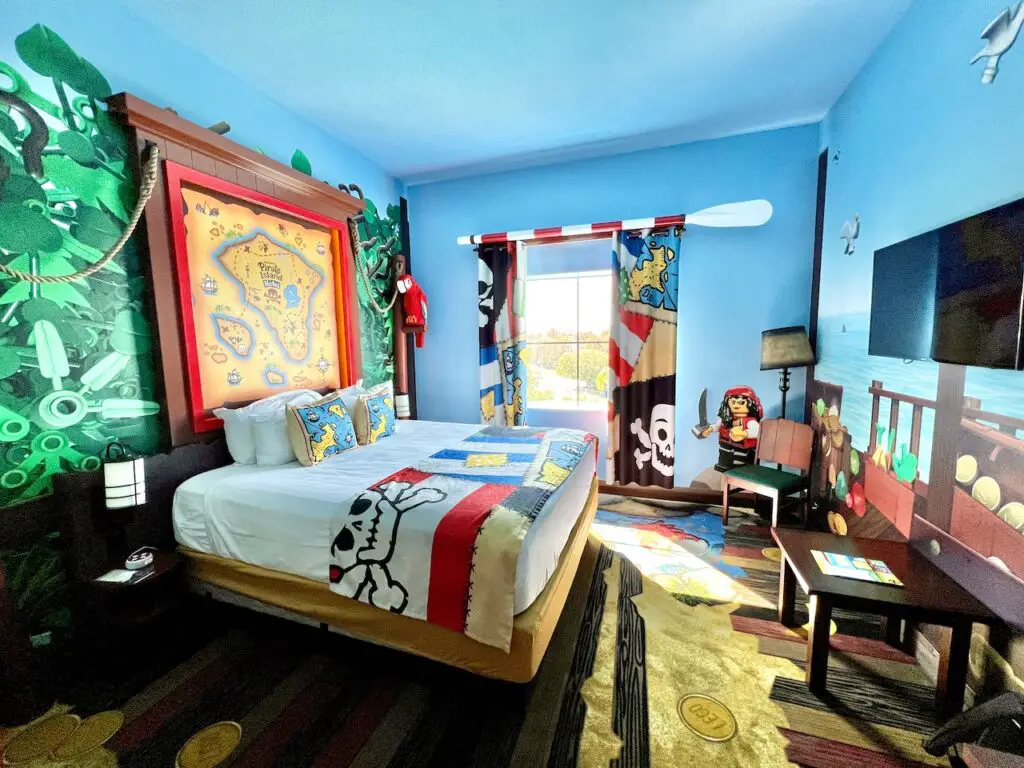 At all three hotels, you will find that the rooms include a separate sleeping area for the kids. No more bothering sleeping children with lights and needing to keep quiet until they fall asleep. The rooms are designed so everyone feels comfortable and happy in their space.
The Legoland Hotel has different themed rooms, including Ninjago, Adventure, Pirate, Kingdom, Lego Friends, and The Lego Movie.
The Beach Retreat is a short 0.5-mile drive away from Legoland Florida, and includes small bungalows themed after a Lego beach day.
All three resorts include:
on-demand TV
free breakfast (incredible value and so yummy, only at Legoland Hotel and Pirate Island Hotel!)
separate sleeping areas for kids
in-room treasure hunt with prizes
Amazon Alexa
Lego-themed toiletries
Legoland Times Newpaper
Lego bricks to build with during your stay, in the kids in-room area
Tip 2: Get A 2-Day Ticket
Adding a second day to your Legoland Florida ticket costs just under $25. If you have the time in your schedule, it is a no-brainer. One day could be enough to visit the park, but you will wish you had at least a second day, if not a third!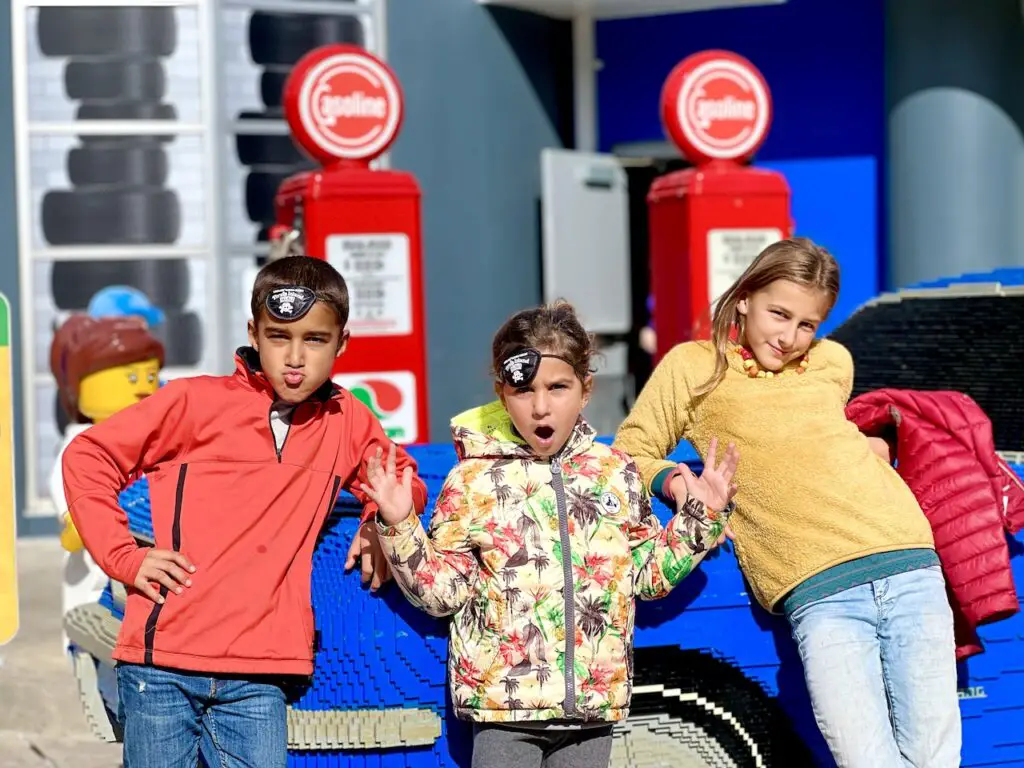 A 2-day Legoland Florida ticket is cheaper than one day at Disney and is incredible value and guaranteed fun! You can also decide to upgrade and add access to the water park and Peppa Pig Theme Park! You won't regret the extra day and it will allow you to see the shows and have enough time to build at the Imagination pavilion and window-lick the beautiful Lego stores throughout the park!
Tip 3: Check For Seasonal Events
Legoland has so many seasonal events and celebrations going on, check the schedule prior to booking your vacation. Most are weekend events, but the Awe-Summer Event is on every day of the week too.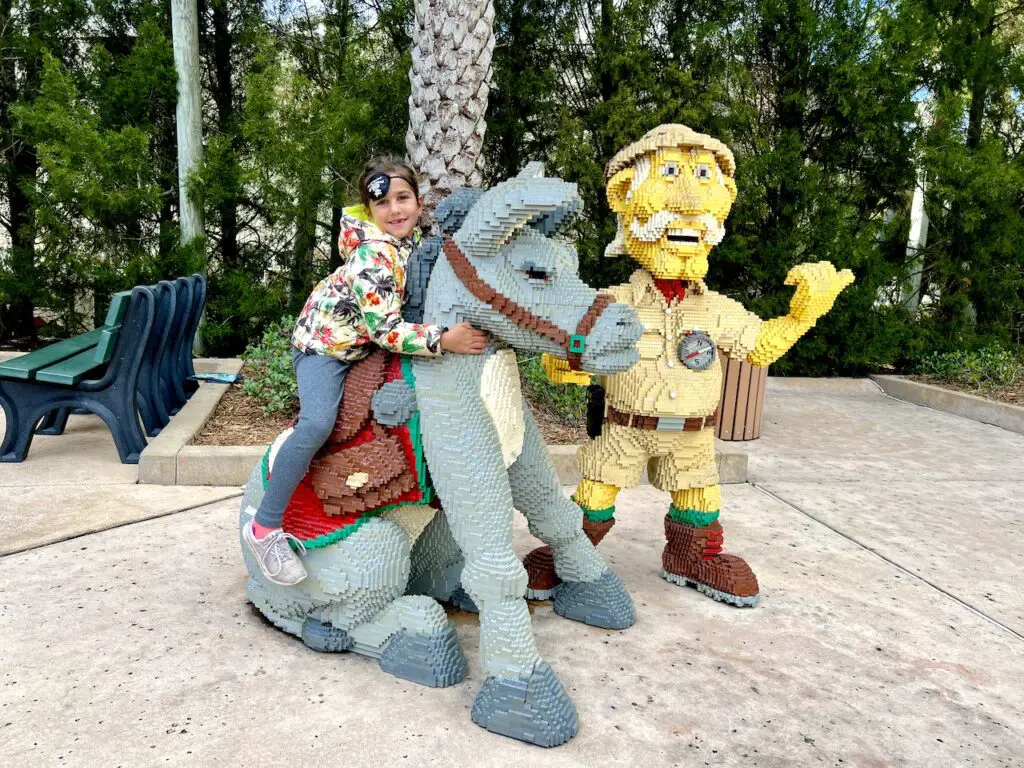 Seasonal events include:
PirateFest Weekends: end of January, early February
Lego Ninjago Days: end of April, May
Awe-Summer Event: early June to early August with some extra fun around July 4th
Heroes Weekend: early September
Brick-or-Treat: end of September, October
Holidays at Legoland: end of N0vember, December
Tip 4: Ride Our Favorite Rides
Our family enjoys fun rides and we definitely have a few favorites that we think you shouldn't miss:
The Lego Movie Masters Of Flight: takes you on an exhilarating 3-D roller coaster inside the Lego Movie, from the comfort of a comfortable flying row and without any drops
The Dragon: a fun and mild roller coasters with beautiful Lego constructions and a little speed
Mia's Riding Adventure: our kids favorite and a fun back-and-forth dropping and twisting ride with fun stomach-lifting drops
Lost Kingdom Adventures: laser-shoot at target in a friendly competition for points and accuracy
Lego Ninjago The Ride: a fun 3-D, flat train, dark ride and friendly competition of blasting fireballs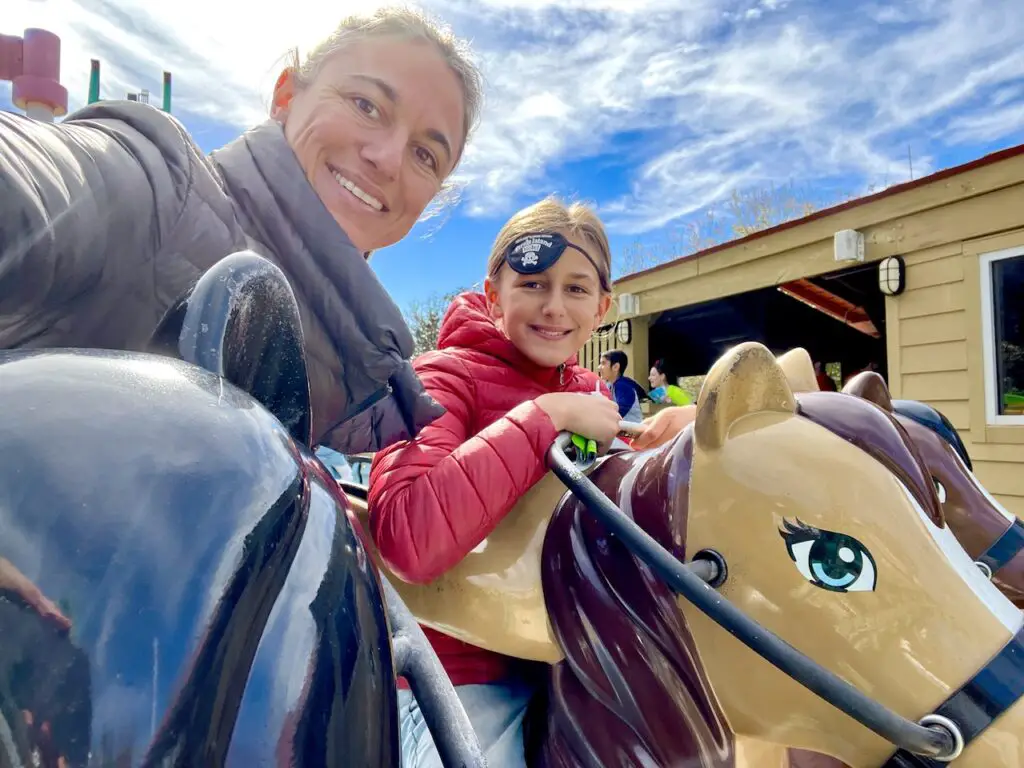 Tip 5: Plan To Visit Legoland Water Park
The Legoland Water Park has gained lots of popularity around Orlando and is a favorite of many local families.
With 14 slides, a lazy river, and a wave pool, it is the perfect day to enjoy a hot Florida day. I recommend adding the Water Park option to your ticket to enjoy some afternoon splashing time. The water park is located in the back of Legoland Florida, so your water park ticket will always give you access to the theme park itself.
Tip 6: Buy FastTrack
If you have limited time in the park, or simply if your goal is to ride as many rides as possible, purchase FastTrack.
Choose between the unlimited All-Day FastTrack option – allowing you to skip the line all day long for $60 – and the FastTrack 3-Pack – allowing you to skip the line at 3 attractions for $29.
Tip 7: Build In Time For Playgrounds
Legoland Florida has several beautiful and fun playgrounds scattered around the park. Make sure to build in enough time to let the kids run around.
It is easy to get worked up in a theme park, running from must-ride attraction to must-see show. Giving the kids some time to hit a playground or two during the day, is an amazing way to let go of some steam, for parents to sit and take a breather, and for everyone to feel more energized and ready to tackle the next ride.
Tip 8: Don't Dread The Lines
Theme parks come with lines, and some seasons can be busier than others. If you are visiting on a busy day, don't dread the lines. Most attractions have included outdoor, sun-covered, Lego-building areas for the kids to gather and build Lego while the parents wait in line.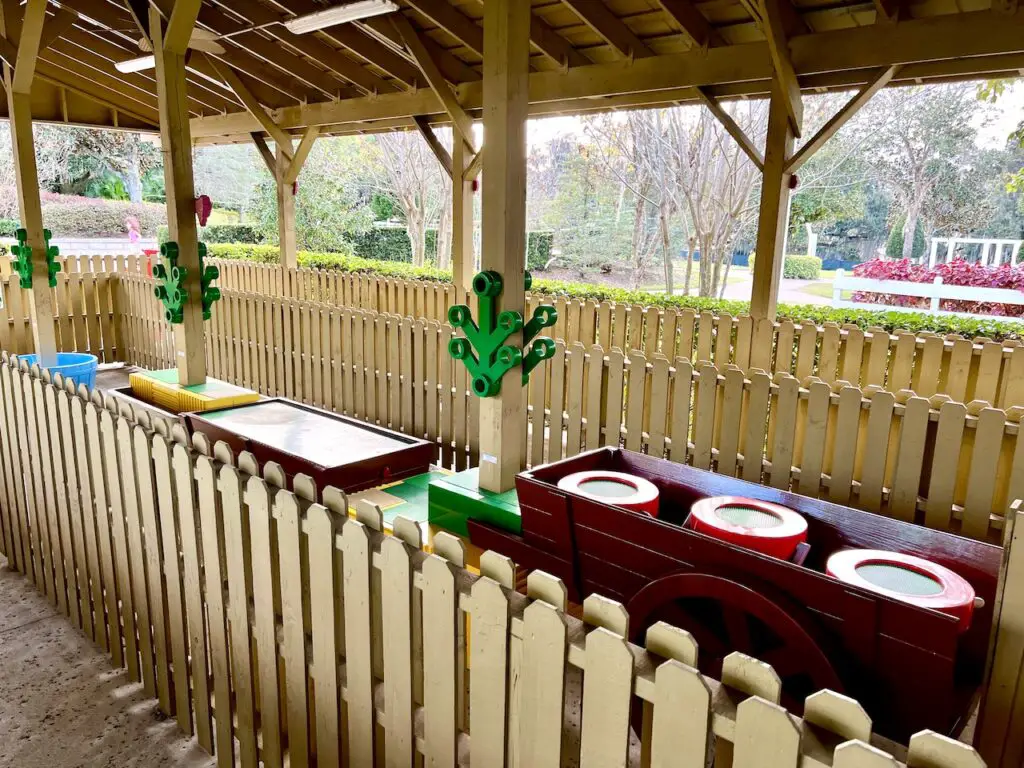 Being able to wait in line while the kids are happy building is a game-changer!
Tip 9: Grab Dinner At Shipwreck Restaurant
Served family-style in skillets brought to the table and ready to be shared, Shipwreck Restaurant impressed up with the quality of its food and service!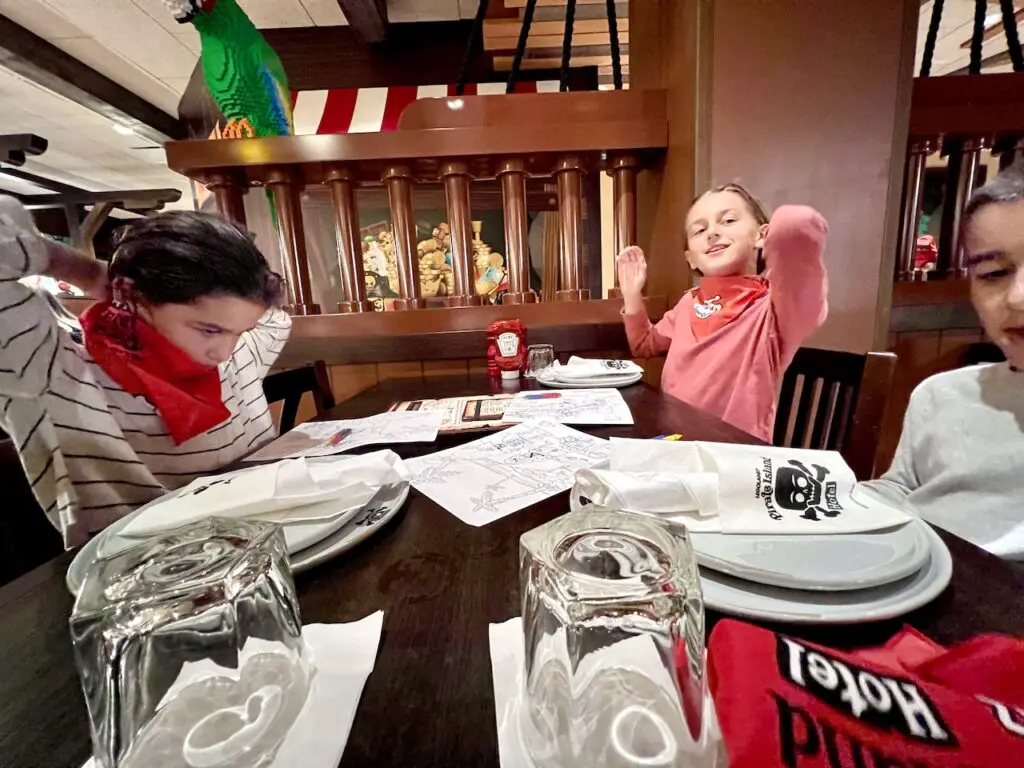 Choose from 2 menus. Our kids' favorite food is shrimp and they were ecstatic to see shrimp in the SeaDog Skillet! All-you-can-eat, your server will happily bring second and thirds of anything you've enjoyed!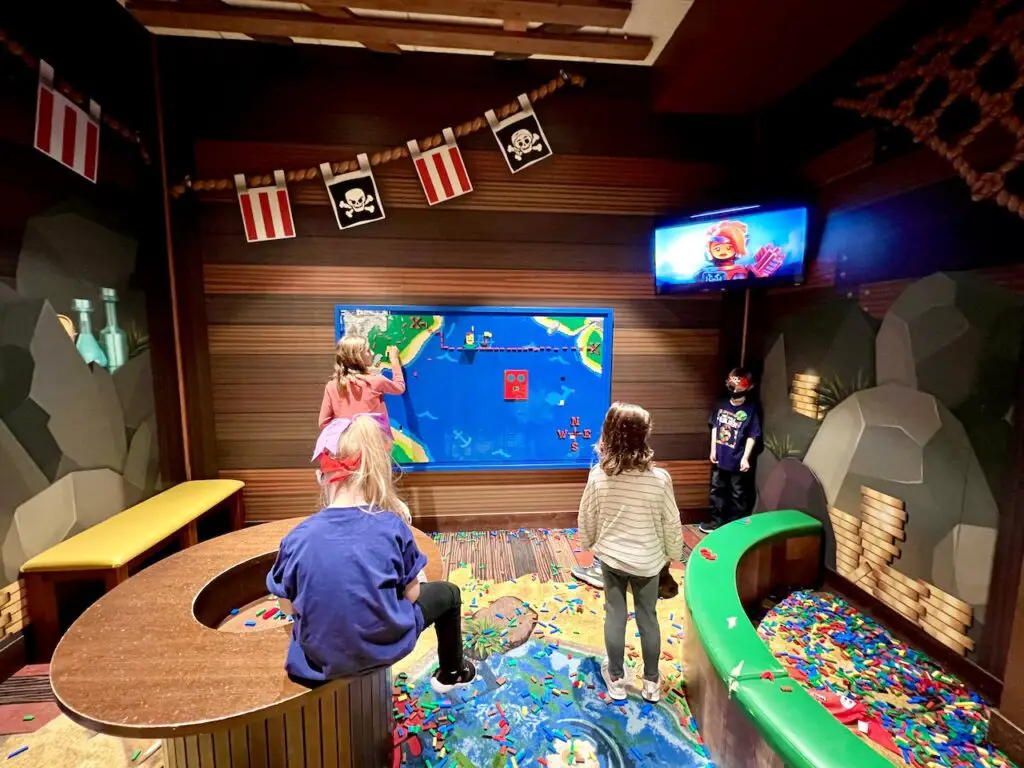 And of course, make sure to make good use of the playroom located in the center of the restaurant if the kids get impatient. It is a beautiful room, fun for all ages, and a great way for the parents to enjoy a quiet piece of dinner.
Tip 10: Visit The New Peppa Pig Theme Park
Opening in February 2022, the Peppa Pig Theme Park is the first in the world!! With six attractions and the highest height requirement of 36 inches (91 cm), most attractions can be ridden by the whole family together.
If you have younger children, this is the perfect introduction to the world of theme parks, set in one of their favorite series, with the characters they love. Little ones will love being able to ride all the rides and acting as big kids in an environment designed for them.
Can Legoland Florida Be Done In One Day?
If you visit during the off-season (i.e., mid-January, mid-September, etc.) and the park is operating at low capacity, you can get most things done in a day. If you have just one day, however, make sure to enter the park at opening, since you will need all the time you can get to ride as many rides as possible.
Legoland Florida is a much larger park than you would expect and I highly recommend buying a two-day ticket. It is not a huge increase in price and two days at Legoland Florida will still be cheaper than most days at Disney's Magic Kingdom!
With two days, you will be able to ride all the rides, sit down at the shows, play and build in the Imagination pavillion, and spend a half day or more at Legoland's Water Park.
How Far Is Legoland Florida From Disney World?
The short answer is 43 miles between Legoland Florida and Disney Springs. Disney World is a huge property and your travel time will depend on where you are on property and how backed up I-4 is at the time you travel.
On a quiet day, count a good hour between Legoland Florida and Disney World, but know that it could be a little more on high-traffic days.
Which Airport For Legoland Florida?
Most visitors will fly into Orlando's international airport (MCO). Just under 55 miles and about 1.5 hours away, it is an easy drive down to Legoland Florida. If you find cheaper tickets, consider Tampa International Airport (TPA) 62 miles away and under 2 hours away, or even Sanford Airport (SFB), a smaller airport north of Orlando, 79 miles and about 2 hours away.
Does Legoland Florida Offer Military Discounts?
Yes! Legoland Florida has incredible offers for military personnel. While discounts can change at anytime, active duty military is currently receiving free access to Legoland Florida and its water park! While the offer is not valid online, you can bring your ID to the ticket booth and receive free admission without block-out date.
Military families currently receive 10% off the 1-day and 2-day tickets upon presentation of your ID, and the second day for free if you buy at your ITT office on base!
Legoland Florida For Adults?
Lego carries a certain amount of nostalgia and if I'm being honest, it is just as fun as an adult, as it was as a child. I am just excited for Legos as my kids are, and if my resources were infinite, I'd have a whole Lego city set up in my living room.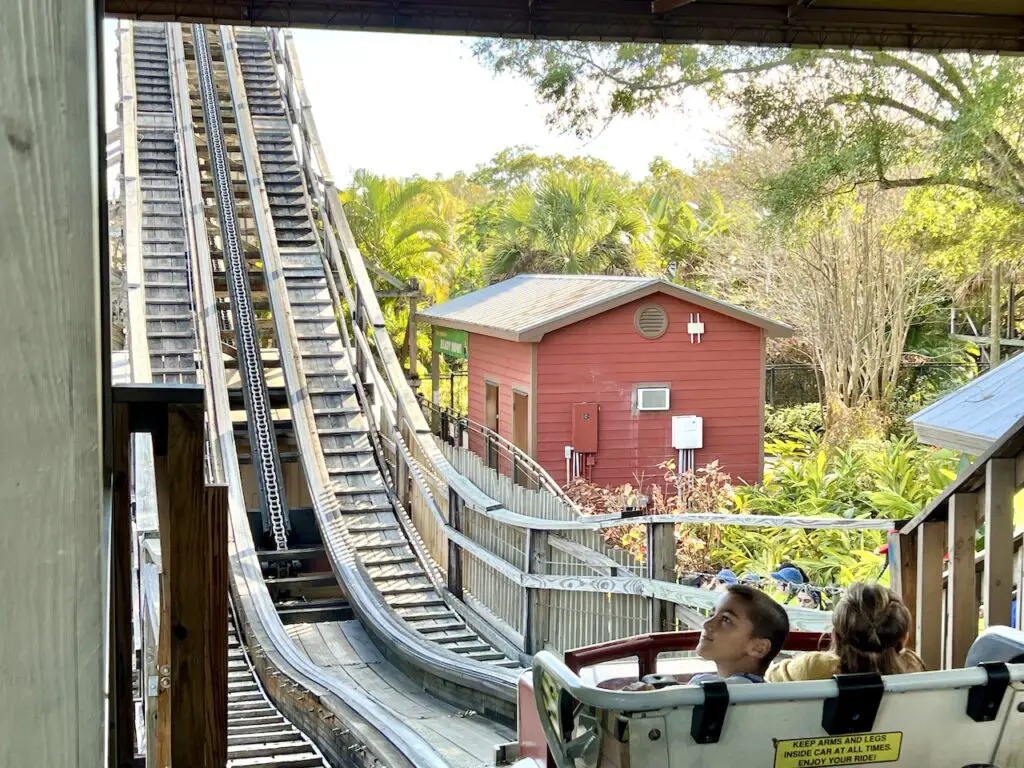 When it comes to Legoland Florida for adults, I can honestly say that my husband and I had a beautiful time. There are several attractions we call E-tickets – those are the big attractions. If you are a fan of Soarin' at Epcot, you will love The Lego Movie Masters Of Flight. Flying School was a fun roller coaster, where you hang underneath the rails. Lego Ninjago and Lost Kingdom Adventure are fun 3-D shooting rides, similar to Toy Story Mania at Disney's Hollywood Studios.
All in all, adults can have a really good time between riding thrilling rides and building alongside their children.
Legoland Florida
Legoland Florida is a wonderful surprise. An excellent value in the world's theme park capital, it is a very pleasant and fun surprise for the entire family!
I encourage you to spend 2 or 3 days visiting the Legoland Florida, while staying at the movie Lego Hotels and enjoying the yummy food offered right on property.
Escape to the beautiful, and often nostalgic, world of Legos for a few days!
---
Pin for later!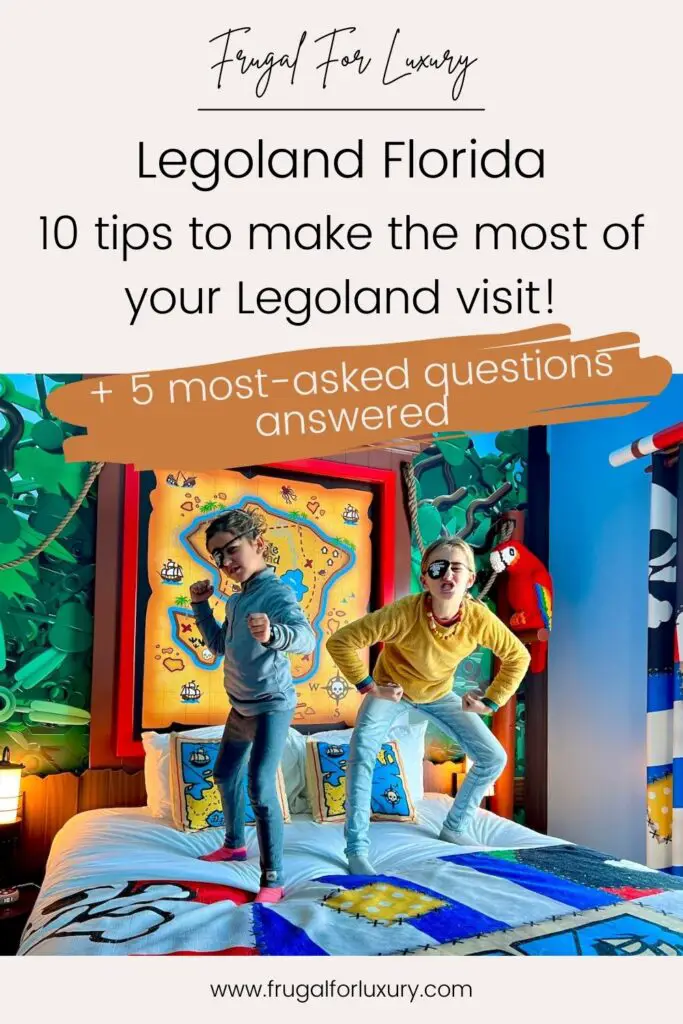 ---
Related articles you will enjoy:
What To Do In Orlando With Kids – A 3-Day Itinerary
10 Tips With Kids – Gaylord Palms Resort In Orlando Florida
Magic Village Views – Perfect Villa For Rent In Orlando For Families