This is the first report of our trip to Costa Rica with kids.
If you are looking for an amazing destination that is affordable, close to the U.S., offers a huge variety of landscapes, climates, and experiences, and is safe and fun for all ages – Costa Rica needs to be on your list!
After safely landing in San Jose – Costa Rica's capital city – it was a quick 2.5-hour drive to La Fortuna, home of the impressive Volcano Arenal!
---
Where We Stayed
---
There are several options in La Fortuna. Because we travel with 3 little kids in tow, we booked our entire Costa Rica trip with AirBnB!
In La Fortuna, we stayed at Raquel's amazing property. We had 4,000 sq. ft. of space to ourselves. The kids had a kids room full of toys, the American kitchen was fantastic, the back porch looked right onto the jungle, providing a breath-taking bird show in the morning! They even have 2 resident sloths!!
It was also the most expensive of the AirBnB's we booked during the trip, but for $150 a night, we thought it was very well-priced luxury!
---
What We Did Near Volcano Arenal
---
La Fortuna is the main town and where most activities around the volcano happen! We stayed 2 nights and spent a full 1.5 days experiencing the region. There is sooo much to do, and this is what we did!
1- Desafio Adventures Safari Float
If you've been reading my blog for a little while, you know that my key to successful family travel is implementing activities that the kids will really enjoy. If you haven't been following us for long, please read our 10 Sanity-Saving Tips for Traveling with Kids!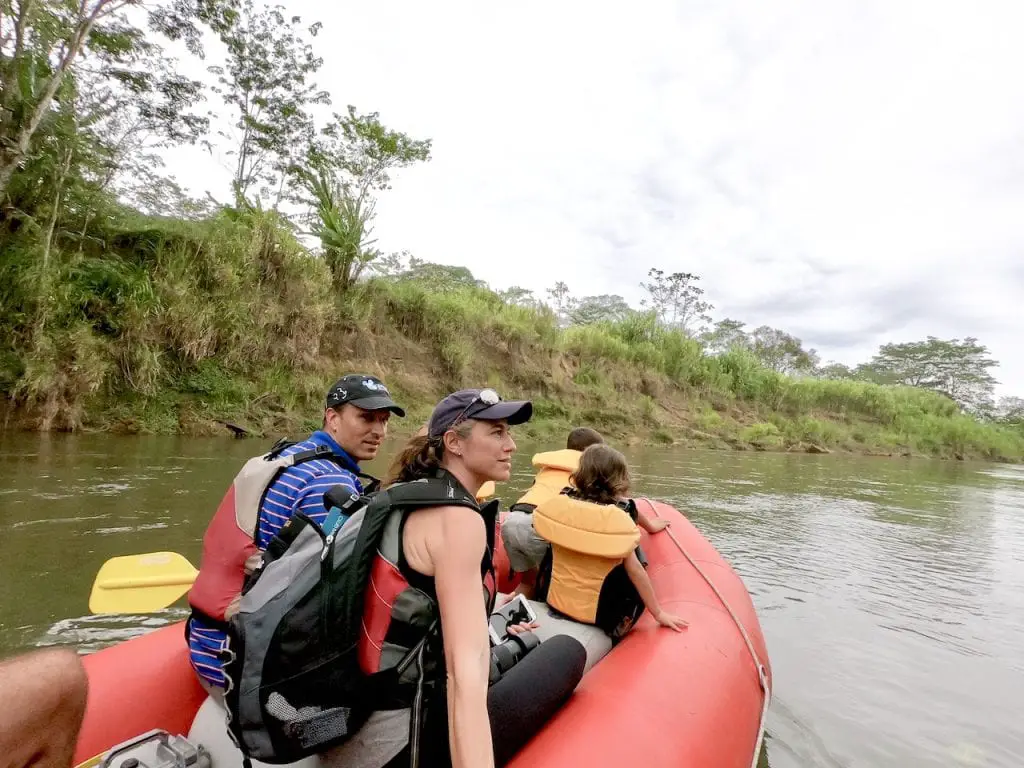 In La Fortuna, we chose to book a family adventure with Desafio Adventures. They have a bunch of family-friendly options and we wanted to see animals, so we chose the Safari Float.
We actually did the Safari Float on our first afternoon in La Fortuna. We drove the 2.5 hours from San Jose in the morning and got in with plenty of time to spare before the 1.30PM tour.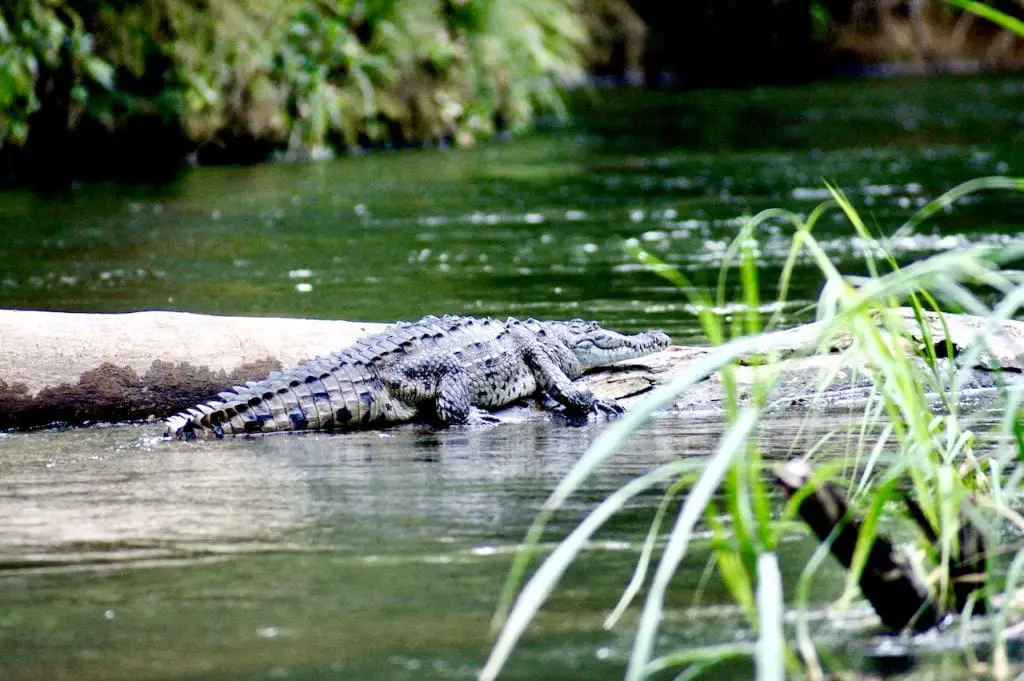 We looooved the adventure and saw crocodiles, birds, iguanas, and monkeys! We ended the tour with a Costa Rican snack on a private family farm!
Want to learn more about our safari float? Read our full blog + video HERE!
2- Parque Nacional Volcan Arenal
This is the obvious one!! You are in La Fortuna to see the volcano!
In the morning of our only full day in La Fortuna, we headed out to the national park. The entrance fee actually gives you access to the actual volcano area, as well as to the park closer to the lake!
We headed to the park's main entrance and decided to do the main hike to see the lava, and then the Ceiba tree.
We unfortunately got rained on the entire day…. but it didn't take the beauty away. We had a blurred view of the lake from the lava flow and loved walking through the forest!
3- Paradise Hot Springs
Because it was raining, we decided to skip the second park and headed straight to Paradise Hot Springs.
Now… we are slightly obsessed with hot springs and try to visit one in each country we travel to! La Fortuna has a TON of hot spring options. The water is heated by the volcano and you will find something for all budgets.
We generally prefer smaller springs, more natural, local's tips. Our AirBnB host told us that he takes his family to Paradise Hot Springs and we liked the price point, so off we went!
If you're in La Fortuna, forget the uber-expensive springs and head out to Paradise Hot Springs! They have 2 main pools and a bunch of smaller ones of different temperatures. They even have a kids pool!!
4- Don Olivo Chocolate Tour
After a full day of rain and feeling relaxed from our afternoon at the springs, we were headed home when drove in front the Don Olivo Chocolate Tour.
Hm…. chocolate, you all…. we had to stop! We got there around 3PM and got super lucky to be able to hop on the tour as soon as we got out of the car!
Of our entire week in Costa Rica, this was on our top 3 of family experiences! YOU HAVE TO DO IT if you're in La Fortuna!
The tour takes place on a private plantation and the owner first walked us and pointed out to tropical fruits they grow. We must have eaten our weight in fresh tropical fruits, and if you are a foodie, this is for you! We also got to press sugar cane and taste the juice, as well as taste home-made rum!
The second hour of the tour was spent walking through and learning about cocoa trees. The tour ended with a home-made hot chocolate of the nicest kind! We got to customize it with sugar and some spices!
---
La Fortuna
---
In itself, La Fortuna is a small but vibrant town. We had super busy days so we ate breakfast and dinner at the AirBnB. If you plan on eating in, I recommend shopping at the local Pali. It is where the locals shop and you won't pay inflated tourist prices!
We were there end of March and loved watching the yearly festival with parades.
A lot of the town is geared towards tourists, but it is a young and exciting place where you will spend at least 2 nights and not be bored!
---
Pin this for later!
---
Related articles you will enjoy:
Costa Rica Family Adventure in La Fortuna – with Desafio Aventures
Travel Connected Around the World with Go-Sim – International Sim Card for World Travelers
6 Tips to Start Planning Your Next Family Vacation
If you enjoy reading us, don't forget to sign up for our newsletter below!