We are on day #3 of our ski trip to Utah with the kids. We took an amazing, full-day, family ski lesson at Park City Resort on our first day. And for the last 2 days, we worked on our skills at the mind-blowing Deer Valley Resort!
It is going to be really hard for any video or photo to do Deer Valley Resort any justice. But I can honestly tell you that we had never experienced a ski day as luxurious as we did the past 2 days! All 5 of us are all blown away with the service we received and the beauty of the mountain over here.
I could talk all day about what makes Deer Valley Resort special, so here are 10 of my favorites:
1- No Snowboards!
Yes, you heard that right! Deer Valley Resort is one of the last ski resorts in the world catering to skiers exclusively.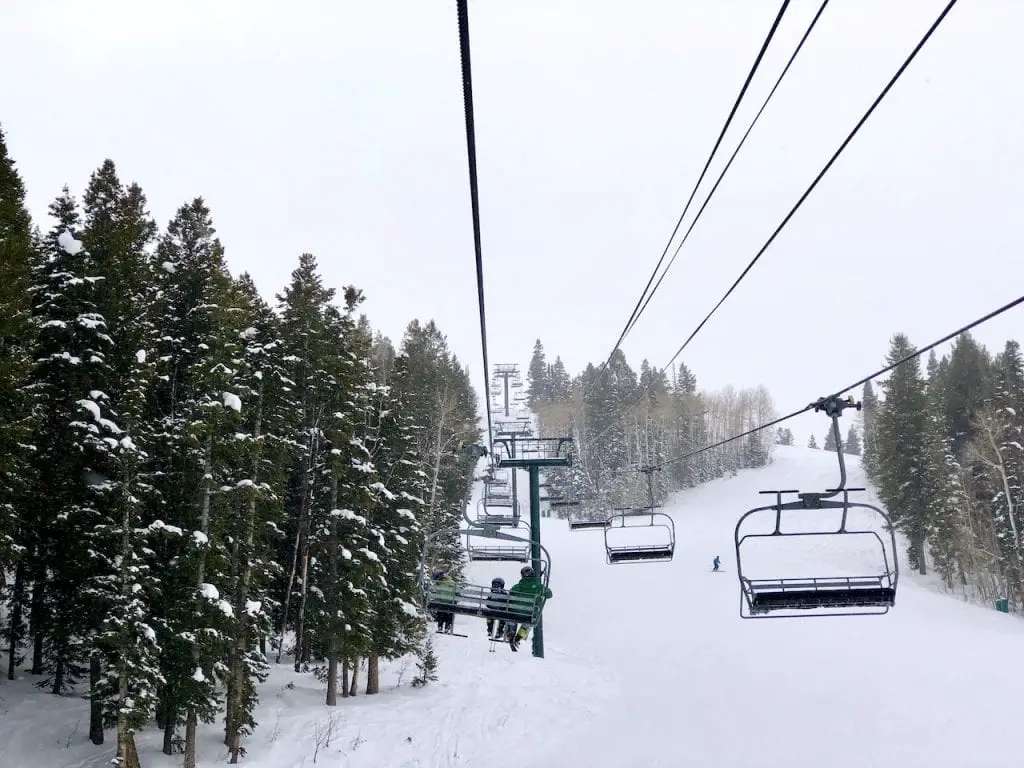 When you love skiing, that means the world!
We felt safe the whole time we skied there and found all skiers to be very courteous and patient with the kids!
2- Amazing Ski School For Kids
Yesterday, we had the three kids in the children's program at Deer Valley. We dropped them off for a day of fun around 8.30AM, which allowed us to go out and explore the mountain early.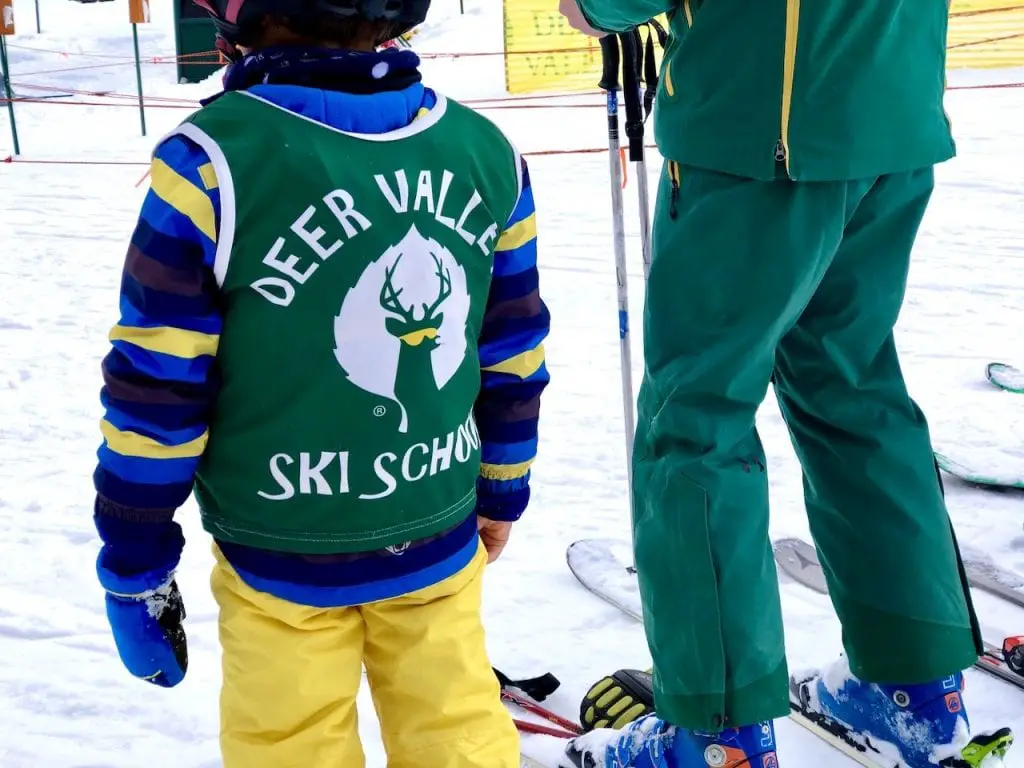 Elin joined the Bambi Club, which offers a full-day experience for the 4-year olds. With a ratio of 1:2, the children ski in the morning, then head back indoors for lunch and an afternoon of rest and fun inside the Children's Center.
Mark took part in the Reindeer Club, where he was slotted as an advanced beginner 2 and enjoyed a morning of skill development on the lower runs, a warm lunch inside, and an afternoon up in the mountain. The ratio for that group is 1:4, but it was just him and a little girl and he made huge progress!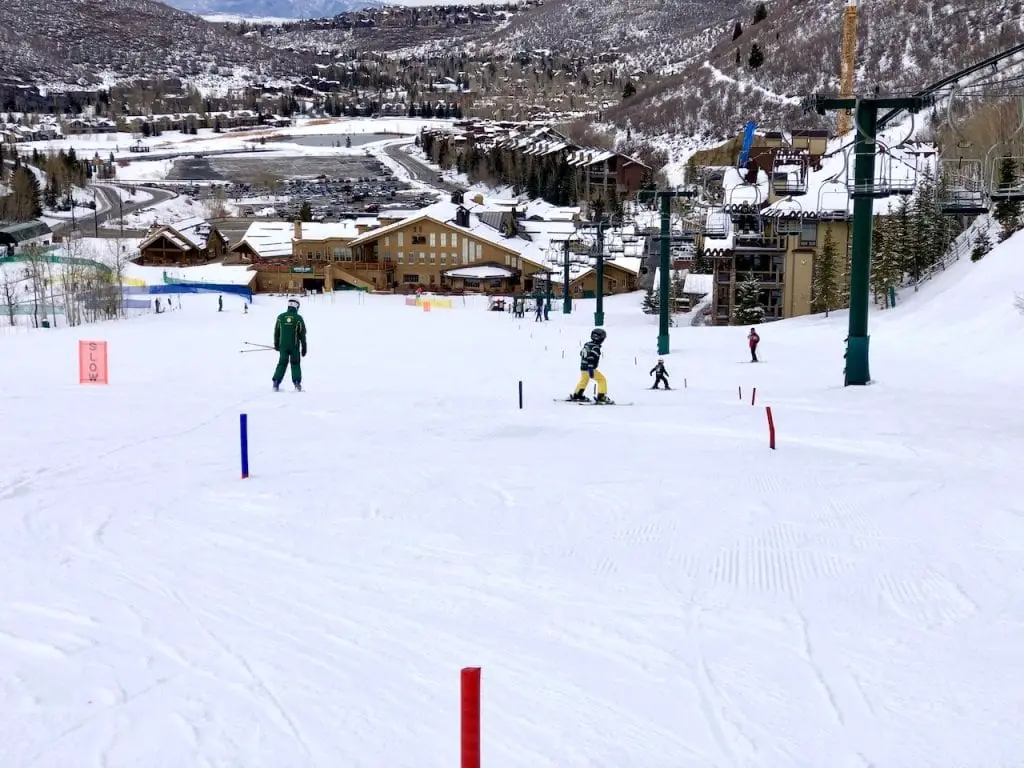 Ava joined the Adventure Club, which takes the kids straight up to the mountain, morning and afternoon, with a mid-day lunch at the Children's Center. She came home excited to have worked on her "Deer Valley parking" and parallel skiing skills! The ratio for that group is 1:6, but there were only 3 children in her class.
All 3 children had the greatest time in ski school! We picked up Elin early in the afternoon to take her skiing with us. At that time, Mark and Ava were having snack and gave me the killer look and both said "I wanna stay… why are you here?"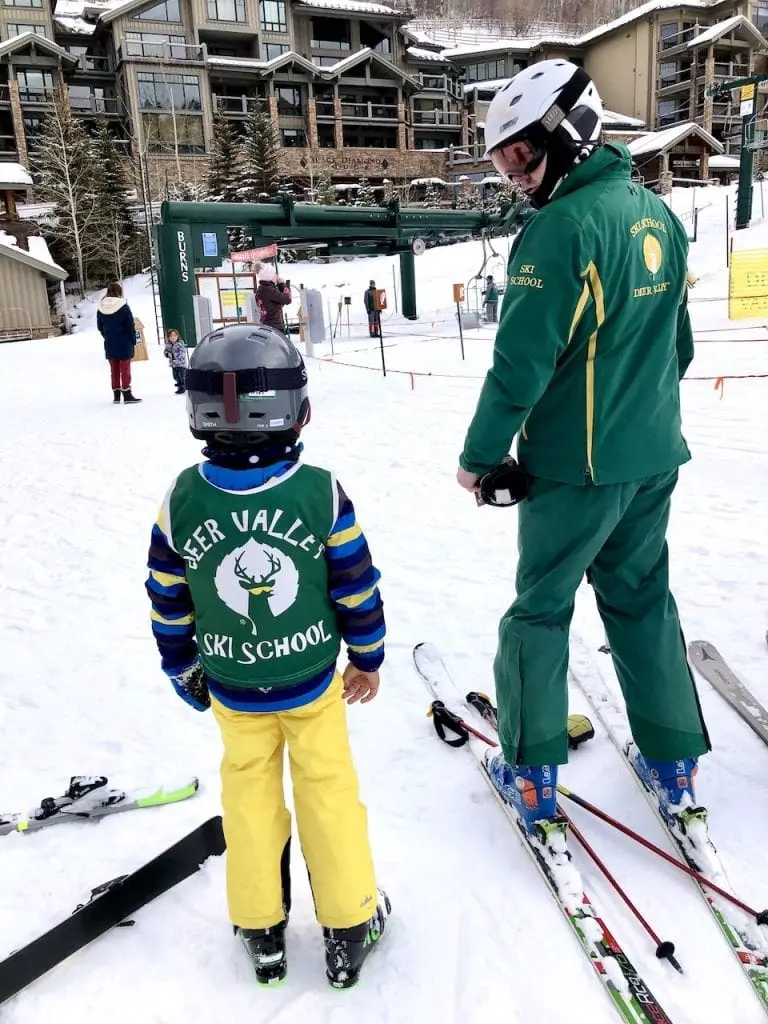 The next day, all they wanted was to head back to class! As a parent, I loved the option to leave them in a safe environment, allowing Christian and I to get much-needed couple time. And I loved getting a report card from each instructor, telling me what the children had worked on, and giving me tips on how to coach them on the mountain the next day!
3- Free Daily Mountain Host Guided Tours
With the kids in ski school, Christian and I took one of the free guided tours offered at Deer Valley. When I tell you that this ski resort is special, it truly is!!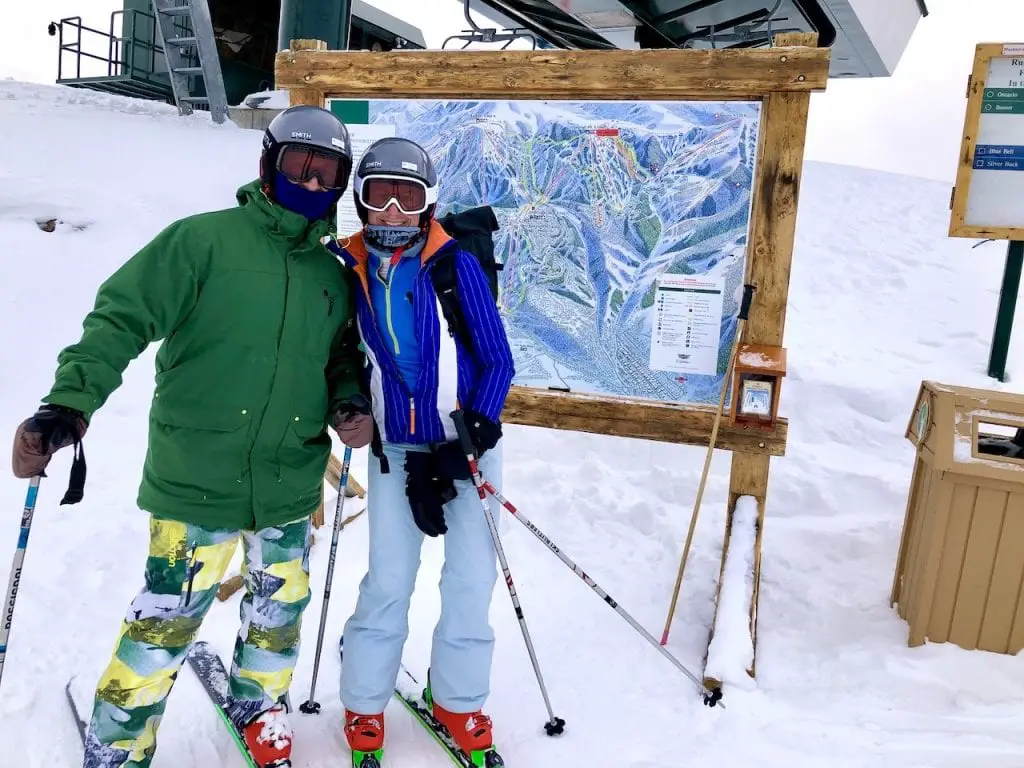 Twice a day (morning and afternoon), an expert and an intermediate guided ski tour takes guests around the resort. A dedicated Mountain Host accompanies the skiers and gives out nuggets of information on the Resort and the area! Did you know this mountain was first a silver and lead mine?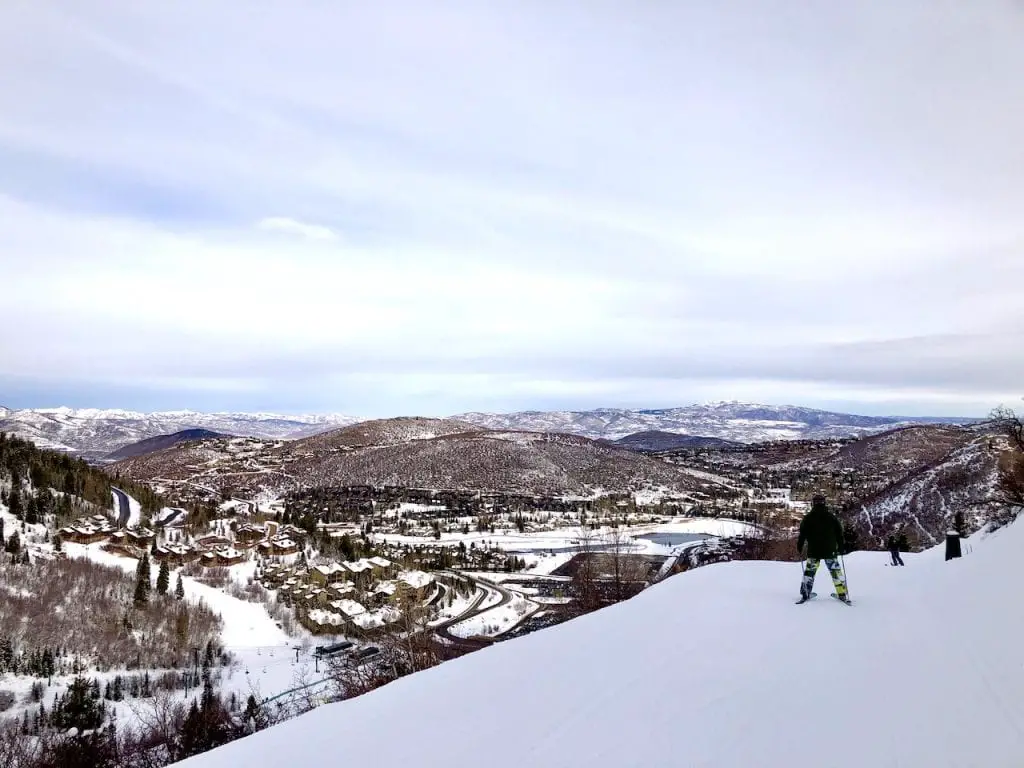 This is the best thing to do on your first day at Deer Valley. You will be taken around most of the mountain and will be able to guide yourself the following days!
4- A Nature Like No Other
The beauty of the skiing domain at Deer Valley Resort is one-of-a-kind! The panorama is incredible and you mostly ski through a beautiful and thick forest.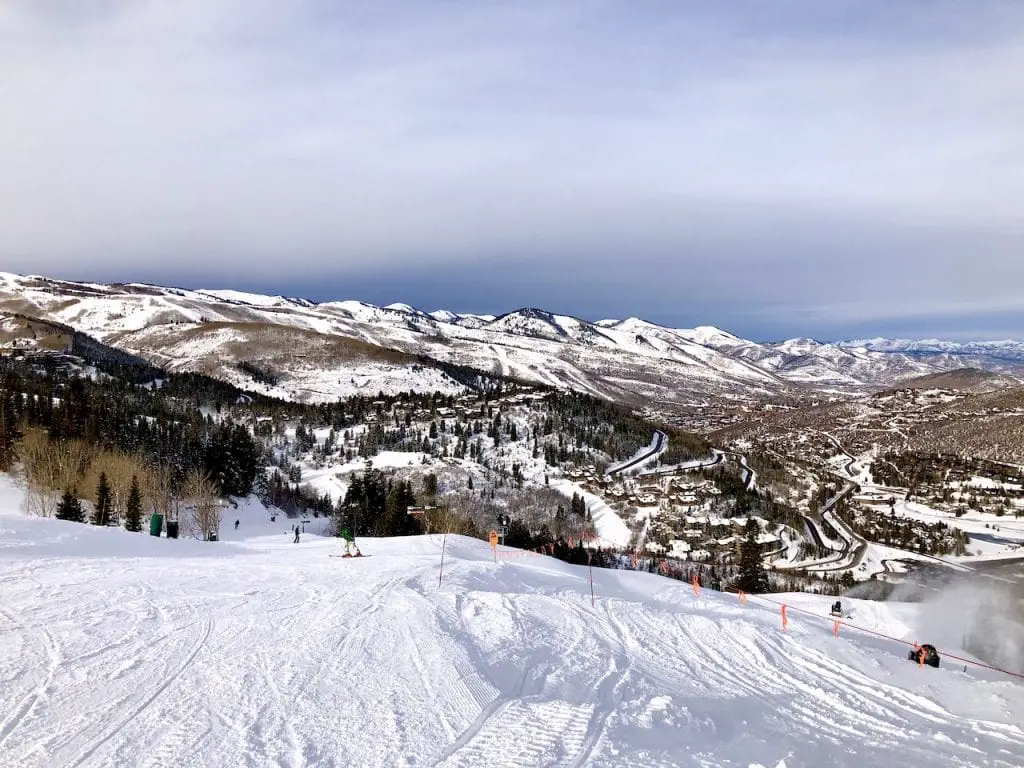 If you are in for the nature, Deer Valley Resort will not disappoint!
5- All RFID
New this year, Deer Valley Resort is equipped with RFID gates at the bottom of all ski lifts.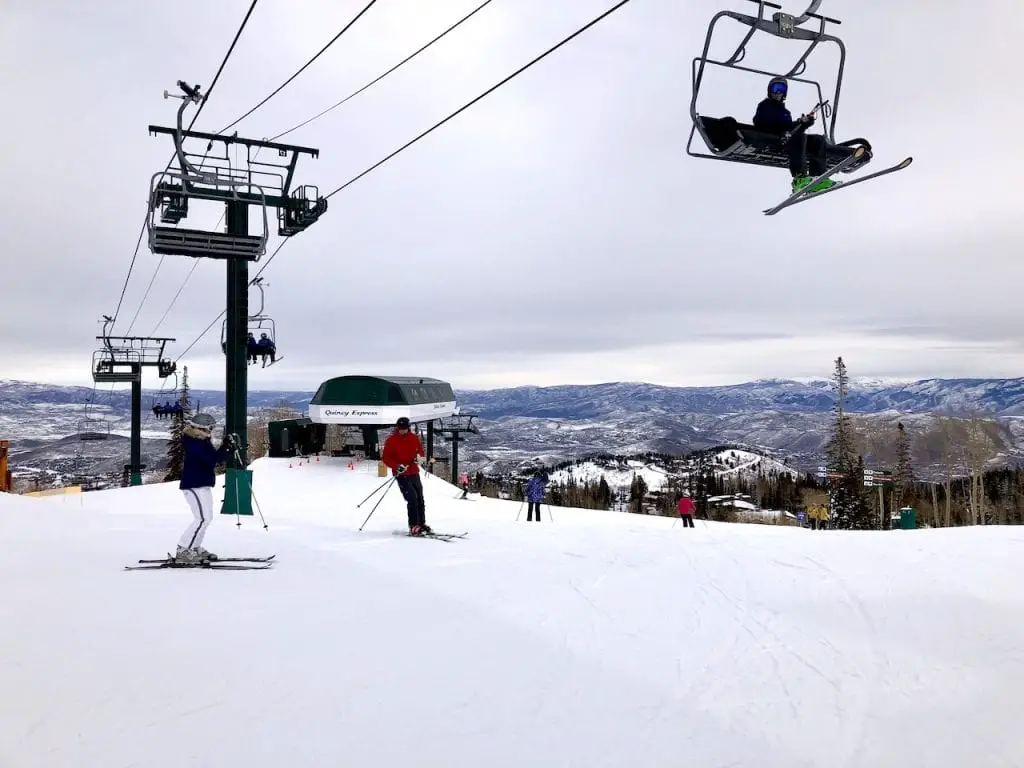 If you purchase a multi-day ski pass, simply keep it in your pocket, and make your way through the RFID gates at each ski lift. We loved the convenience and not having to get a new pass every day!
6- Services By Ski Butlers
The best invention in the industry of skiing… I still can't believe how amazing the service provided by Ski Butlers truly is!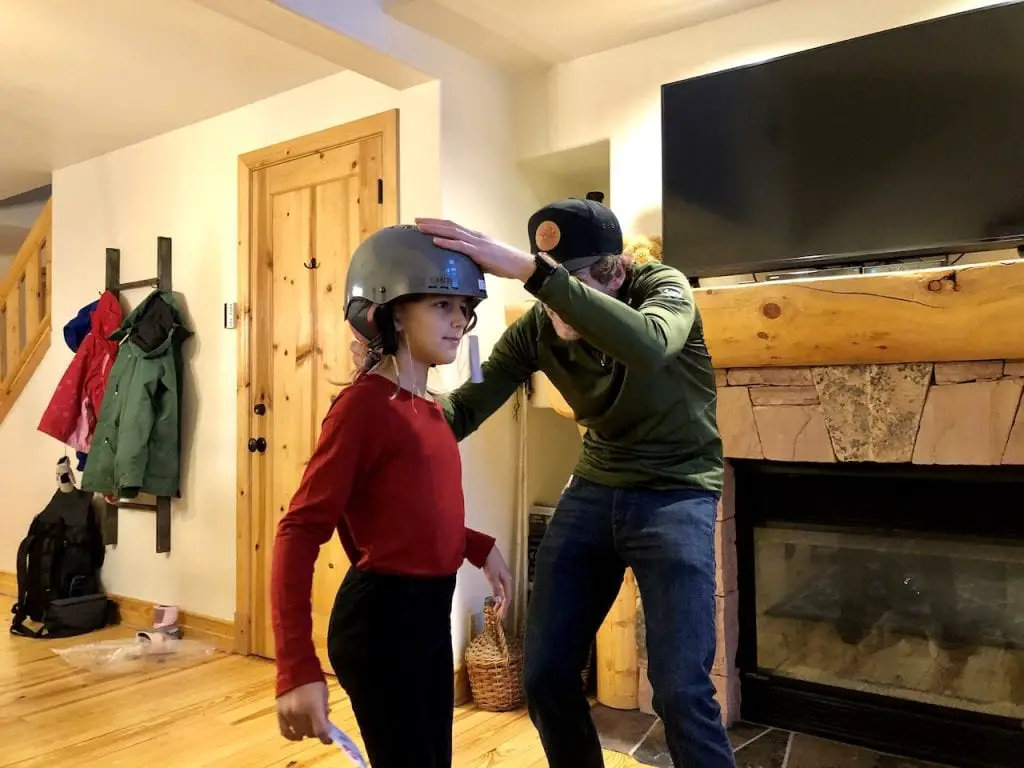 We filled out an order form online with everyone's ski level, heights, weights, and the equipment we needed to rent. They came to our hotel room (!!!) on our first morning, with all of the material, and in 40 minutes, had us all fitted with brand new skis, poles, boots, helmets, and goggles.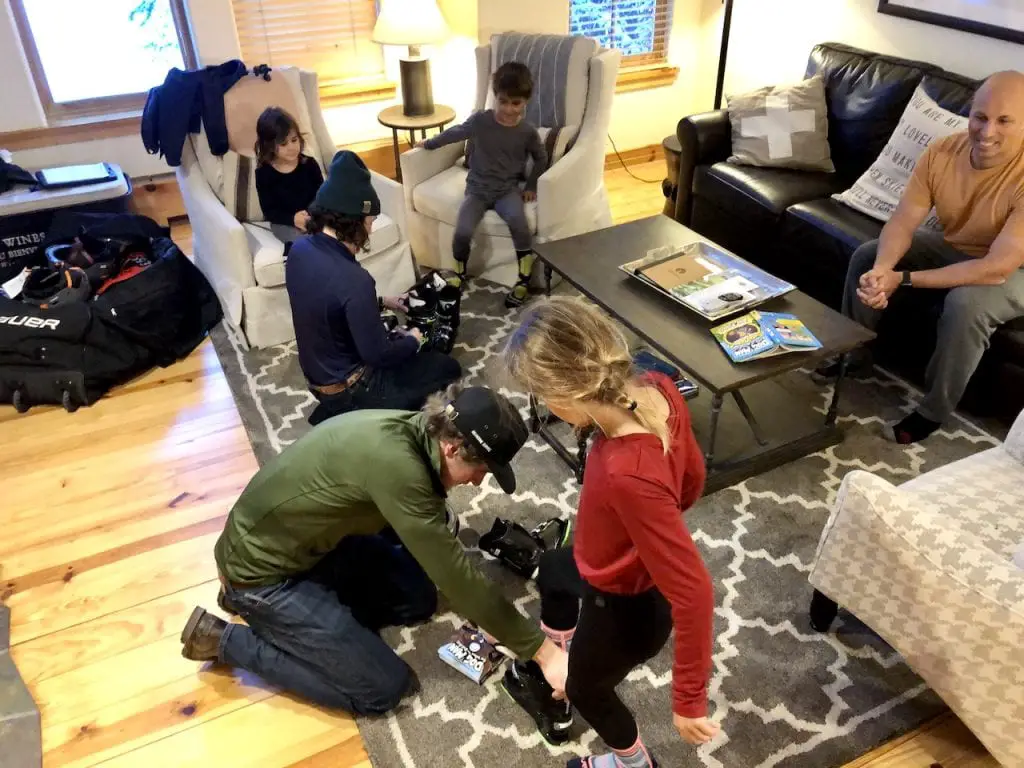 The Ski Butlers were incredibly children-friendly and made our lives as parents, the easiest thing ever. Not having to drag everyone to a rental place, with all of the snow suits and wet boots, was a true blessing!
Ski Butlers services 48 resorts in the U.S., France, and Itlay, and guys, they're a life savvier!
7- 4 Peeks
There are 4 peeks at Deer Valley Resort. From there, you are given the option to ski down greens and blues, or challenge yourself to more advanced double-blues, diamonds and double diamonds.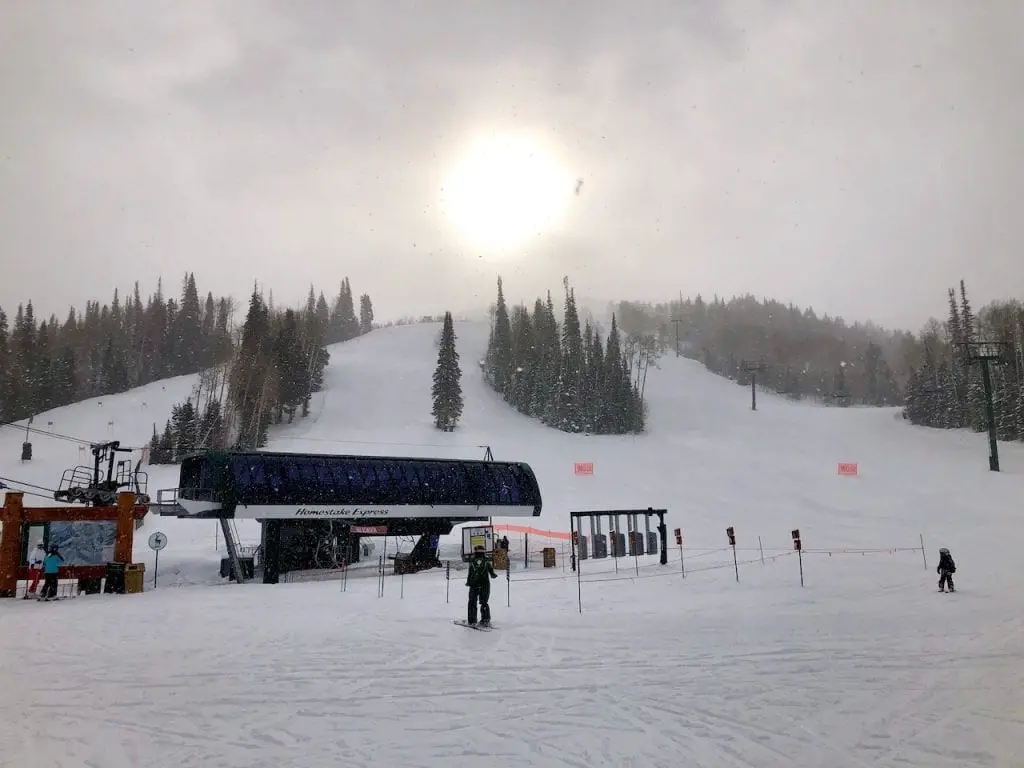 This is wonderful for families of different skills like ours, where we can ride lifts together and decide to split up but still meet at the bottom of the run!
8- Gourmet Food
Deer Valley Resort might be known for its gourmet food offerings, but we did not expect this level of gastronomy!
We ate in several places and all were exceptional:
Snow Park Restaurant
Located half-way up the mountain at Silver Lake Lodge, this might have been the "simpler" of our meals at Deer Valley, but it was nothing simple! Mark and I had a taco trio and they might have been the best tacos I ever ate. The options are amazing at Snow Park Restaurant and you will find something for everyone's taste!
Royal Street Café
Also located at Silver Lake Lodge, Royal Street Café is a gourmet restaurant, in which you eat in your ski boots and pants! Christian and I had lunch there after our guided mountain tour and I had never experienced such high-quality food in an altitude restaurant! The Wagyu beef was amazing! So was the cheesecake!
Fireside Dining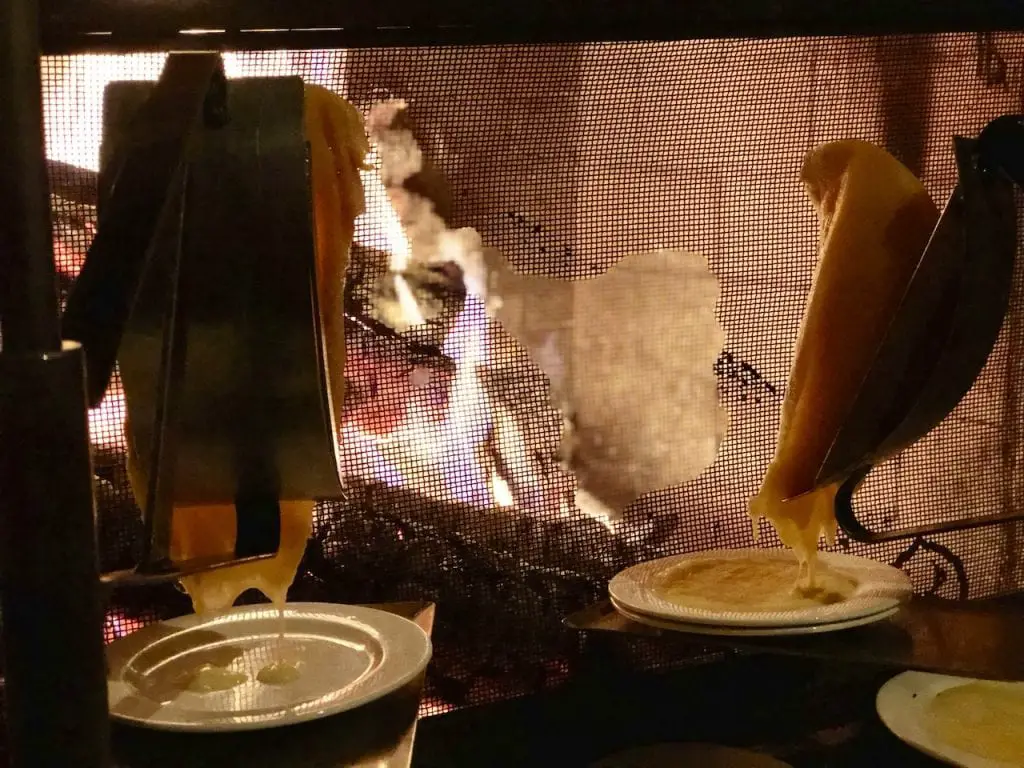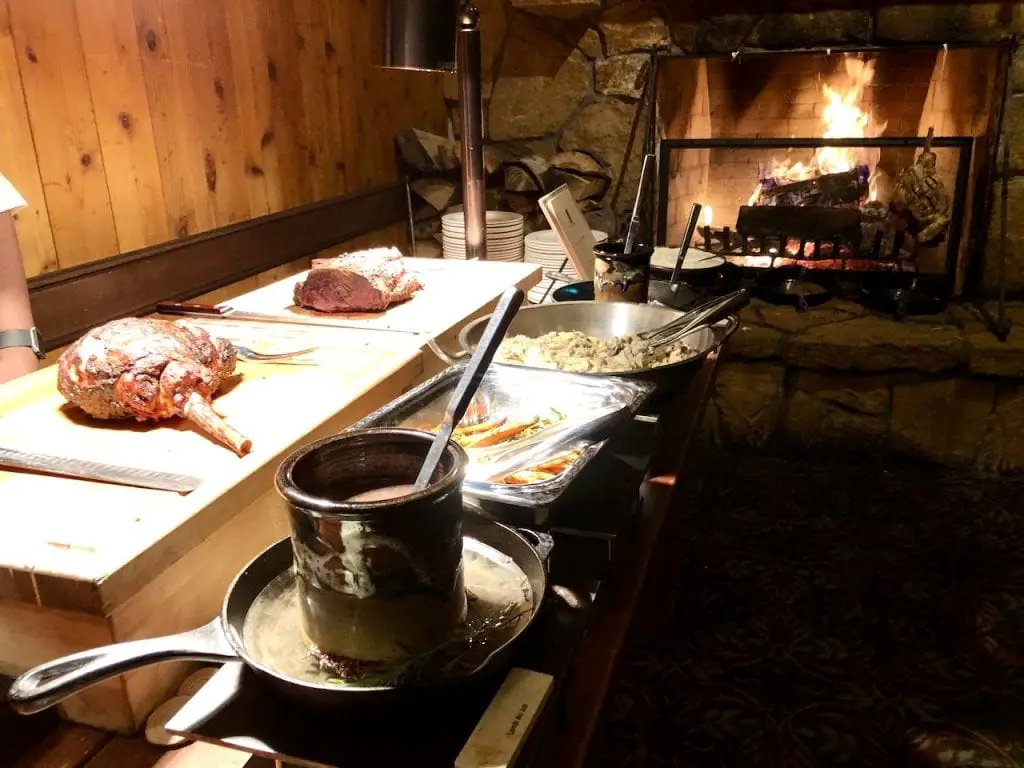 Fireside Dining is an experience you can't miss while at Deer Valley. Located in the Empire Lodge, several rooms transform into gourmet galore. The food there, is cooked fireside!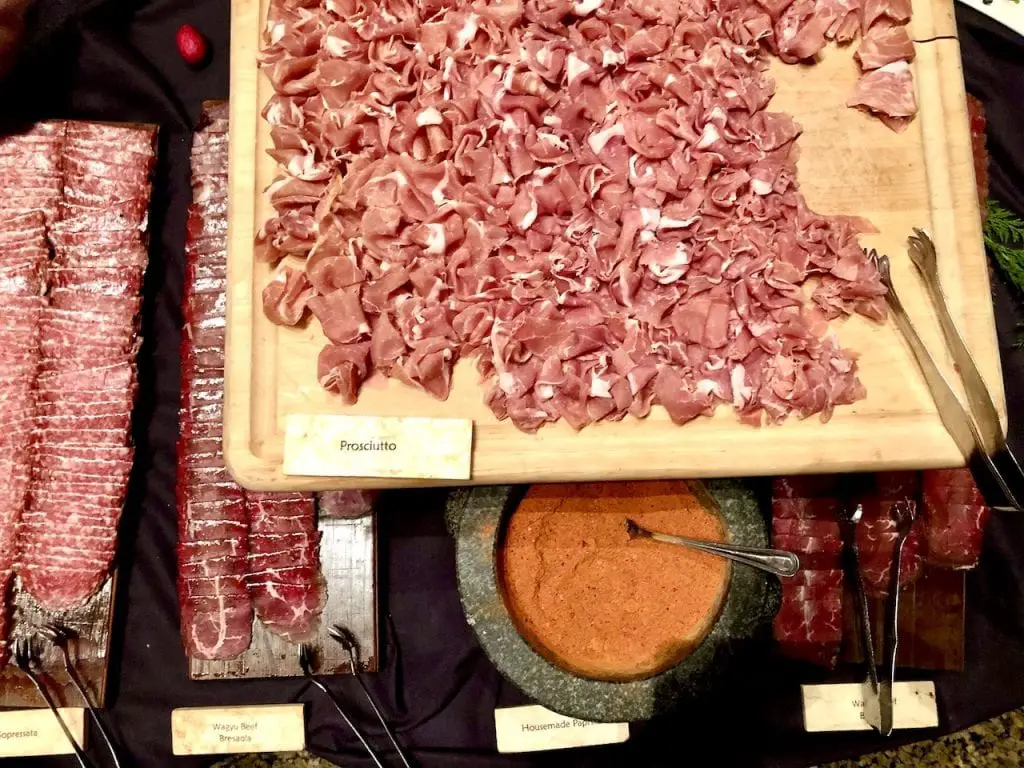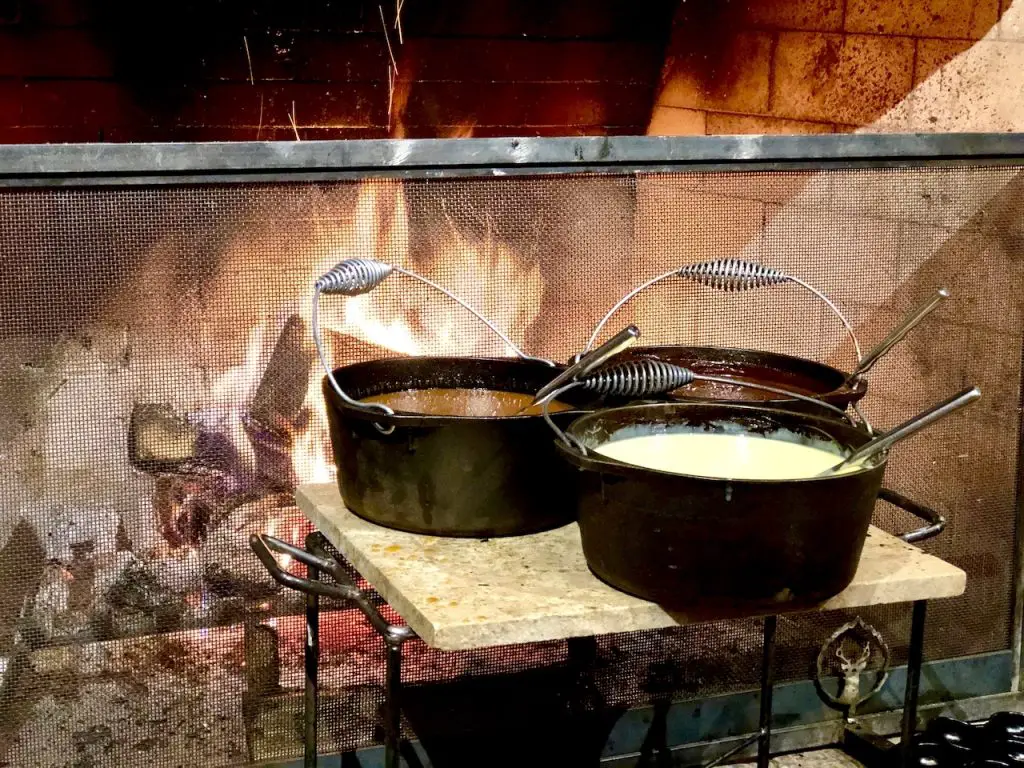 Based on the original Swiss raclette, which started with farmers melting their cheese to fire, it keeps the tradition alive. Some of the rooms also offer excellent meat and fish – we were treated to lamb, filet mignon, and trout. While the dessert rooms offered a dessert fondue and banana flambé! Fireside Dining is a prix fixe, all-you-can-eat restaurant, absolutely worth the $90 per adult and $30 per child 6+ price tag. The experience is exceptional!
9- Groomed Runs
Deer Valley Resort is known for its groomed runs. As a matter of fact, most of its skiers are looking for groomed skiing and you will find the resort very quiet on snowy days.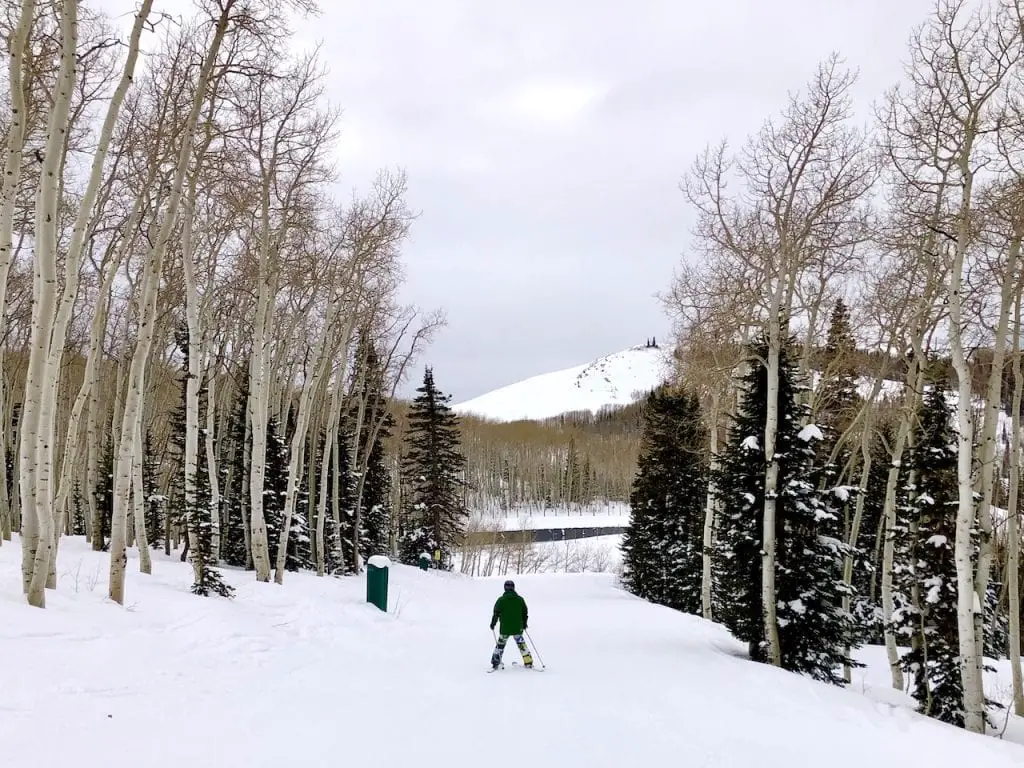 This makes Deer Valley an excellent resort to ski with kids. The snow was wonderful and we loved being able to take the kids on groomed runs!
10- Service, Service, Service
I just can't explain the level of service at Deer Valley.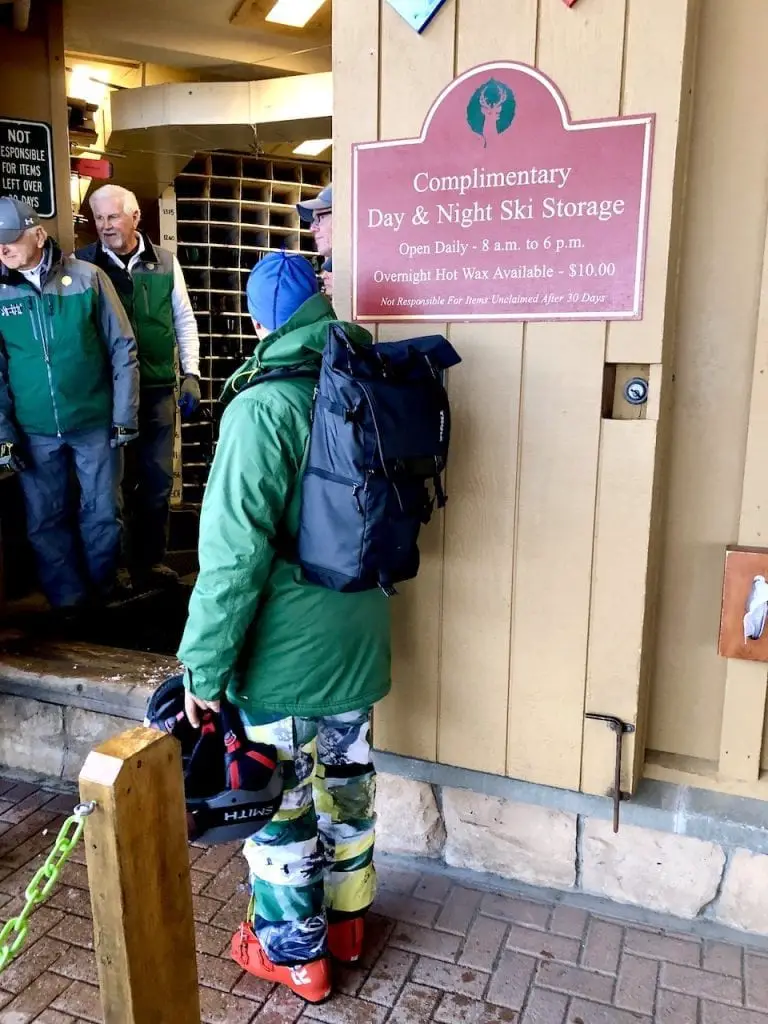 One of our favorite things was the free overnight (and daytime) ski storage. When you travel with children who are not yet able to carry their equipment, being able to leave skis and poles at the resort overnight, and not having to haul everything back to the resort, was the best thing ever!
At the top of each peek, Mountain Hosts are present, waiting to answer any question you might have. Many times they pointed us to runs based on our ski level and they were exceptionally patient and knowledgeable!
Deer Valley Resort With Kids
Deer Valley is such an amazing ski resort… I will be raving about it for months and years to come. It will actually make skiing in other places, really difficult 🙂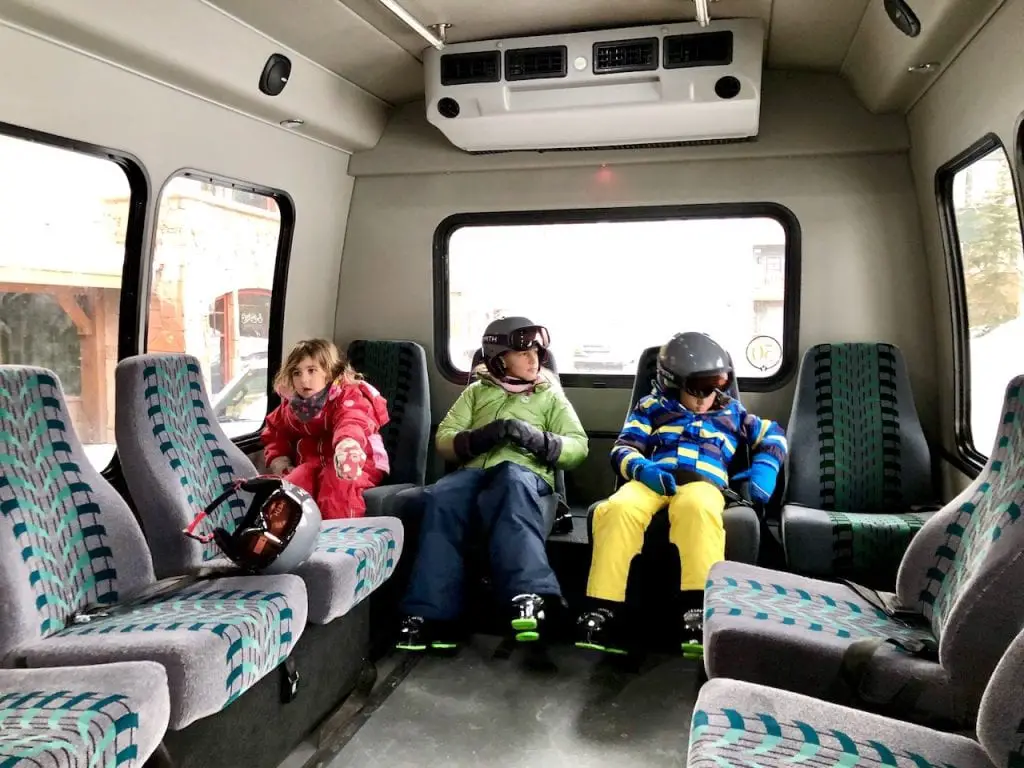 We got pampered from the second we stepped foot at our resort, The Lodges At Deer Valley. The quality of the service in and around the mountain are unprecedented. Everyone offers to help, there is always a smile and a cheer to share, from the staff and guests alike.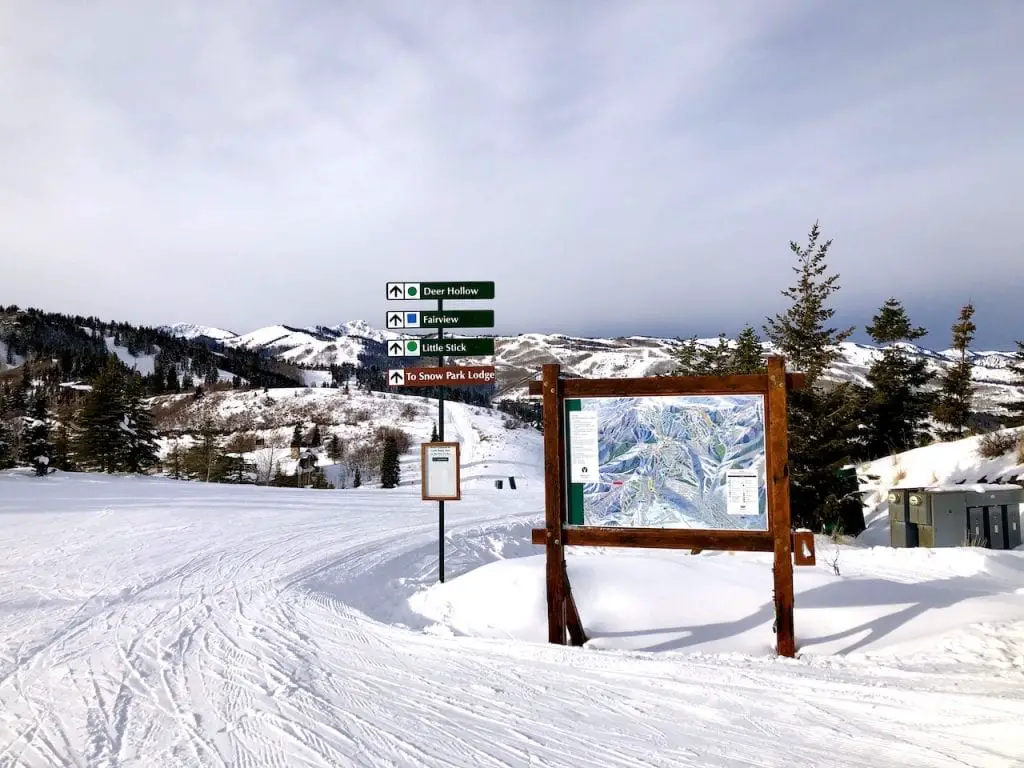 Deer Valley Resort took skiing to a new level and blew us away! They found an elegant way to add luxury to the mountain experience, and we will be back…. We are hooked!
Thank you so much to Ski Utah for allowing us to experience Deer Valley Resort!
---
Pin this for later!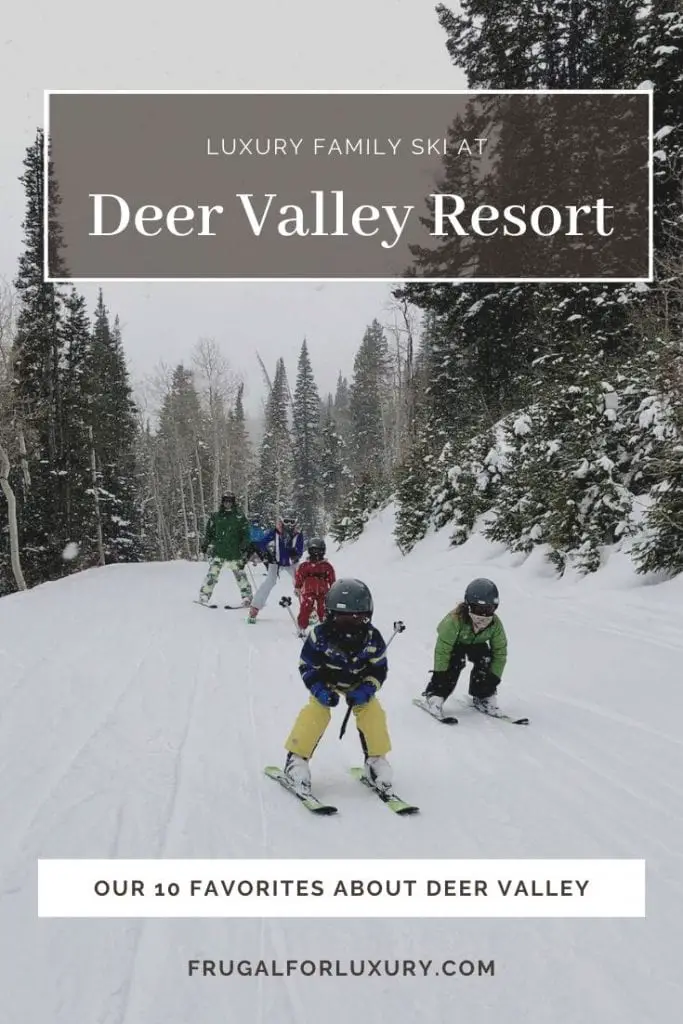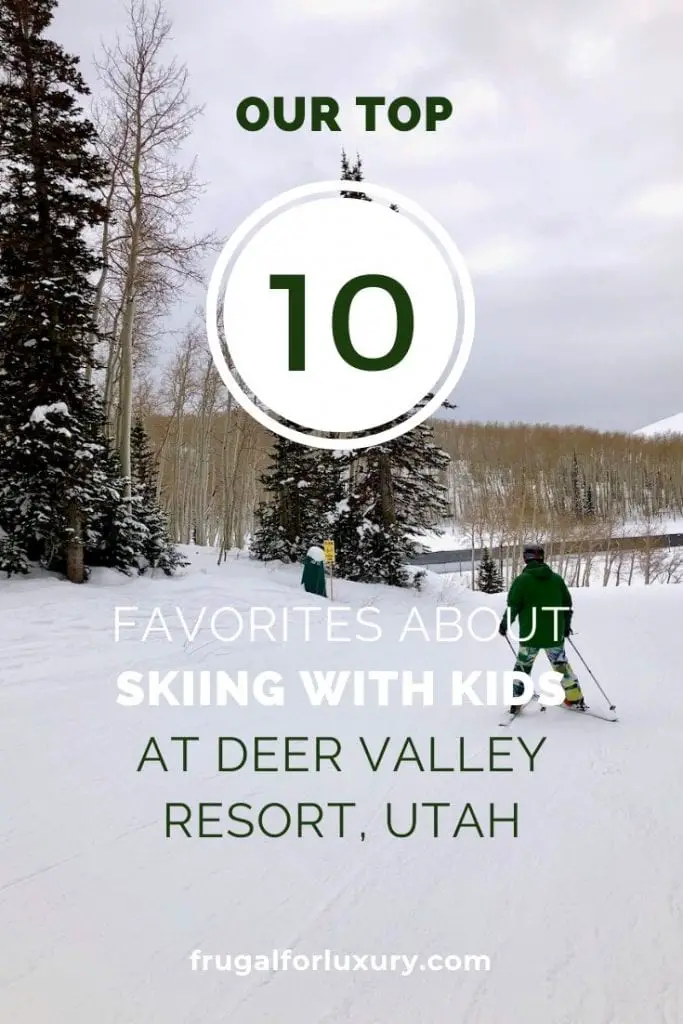 ---
Related articles you will enjoy:
5 Good Reasons To Ski in Park City, Utah with kids
Disney's Riviera Resort – A Photo Story + Video!
Club Med Sandpiper Bay
If you enjoy reading us, make sure to sign up for our newsletter below!