Hello from Jacksonville Beach, FL!
I can't wait to share with you one of our family's highlight moments of 2019!! It is end of October and it is pretty safe to say that there won't be many opportunities to top this off!
When we went to Hawaii in June, Mark (our 6-year old) had set his mind on wanting to learn how to surf. Unfortunately, other events prevented us from being able to do that and it is all he's been able to talk about ever since.
So when Visit Jacksonville mentioned that there are family surf lessons taught in Jacksonville Beach, my heart exploded and I knew we had to give it a try!
What To Expect From A Family Surf Lesson In Jacksonville
Our kids counted the seconds until their surf lesson. They were so excited but as we got closer, I started noticing them getting a little anxious.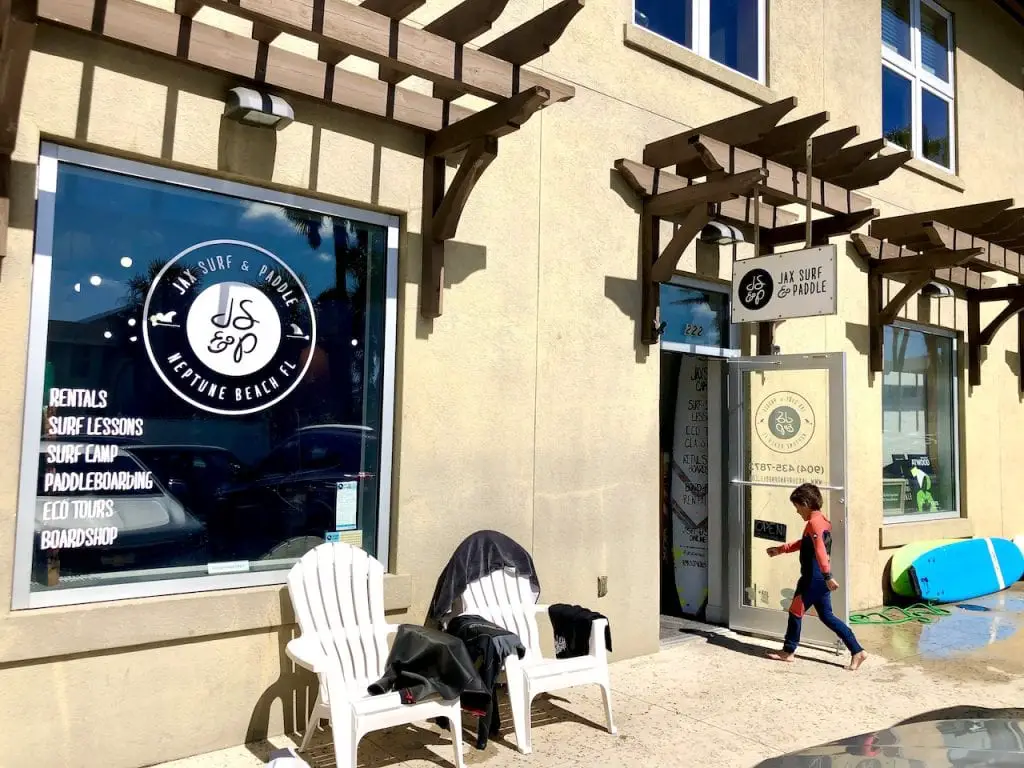 They asked us if surfing was dangerous. Would they get scared? What would happen if they fell… Those sorts of questions are very unlike our children and I realized that they had been watching a surfing kids movie the last few weeks, and were getting anxious as we got closer to the lesson.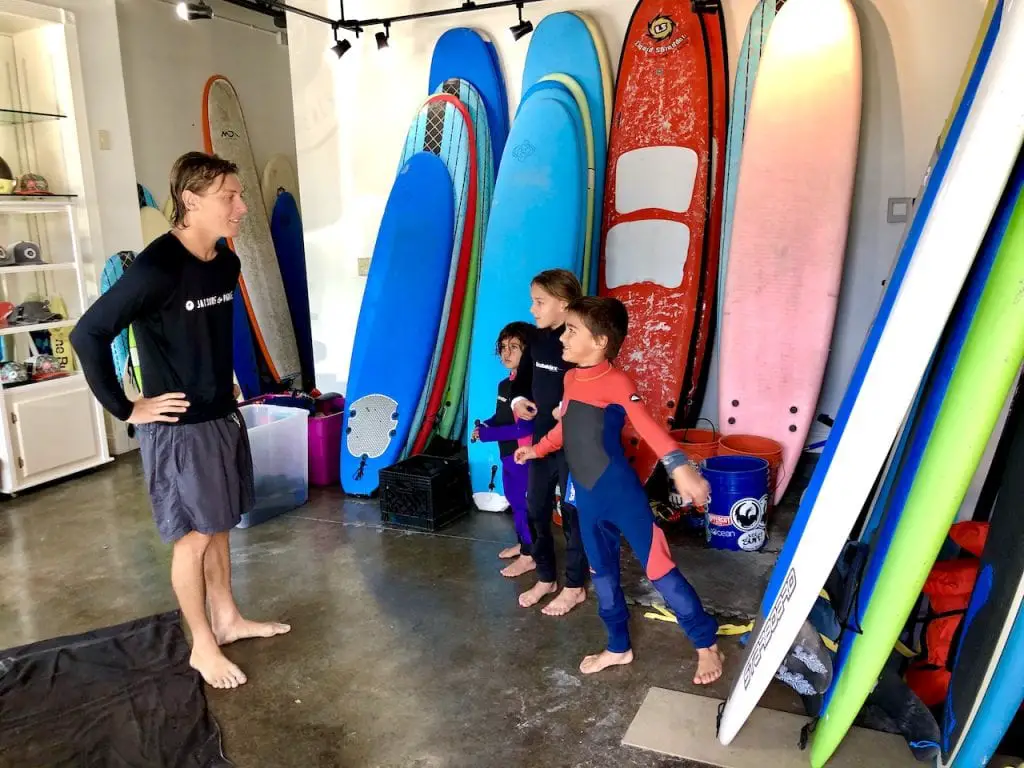 But as soon as we walked into Jacksonville Surf and Paddle's beach store, all those worries flew right off the window!
The kids' eyes grew sooo big as they watched all of the colorful boards lined up against the walls! It was like they were meeting their favorite star in person for the first time! It was so cute to watch.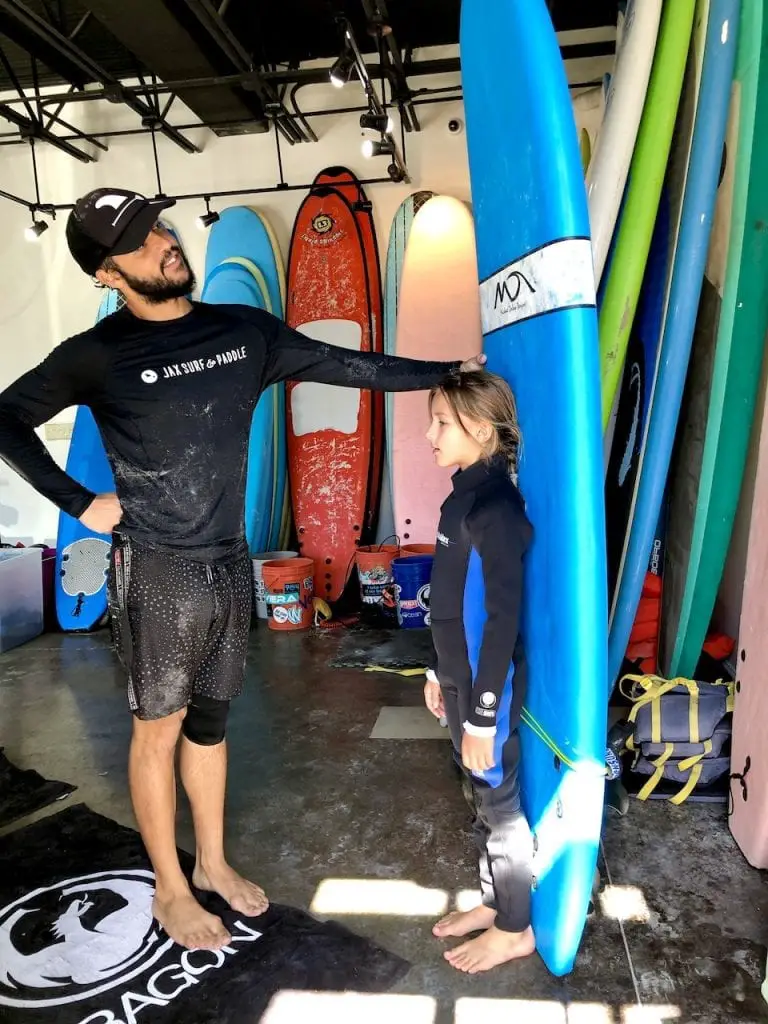 We were first all fitted with a board, based on our size. And then the kids were given full-body wetsuits in their sizes. We probably wouldn't have needed them, but I am always worried they get cold in the water. With those on, none of us at a chance at getting cold.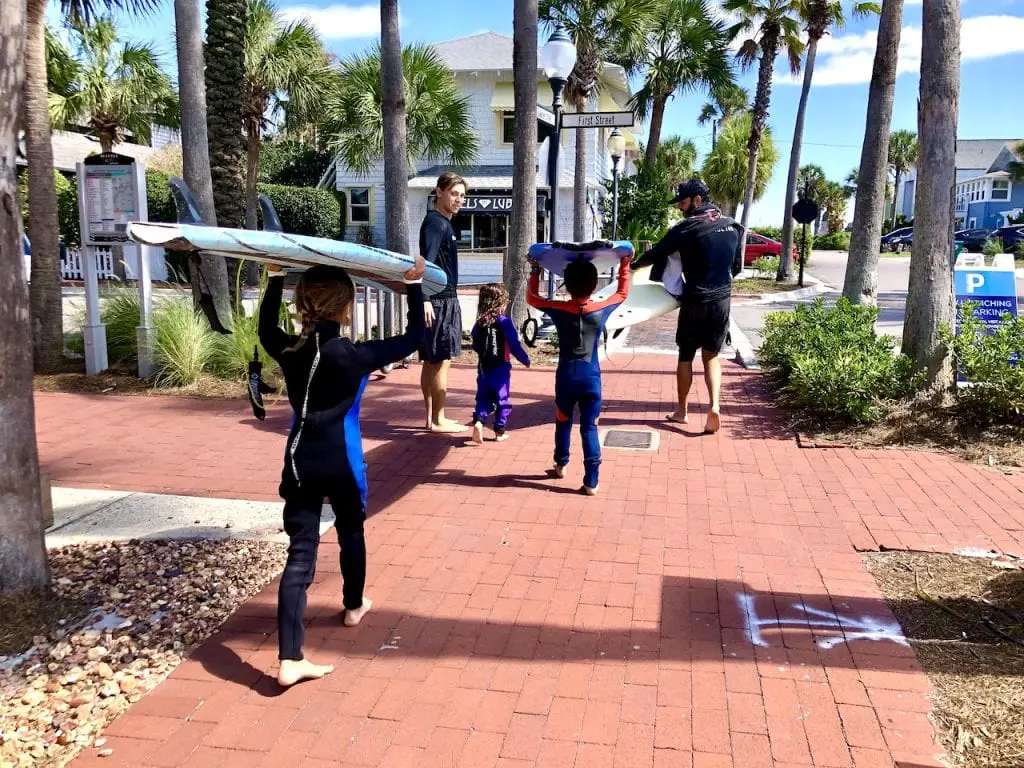 The kids loved being told to put the boards up on their heads to head down to the beach!
On The Beach – Quick Skills Class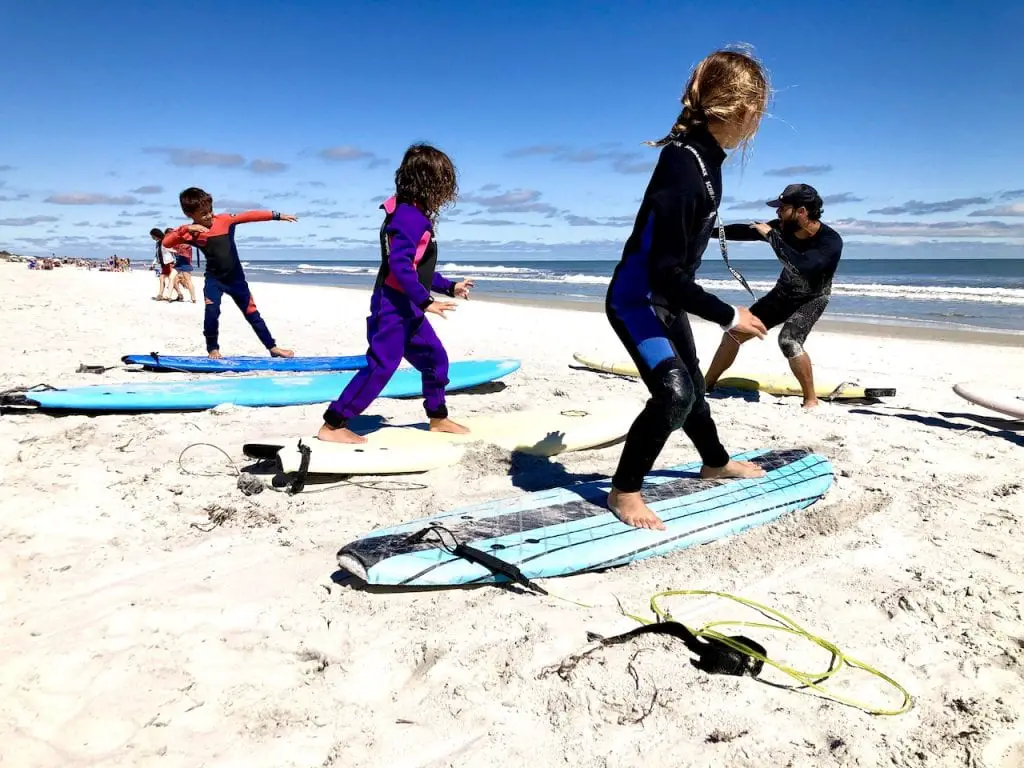 Once on the beach, we laid the boards down on the sand and were given a quick intro to surfing.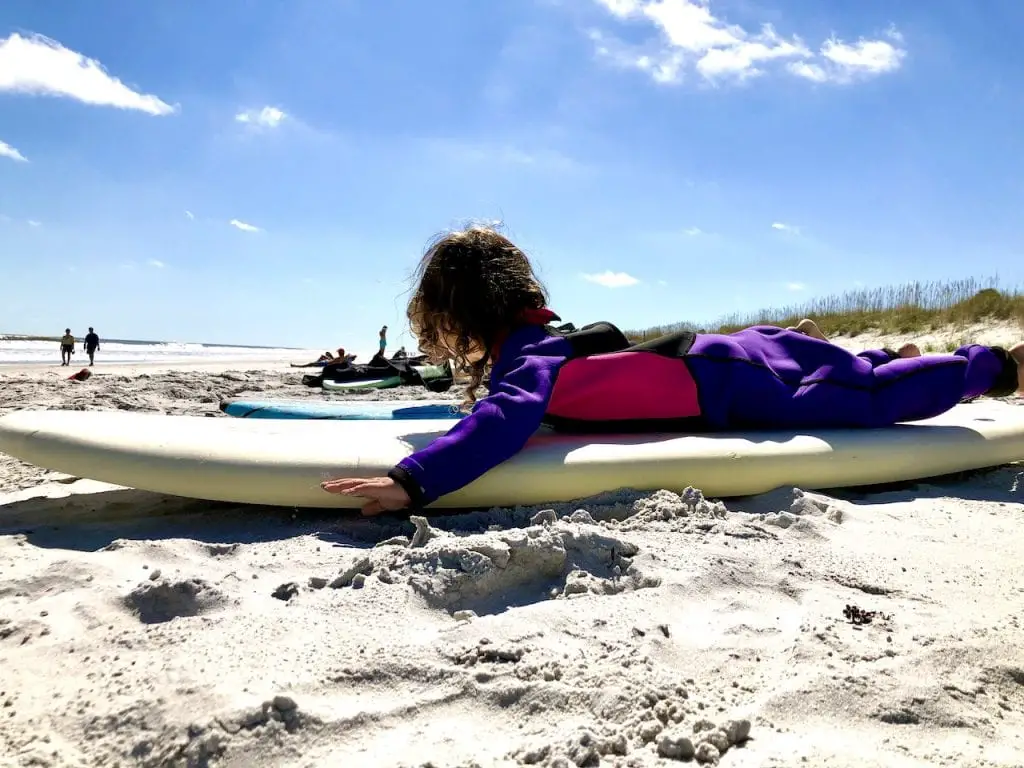 We rehearsed the foot-flapping, arm-crawling, popping-up, and best ways to fall off the board.
We loved how good the instructors were with the kids. They made this super fun for them and got them excited to get into the water. Which, at this point… was fairly easy to do! They couldn't wait to jump in!
In The Water – Surfs Up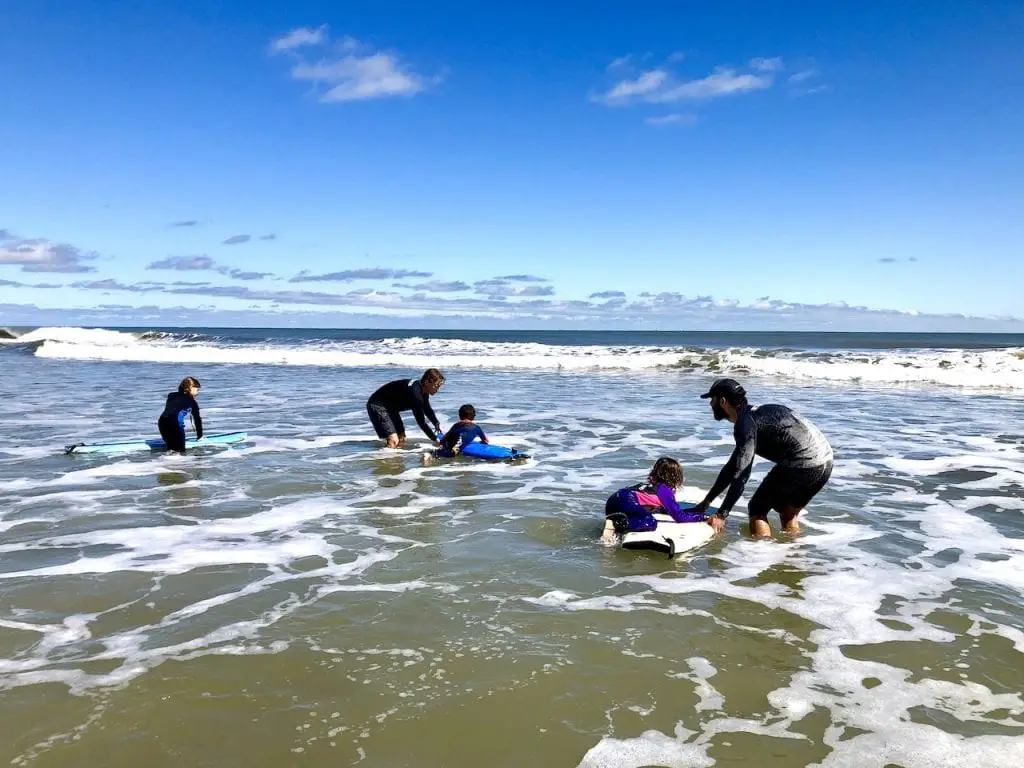 Once in the water, it was 100% fun!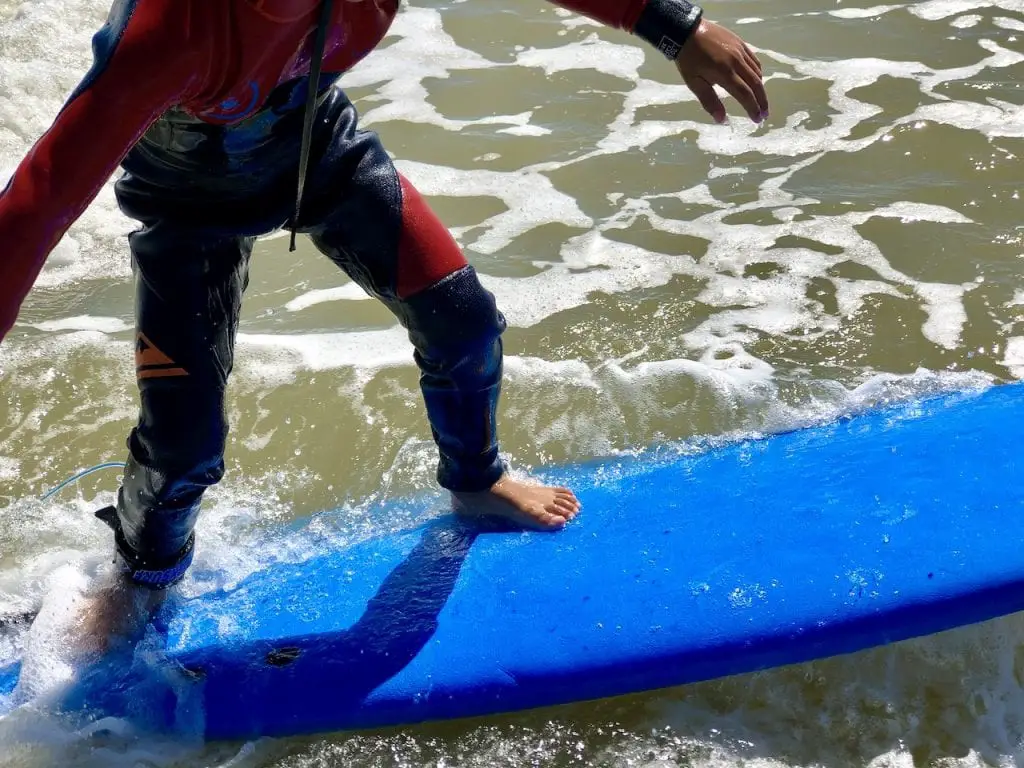 We had a 90-minute lesson, which I thought was amazing and the perfect amount of time for all of us to get enough attention and develop our very first skills.
It was our very first time surfing and the instructors did a fabulous job of taking care of the kids one-on-one and giving us, the adults, some much-needed attention.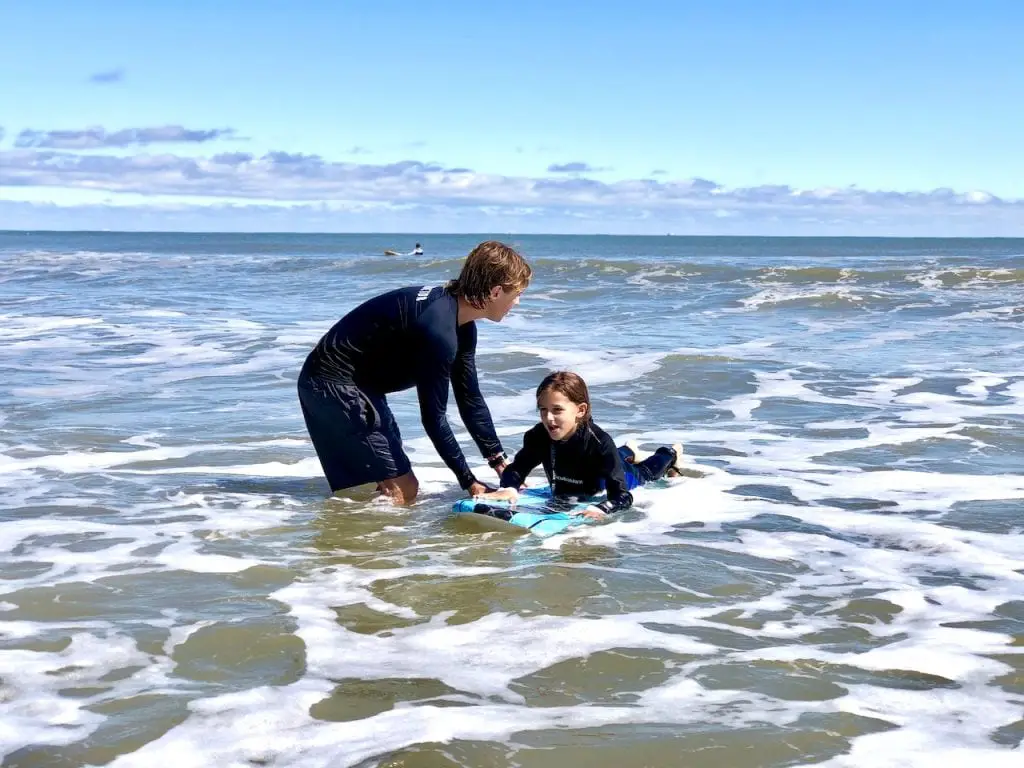 The kids spent the entire duration of the lesson in the water, going on, and on, and on! And I think they could have spent a lot more time practicing! We had to pull them out!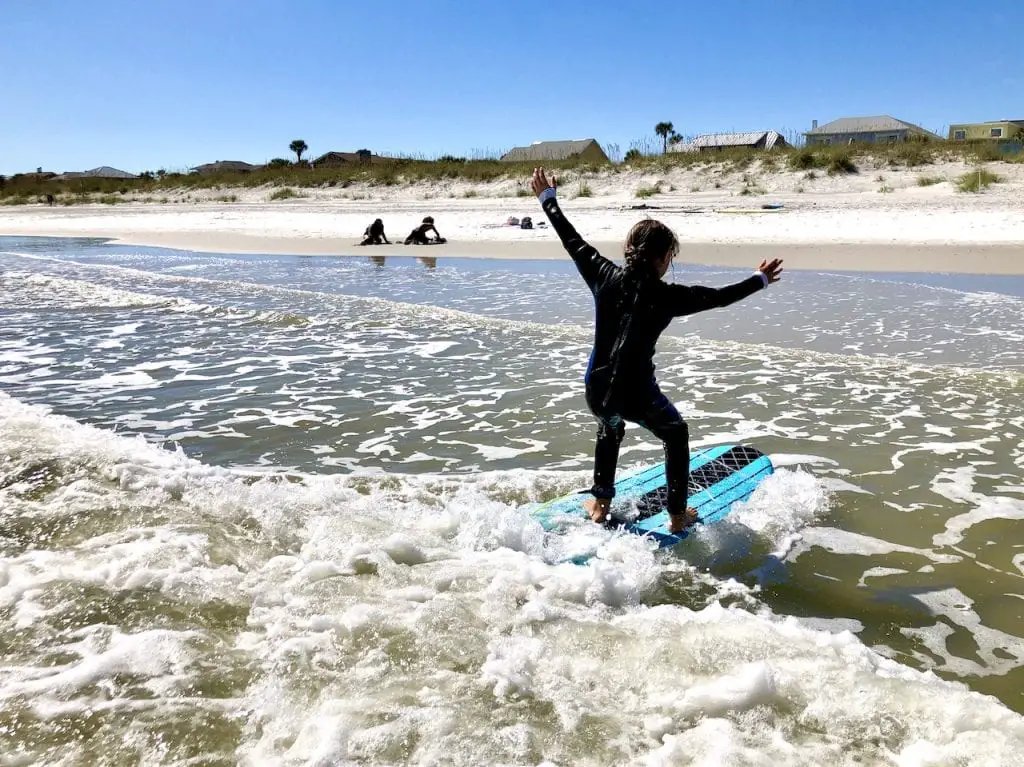 Everyone was able to stand up, which was totally amazing and the best feeling ever!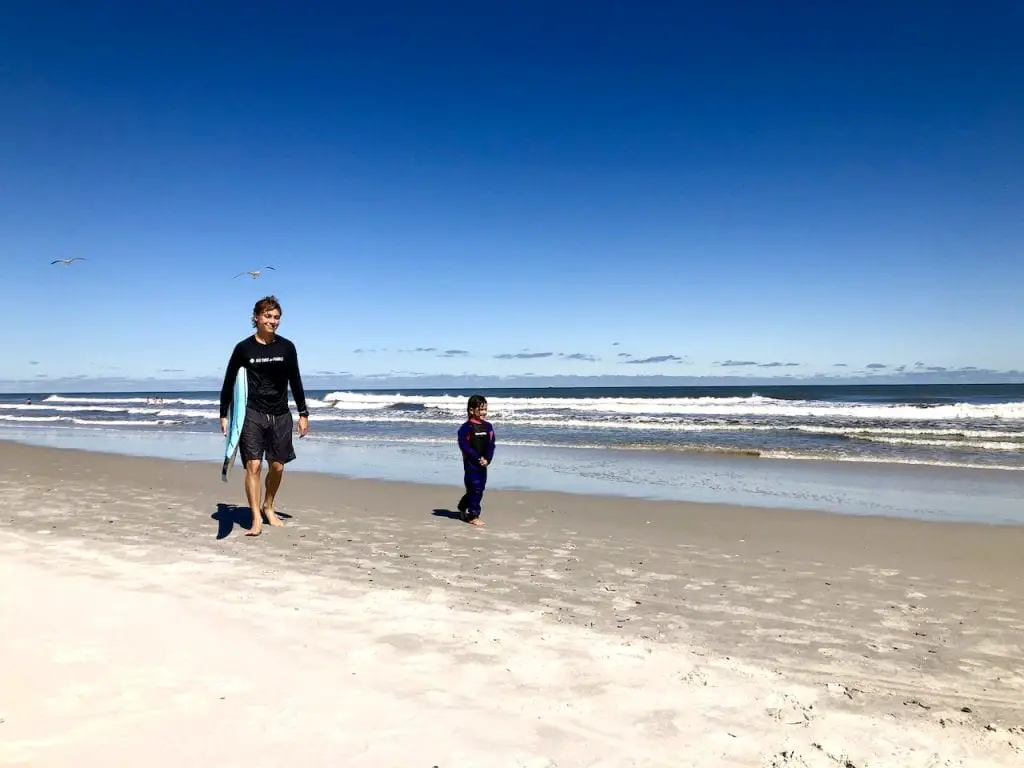 The instructors were so skilled… when they saw that I was struggling to catch the waves, they quickly came over, gave me one tip and I was on my way.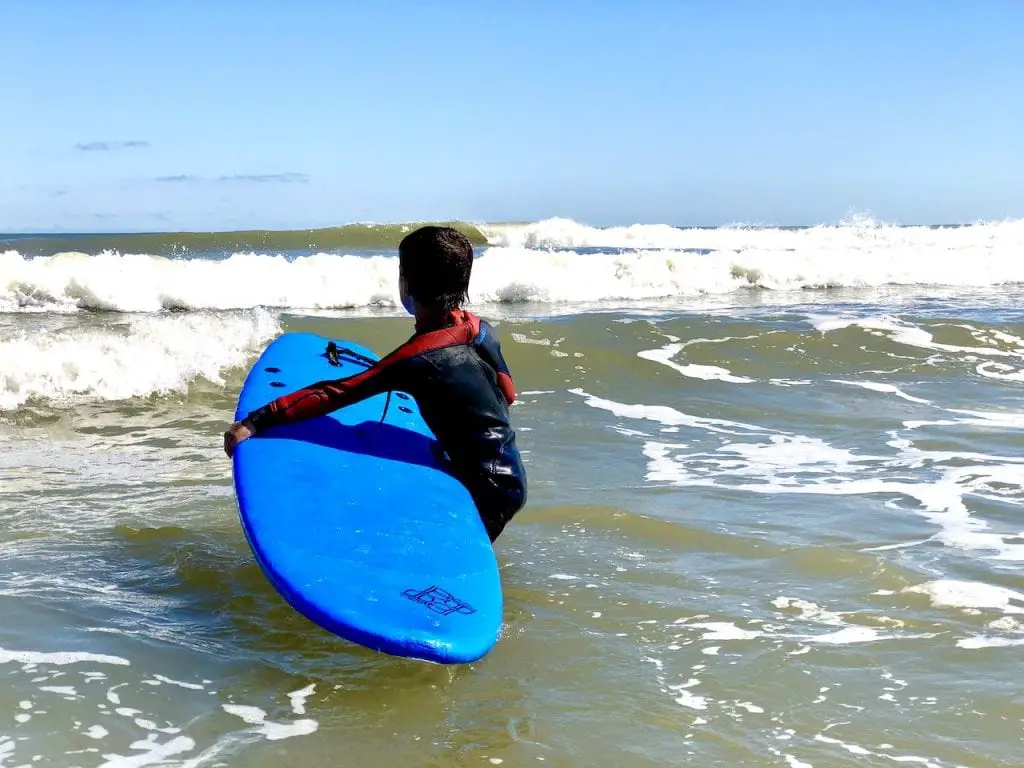 Same with the kids – they'd notice one struggling and would know exactly what to tell them, in a few simple words, to help them out!
Our Experience With Jacksonville Surf And Paddle
I had not planned on writing up a whole article about our family surf lesson in Jacksonville, but our experience was so insanely amazing, that I want everyone reading this blog to know about it!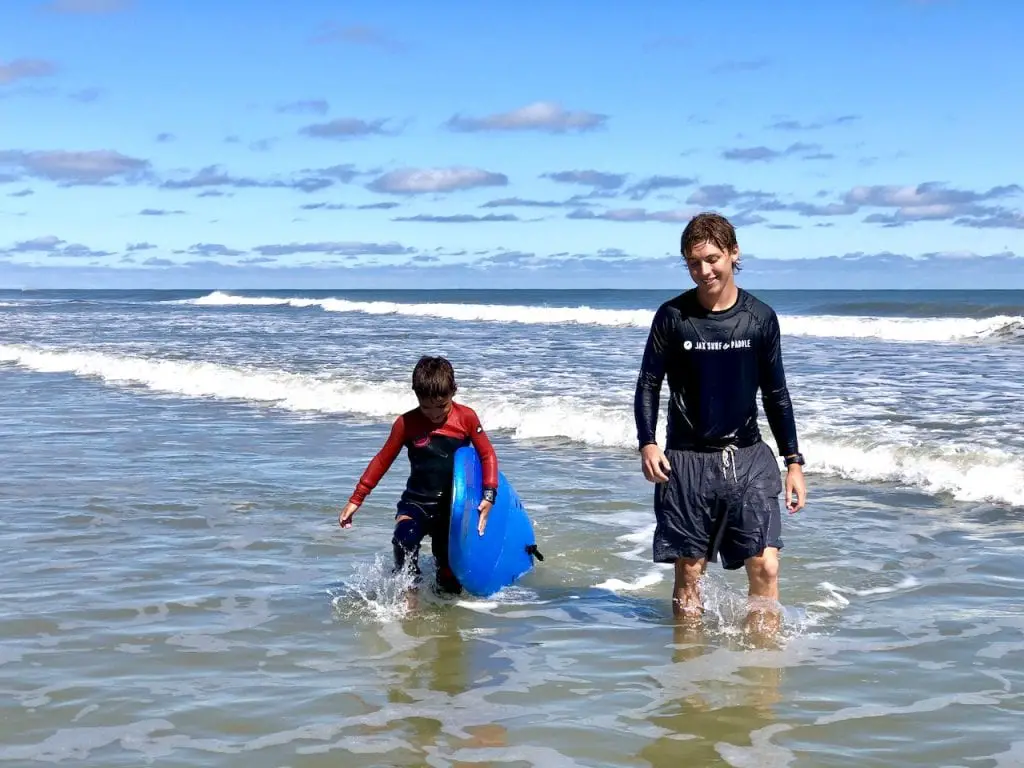 We had the most amazing time with our instructors from Jacksonville Surf and Paddle. Christian and I were amazed at how good they were with the kids, while still being able to cater to us.
We felt extremely safe the entire time and very well cared for!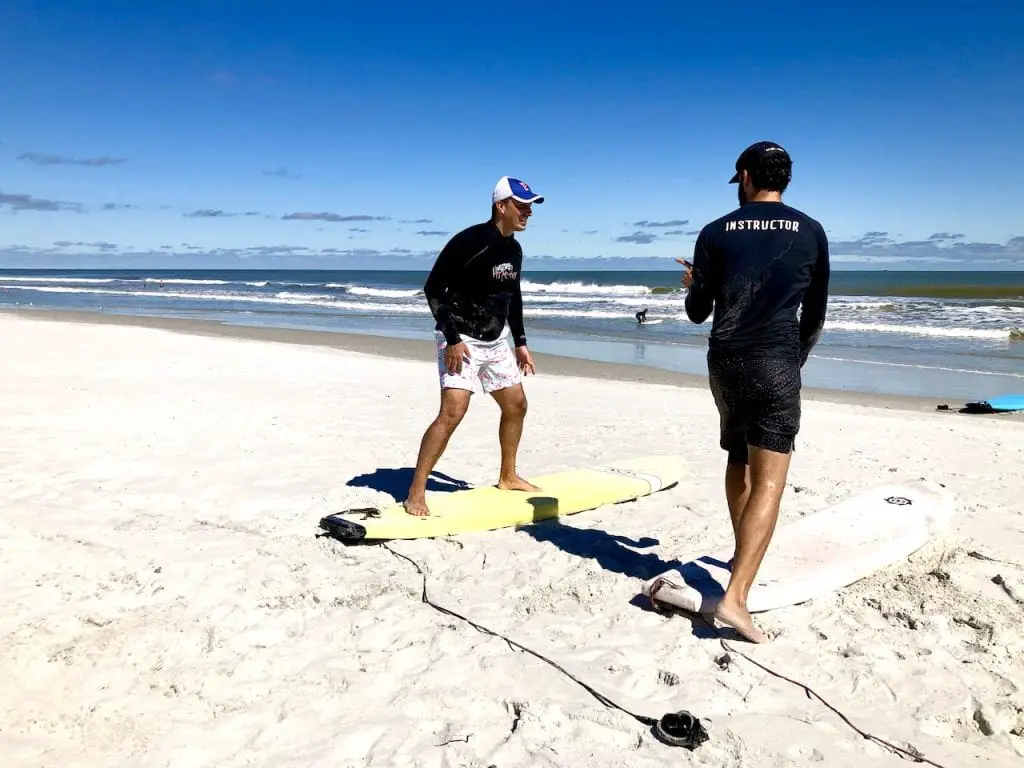 When we got back to the shop, the kids wanted to help with washing the boards off, and they so very nicely let them help out.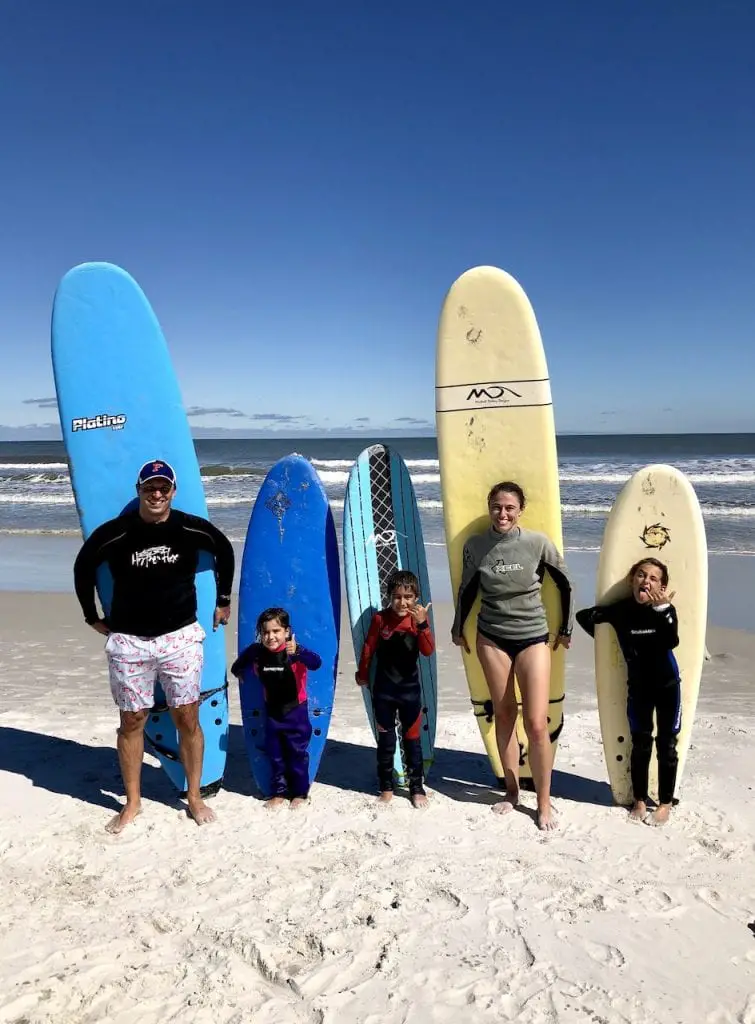 If you are looking for a fun half day in the water, or if you know that you want to learn or brush up on your surfing skills, I can only recommend Jacksonville Surf and Paddle. They made our year, let me tell you!!
Oh… and of course, we bought one of their used boards… because you know.. a new passion has be found! They actually sell really good quality used boards for a great price, and we couldn't pass up!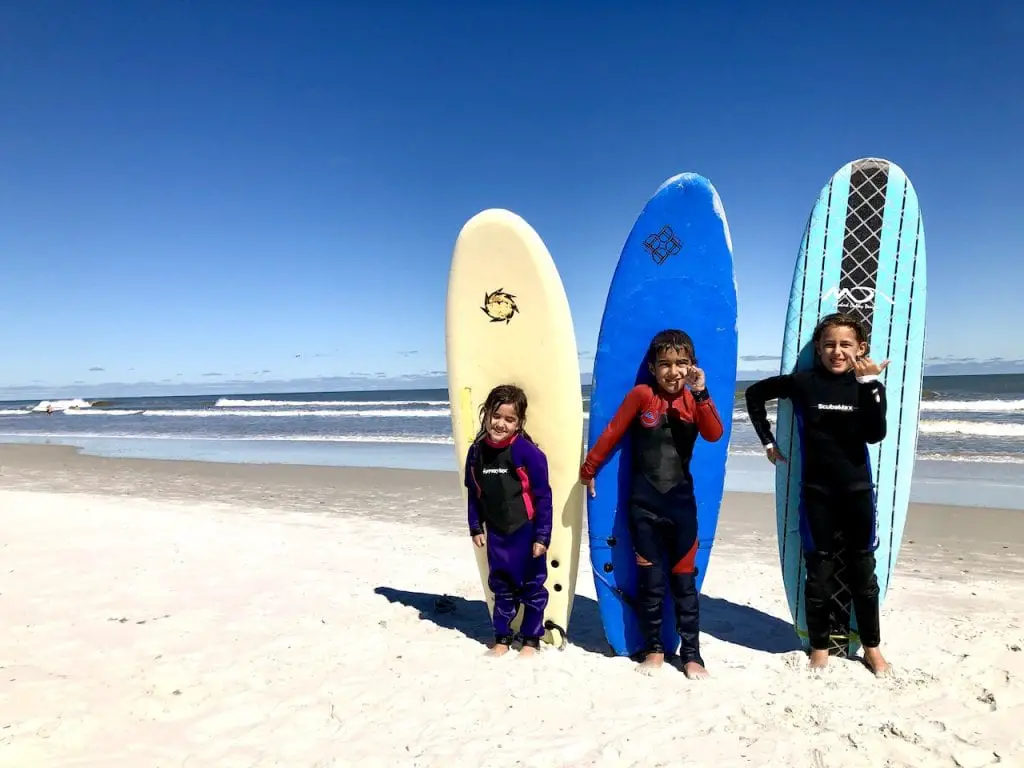 Enjoy yourself!! The family surf lesson is more than worth it!
A huge thank you to Visit Jacksonville, for allowing us to experience surfing in Jacksonville with Jacksonville Surf & Paddle!
---
Pin this for later!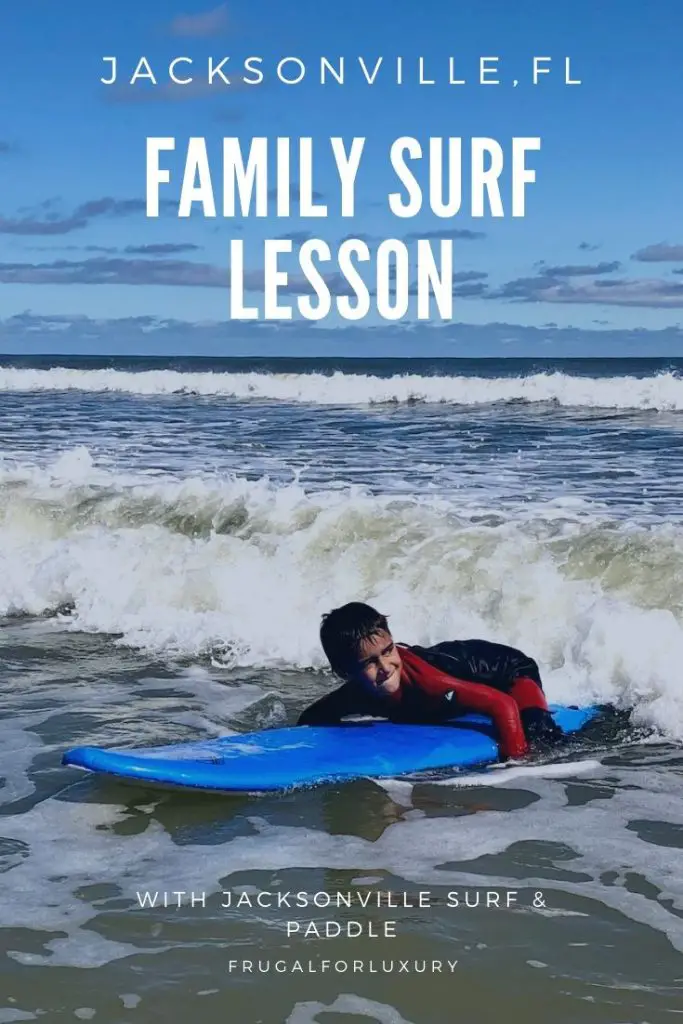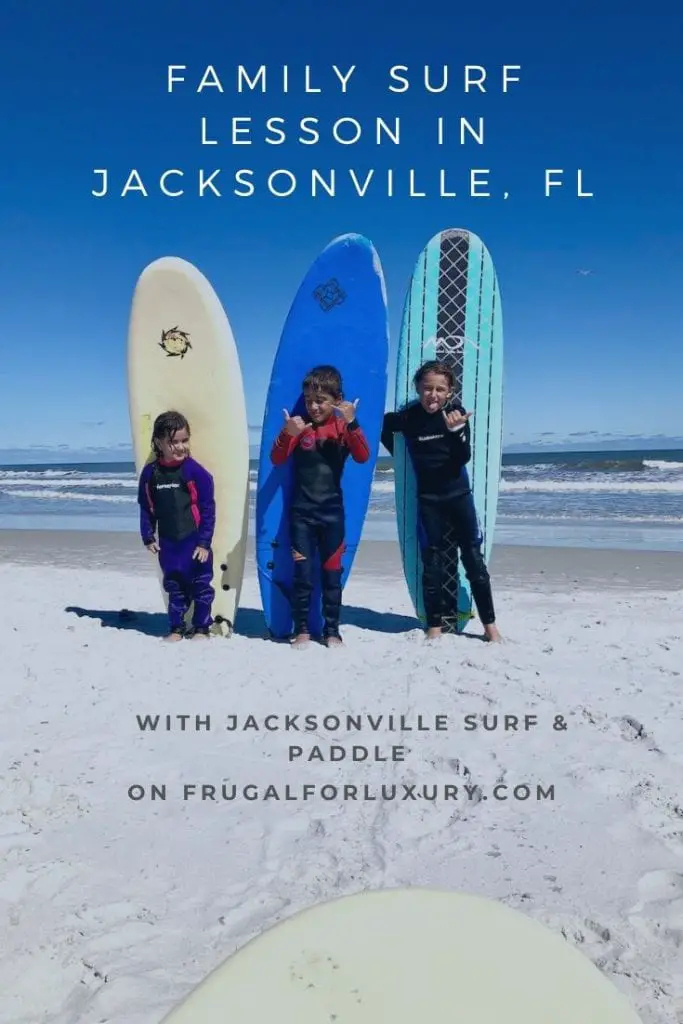 ---
Related posts you would enjoy:
Top Things To Do In Jacksonville, FL With Kids – A Family Travel Guide
25 Photos That Will Make You Want To Ride The Disney SKYLINER
20 FREE Things And Experiences At Disney World
If you enjoy reading us, make sure to sign up for our newsletter below!