Are you up for a canyon hike with kids at Paklenica National Park?
Croatia is a country of natural wonders. The more time we spend in the country, the more I am convinced that it has some of our planet's most beautiful national parks.
Today we hiked Paklenica National Park with the kids and had the most beautiful adventure.
I highly recommend including Paklenica National Park to your Croatia itinerary and hope you find those tips helpful!
1- Accessing Paklenica National Park
If you started your trip through Croatia north of the park, either from Zagreb or coming from Slovenia, you will probably first visit Plitvice National Park on your way south.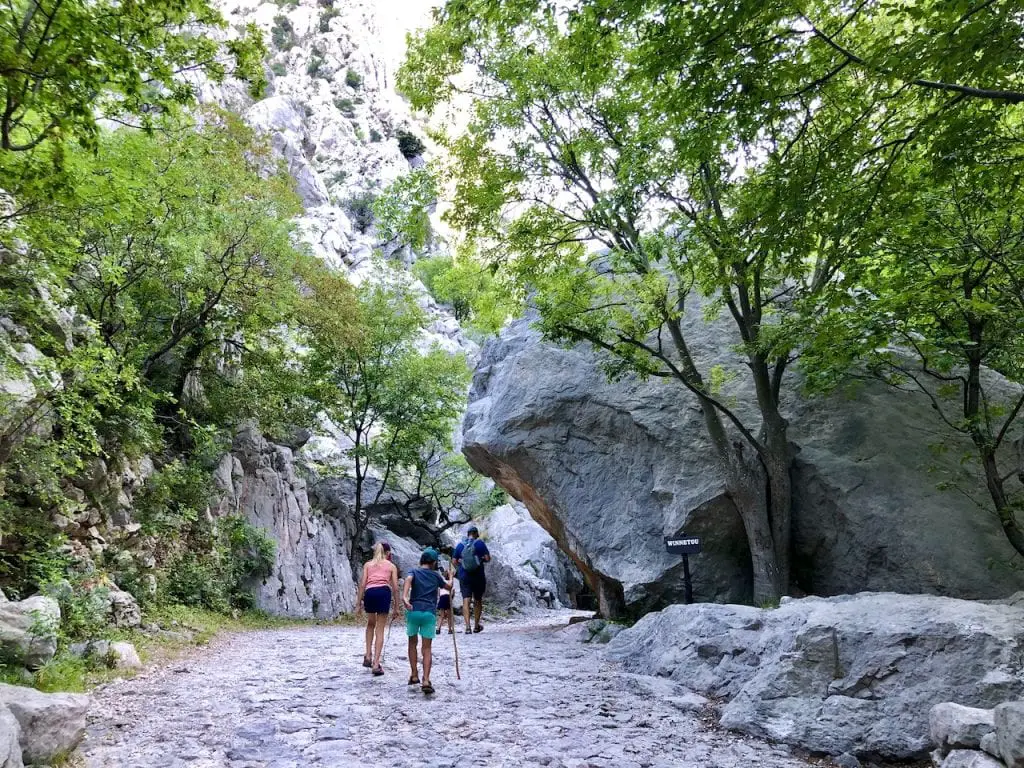 Paklenica is about half way down the country and I recommend staying near the park the night before. Starigrad is a wonderful little town backing up into the national park with easy access from the highway, that will give you everything you need to spend the night before your hiking day!
The best way to enter the park is through Entrance 1 – Velika Paklenica. From there, you will access the main hiking trails.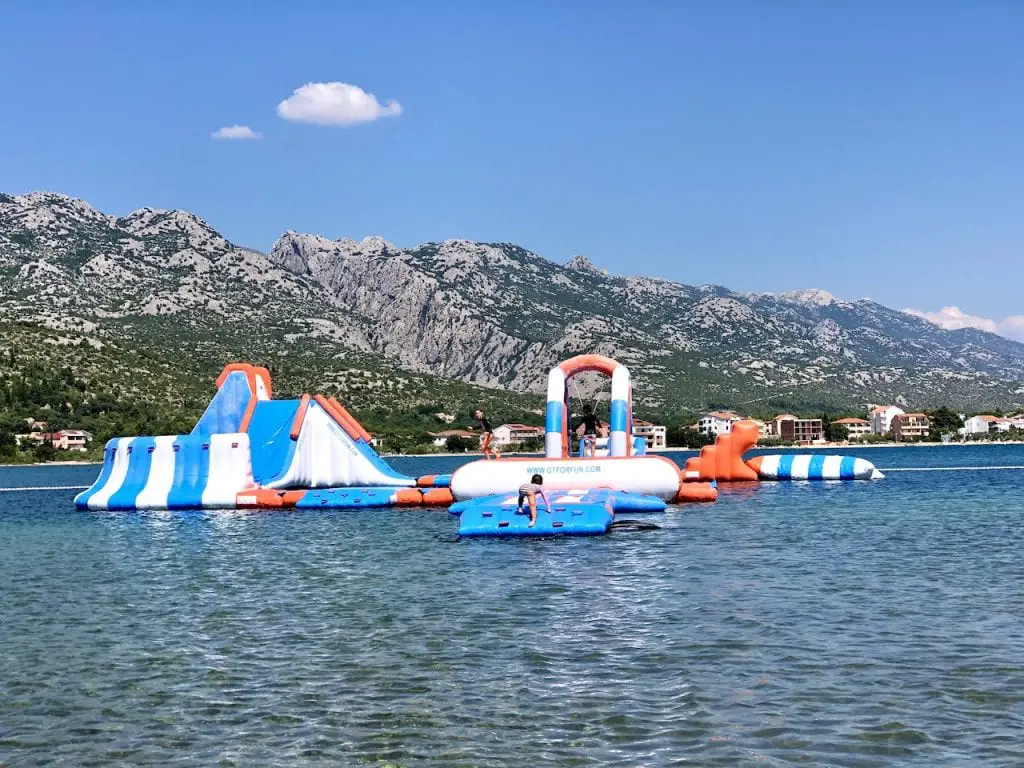 If your kids have a bit of energy, let them have fun at the Sea Playground in town. For 30kn for 30 minutes or 50kn for an hour, it is the best way to let some energy out and enjoy the best of coastal living!
3- Discounted Tickets
Buy your tickets on the Croatian National Parks website for 5% off your Paklenica tickets!
4- Get Up Early
If I had to give you just one tip for your day at Paklenica, it would be this one!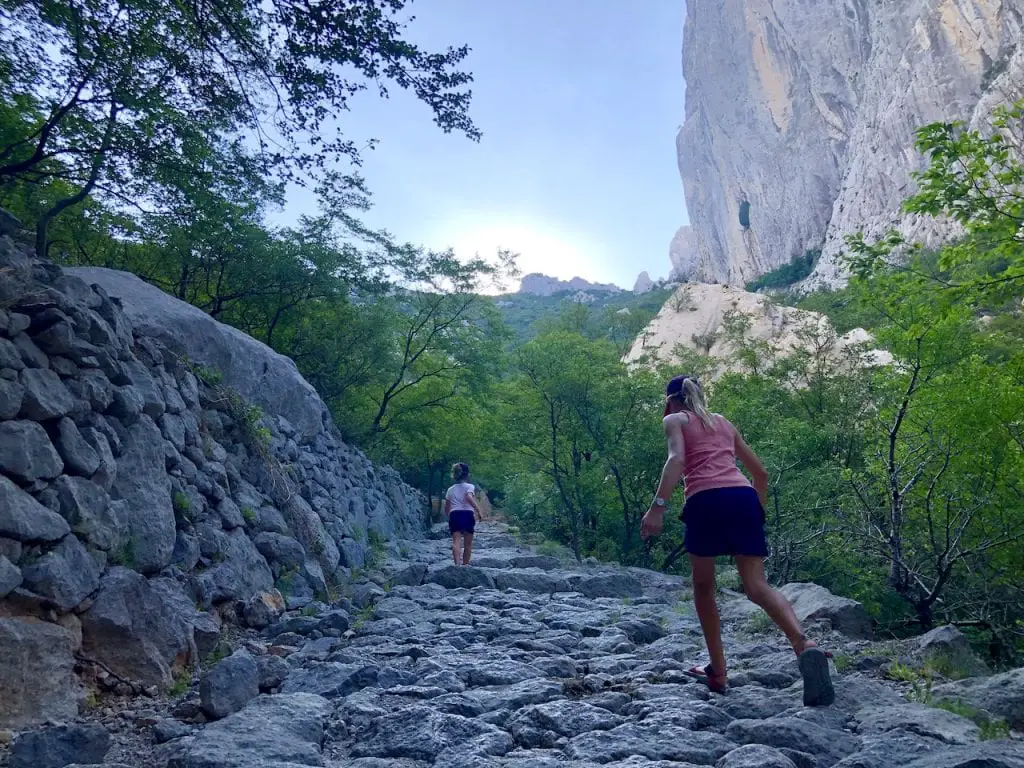 Wake up early and be at the park as quickly as you can. Paklenica opens its doors at 6AM in the summer. We were there at 7AM and literally had the park to ourselves.
In the summer, parking can overflow and avoiding hiking with a horde of tourists is well worth the 6:30AM effort.
You will also enjoy the lower temperatures in the morning and getting down in the early afternoon when the canyon lights up in its prettiest colors!
Another great reason to stay in Starigrad. From there, it will be a couple of minutes drive to the entrance of the park.
5- Canyon Hiking
I had forgotten just how much I loved canyon hikes.
To be honest with you, I can't even remember the last time we walked through a canyon and our first moments in Paklenica National Park reminded me of some of American national park adventures I took with my parents.
The start of your hike through Paklenica takes you up through a beautiful canyon of white stones with a clear water river flowing through it.
We loved the raging water sounds contrasting with the quiet silence of the canyon. The atmosphere was mesmerizing and put us right in a mountain mood for the day!
6- Leave The Stroller In The Car
If you are traveling with small children, forget the stroller.
Arm yourself with a quality hiking baby carrier and get ready for good day of mountain hiking.
7- Wear Hiking Sandals / Pack Swimwear And Towel
If there is one thing I love most on a hike, it is the option to walk through water.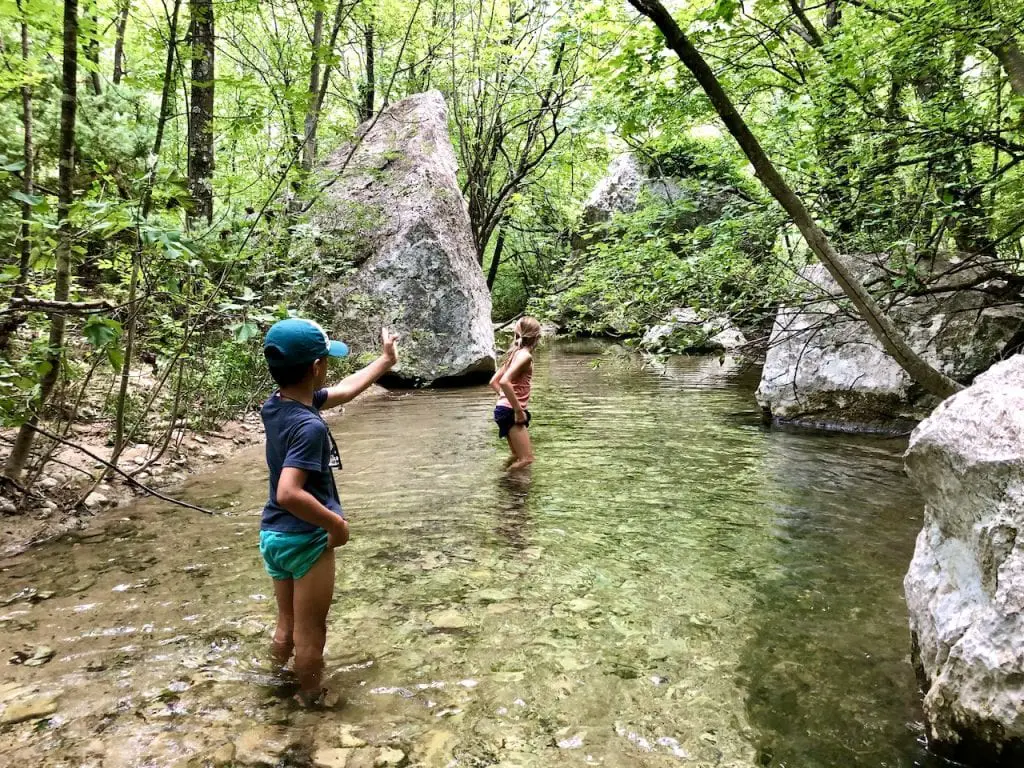 In Paklenica, you will have plenty of opportunities to get yourself wet in the river – a heavenly feeling after a long trek in hot Croatia!
You can also walk through the river for a little while. The kids splashing around and letting themselves get wet after all that effort!
8- Drinkable Water Fountains
This part of Croatia can get really hot in the summer. I highly recommend packing several liters of water with you if you plan on hiking!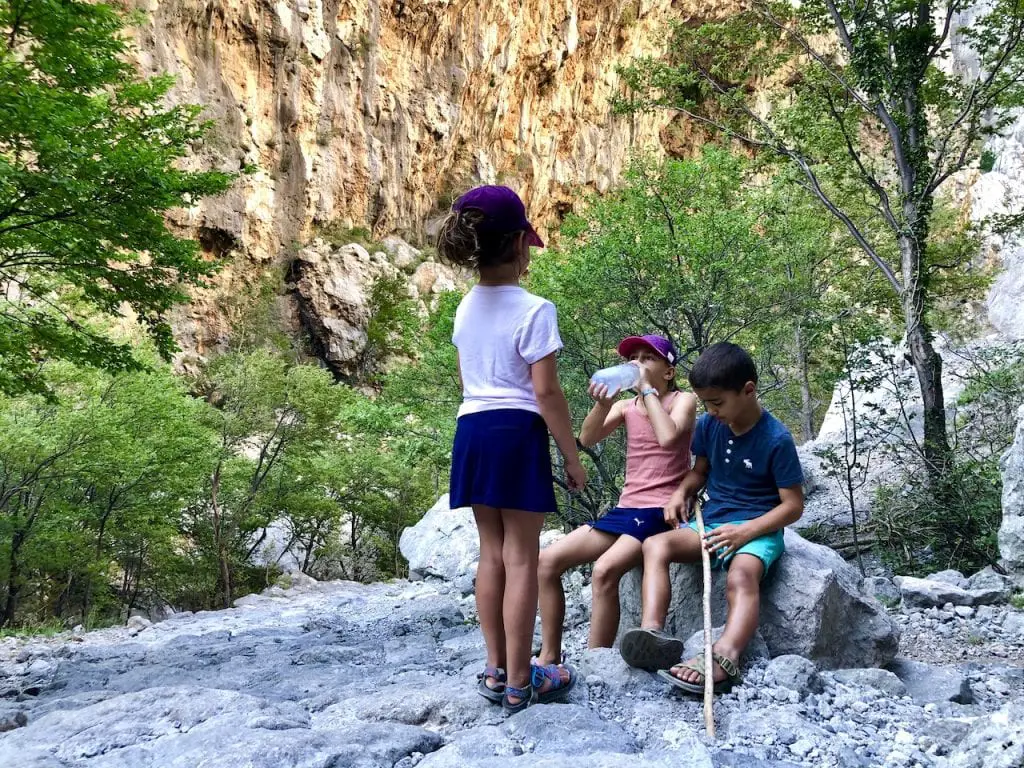 As long as you are on the main trail towards Lugarnica (see recommended hikes below), you will find drinkable water fountains about every kilometer.
After Lugarnica, if you decide to hike up in the mountain, have your bottles filled as you get started. There won't be any fountain as you start hiking up!
9- Free Public Toilets
I loved that there were public toilets off of the main trail, shortly after the parking lot. Make good use of it prior to your hike!
10- Which Trail Is Right With Kids?
I have three recommendations for you, based on your family's climbing ability and experience.
The Lugarnica Forester's House
Whether you are hiking with younger children, or are a bit short on time, the Lugarnica Forester's House is a great hike for families.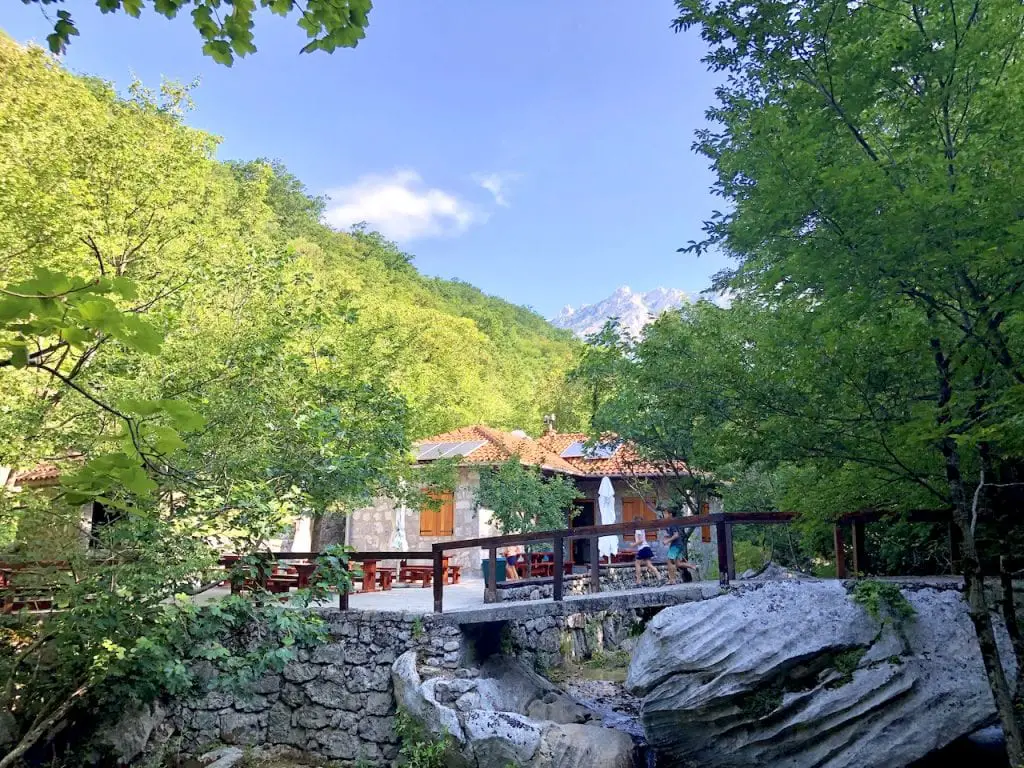 Located 4 kms away from the parking lot, you will hit Lugarnica by hiking up the main trail, in approximately 1.5 hours.
Your hike will first take you up the canyon, which will be the most abrupt terrain of the hike, then along the river on a graveled path, great for letting those little legs loose and look at all the colorful flowers or even walk through the river for a while!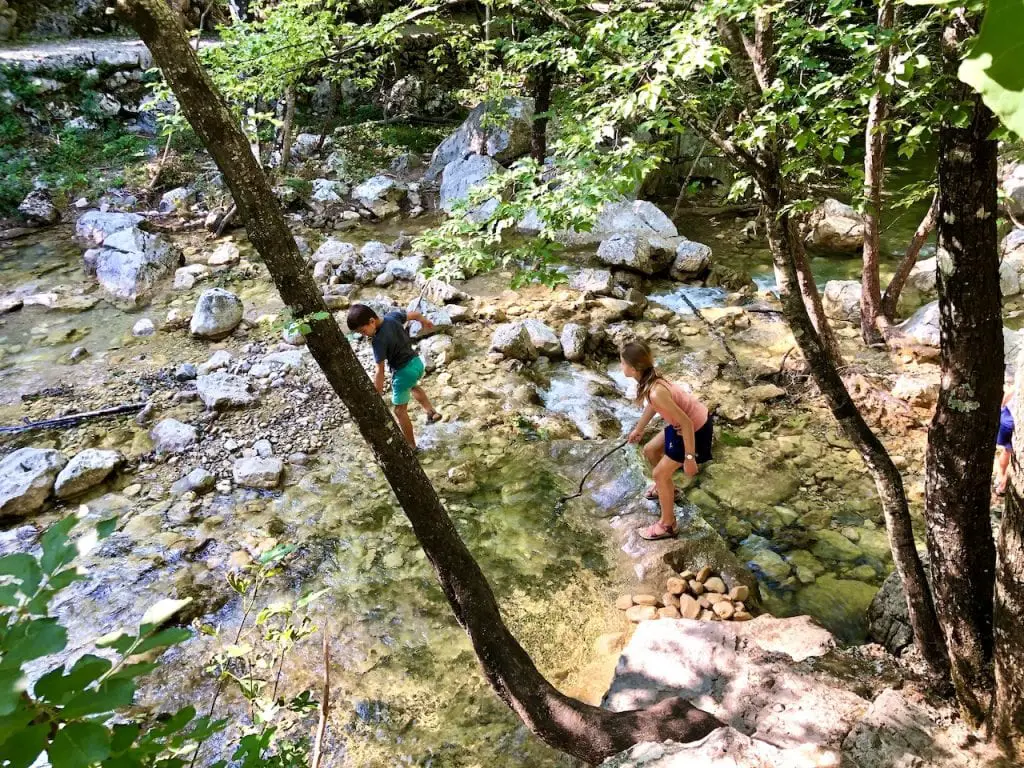 Once at Lugarnica, enjoy a coffee or tea, and let the kids play in the river before hiking back down!
If you love caves, you can visit this impressive cave on the way up to Lugarnica. A 30-minute detour from the main trail, and fairly up hill (1-hour round trip), you can access the Manita Peć Cave for a 30-minute guided tour.
Note that a separate fee applies and needs to be paid in cash once you get to the cave entrance. Plan your day around the cave's opening hours, which you should check HERE prior to entering the park. Unless you are visiting in July / August / September, when the cave is opened daily, make sure to check which days Manita Peć is opened!
You can expect to reach the cave in about 1.5 hours from the parking lot.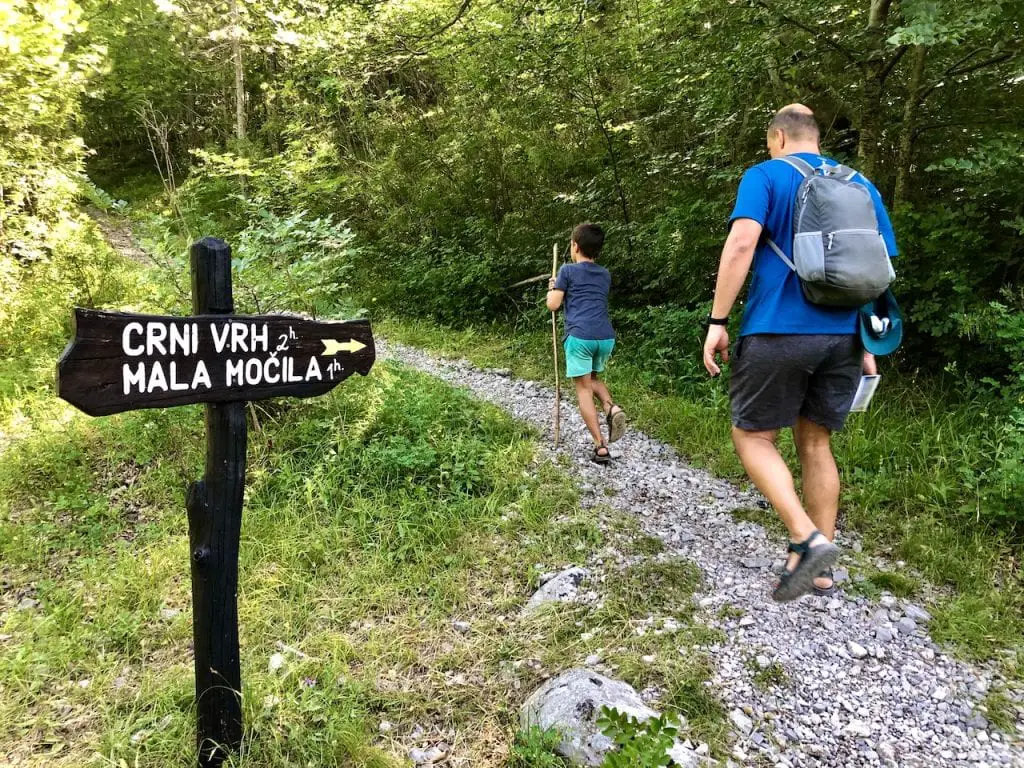 If you are looking for a more challenging hike, which I would probably rate as difficult for families, hike to Lugarnica Forester's House and pass it by a few meters until you see a sign on your right hand side announcing Mala Močila.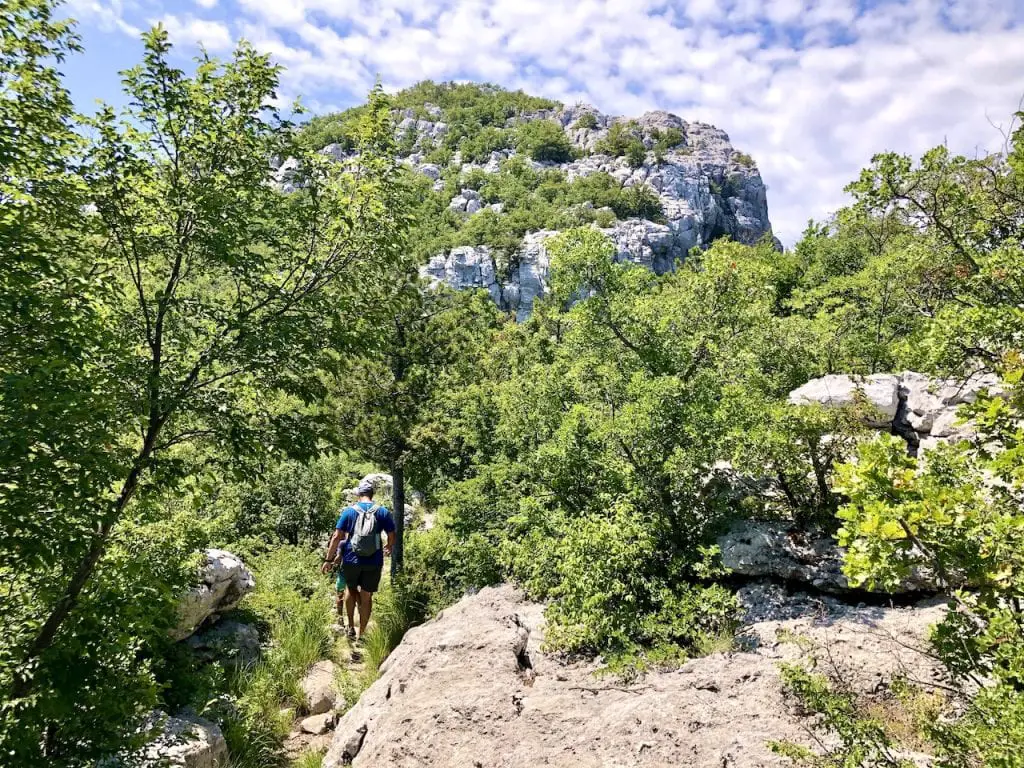 This hike takes you about 600 meters of elevation change up from the parking lot! Be ready for a steady forested hike up for about an hour from the sign. We loved that it was shaded.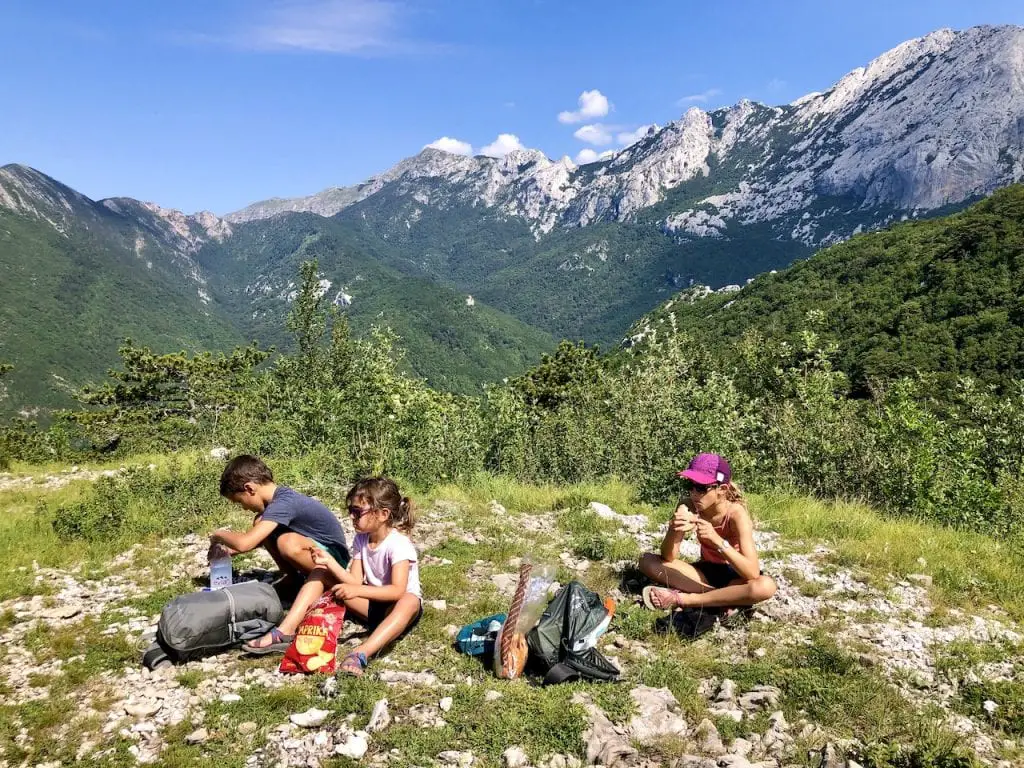 Once you reach the top, you will be in the best spot for a panoramic picnic and I recommend spending time up there taking in the views and enjoying the mountain.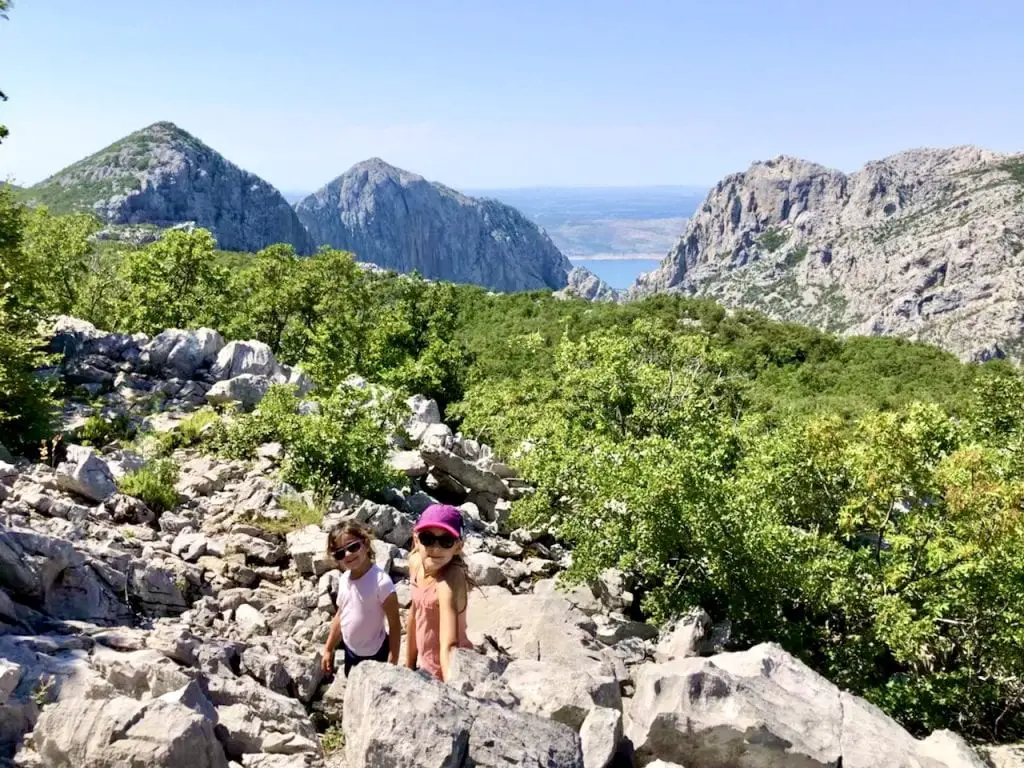 The wonderful thing about this hike are the views. You are hiking out of the canyon onto the top of the mountain, which gives you all the views!
Once you have reached the top, you will only be left with flat and downhill hiking!!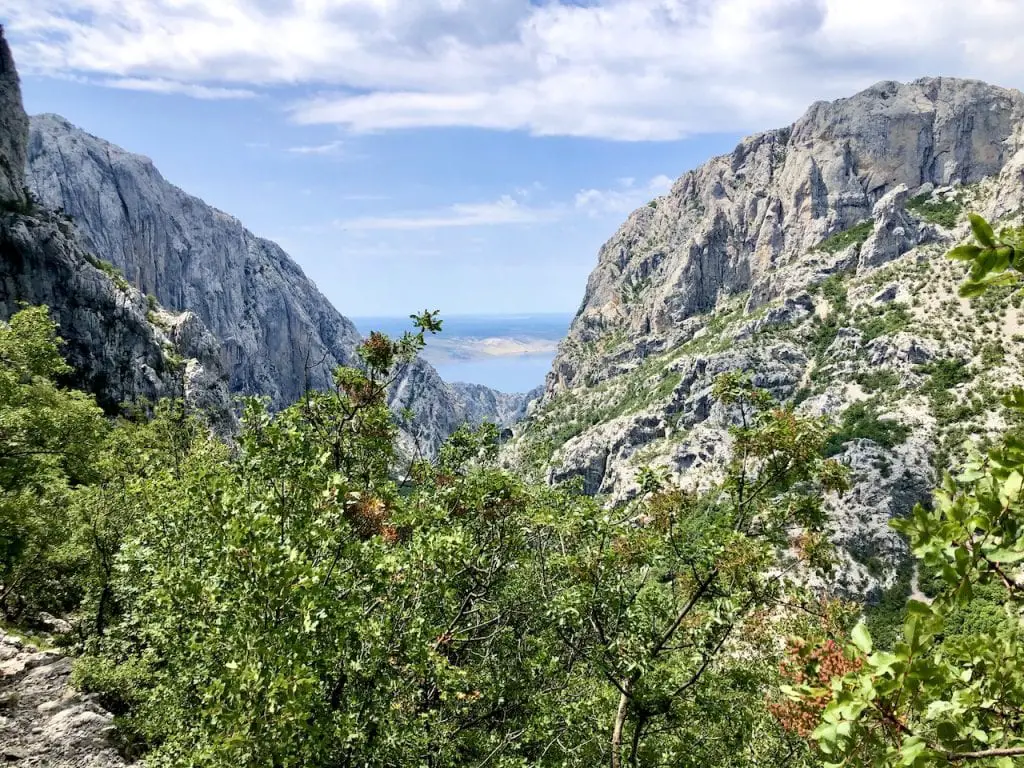 As you progress, the Adriatic sea will slowly appear through the canyon and leave you in awe of its splendor – making the hike all worth it!
The hike down was the most challenging part of the trail in my opinion. If you have a pair of closed-toe shoes, you might want to wear them to hike down. The trail is made of rocks and stones, which easily roll under your feet and could make you slide.
It is about an hour of downhill hiking before reaching the river and changing back into your hiking sandals! From there, you are back on the main trail and can choose to walk down the river for a little while or join the trail back and easily hike back down to the parking lot.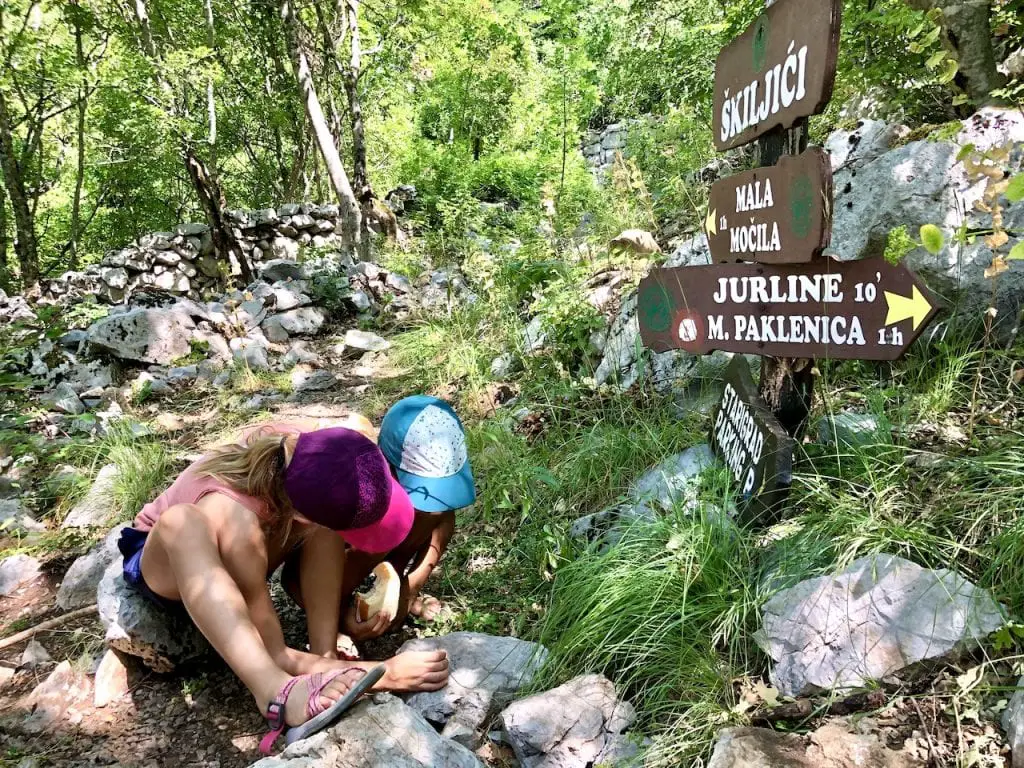 We did the Mala Močila hike for our 3 kids aged 5, 6, and 8. It is definitely manageable but they are fairly good hikers. We walked it all in hiking sandals and the whole hike took us about 6 hours, from car parking to car parking!
Hiking Paklenica National Park With Kids
We had an awesome day of hiking in Paklenica National Park with the kids.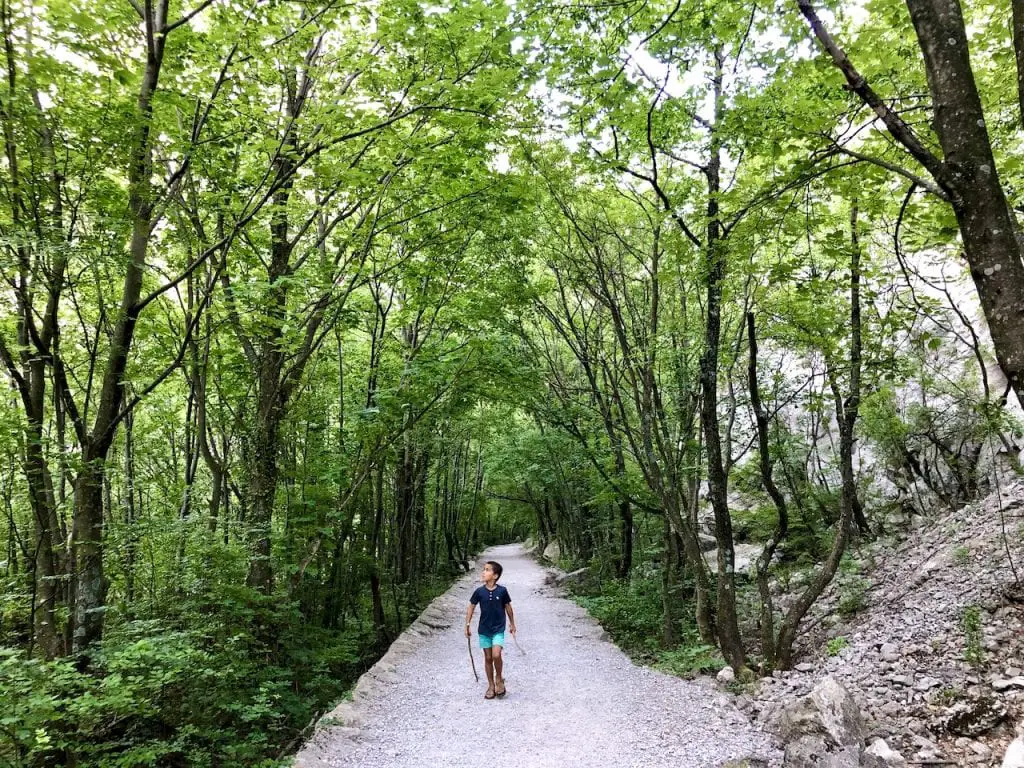 It is an absolutely beautiful park and perfect for families to enjoy a day out in nature.
I hope you have a wonderful day out there. There is something for every family and I highly recommend adding it to your Croatia travel itinerary!
---
Let's keep chatting on Instagram!
---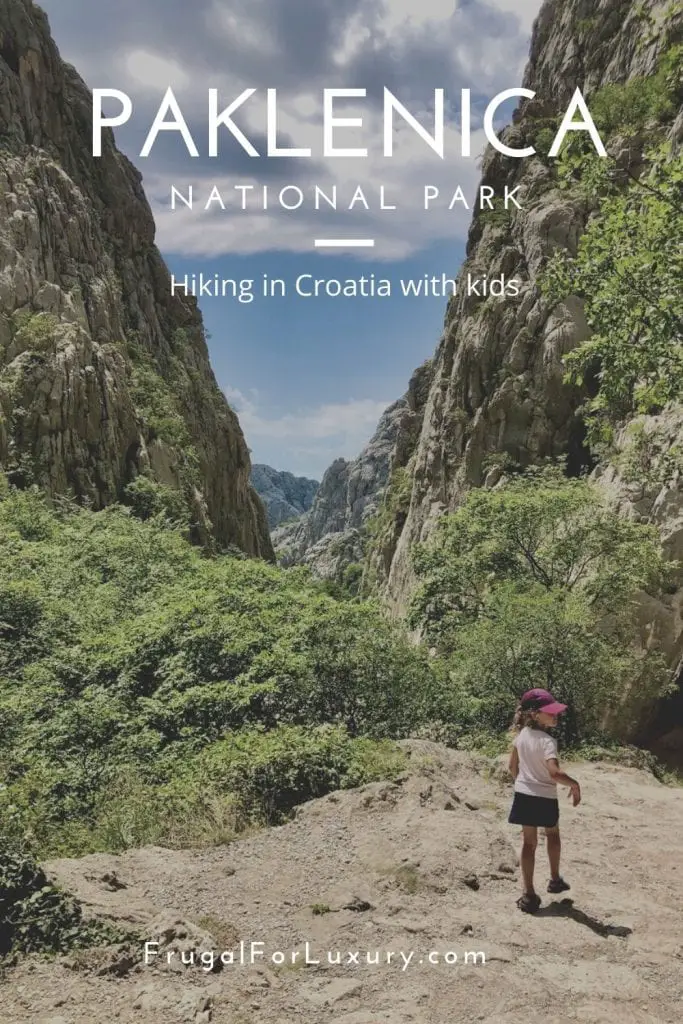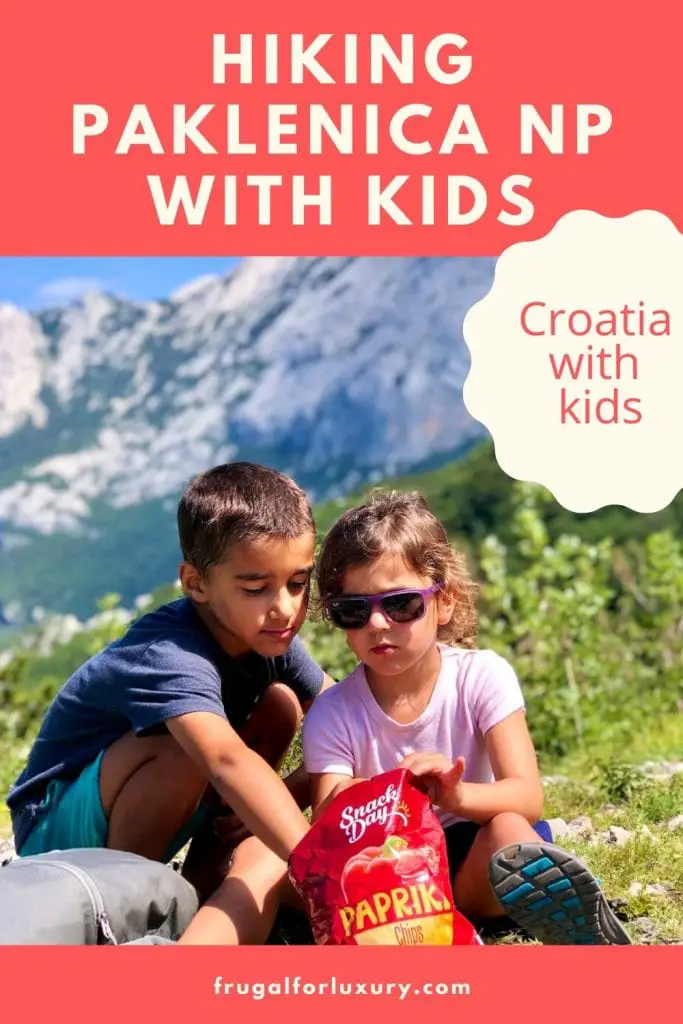 ---
Related articles you will enjoy:
BEST DAY TRIP FROM LJUBLJANA WITH KIDS – POSTOJNSKA JAMA
ULM, GERMANY – A FAMILY WALKING TOUR
3-WEEK NEW ZEALAND ROAD TRIP WITH KIDS
If you enjoy reading us, sign up for our newsletter below!