Dubai With Kids – A Local's Guide
Guest post from Neha – writer of DubaiWikia
So you're planning a family trip to Dubai this year? Wonderful! Dubai is the perfect place for a family vacation, no matter what time of the year you visit.
It's a fun-filled city with so many fabulous attractions for children, that you'll wonder if there's anything left for the grownups. Fear not, most entertainment in Dubai is aimed at the entire family – mom, dad, kids, grandpa, granny, aunts and uncles will enjoy themselves. So bring them all over, and fall in love with Dubai and its spectacular delights. 
A Few Things from a Local's Perspective
Dubai is a busy, bustling city, with many huge highways and lots of traffic. When you are in Dubai with kids, it's best to map the quickest routes and have transport guides handy.
Note these points, as they'll be useful to you:
Traveling Within Dubai
Pick up a Silver Nol Card (AED 25 -$6.81) for each person if you want to travel on the Metro, bus service, water taxi and tram.
If you want to use just one mode of transportation, pick up a Red Ticket Pass (AED 20 -$5.45) to avail unlimited rides to any Dubai zone for a day. 
Modes Of Transportation
In Dubai, there is excellent Metro service, a good bus service, a tram service and water taxi service.
Dubai Metro: Automated driverless regular service, with a Red Line and a Green Line. Metro stations are located close to the city's attractions. Plus, there are elevators and walkways to landmarks which make it easy to use while traveling with kids. The Metro sits kids and women in a separate car, which further ensures the kids' safety. 
Dubai Public Buses: The buses are clean and modern. Fares are cheap for the most part, except for longer rides to distant suburbs.
Water Taxis: Called Abras, used for ferrying or sightseeing trips along the Dubai Creek, 24/7, at AED 1 per person. 
Dubai Water Buses: Large, air-conditioned, multi-stop, water ferry and hop-on-hop-off sightseeing bus service. 
Dubai Tram: Connects the metro and the Palm Monorail from multiple points.
The Palm Monorail: Shuttle service from the Gateway Station and the Atlantis hotel. 
Local's Tips For Traveling With Kids In Dubai
Dubai's excellent infrastructure, especially in the transport arena, makes it easy to tour the city with kids. The hotels are very accommodating of kids and you'll find special kiddie discounts or offers, as well as childcare facilities in several hotels. 
Dubai has a large expat community, which means that the things that you are used to in your own country will be easily available here. We're talking over-the-counter medications, familiar food items for children and other products.
If your kids are not accustomed to eating exotic foods, no worries. Dubai is rife with global restaurant chains such as Dominos, Pizza Hut, Subway, Burger King, Starbucks and KFC. Food for picky eaters will not be an issue in Dubai!
If you plan on traveling with kids and grand-parents, it's best to travel during the winter months – November to March. The weather is cooler in Dubai, and you can sightsee without melting on the spot. 
The flip side of visiting during top travel season is that the lines will be long at every attraction. Work your way around this by booking attractions weeks in advance. It works to also book through tour companies, who'll be able to get you to the front of the line.
If you have several kids in your group, be sure to squeeze in more kid-friendly activities such as water parks and theme parks. This will keep them pleasantly occupied while being fun for the whole family. 
If you're planning for a short trip, stay at a reasonably good hotel. If you're planning a longer stay, we recommend staying at an apartment, for the extra space and the kitchen.
Family Fun Attractions In Dubai
Here are some cool things to do in Dubai that your entire family can enjoy.
Dubai Aquarium & Underwater Zoo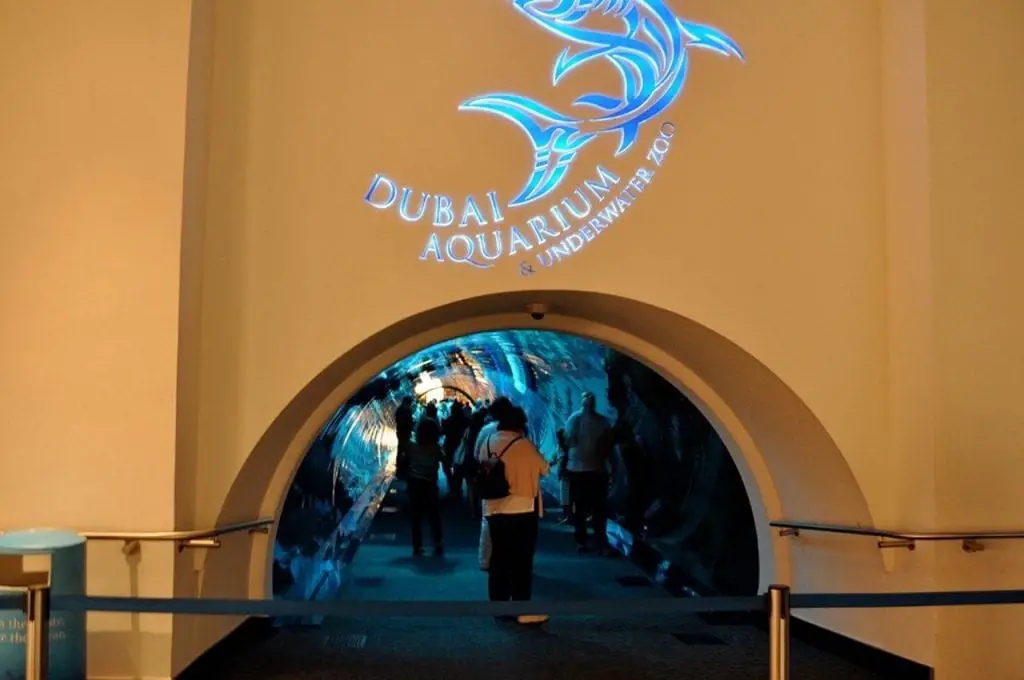 Enjoy the sight of sharks, huge colorful fish, manta rays and sting rays swimming just behind a transparent acrylic sheet.  Your kids will love strolling through the pedestrian tube and getting up close with the magnificent marine life. The Underwater Zoo above the aquarium, will help your kids learn about playful penguins, trained painting otters and a myriad of other water creatures.
Ski Dubai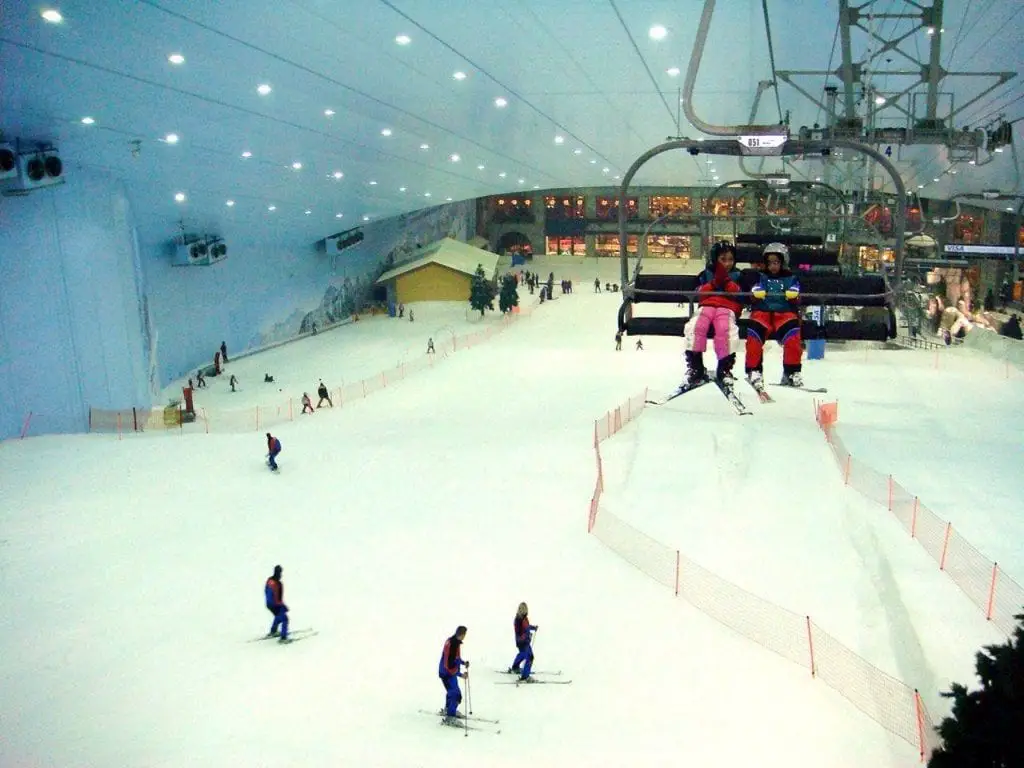 Your family will be delighted with the concept of a ski resort plonk in the middle of a boiling desert. It's a wild concept, but one that has been very successful. If your kids are very young, leave them in the snow park to make snowmen or enjoy the ice cave. Older kids can learn how to ski on the slopes, each presenting a different challenge level. Plus, there are penguins for the whole family to play with!
Dubai Fountains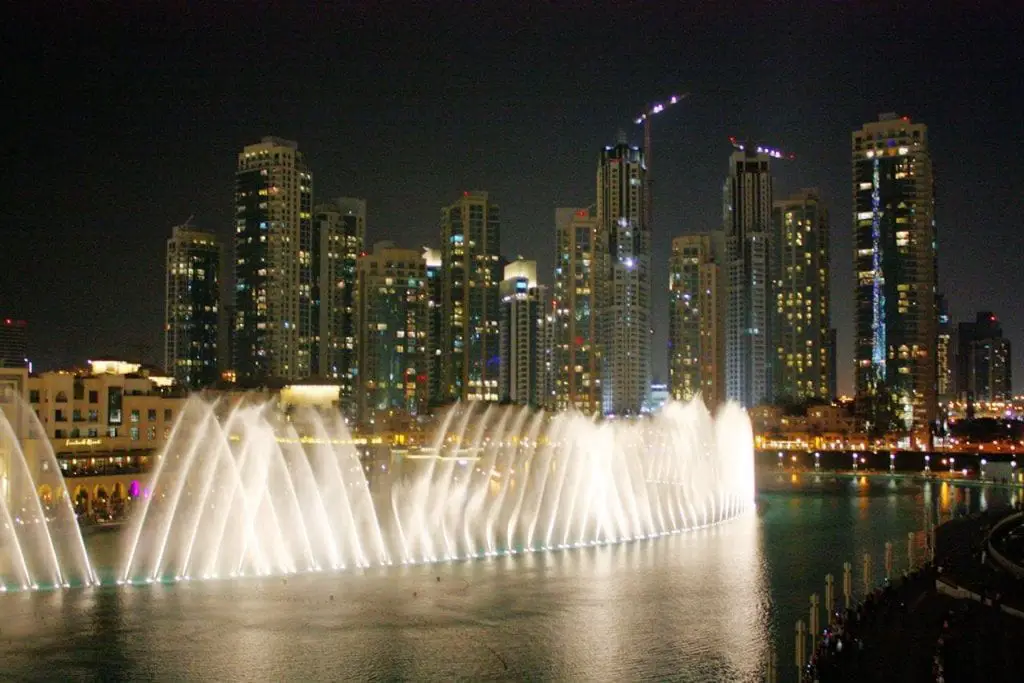 The Dubai Fountains have been built over a 30-acre Burj Lake, with the Burj Khalifa as a spectacular backdrop. This mesmerising fountain show runs for 10 minutes every half hour. If you sign up for the Dubai city tour, you'll get to see the fountains, Burk Khalifa, and the Dubai Mall all in one shot.
Aquaventure Waterpark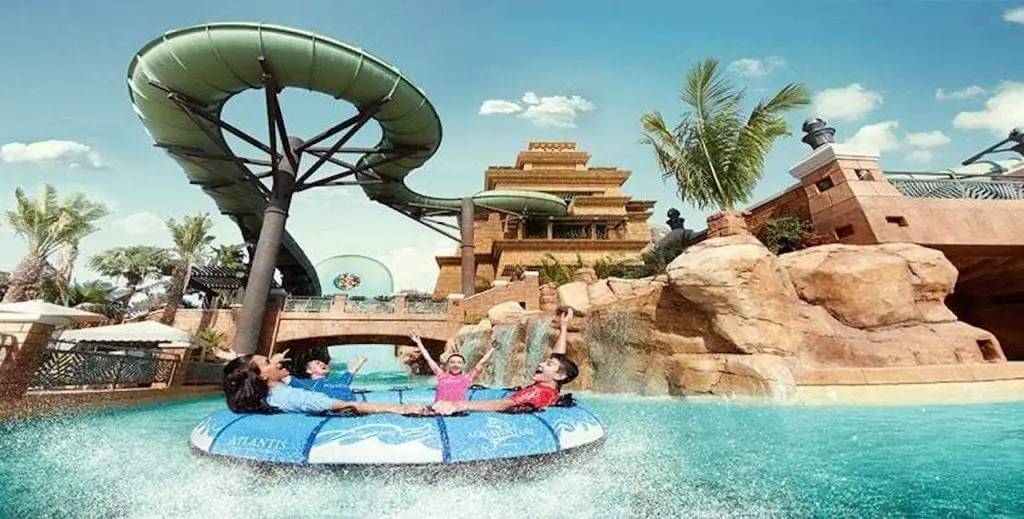 You're vacationing in a hot country, and waterparks offer rides in fresh water. See where I am going? Kids of course, know better than us. Head out as a family to Aquaventure Waterpark and enjoy some of the most stupendous rides every ridden. Dare yourself to take on the heart-pumping Leap of Faith, dropping 9-storys into a pool. Shark Attack is another ride in which you're dropped into a shark lagoon. Take the kids to the Lost World of Atlantis to finish the day. This deluxe aquarium based around the theme of Atlantis will thrill the kids.
Desert Safari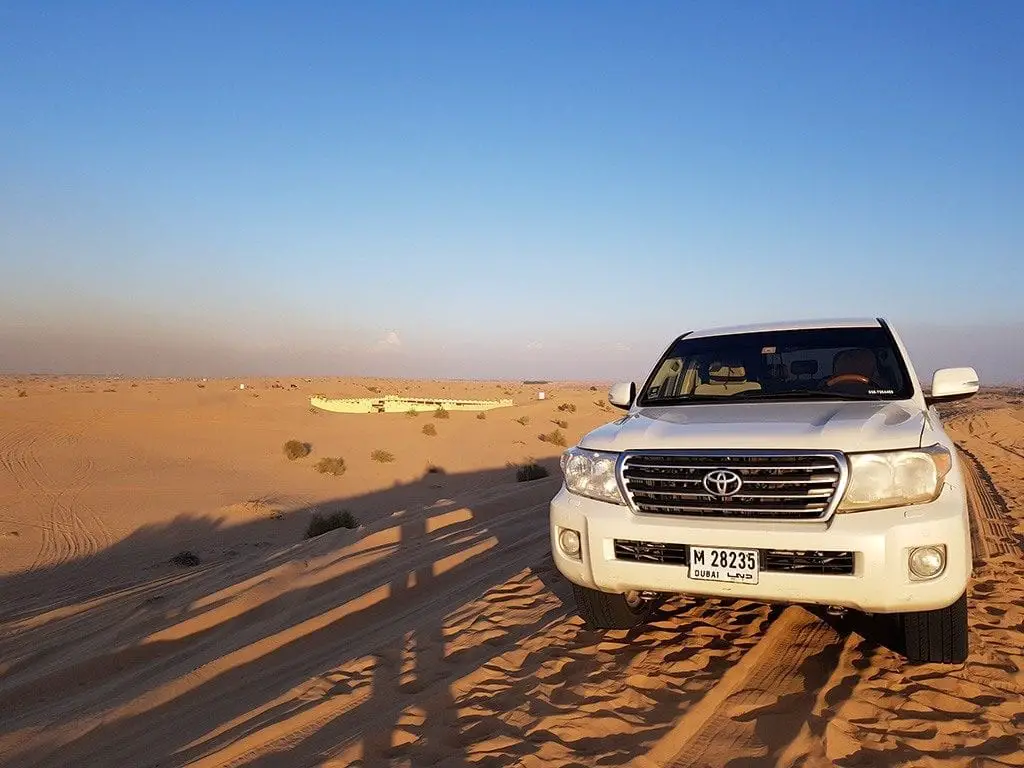 No matter how old your kids are, they're going to love a desert safari. Take dune bashing for example – that's roller-coastering on sand dunes in a 4×4! Then there's sandboarding, quad biking, camel riding and even falcon training. Want more? Sign up for an evening or overnight desert safari, where you'll enjoy a fabulous buffet meal, amazing entertainment, and memories of a lifetime. 
Dubai Beaches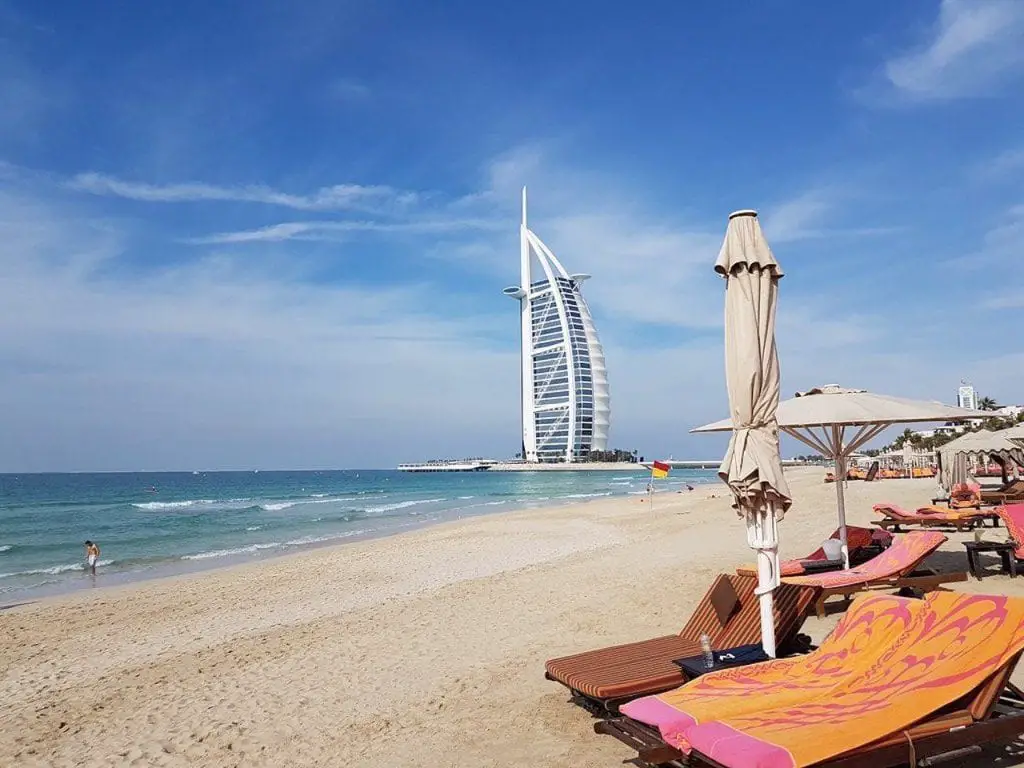 You cannot visit Dubai and leave without enjoying the beach. Dubai's private beaches are simply spectacular – they're clean, well maintained and all possible amenities are provided. Kite Beach offers several sea sports, while Jumeirah Beach, which is a public beach, offers great views of the Burj al Arab and tons of food trucks.
Dubai With Kids
The activities listed here are just a few of the many wonders Dubai has in store for you.
If you are able to stay in Dubai longer, we'd recommend that you check out IMG Worlds of Adventure, Dubai Miracle Garden, Dubai Love Lake, White Wadi Waterpark and Dubai Parks and Resorts as well. These attractions will leave your family, especially kids, totally spellbound and wanting to return time and again. 
Article by Neha, writer and blogger at DubaiWikia.
---
Pin this for later!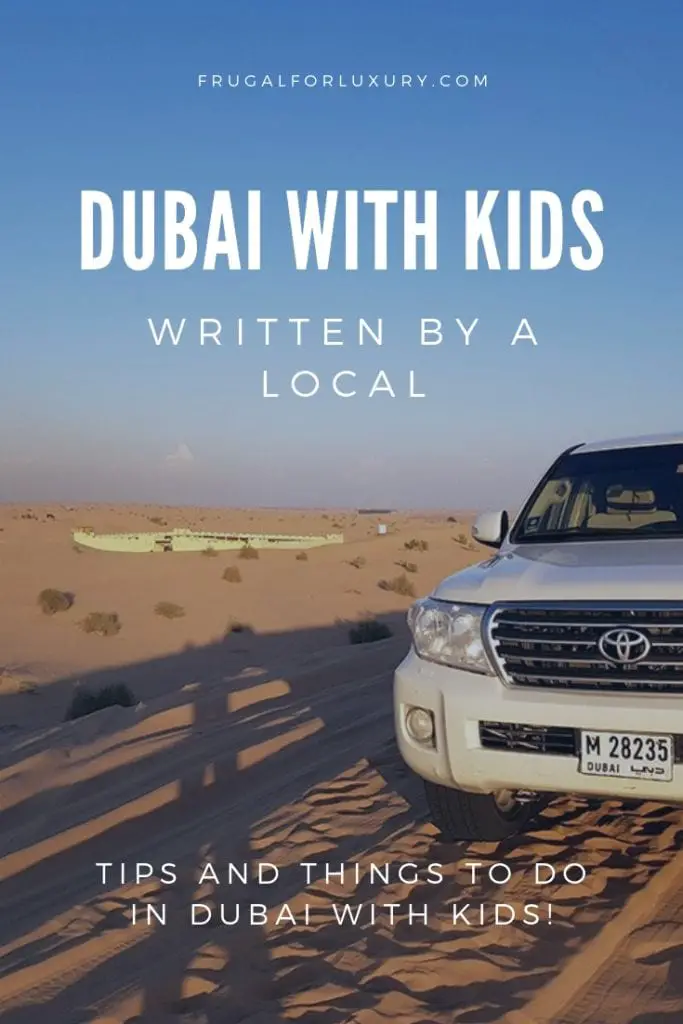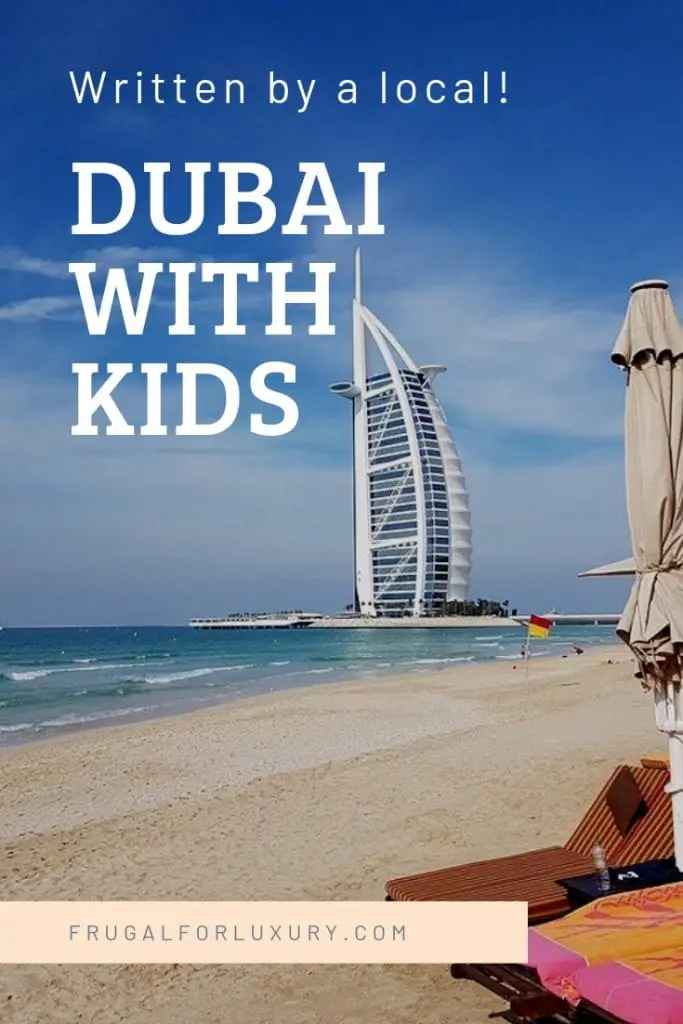 ---
Related articles you would enjoy:
Algarve, South Portugal – A *Family-Proof* Travel Guide
The 48-Hour *Family Proof* Travel Guide to Iceland
11 Instagram-Worthy Beaches Around The World
If you enjoy reading us, sign up for our newsletter below!