For those who don't know us, we are suckers for thermal pools. We try to visit as many as we possibly can and Budapest has been on our bucket list for as long as I can remember because of its thermal bathing culture.
We finally made it to Hungary's capital and we took the kids to two thermal pools – the well-known, very Instagrammable, Széchenyi Bath; and the smaller, more local, Lukacs Bath.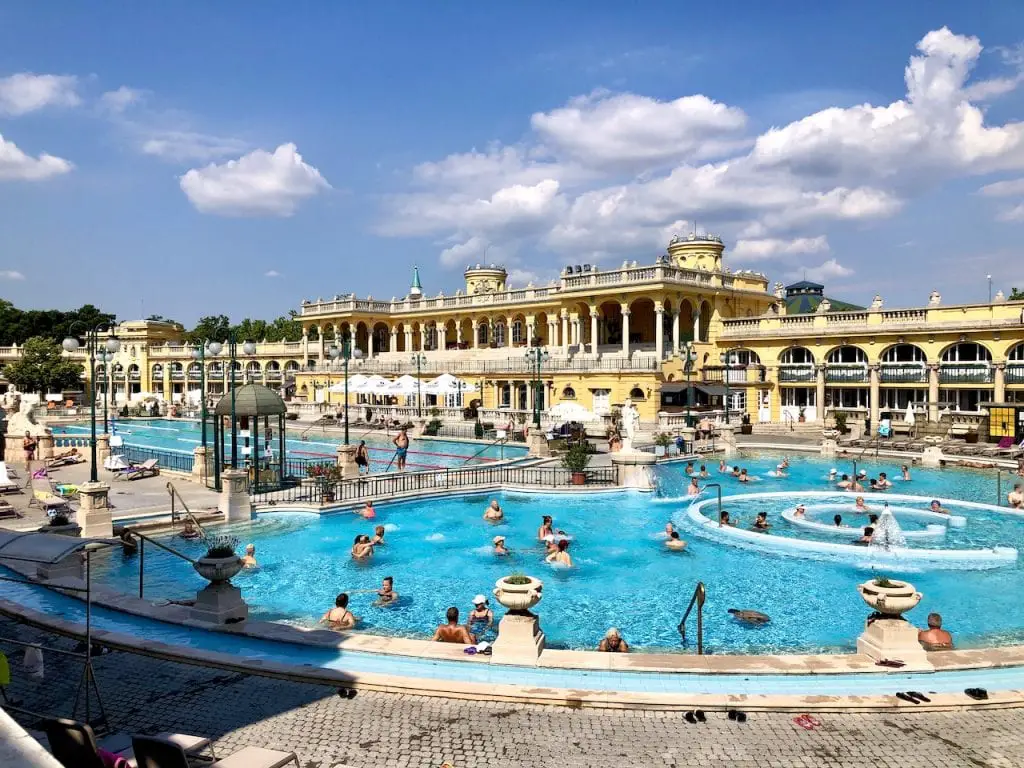 Because Budapest has its very own thermal bathing culture, we found it full of protocols – and not always easy to follow.
Hopefully you can avoid making the mistakes we make and truly enjoy yourself in Budapest's Thermal Baths.
Can I Take My Kids To The Budapest Thermal Baths?
Yes, you can! Absolutely!
Did we feel welcome? Not completely… but I would never shy away from the experience! I'm giving you a big tap in the back and telling you: "Go ahead! Budapest wouldn't be Budapest without visiting at least a couple of the thermal baths!"
To be very transparent, we had a really good time at Széchenyi Bath, but were also better prepared than we were when we visited Lukacs Bath.
Lukacs Bath was a bit of a challenge and we felt like the staff was targeting us a bit, as tourists… But here are my tips to make your family's visit to Budapest's Thermal Baths a success with kids!
1- Pool Slippers Mandatory
We hit our first hurdle minutes after buying our ticket and getting into Lukacs Bath…. We got changed into our swimwear and quickly asked where the showers were. Then the "host" yelled at us that our sandals were "sandals", not flipflops!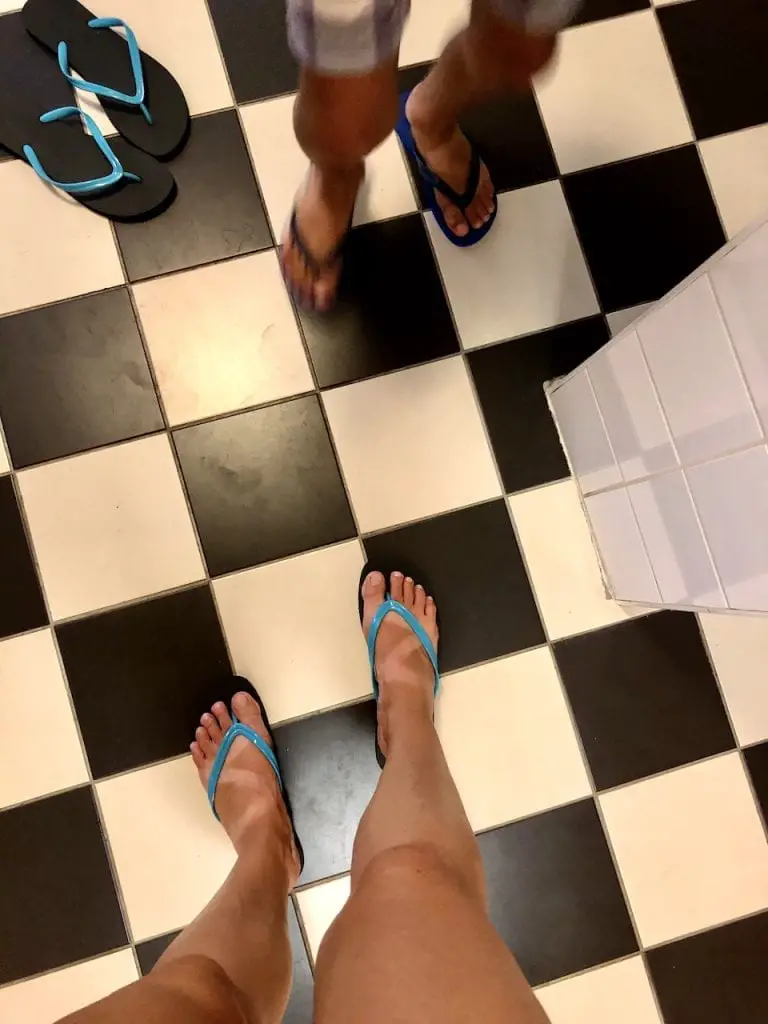 So… don't even try entering Budapest's Thermal Baths without a pair of clean (aka. unused!!) flipflops or pool slippers.
They directed us to the store, which only carried men sizes… for nearly 7EUR. So we had to negotiate an hour to leave the bath, take the tram 2 stops to the nearest Decathlon, where we purchased flipflops for everyone.
2- Tie Everyone's Hair Up
Hair that can be tied, should be tied! After the flipflop ordeal, we got in trouble for Elin's hair getting loose – the poor kid has such fine and short hair that it won't stay in a pony tail… I spent our entire visit tying her hair with the straps of her swimsuit since they wanted us to purchase an overpriced swimming cap…
Once again, Lukacs Bath wasn't our best experience… many local men and women had hair longer than hers and weren't required to tie theirs up… but I guess it is the rule, so come with plenty of hair ties!
3- Bring A Swimming Cap (For Laps Only)
If you plan on swimming laps, you will have to wear a swimming cap.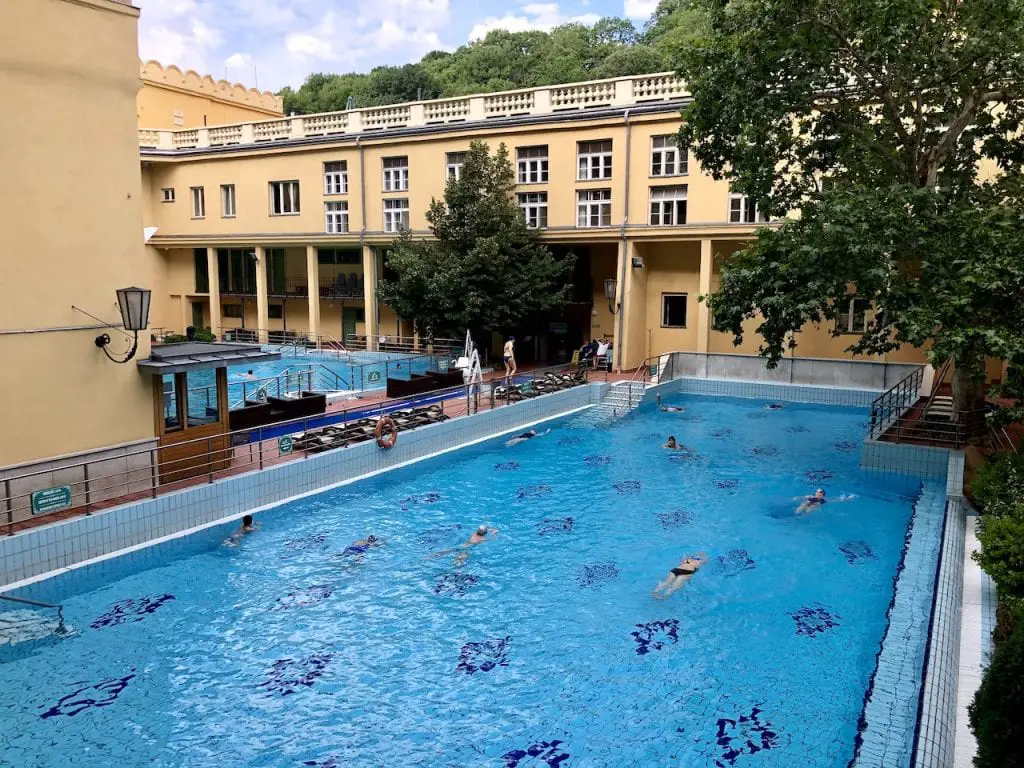 However, all thermal pools only have the tied-hair requirement – no need for a cap.
4- Lockers Are Included
When you enter the thermal pool, you will be given a bracelet that lets you lock a locker for your stuff. I loved that this was included in the ticket price! If you forget your locker number, scan your bracelet to be reminded of your locker number.
5- Full-Day Tickets
The ticket you purchase gives you access to the thermal bath until it closes, which is amazing and gives you as much time as you want in there.
Note that it is not a re-entry ticket. Once you leave, you are out and won't be allowed back in.
Also note that if you purchase the Budapest Card, your entry to Lukacs Bath will be free of charge and Széchenyi Bath will give you a 20% discount.
6- Go On A Week Day If You Can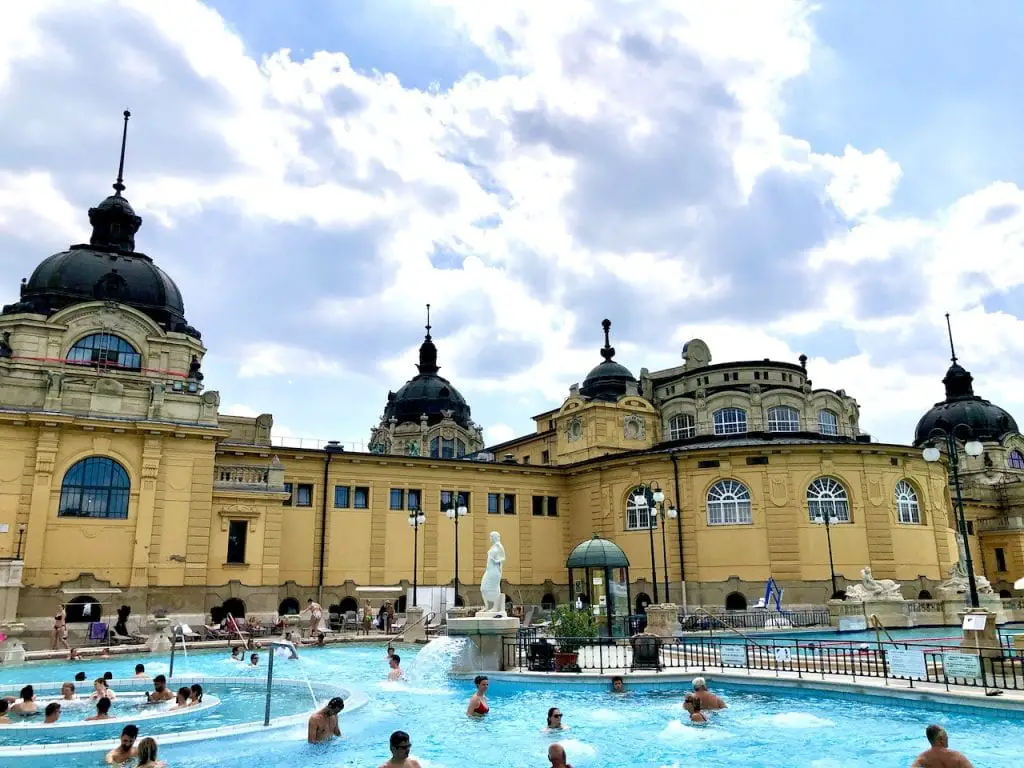 Most Budapest Thermal Baths have a lower ticket price on week days than weekends. If you can, visit on a week day to save a bit!
7- Saunas At Budapest's Thermal Baths
If you are a sauna fan, you are in luck. All thermal baths have a wide range of saunas and steam rooms – included in the price of the ticket.
Children, however, need to be 14 years or older to enter the saunas. If younger, plan on having one parents look after the kids while the other one enjoys the sauna world.
8- Hush, Hush?
Not really. Even the quiet areas had adults speaking at full volume.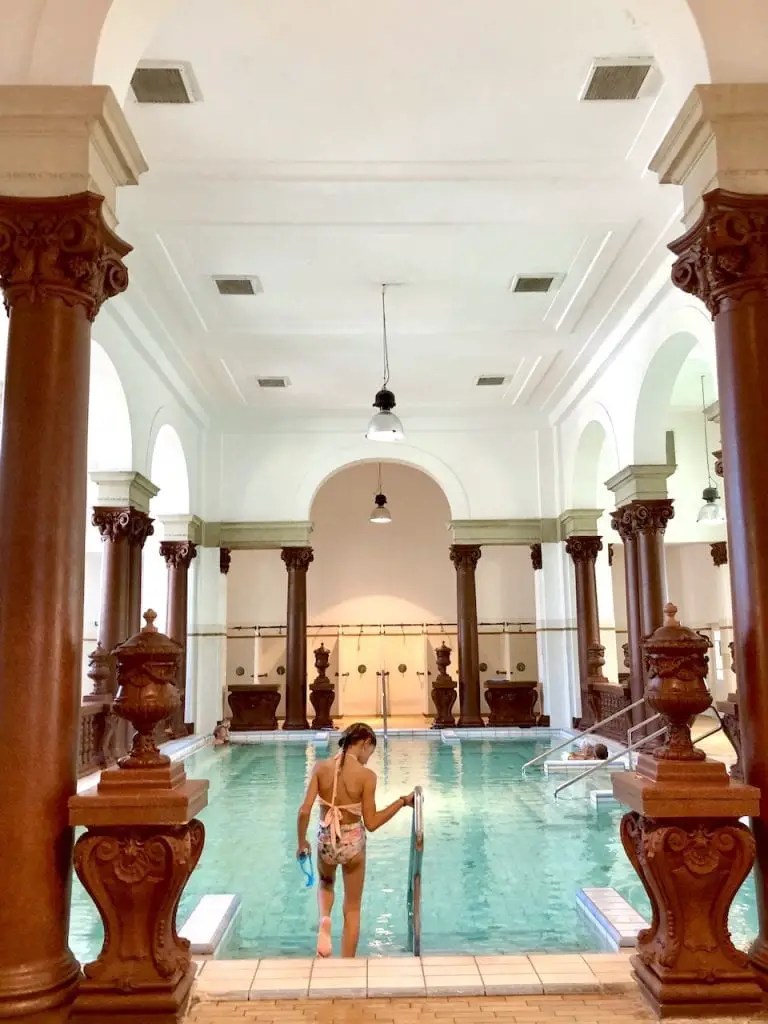 Out of respect, we kept the kids from splashing, yelling, jumping, and being wild. We wanted to respect the relaxation many seek in thermal baths, but I can't say that the guests were very quiet either, which was a good thing.
9- Bring Drinking Water
The thermal water varies from warm to hot depending on the pools you bathe in, and you will likely visit one or more saunas. Make sure everyone stays very hydrated!
Each bath has a few (slightly hidden) water fountains from their source, where you can drink and/or fill a bottle. But make sure you bring a bottle to avoid headaches, heat strokes, and de-hydration.
10- Kid-Friendliness
We had an excellent experience with the staff at the Széchenyi Baths. The girls needed band aids for their toes and they handled it wonderfully and with lots of care.
Some locals would probably prefer children not to be there and the thermal baths are mostly meant for adults, but we felt welcomed in both baths. I would only recommend keeping the kids from running around, jumping, and splashing in the pools. And I would definitely NOT refrain from visiting the Budapest thermal baths with kids!
11- Lifeguards
The baths have "hosts" near the pools. Those hosts are not lifeguards. They are mostly there to ensure all rules are respected and I would not rely on them to check the pools.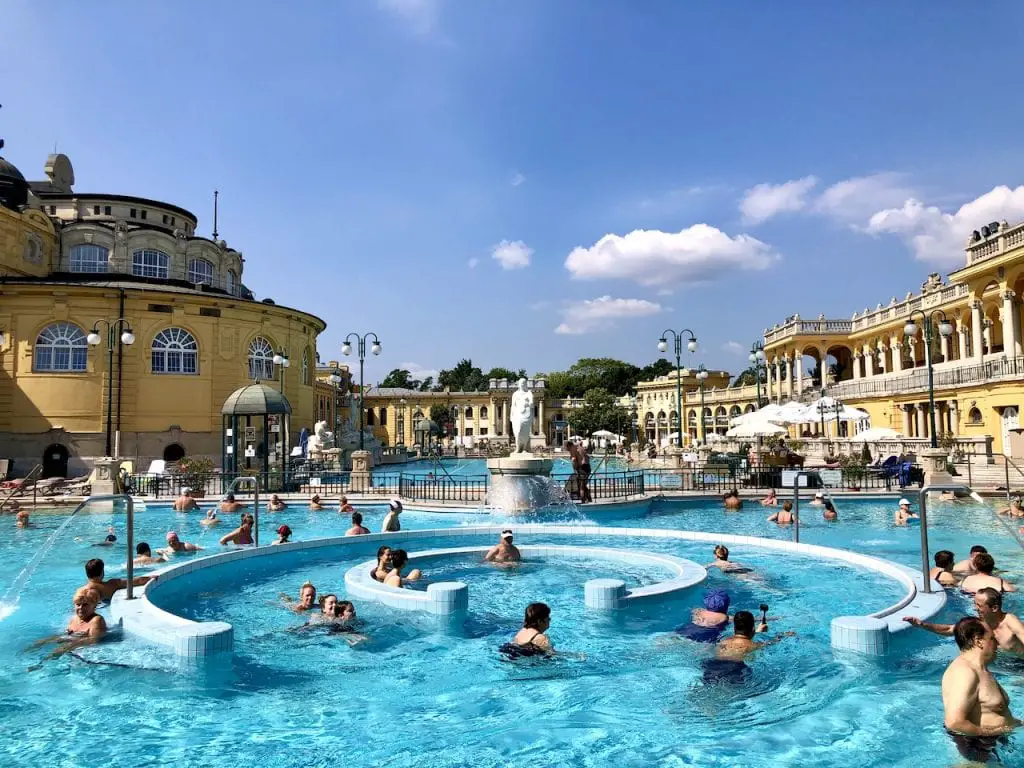 At Széchenyi, it seemed like the lap pool was sort of looked after, but the warm pools were not. We did have a great experience with the lifeguards however, when the kids required first aid for boo-boos.
Enjoy Yourselves!
We truly enjoyed ourselves at Budapest's Thermal Baths. I recommend visiting at least 2 during your visit if you have time. We spent 3 to 5 hours in each and could have stayed a lot longer but had some visiting to do!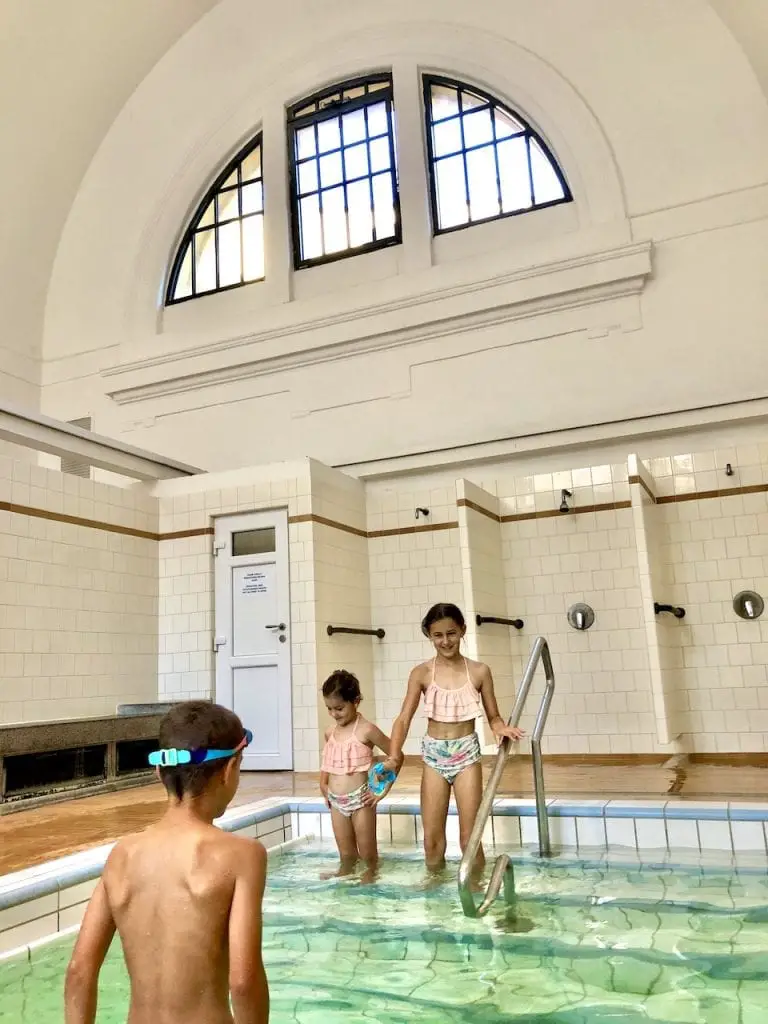 We visited 2 very different baths, Széchenyi was very large, grand, very tourist-friendly, and a bit more expensive, while Lukacs was smaller, with more locals, but equally beautiful and relaxing.
I could recommend both of them for families in Budapest but here's a full list of thermal baths in the city if you wish to discover any other.
---
Pin this for later!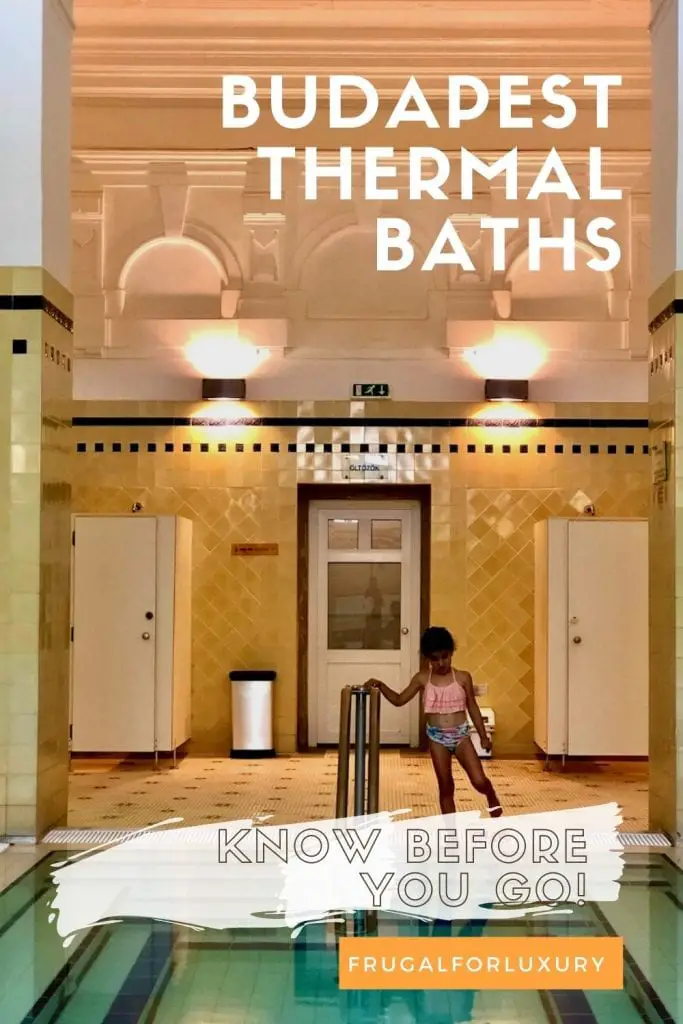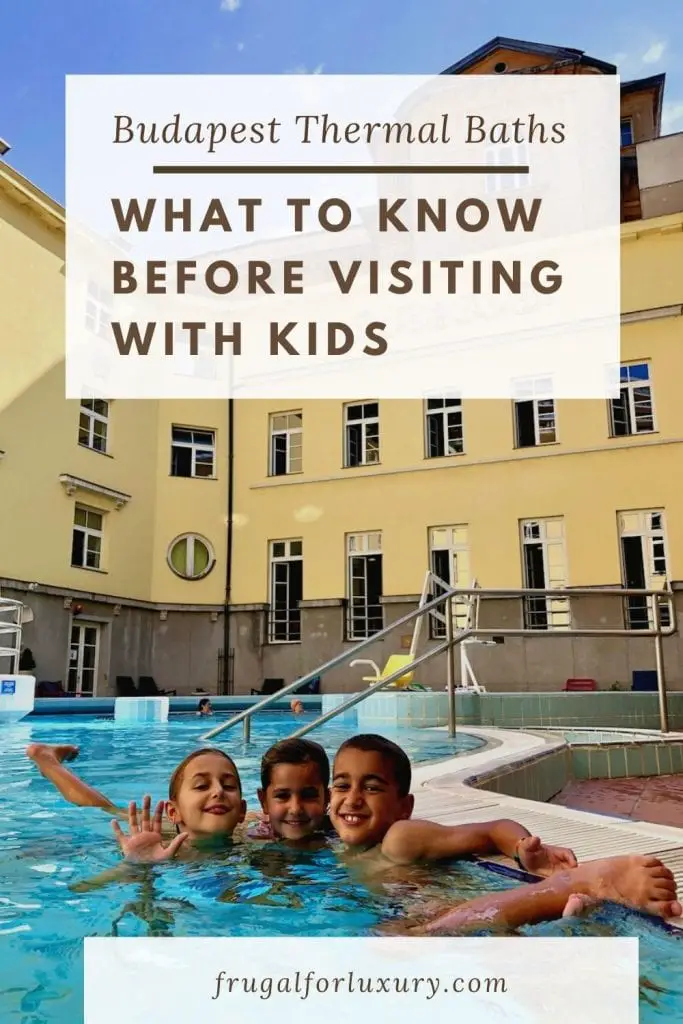 ---
Related articles you will enjoy:
The Cheapest Car Rental In Europe You Didn't Even Know Existed // TT Program
Gladiator School – Best Experience In Rome With Kids
8 Tips For Visiting Plitvice Lakes National Park With Kids
If you enjoy reading us, sign up for our newsletter below!