You have many options when it comes to family skiing. But you will never go wrong with a family ski vacation at Alta Ski Resort.
On a recent ski trip to Utah, we visited Alta Ski Resort with our three children and had an unforgettable time. Alta will always hold a very special place in our hearts.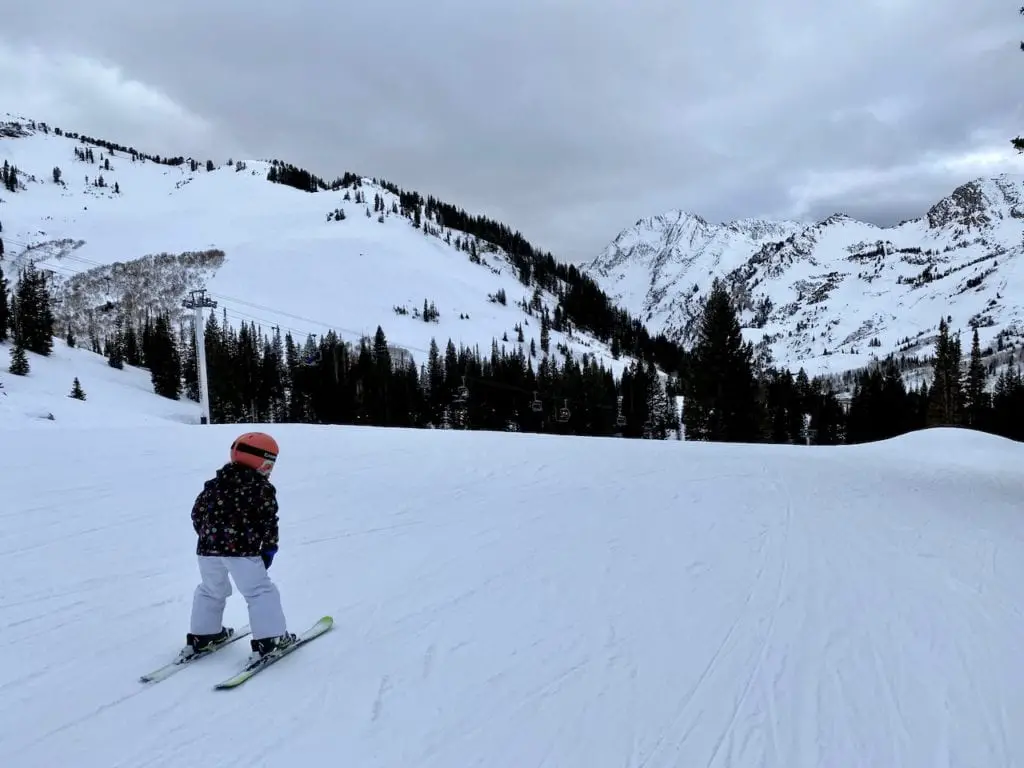 Here are 10 things that make Alta Ski Resort an ideal family ski resort:
1- Unique Traditional Feel
The feeling is hard to describe but Alta Ski Resort has the most traditional and genuine feel to it. When you take your children skiing at Alta, you are giving them an undisturbed and classic taste for the sport.
Alta is about the mountain. It is about the skiing experience. You will find a natural environment you can't take your eyes off of. The mountain looks untouched and un-commercialized. It is simple and absolutely perfect.
When you ski at Alta, you do it for the love of the sport. Year after year, you get that renewed nostalgia that keeps you coming back. No shiny lights or extras, just the pure skiing experience you are looking to pass down to your kids!
Related Read: Find all of our Utah content here.
2- Alf Engen Ski School
For your little ones of all levels, the Alf Engen Ski School is just amazing!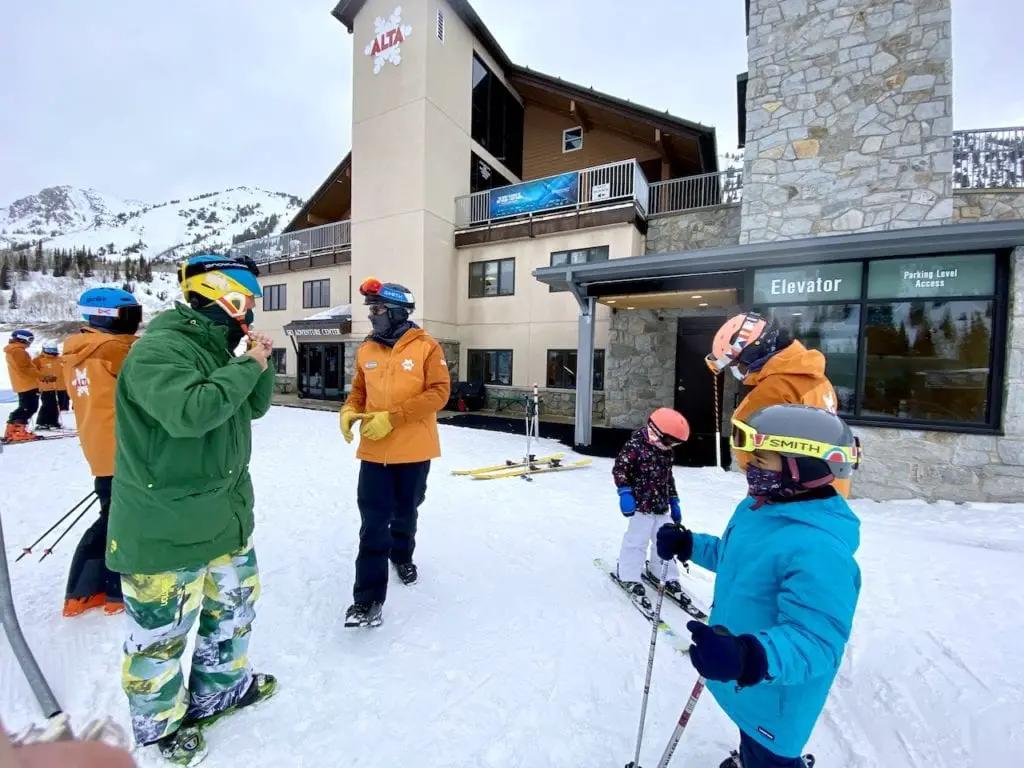 Based on your child's comfort level, choose between private lessons, classes, or special programs. Kids ages 8 to 14 have access to fun afternoon ski class lessons. During normal (non-COVID) years, Alta also offers teen camps for kids ages 13 to 17.
We had my husband and 5-year old daughter take a 2-hour private lesson at Alta on their first day of ski this season. Both were pretty fresh beginners and the private lessons gave them the confidence boost they needed for the season.
If you are looking for a kids' instructor, I can't recommend Tracy Price enough. In just two hours, she did WONDERS with Elin. She handed her back to me and said "she no longer needs her backpack leash." Two hours earlier, I had a child who didn't remember how to curve… I looked at her thinking she was crazy but took Elin back up in the mountain and realized that my child was in full control of her skiing. And that backpack leash had become obsolete… The next day, I had her comfortably ski down blue runs!
Christian took a private lesson with Jonathan Doty and was very happy with the skills he built in two hours.
3- Ski Only / No Snowboarding
I love mountains who restrain their terrain to skiers only. I can get nervous with small children skiing between rushing snowboarders and that worry has no place at Alta Ski Resort since the mountain is restricted to skiers only. The only other ski resort we've experienced with a no-snowboard restriction was Deer Valley.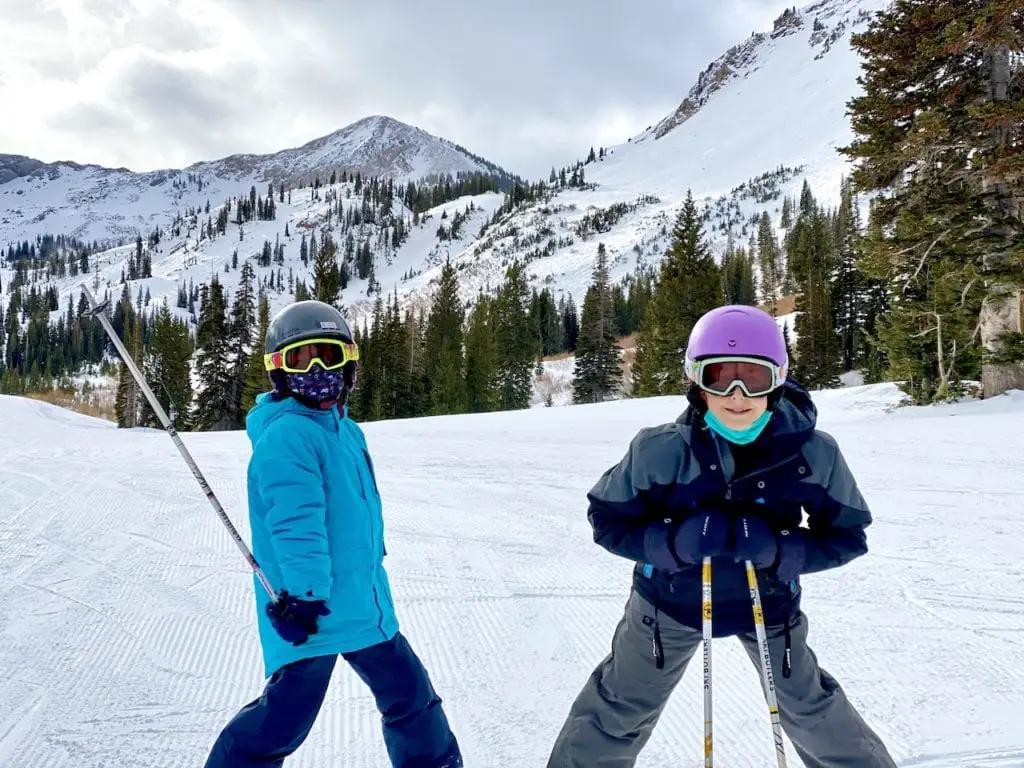 We felt incredibly safe with kids at Alta Ski Resort. The runs were perfectly groomed and the fact that only skiers are allowed put my mommy heart at ease!
4- Alta Ski Resort's "If You Can See It, You Can Ski It"
Now, I'm talking about groomed runs because they're the ones we've experienced as a family of young skiers. But did you know that Alta Ski Resort has a "If You Can See It, You Can Ski It" policy?
The snow is controlled in the entire resort, giving skiers a very low risk of avalanche. You are welcome to hike up the different peaks and enjoy steep slopes of untouched powder to your heart's desire. With only 6 chair lifts, you will need to work for that special experience, but Devil's Castle guarantees you a skiing experience like no other.
5- Pure Snow
Let's be honest, we're all looking for that perfect snow. Alta is located up Little Cottonwood Canyon, which benefits from a special micro-climate. The resort averages more than 45 feet of snow each year!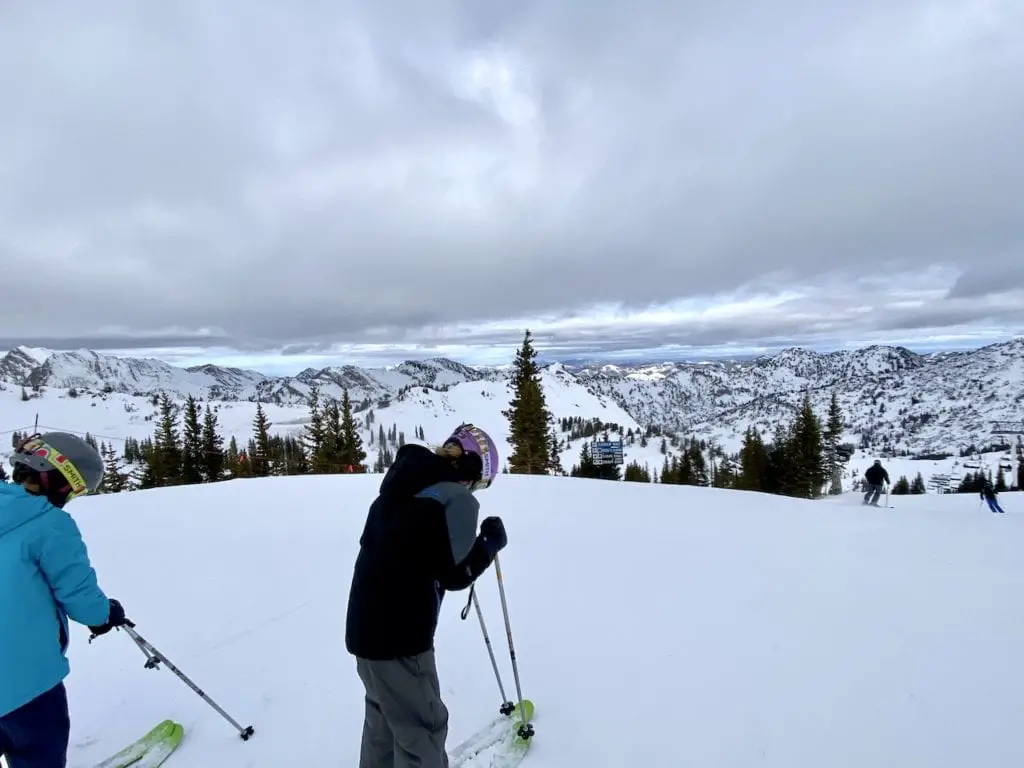 So that Utah Powder we're all after? You will find it right there at Alta. That powder makes it the perfect playground for the advanced skiers, while the rest of the family will love the groomed runs. We never felt icy terrain, the snow was neither too firm nor too floppy, and skiers of all levels and ages will enjoy the quality of the snow at Alta Ski Resort.
6- Little To No Crowd
I don't know about you, but spending 20 or 30 minutes waiting for a chair lift is not my definition of fun. Alta Ski Resort intentionally limits its resort capacity so it never feels too crowded.
The founders of Alta had wished for a resort for the locals, and the majority of the resort is still owned by the founding families. They wished for smaller crowds with the freedom for skiers to ski where and how they desired, and it is exactly what you are getting at Alta Ski Resort.
7- Alta Children's Center
Located at Albion Base, Alta has a Children's Center offering child care catering to children 2 months to 10 years. A team of experienced caretakers engages the kids in fun and educational activities, giving their parents time to enjoy that Utah powder, or a massage / dinner combo for a few hours.
Family-friendly destinations give parents and kids all of the fun and relaxation they deserve and Alta definitely delivers on that front!
8- Ultra Family-Friendly Ski Resorts
Alta Ski Resort is not the large, corporate, and commercial resort you might be accustomed to. Instead, you will find traditional ski lodges catering to families' well being.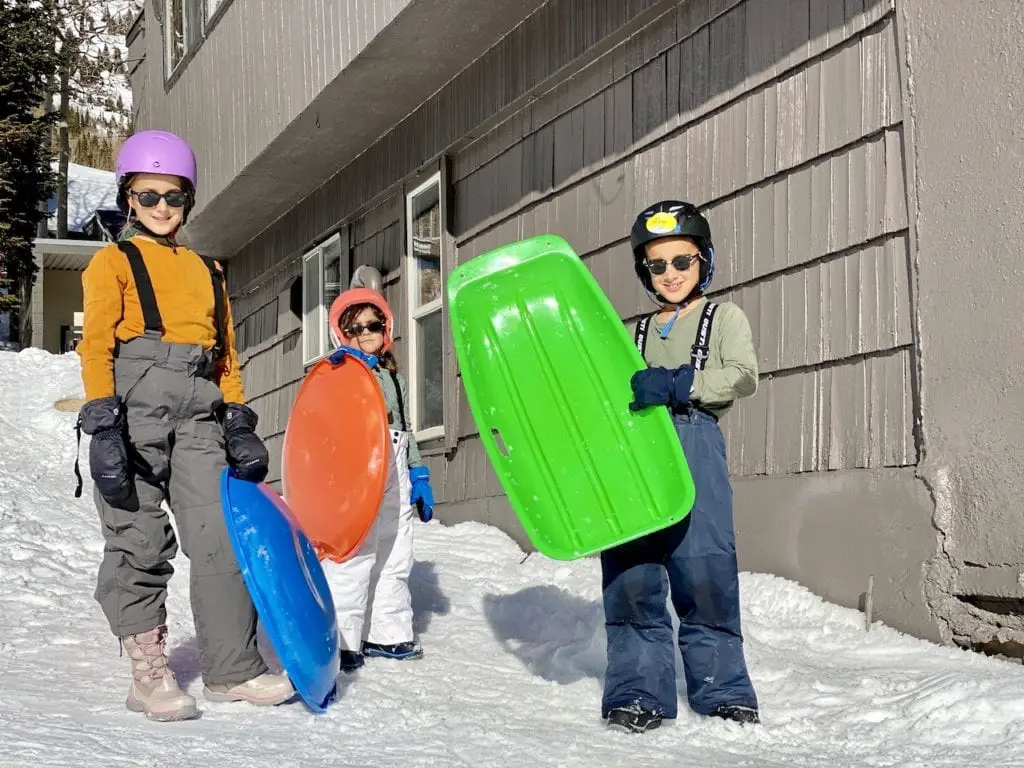 We had the honor to spend some nights at the Alta Lodge and were very impressed by the amount of service we received and how well it catered to families.
For many years, the Alta Lodge has put families in its forefront. The Lodge takes great pride in providing families ways to enjoy their ski vacation. Every night, parents can drop off their kids at the Kids Club from 4:30PM to 8:30PM. The children play indoors and outdoors and stay engaged with fun games and activities. The Alta Lodge Kids Club will even feed the kids children-friendly food if wished, giving parents time to themselves to enjoy the hot tubs and 4-course dinner meals served in the dining room.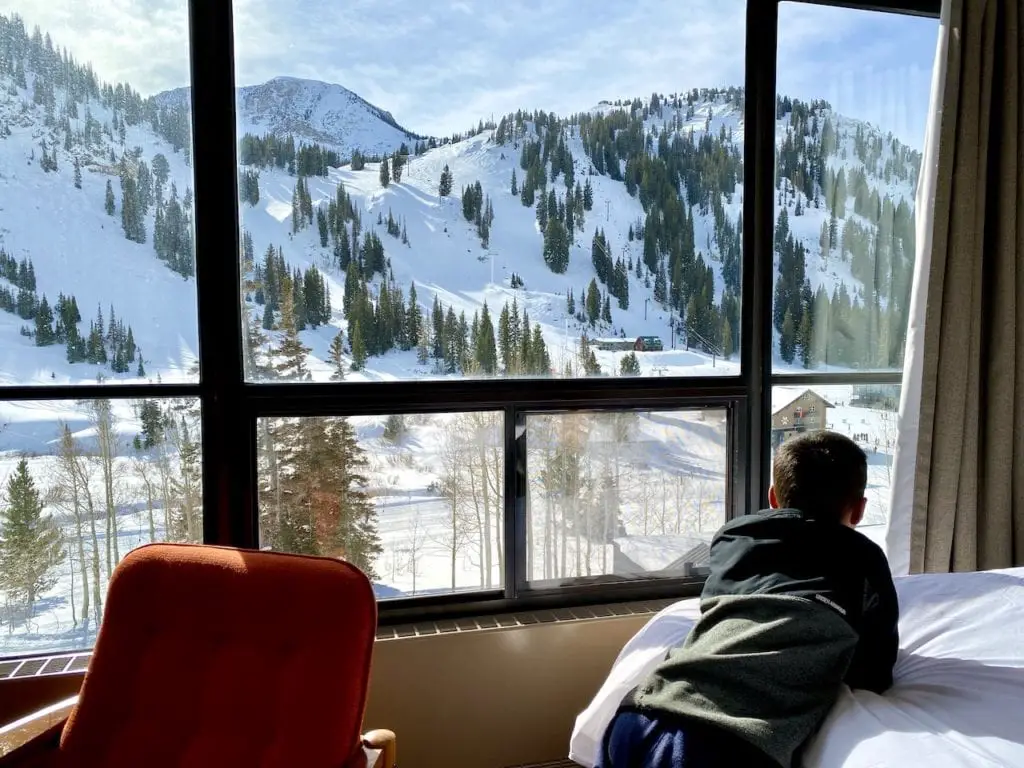 Additionally, the Alta Lodge offers a shuttle service to the Alf Engen Ski School and has been running their traditional promotion where Kids Stay Free on select stays!
Pro tip: Guests have the option to pre-book the same week the following year, so hurry and book in advance if you can!
Other resorts at Alta offer family-friendly options. Though we have not been able to experience them ourselves, I have heard great things about them.
9- Easy Airport Access
The Alta Ski Resort lays only 40 minutes from the Salt Lake City airport! If you can find an early direct flight to SLC, you could be skiing at Alta by lunch time!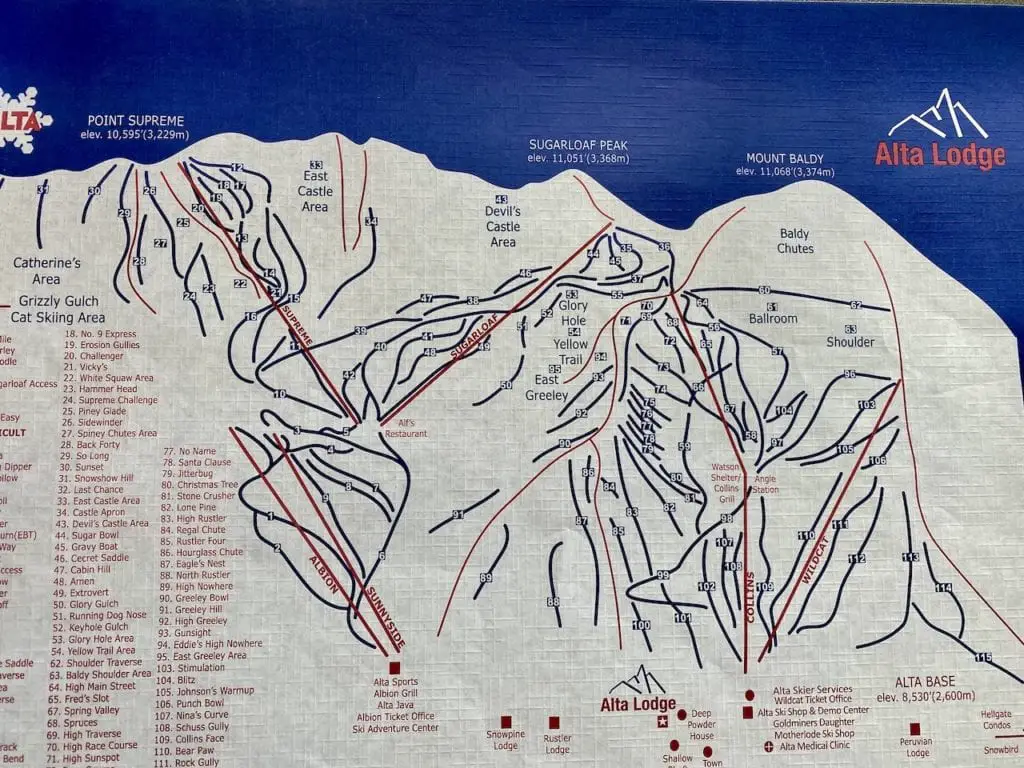 Note that Alta Ski Resort is located at the very end of the Little Cottonwood Canyon and you will need a 4-wheel drive, or snow tires, to access the canyon during snowstorms. But the drive is easy and straightforward, making Alta very easily accessible if you are flying in to Salt Lake City!
10- Alta Ski After 3
Family ski can make for a very expensive vacation and Alta has a very special lift ticket called Alta Ski After 3, or Sunnyside At 3 Program. For just $59, you can purchase an Alta season pass that allows you to ski everyday from 3PM on the Sunnyside chair lift, which gives you a wonderful run to go up and down several times until 4:30PM when it shuts down.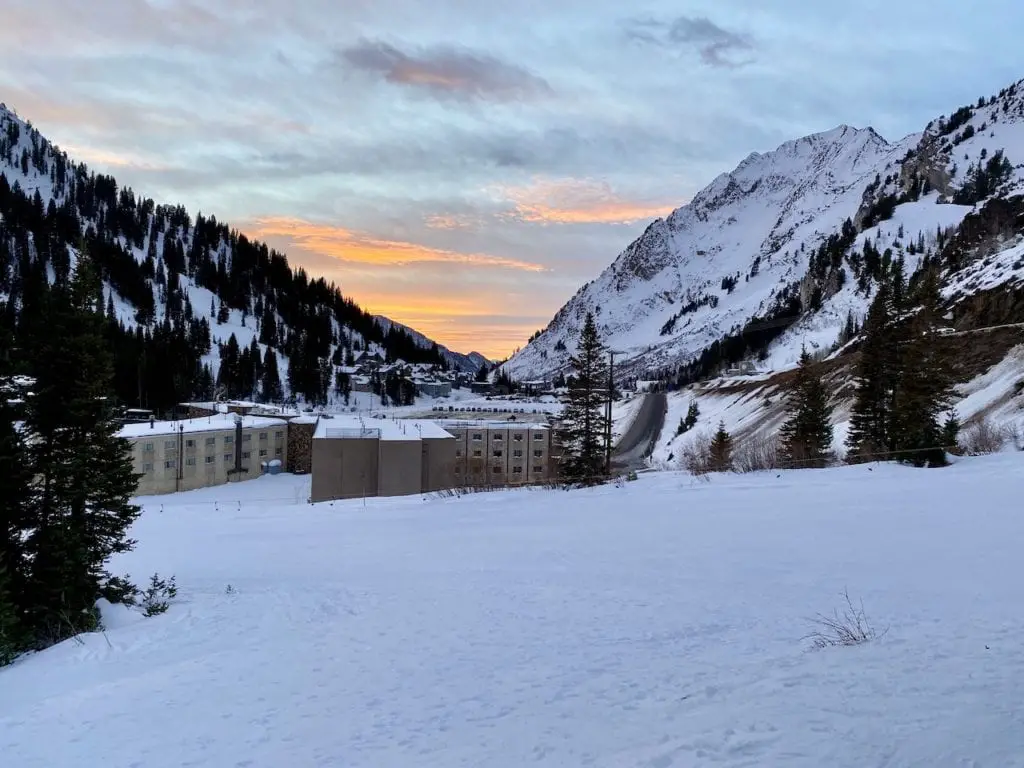 You could ski all year for less than the cost of a one-day ticket!
Family Ski At Alta Ski Resort
Skiing with kids at Alta Ski Resort is a must if you are looking to give your kids the love of skiing. Alta does a wonderful job at catering to families, making their specific needs a priority, and you will thoroughly enjoy a family vacation at Alta.
We thank Alta Ski Area for hosting our family at their beautiful resort.
Alta Ski Resort Resources
Alta Ski Area trail map
Alta Lodge
Lodging at Alta
Alta Ski After 3
Alf Engen Ski School
Alta Children's Center
Alta Snow Report
---
Pin this for later: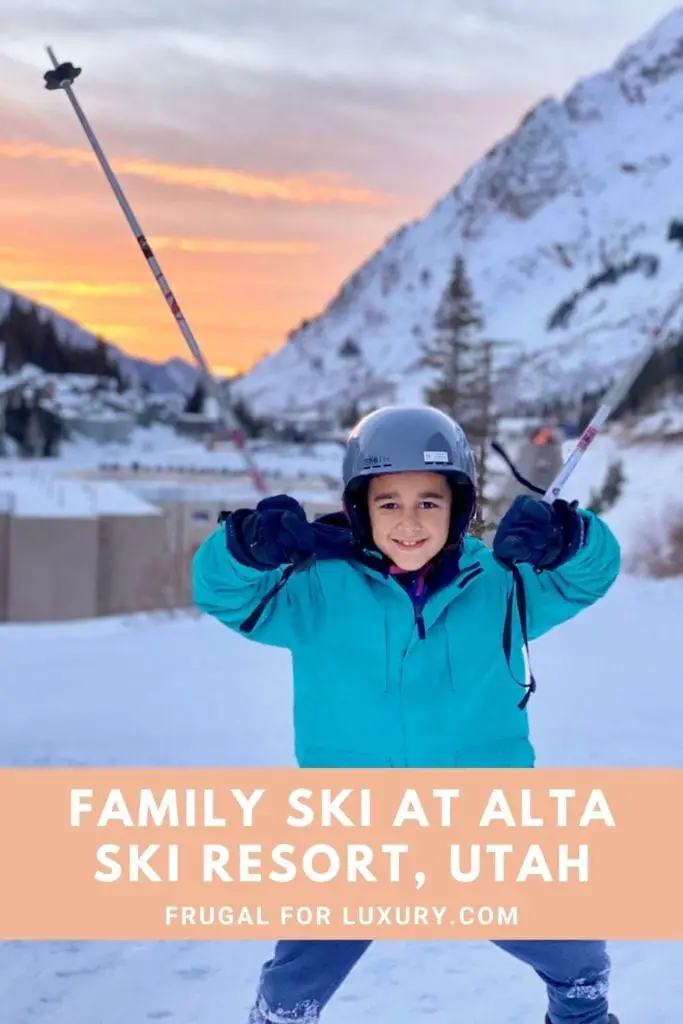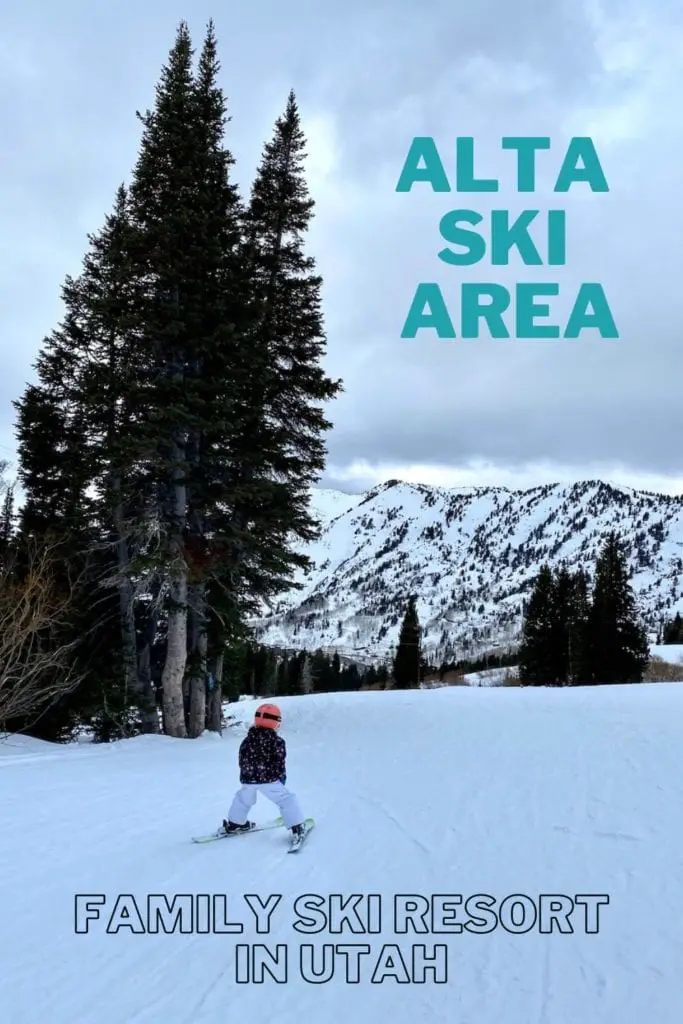 ---
Related articles you will enjoy:
10 Reasons Why Utah Should Be On Your Family's Bucket List – Luxury Family Ski Vacation
Deer Valley Resort – A Dream Come True For Family Ski
5 Good Reasons To Ski in Park City, Utah with kids
If you enjoy reading us, sign up for our newsletter below!