We decided to head down to some of Utah's National Parks for a long weekend. We considered Arches National Park / Canyonlands vs. Bryce Canyon / Zion National Park.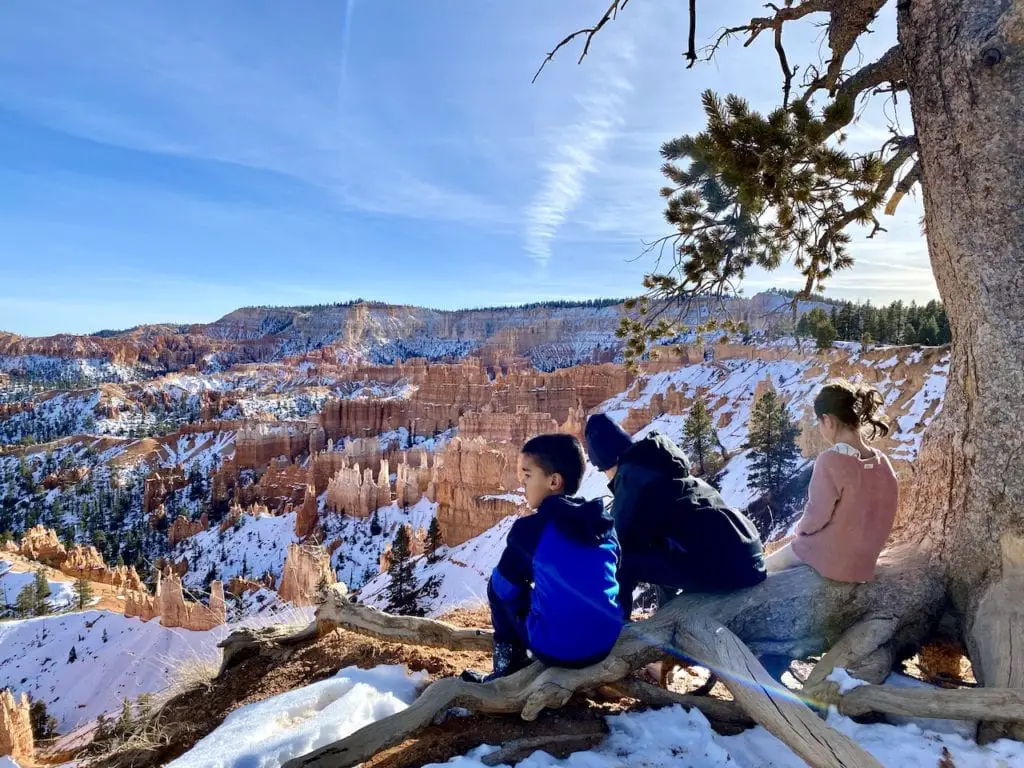 Once we realized that a locals' favorite ski resort was hiding half way between Bryce Canyon and Zion, it became a no-brainer. We squeezed in a day of family ski at Brian Head Ski Resort and LOVED it!!
Here are 10 of our family favorites while skiing at Brian Head Ski Resort:
1- Kids 10 And Under Ski FREE At Brian Head Ski Resort
I'll start with the jaw-dropping fact that children ages 10 and under ski for FREE at Brian Head Resort!
Even better? They get a FREE annual pass to Brian Head!
Not enough? That annual pass – called Power Kids – is valid for free unlimited skiing, all season long at 7 ski resorts in UT, CO, and NM, as well as unlimited free mountain biking at Spider Mountain.
Now, if that does not make Brian Head hit the top of you family-friendly ski resort list, I don't know what will!
Related Read: Find all of our Utah content here.
2- Manageable Ski Resort Size
Brian Head has the perfect size. It is neither overwhelmingly large, nor too small that you'd get bored. It is the perfect manageable size to get a good grasp of the mountain and have fun all day.
Brian Head Ski Resort is made of 2 mountains – Navajo and Giant Steps. It has 8 chairlifts and totals 71 runs over 650 acres.
Going from one mountain to the other is super easy and you can bounce back and forth throughout the day.
3- Family-Friendly Runs At Brian Head Ski Resort
Probably my favorite aspect of Brian Head Ski Resort, as a mom and wife of a beginner skier, is the terrain. We were told that "you can't get yourself in trouble" at Brian Head, and it is so true!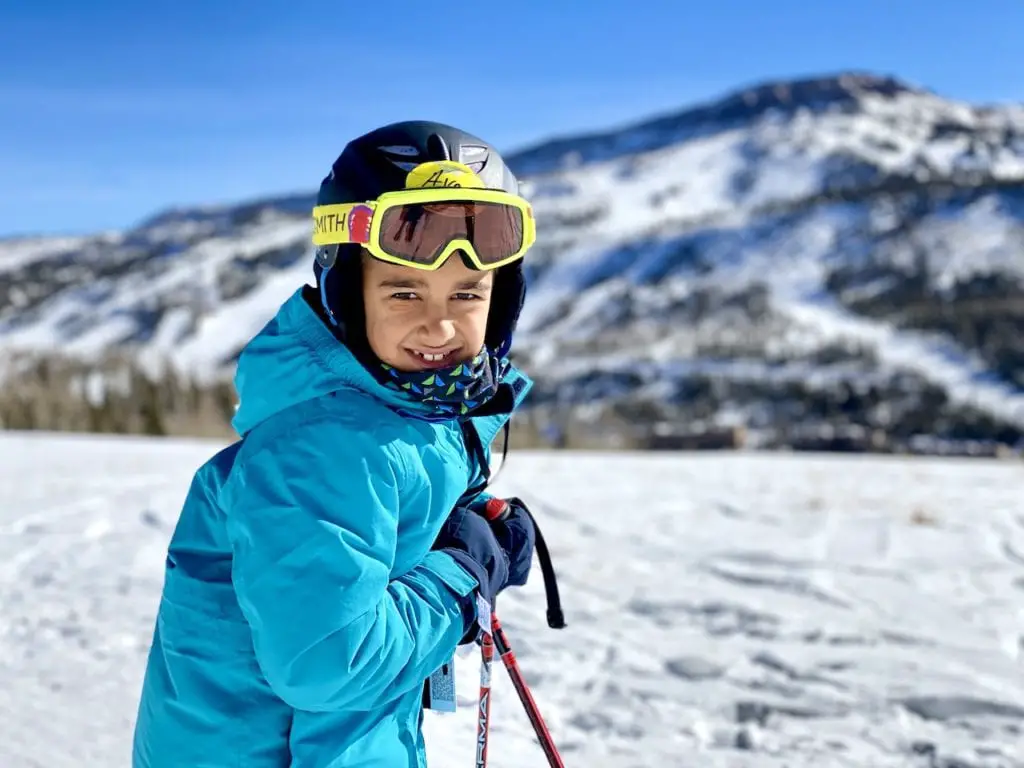 There is always a green or easy blue to get you down from a lift. Our kids (ages 5, 7, and 8) were able to ski down on every single run we skied. And my husband, who is slowly beginning to ski and building up his skills, felt very confident skiing the entire resort.
The bottom of each mountain is a dedicated slow zone, ensuring that the youngest guests have a safe place to learn and develop new skills.
I loved that all skiers and snowboarders can have fun on the slopes without ever wondering if they'll get stuck.
And as an experienced skier, I had an absolute blast. It was fun to ski as a family, as well as great to let everyone go down before I picked up some speed. The runs are long, wide, and bordered by trees, making it a super fun terrain to ski for all levels! The resort has classified about 1/3 of the runs as beginner terrain, 1/3 as intermediate, and 1/3 as advanced.
4- Awesome Snow
Brian Head Ski Resort gets 360 inches of annual snowfall! We skied there in mid-January and had some of the best snow we've had all season. It skied very easy, and was neither too firm nor too "soupy."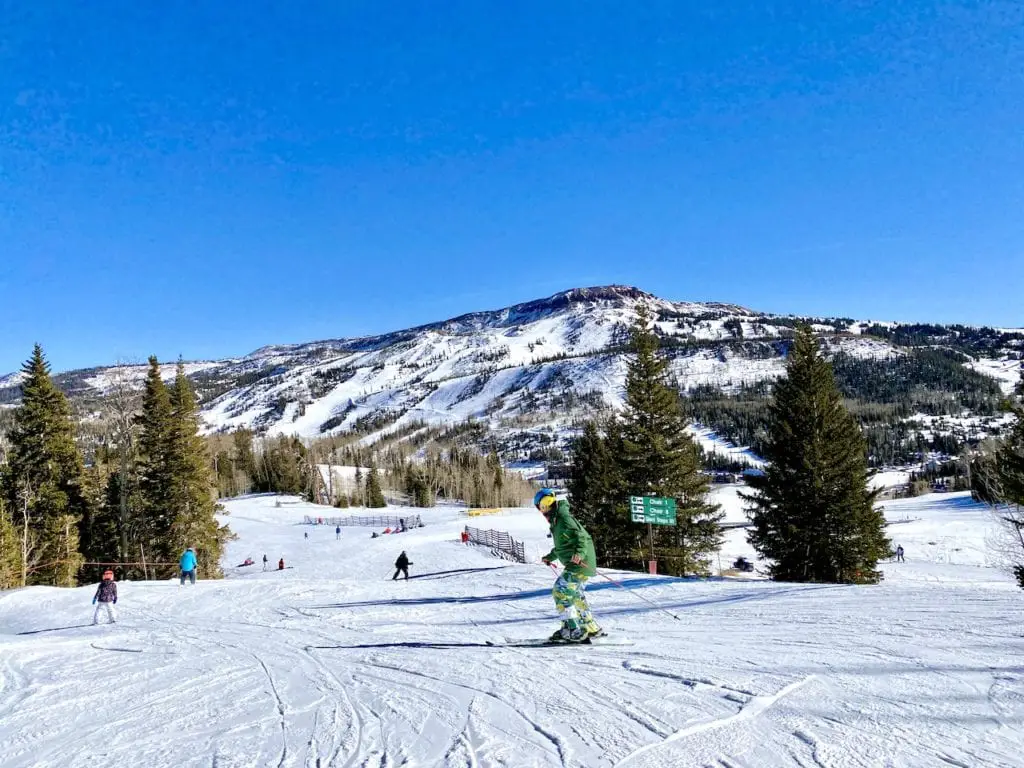 We were told that the snow had been a little shy that year, so I bet you can get some amazing Utah powder on a regular year.
5- Highest Base Elevation
This is a really cool fact. Brian Head Ski Resort has the highest base elevation of all of Utah's 15 ski resorts. It soars at 9,600 feet and the chair lifts takes you up to 11,000 feet.
6- Incredible Valley Views
Just the fact that Brian Head Ski Resort is nestled inside the Dixie National Forest, speaks for its beauty. It is, honestly, one of the most beautiful ski resorts we have ever skied.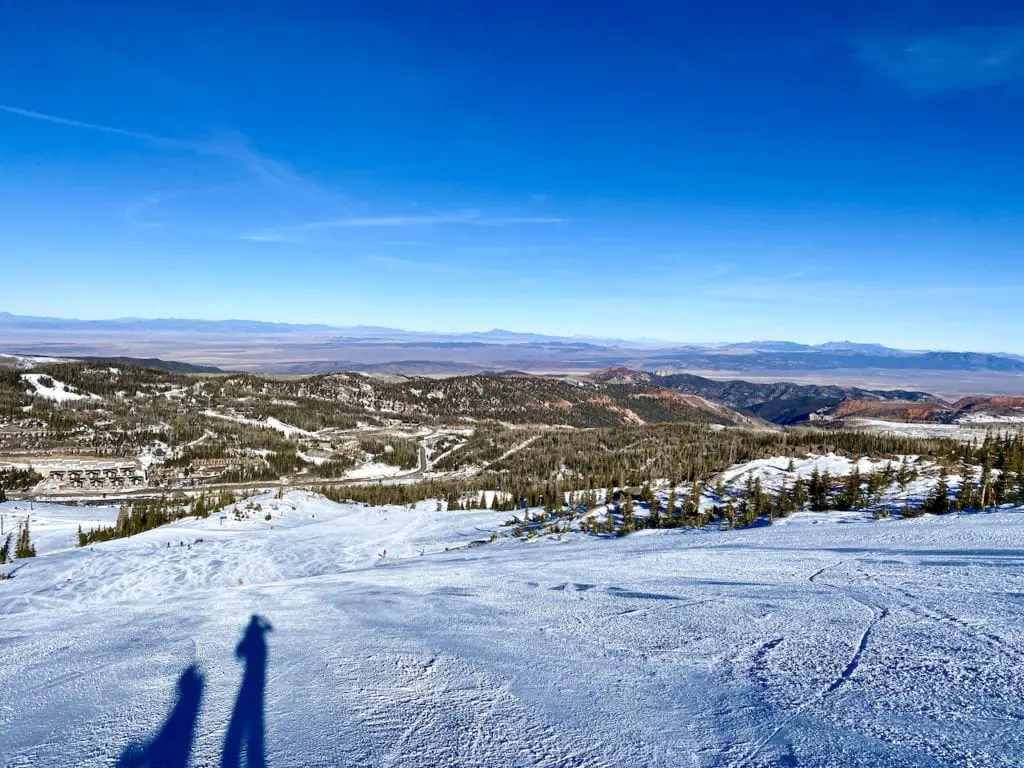 What makes it ultra special? Its desert valley views! Brian Head is actually located in a high desert alpine environment, and from nearly everywhere, you will be overlooking the red rocks that make the region so famous.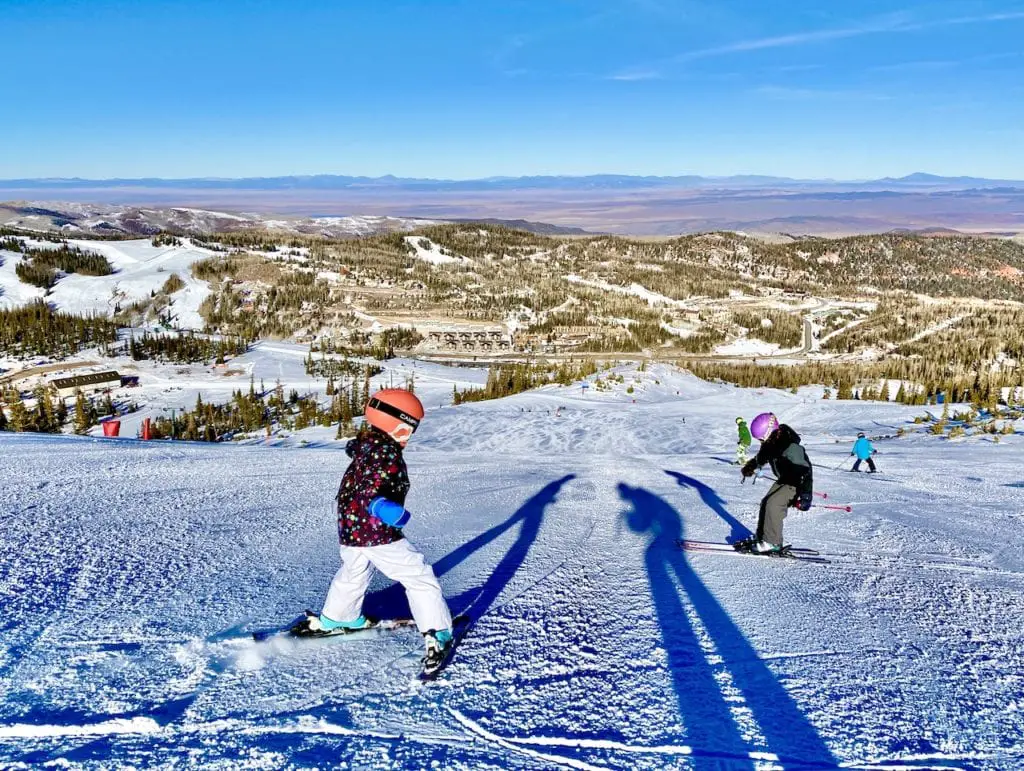 While no picture will ever do it justice, the most beautiful views can be spotted from the Giant Steps Mountain.
7- Easy Airport Access
Brian Head is the southernmost ski resort in Utah, which makes it just about 200 miles away from Las Vegas. You can fly to Vegas and be at Brian Head Ski Resort in 3 hours.
Or fly into Salt Lake City like we did, and drive the roughly 4 hours straight south to Brian Head, UT. If driving is not your thing, try flying into Salt Lake City and boarding the quick flight down from Salt Lake to Cedar City. A short 32-mile drive will await you to Brian Head Ski Resort.
I love the proximity from both airports and the option for a snow break from an entertainment-packed Vegas vacation.
8- Other Attractions In The Area
When you are skiing at Brian Head Ski Resort, you couldn't dream of a better location!
If you are a lover of U.S. National Parks, you are 1.5 hours away from Zion National Park and 1.25 hours from Bryce Canyon National Park. You can easily dedicate a couple of days to visiting two of the most beautiful national parks.
If you want to explore closer to the resort, the Cedar Breaks National Monument is just a 6-minute drive from the resort, and Brian Head itself is nestled inside the Dixie National Forest, with many hikes accessible summer and winter.
9- All-Budget Accommodations Near Brian Head Ski Resort
There is a wide variety of accommodations available right in Brian Head. From luxury ski-in ski-out resorts and condos, to hotel rooms and cabins right off of the ski runs, you will find a comfortable place to stay near the chair lifts.
If budget is of concern, look a little further in Cedar City for options around $70 per night with breakfast. It will be about a 40-minute drive into Brian Head Resort in the morning.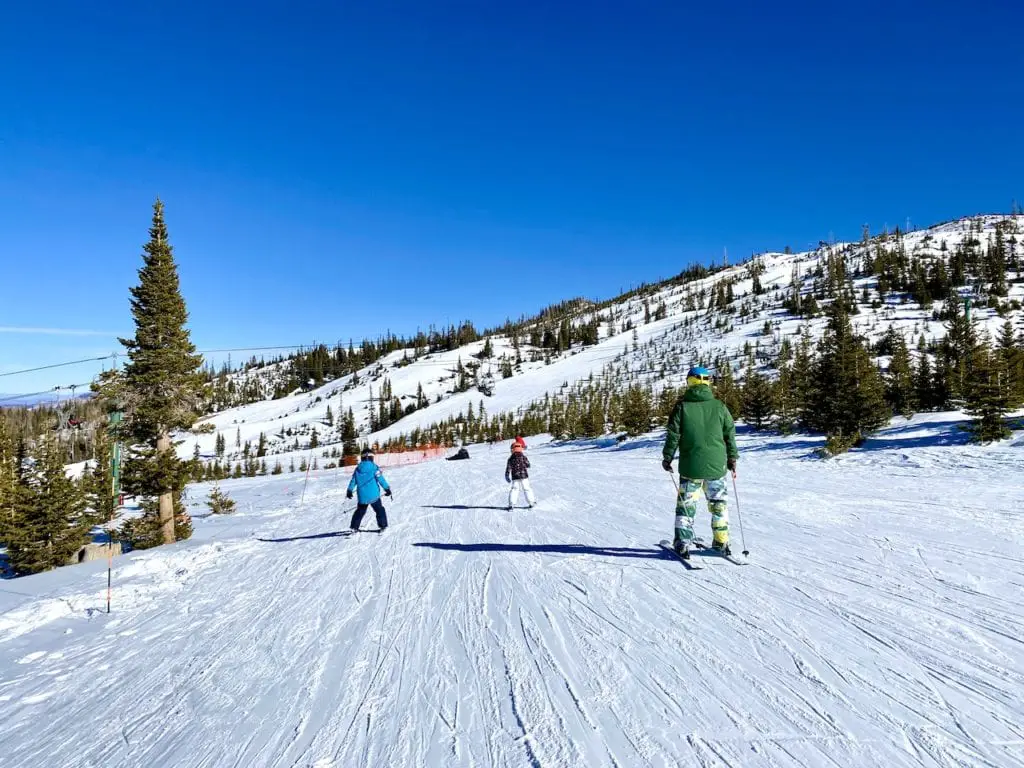 If you are an RV family, note that Brian Head Ski Resort is one of only 4 Utah ski resorts allowing overnight parking. You will need to get prior authorization and won't have hookup, but if you can go off-grid for a night or two, that's a fantastic option for you!
10- Tubing Fun For All
Brian Head Ski Resort operates two tubing parks meant for the whole family. While we didn't get to try them out (reservations required during COVID), they looked like a ton of fun and friendly racing!
Make sure you book your reservation ahead of time to participate. During COVID, only the Navajo Mountain tubing park is open.
Family Ski At Brian Head Ski Resort
I highly recommend Brian Head Ski Resort for families looking to enjoy skiing together. Not only is it very family-friendly with amazing ticket prices, but the resort itself is set up for everyone in your party to have fun.
Our kids' favorite run was probably the freestyle terrain on Giant Steps Mountain, where they worked on their jumps and ramp skills!
We had a fun day of ski and had our eyes stuck on the beauty of the region. Thank you Brian Head Resort for hosting us on a day of family ski!
---
Pin this for later: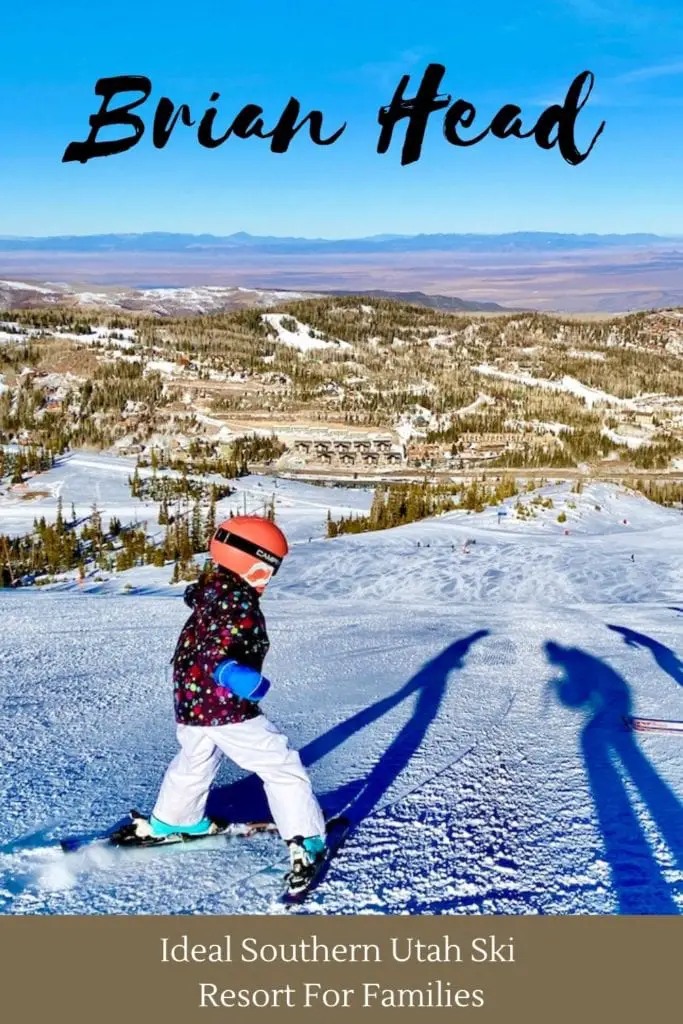 ---
Related articles you will enjoy:
10 Reasons Why Utah Should Be On Your Family's Bucket List – Luxury Family Ski Vacation
Deer Valley Resort – A Dream Come True For Family Ski
5 Good Reasons To Ski in Park City, Utah with kids
If you enjoy reading us, make sure to sign up for our newsletter!