Can you believe that it has nearly been a full year of navigating the COVID waters already? It is our world for the time being and I am thrilled to see companies putting everything in place to keep us safe and entertained.
A few weeks ago, Feld Entertainment hosted their first Monster Jam 2021 in a safe and healthy way, which feels like a huge step towards recovery. We can keep making family memories and have fun, as long as we do it with everyone's wellness in mind. Feld Entertainment has put strict measures in place so we can all enjoy some of our favorite shows again!
Monster Jam Schedule 2021
Let's quickly look at the Monster Jam schedule 2021. You can currently purchase tickets to Monster Jam 2021 in 11 different U.S. cities (+Frankfurt, Germany) from February to September 2021:
Houston, TX: 2/6-6 & 2/13-14
Orlando, FL: 2/27-28
Jacksonville, FL: 3/6-7
Tampa, FL: 3/12-14
Grand Rapids, MI: 3/26-28
Southaven, MS: 4/9-11
Seattle, WA: 4/17
Frankfurt, Germany: 5/29
San Antonio, TX: 7/3-4
Cincinnati, OH: 9/4-5
Foxborough, MA: TBD, postponed
Detroit, MI: TBD, postponed
Remember to check the schedule frequently as shows have been postponed and/or canceled due to local governing laws and directions.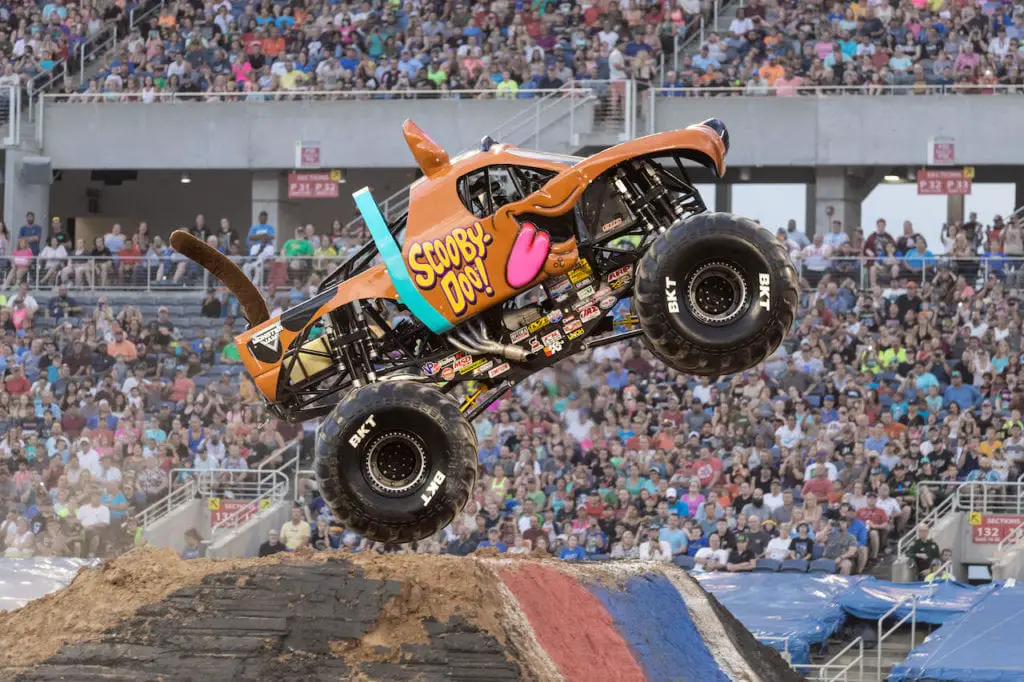 Feld Entertainment and Monster Jam successfully opened up the 2021 tour in Salt Lake City, UT on 1/8-10 with strict safety measures (discussed below). The event safely welcomed Salt Lake City residents over the course of three days and spread out over five shows.
Monster Jam Tickets
Monster Jam tickets currently retail between $20 and $110 per ticket, depending on the show you visit and category of tickets you purchase. Tickets are priced in a similar way to ball or concert tickets. The closer to the arena you sit, the more expensive the ticket.
This year, Feld Entertainment, the Monster Jam organizer, is doing seating and tickets a little different, to provide a safe experience for all.
They have put in place a concept call pod seating. When purchasing your ticket, pods must be purchased in their entirety and may not be divided. Think of a pod as your entire party. You need to purchase tickets for the whole party at once.
Once you have purchased your pod tickets, you may only sell or transfer your tickets to someone in your direct family or trusted acquaintance circle. That new person will need to attend Monster Jam together with the other pod members! You only have the ability to sell your entire pod to someone unrelated, if you sell to whole pod and one other party. Those buyers will need to sit together, in the pod, for the duration of the event.
Check on Monster Jam ticket prices for all shows here.
In the event of a Monster Jam show cancellation, you will receive a full refund. Feld Entertainment is also working with event organizers to ensure that you have options in the event of postponement or rescheduling.
Feld Entertaiment & Monster Jam COVID Measures
For events such as Monster Jam to keep taking place in 2021, we all need to play our part. Feld Entertainent has put safe measures in place to bring us the 12,000-pound truck action we're all craving for!
So what exactly does that mean for you?
When you attend Monster Jam 2021, you can expect the following COVID measures:
Wellness Checks
Make sure to check your party's temperature before making your way to the stadium or arena. If someone attending Monster Jam 2021 in your party, has a temperature of 100.4 degrees or higher, please stay home to protect all others. That applies to attendees who are not feeling well and/or showing COVID symptoms such as loss of taste / smell.
Monster Jam and Feld Entertainment has put a flexible ticket exchange policy that allows you to change your plans if you are not feeling well.
Face covering
You will be required to wear a face mask while attending Monster Jam 2021 events if you are older than 2 years old. Similarly to airline policies, your mouth and nose will need to be covered for the duration of the event, unless you are actively eating or drinking. When doing so, simply ensure that you are socially distancing from other guests.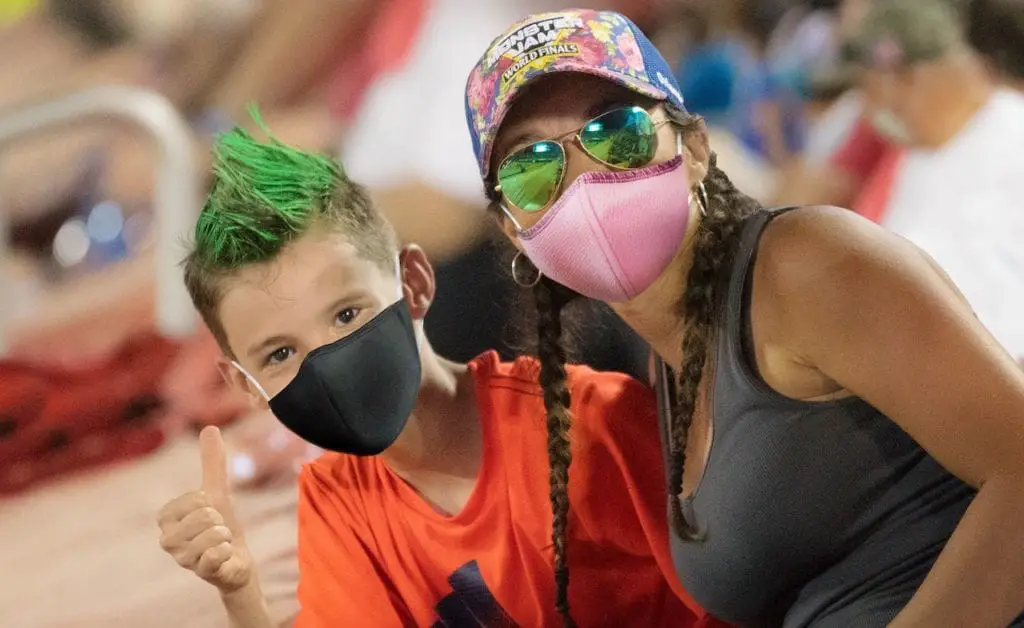 For the Monster Jam fans, note that branded masks will be available for purchase so you can keep on cheering from home. You are otherwise requested to arrive at the arena or stadium with your own masks. Should you forget it, a limited number of disposable masks will be available.
Pod Seating
We talked about pod seating a little bit in the Monster Jam Tickets section above, but here's everything you need to know about it.
When purchasing your Monster Jam Tickets, you will be asked to purchase as many tickets as your party holds. Your party becomes a pod and will be sitting together and socially distanced from other pods.
Your pod will only be accessible to those you have included as attendants of your pod. You will need to sit within your pod during the event, and sitting in any seat outside of your assigned Pod Seating is obviously prohibited.
Feld Entertainment is limiting the seating capacity in 2021, so make sure that you grab your tickets early!
Interaction During Monster Jam 2021
In order to keep everyone safe and healthy, you will be asked to respect social distancing with those outside of your pod.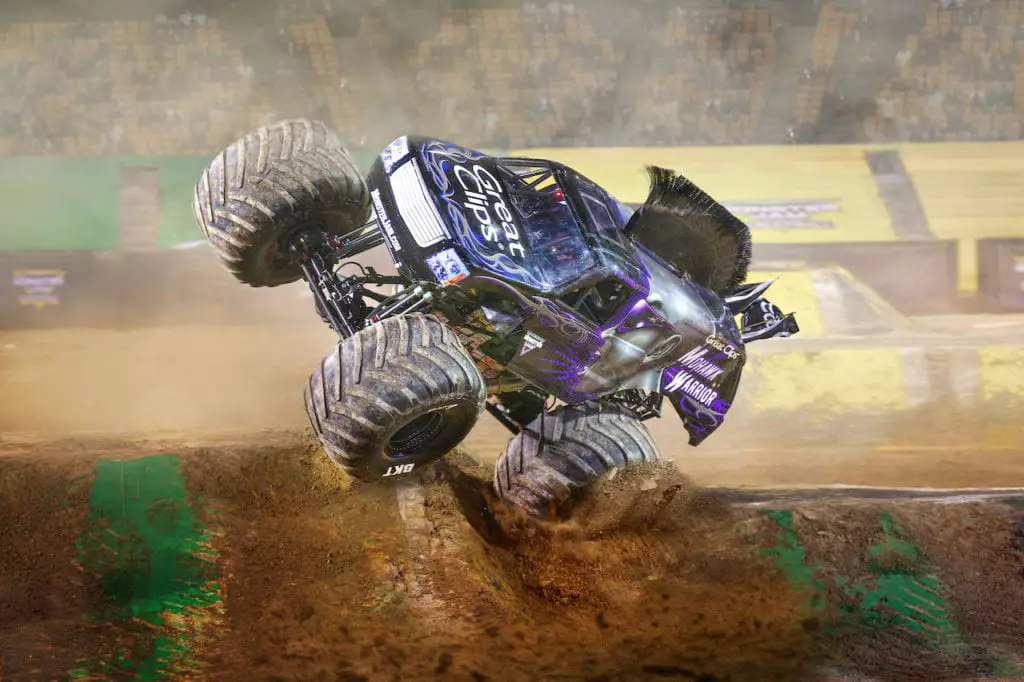 If you have attended Monster Jam shows in the past, you will also notice that autograph sessions, and VIP Experiences are not available this year. Pit parties will only be available in select cities, where local regulations allow.
Remember to connect with your favorite Monster Jam drivers and trucks on social media. Follow and tag #MonsterJam to stay in the loop and come close to the action!
Monster Jam Shopping
I love this one because it not only keeps guests safe, but it actually saved you time.
Feld Entertainment has set up contactless shopping inside the arenas and stadiums. If you are looking to save time however, purchase your fan gear ahead of time and your purchase will be ready when you get to the venue. Skip the line and go straight to pick up your Monster Jam gear.
When shopping while at the event, you have the option to order the merchandise from the comfort of your seat and pick your order up at the shop before the end of the event!
Monster Jam 2021
You can feel safe in planning to attend Monser Jam 2021 events. Feld Entertainment has put in place COVID measures to prevent the spread of the disease after spending 9 months on enhanced health and safety measures designed to deliver the same action-packed family experience fans expect from Monster Jam while keeping families safe. Of course, there is always a risk in attending events and gatherings and we are all well aware of the risks.
I do love seeing events coming back and the bit of normalcy that they bring. Our family has attended several events with pod seating and felt very safe. We will be cheering on the Monster Jam athletes and trucks in Orlando in a few weeks and can't wait to let you know all about our experience. The Orlando Camping World Stadium has increased sanitation efforts, hand sanitizer stations and social distancing protocols, and we're excited to see the trucks this year.
Let me know in comments if you plan on attending Monster Jam 2021!
Fun fact: did you know that there are three siblings competing on tour against each other. Adam, Krysten, and Ryan Anderson each drive Monster Jam trucks for a living and each has his/her own Guinness World Record aboard a Monster Jam truck.
---
Pin this for later!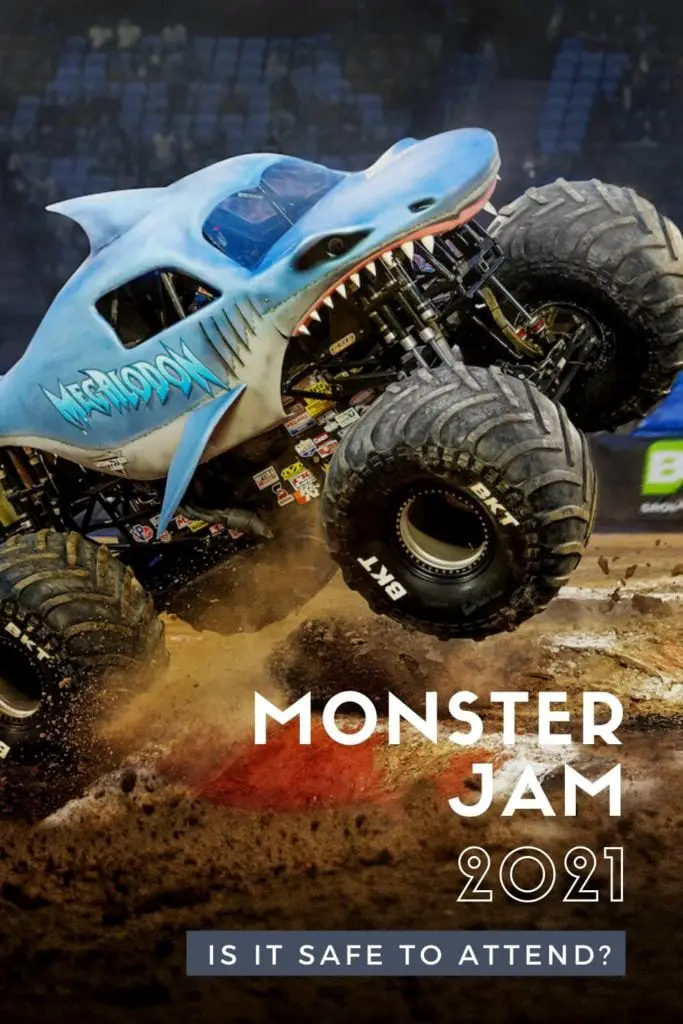 ---
Related articles you will enjoy:
Multi-Generational Family Fun At Drive Shack Orlando
Star Wars: Galaxy's Edge at Disney World
ICON Park With Kids – Things To Do In Orlando, FL Besides Theme Parks
If you enjoy reading us, sign up for our newsletter below!