We spent a couple of nights at Alta Lodge and could have stayed many nights more. But all good things come to an end and we know we will be back because Alta Lodge is simply wonderful for families.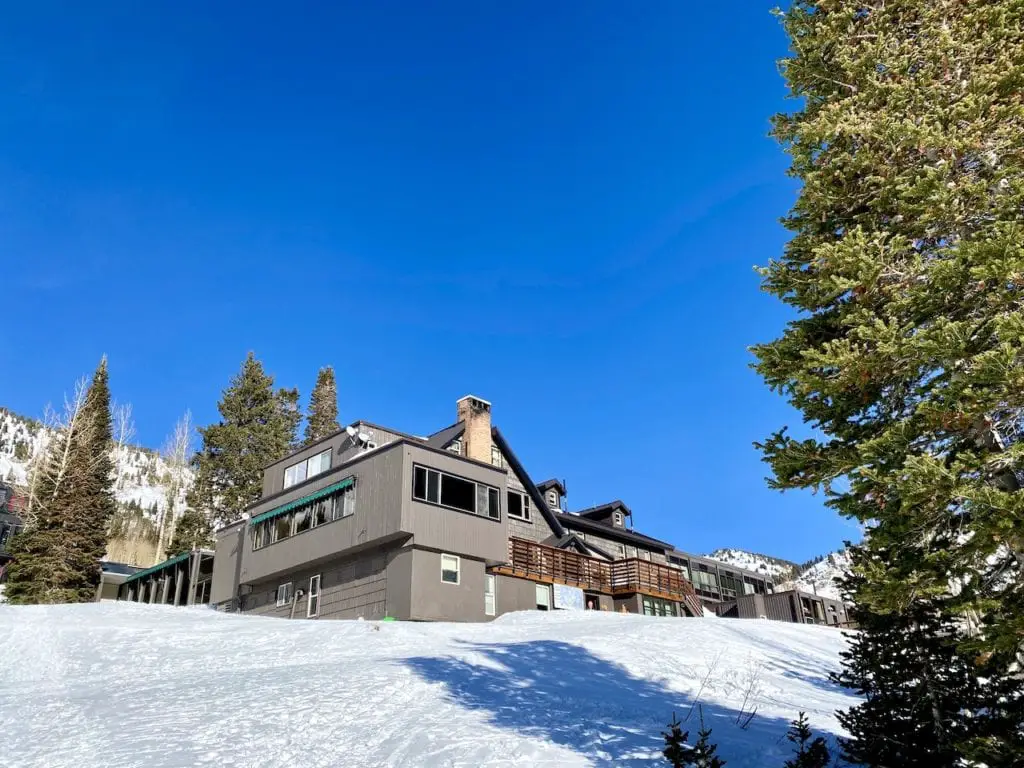 If you plan on skiing in Utah with kids, I highly recommend Alta Ski Resort. And once you have decided that this is the right resort for your family, the decision to stay at Alta Lodge is easy.
This is what our family loved about Alta Lodge:
1- Breakfast + 4-Course Dinners
Food is the key to my heart, so I will start with this awesome fact! When you book your stay at Alta Lodge, a hot breakfast and four-course dinner meal are included with every night!
Yes, you heard that right!!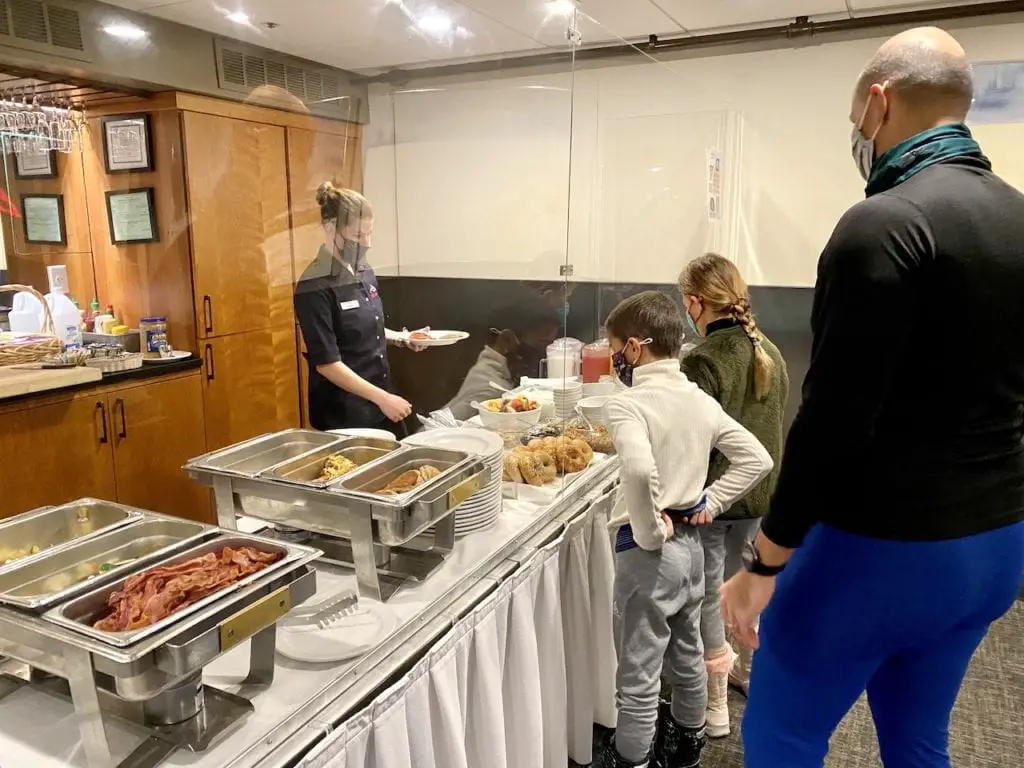 The breakfast buffet looked a little different (and very safe) during COVID and each morning had its own assortment of breakfast food and a kitchen-made item you could order. Breakfast can also be ordered to go if you are pressed with time.
At night, walk in to the dining room and be served a soup, salad, your choice out of three main dishes, and a choice of dessert!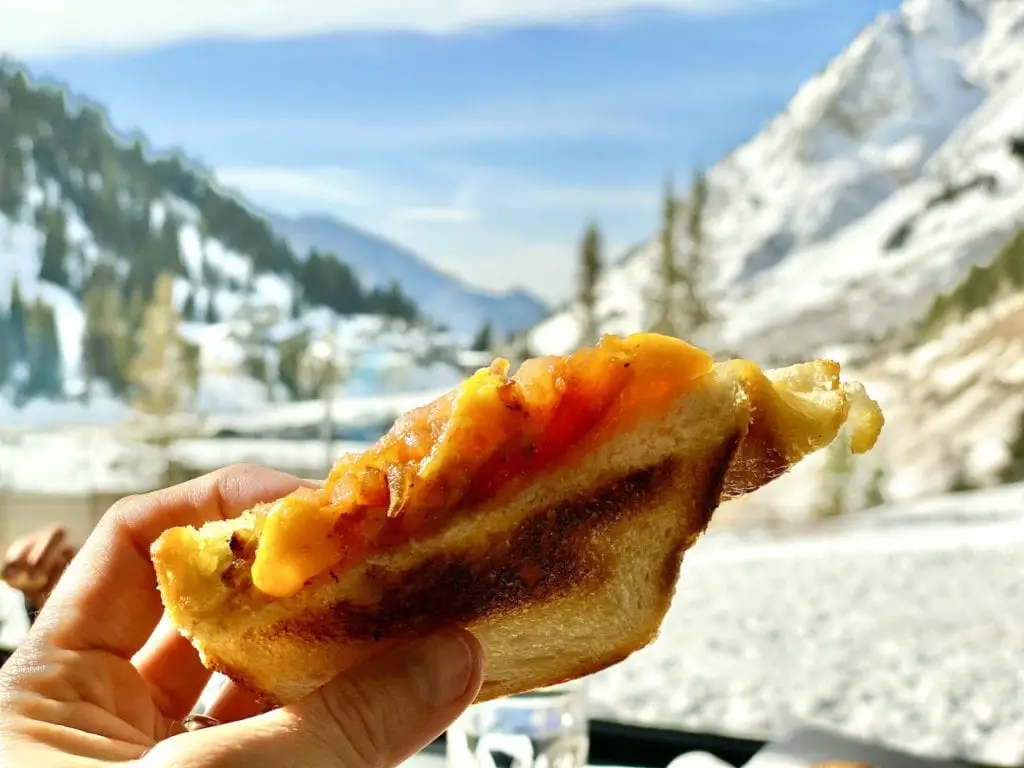 Every meal was absolutely excellent. Our kids loved the food options – hey, who doesn't love tomato soup and shrimp? But should you have picky eaters, Alta Lodge offers an array of kids meals for its younger guests!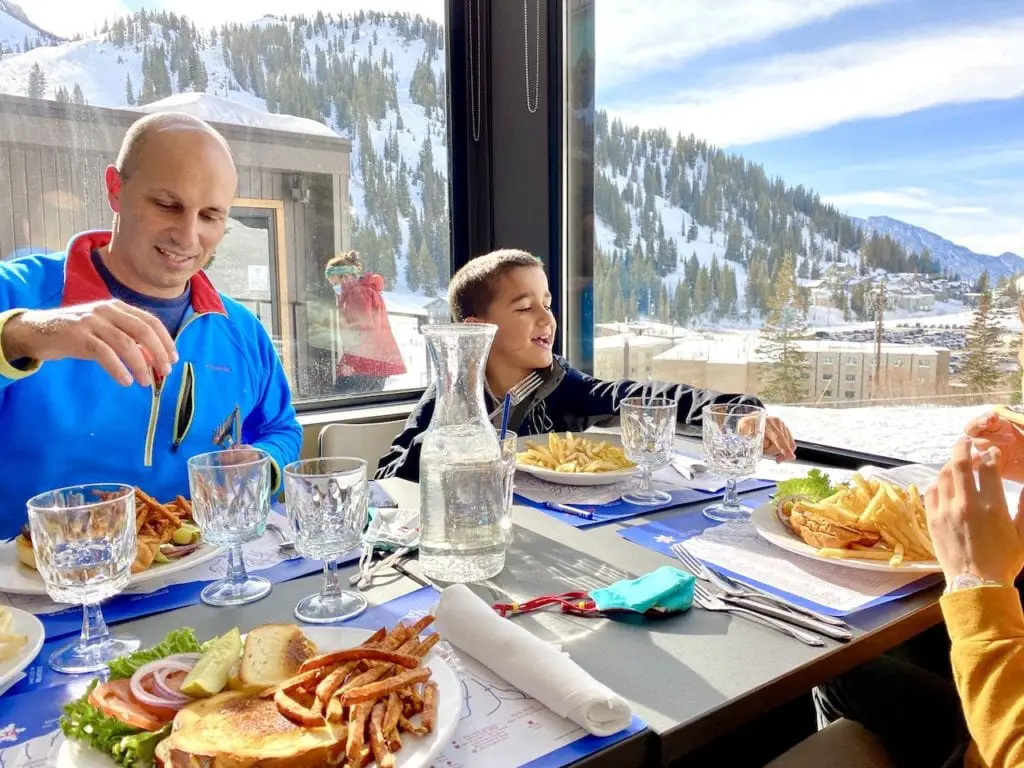 Pro tip: if you see short rib on the menu, don't skip it! It is the most tender piece of meat you'll ever eat!
If you have young kids or prefer an alternative, you are welcome to request your dinner to go or room service.
Related Read: Find all of our Utah content here.
2- FREE Kids Club At Alta Lodge
Alta Lodge has a long tradition of catering to families – over 25 years in fact! We felt like everything was put into place to make us feel welcome and comfortable.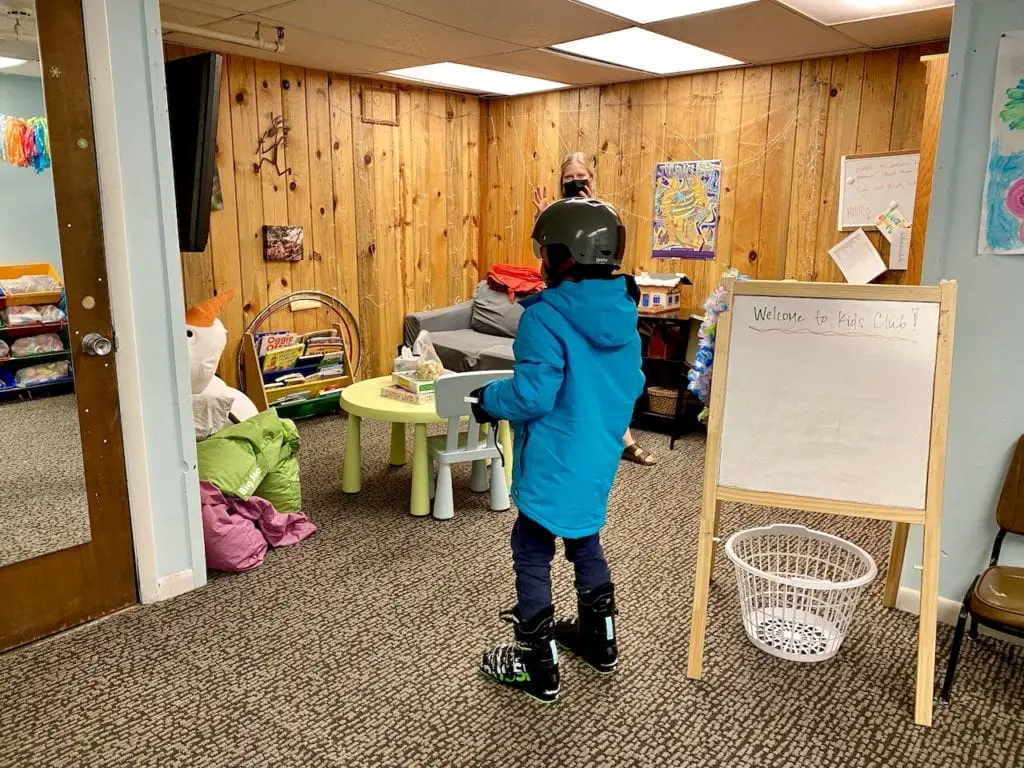 The Alta Lodge Kids Club is absolutely amazing. Abby, the Kids Club coordinator, is great and very patient with children. From 4:30PM to 8:30PM, parents can request free childcare. If you want a few hours to yourself to enjoy the lodge, hot tubs, an in-room massage, or just reading a book by the fire, make sure you use this family-friendly service. Your kids can even be served kid-friendly dinners if you wanted to enjoy a romantic, distraction-free, dinner in the dining room!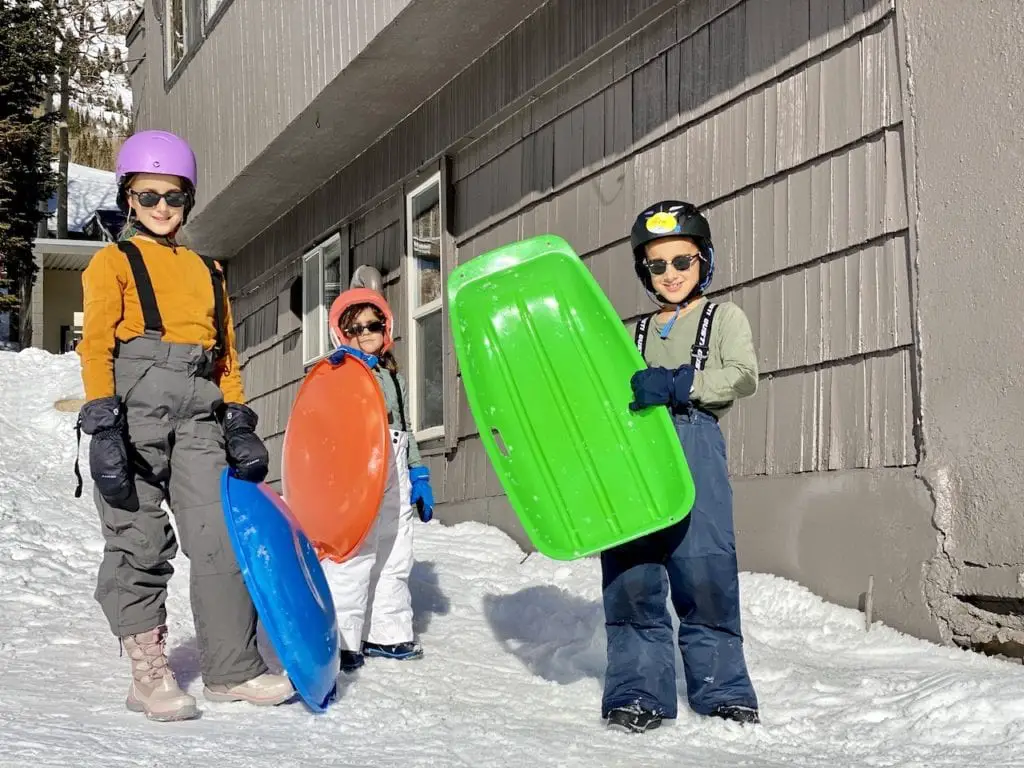 At the Alta Lodge Kids Club, children will be entertained indoors and outdoors. During COVID, Alta Lodge is also providing to-go craft bags for pick up, so the kids can play safely in their rooms if they wish.
The Alta Lodge Kids Club also includes a free shuttle service to Albion Base if your kids are signed up for the Alf Engen ski school! No COVID concern here either – the shuttles are private during the pandemic!
3- Kids Stay Free Offer
When you stay at the Alta Lodge, there is a true feeling of being part of the Lodge's family. And the Alta Lodge family wants your family to make memories and build traditions at their Lodge.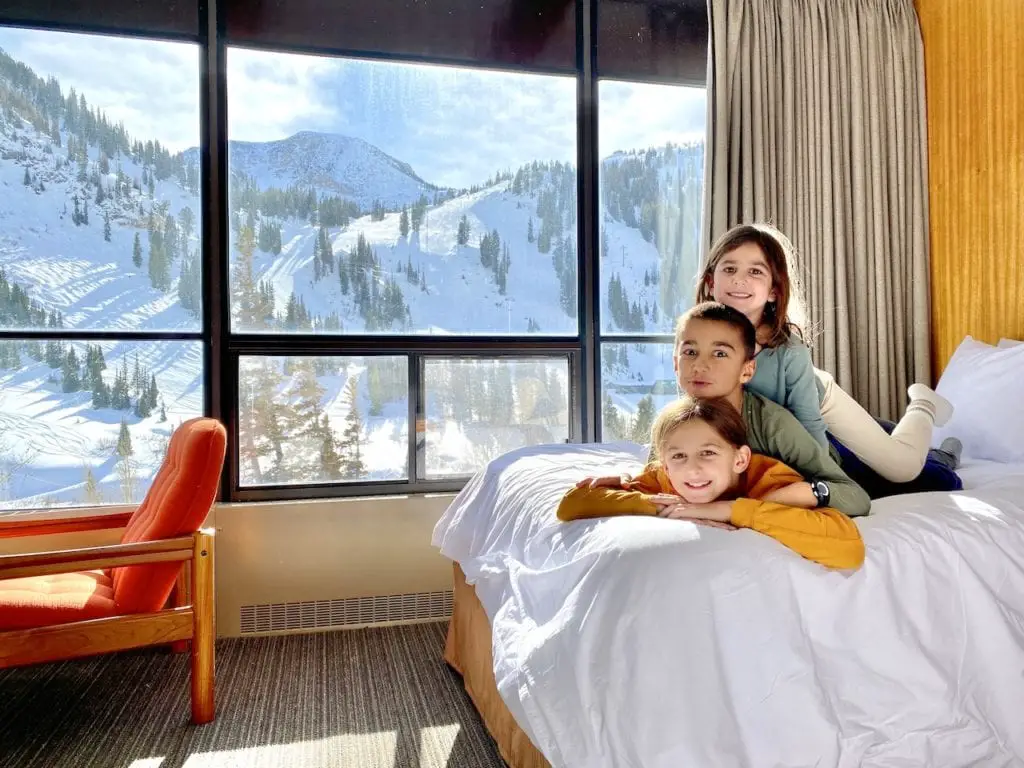 For over a decade, they have been offering Kids Stay Free offers in the early and Spring seasons. With COVID and the ever-changing homeschooling / work-from-home landscape, Alta Lodge is adapting and including week-long and monthly dates to their Kids Stay Free program. Because nothing is cooler than recess on the slopes!
So book a 4-night long (or longer) family vacation at Alta Lodge in a standard room or higher, and your kids ages 12 and under stay, eat, and play for free!
4- True Alta Ski-In Ski-Out
Staying in an Alta ski-in ski-out resort is pure luxury. And at Alta Lodge, you are on the slopes the moment you step food outside. From the locker room, walk outside, put your skis on, and ski 30 seconds down to Collins, or grab the tow rope to Albion Base, where the ski school is located. See Alta's Trail Map here – red triangle #9 is Alta Lodge.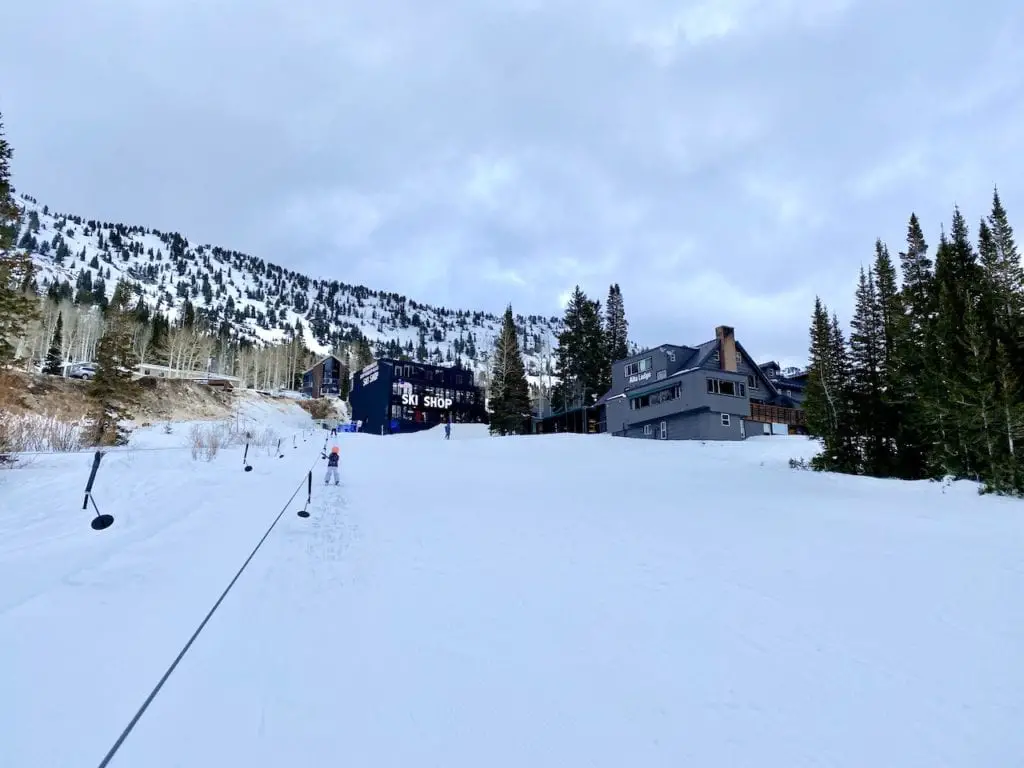 At night, the Lodge Tow brings all skiers back up to the Alta Lodge. You will ski right back into the locker room and be settled for the night!
5- Alta Lodge Ski Lockers
At Alta Lodge, each room comes with a large, free heated ski locker! Being able to slip your feet in warm boots in the morning is everything! Moms and Dads, let's be honest – anything that will make those ski mornings run a little smoother is a huge plus!
When you return, tired from a day of ski at Alta Ski Resort, you will love being able to change into your regular boots and walking the family up to the room with out the encumbrance of skis, helmets, gloves, ski boots, etc! Everything will be waiting for you, warm and dry, the next day!
6- Service, Service, Service!
Staying at Alta Lodge feels like becoming a part of the Alta Lodge family. There is a sense of community and belonging inside the Lodge.
At Alta Lodge, you are a true family guest and all of your needs are tended to – even those needs you didn't know you had!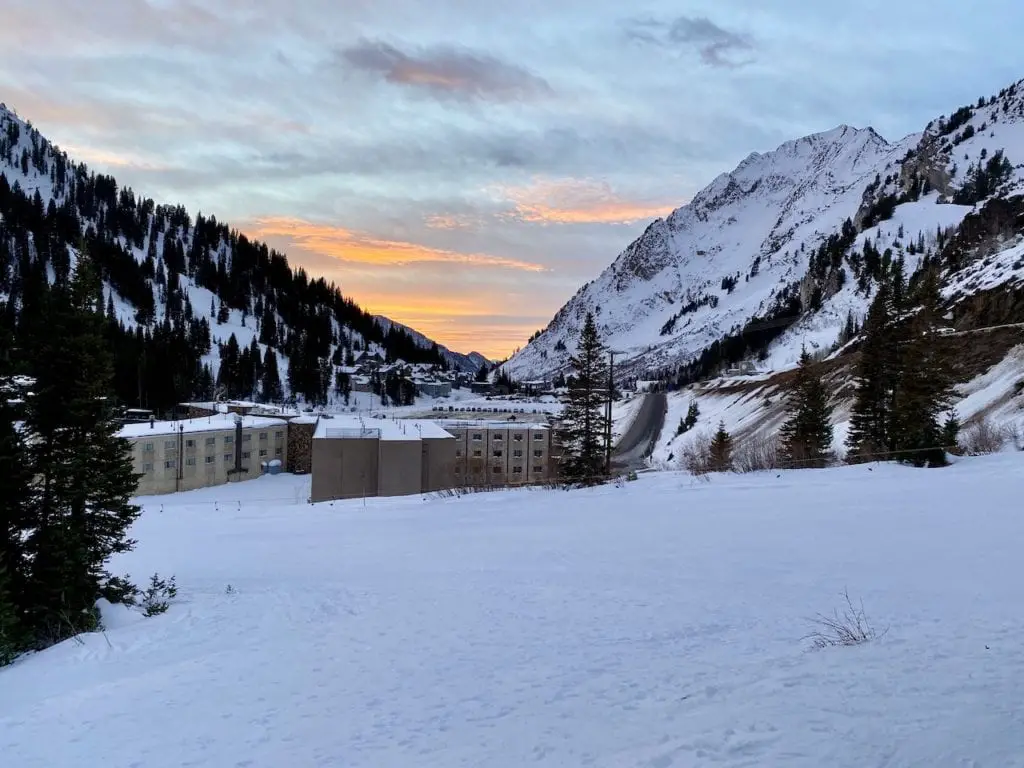 When we arrived at the Lodge, the front desk staff asked for our car keys and kindly re-parked our car before proceeding to making 3 trips to bring all of the content from our car to our room! They even removed our skis and boots from the ski travel bag and stored the equipment in our ski locker!
Those are just small examples of the amount of unexpected service you receive at the Alta Lodge. All of our requests were tended to with grace and kindness and we felt overwhelmingly welcome with our kids!
7- Afternoon Coffee And Tea
From 3:30PM to 5PM, afternoon coffee, tea, refreshments, and baked good are served in the dining room. Afternoon tea somehow brings me all of the tastes of luxury. It is something I rarely indulge in at home and I love that the Alta Lodge keeps that tradition alive!
8- Amenities
We've talked about the locker room and the Kids Club, so let's look at what else makes the Alta Lodge. Our kids' favorite amenity at Alta Lodge was the lobby's fireplace. They spent hours warming up after skiing, watching the flames dance and feeling the heat on their face.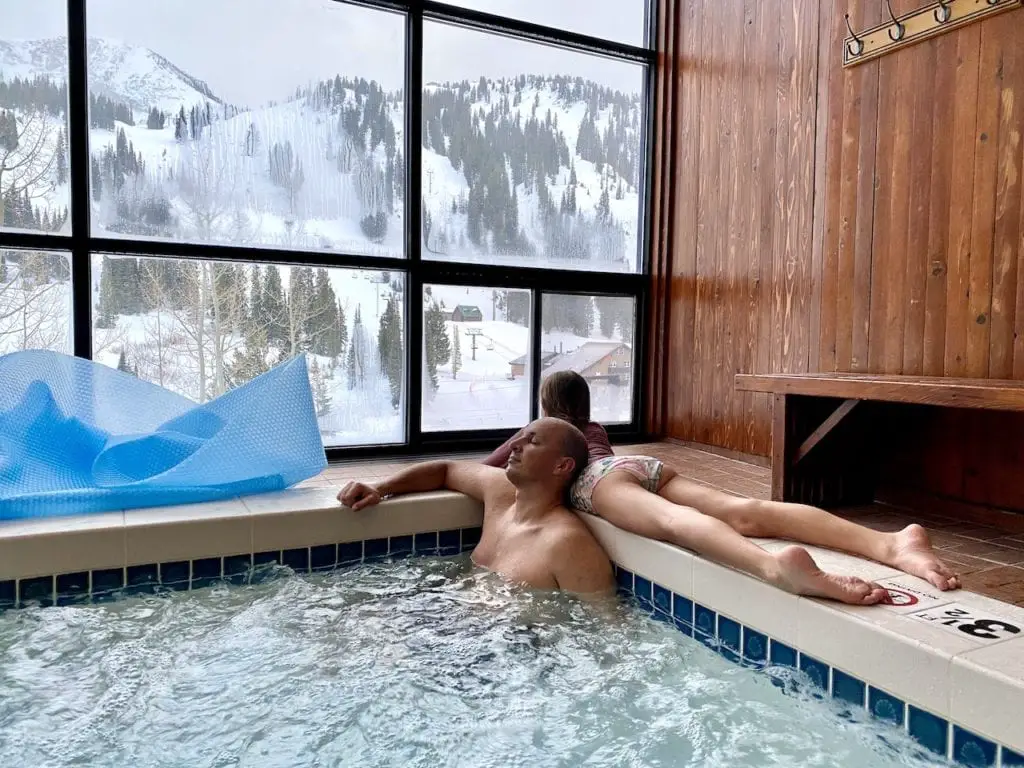 Christian and I loved the mountain-facing hot tubs! But Alta Lodge also has sauna rooms, a classic wooden mountain bar – Sitzmark Club, a reading room with TV screen, and free daily morning yoga sessions. Alta Lodge puts everything in place to help its guests feel safe during COVID and you can decide to join the yoga session from your room via Zoom.
9- Alta Lodge Rooms
Several things make the Alta Lodge rooms exceptional and it might not be what you're thinking of. Let's start with the obvious – the view! If you are able, try to get a corner room! We stayed in room 43 and this is the amazing view we had from the room. We probably all spent a good hour each day just staring at the mountain.
Upgrading to a slope-view room is absolutely worth it. If you are on more of a budget, you can also opt for a Lodge Room or even a Dorm. All rooms include dining but you might need to share the bathroom if you choose a dorm.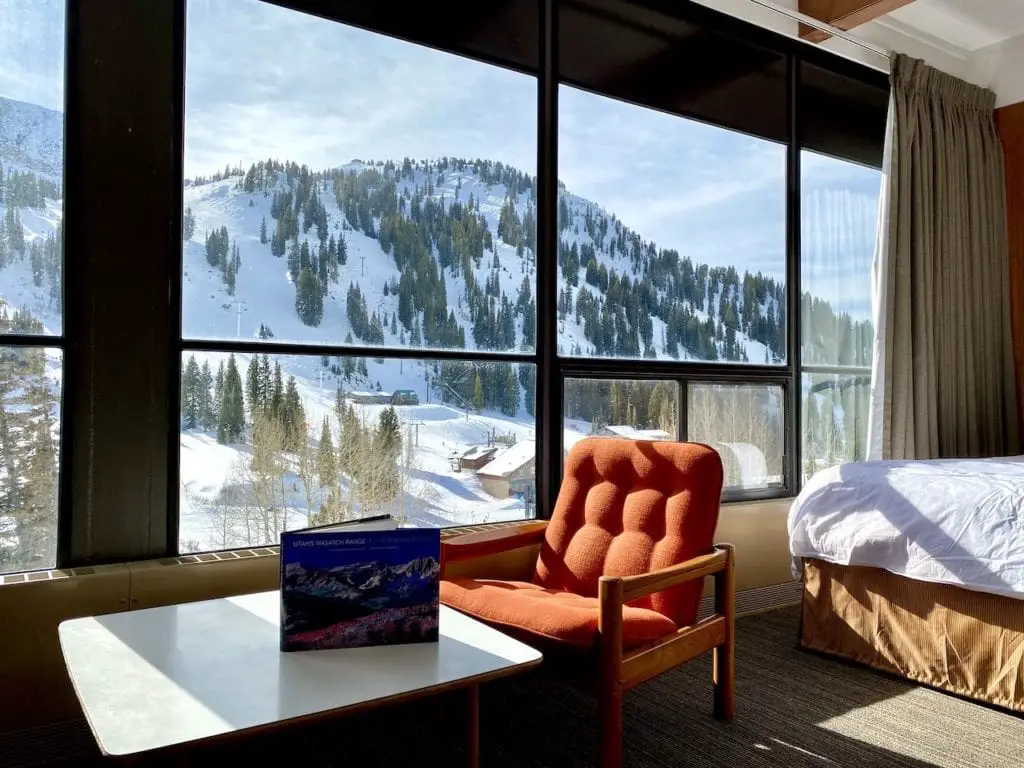 Alright, here's the less obvious. I, for one, love that the Alta Lodge rooms have no TV. You are welcome to borrow movies and watch TV in the lounge, but you will not find TVs in the rooms. In true mountain lodge fashion, you can fully disconnect and live in sync with the mountain.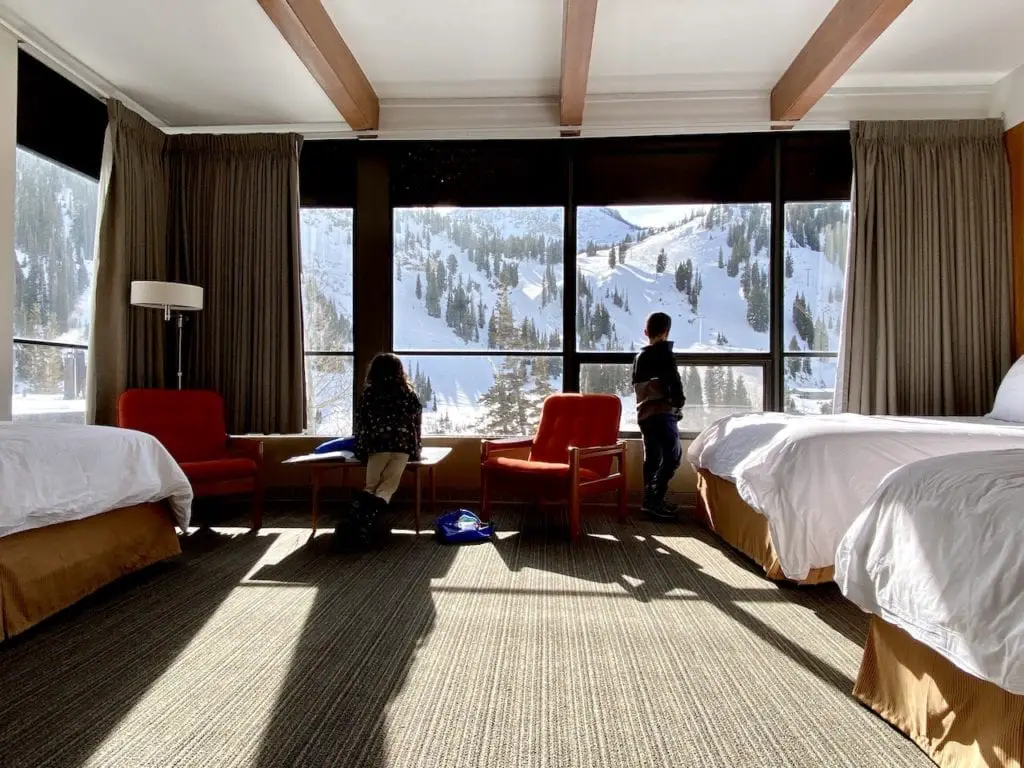 The little extras that make Alta Lodge include bath robers and electric boot heaters. We actually used those to dry our gloves and socks after sledding!
10- Traditions, Traditions…
The Alta Lodge is all about traditions. The ones you built with your family and the ones you come back for, year after year. It is about nostalgia and a sense of belonging to the mountain. If you are looking for a way to make memories you'll cherish every year, the Alta Lodge is the perfect ski resort.
And guess what? You will have the option to pre-book the same dates for the following year if you wish to come back. That priority booking also means that, if you are a first-time visitor, you should book as early as possible to ensure availability.
Where To Stay In Alta With Kids
If you are headed to Alta for a family ski trip, I can't recommend Alta Lodge enough. It has made our Alta vacation an amazing memory we will be looking back on for years to come.
Everything is put in place to make families feel welcome. The needs of both parents, and children, are met and Alta Lodge ensures that all of its guests have a wonderful stay. We thank Alta Lodge for hosting us on our recent ski trip to Alta.
---
Pin this for later!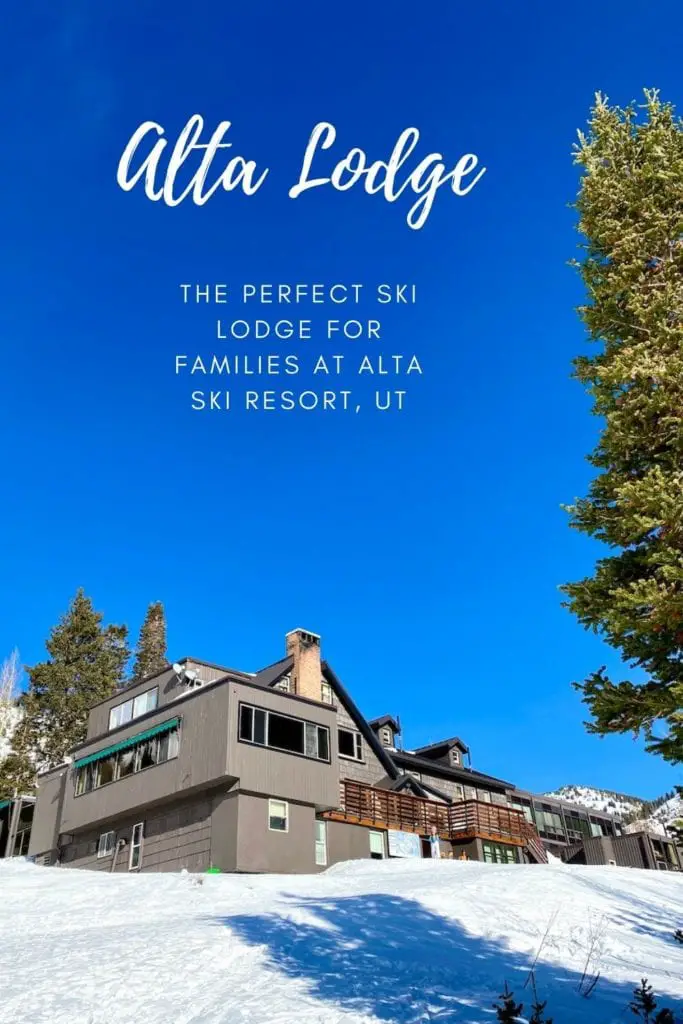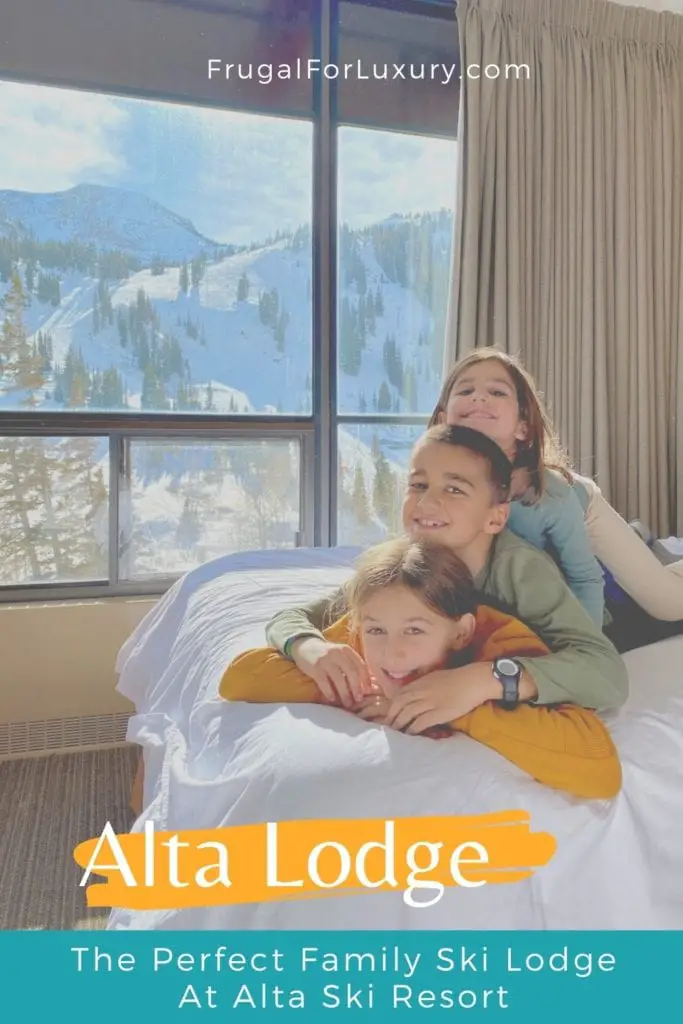 ---
Related articles you will enjoy:
10 Reasons Why Family Ski Is Awesome At Alta Ski Resort
10 Reasons Why Utah Should Be On Your Family's Bucket List – Luxury Family Ski Vacation
Deer Valley Resort – A Dream Come True For Family Ski
If you enjoy reading us, sign up for our newsletter below!