If you have kids like mine, who could spend hours reading facts and learning about animals and the world around them, you are constantly looking at ways to keep them engaged and learning. Our family's all-time favorites have been the National Geographic Kids Books. Let me tell you why we love the Nat Geo kids books, which kinds exist, and why they are, in my honest opinion, the best books for elementary school children!
National Geographic Kids Almanac
Let me start with the National Geographic Kids Almanac. We stumbled upon this one by chance, when one of my son's little friend gifted him one for his birthday. I am starting with this one as it has been his favorite book of all time. So much that it is the only book we packed with us on our world tour!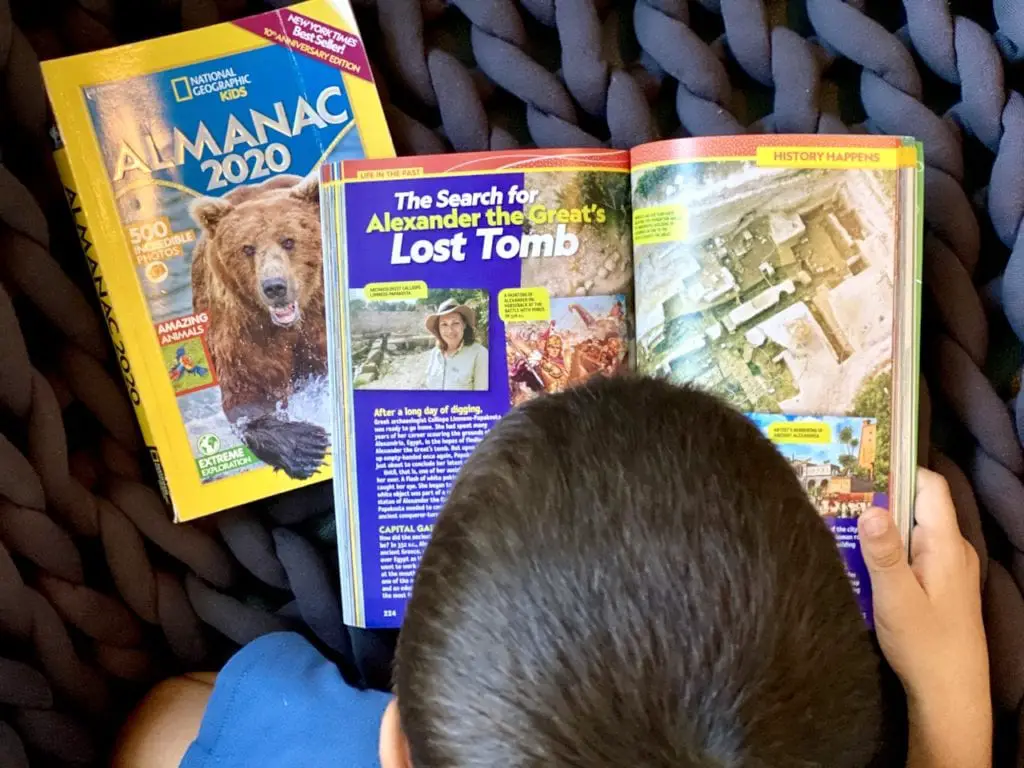 The National Geographic Kids Almanac instantly became our 6-year old's favorite book on the planet. It was first published in 2010 and comes out each year, right before the Holidays for the following year's edition. You can purchase the Nat Geo Kids Almanac 2021 around October 2020, for example.
So what hides inside the National Geographic Kids Almanac?
Hundreds of super cool facts, that will entertain your little readers for days. Every single pages peeks their curiosity, and I promise you, you'll be reading every single word alongside them. Expect over 350 pages of true National Geographic content created for kids – beautiful photos, animal stories, sports facts, inventions, all of Earth details, crafts, and more.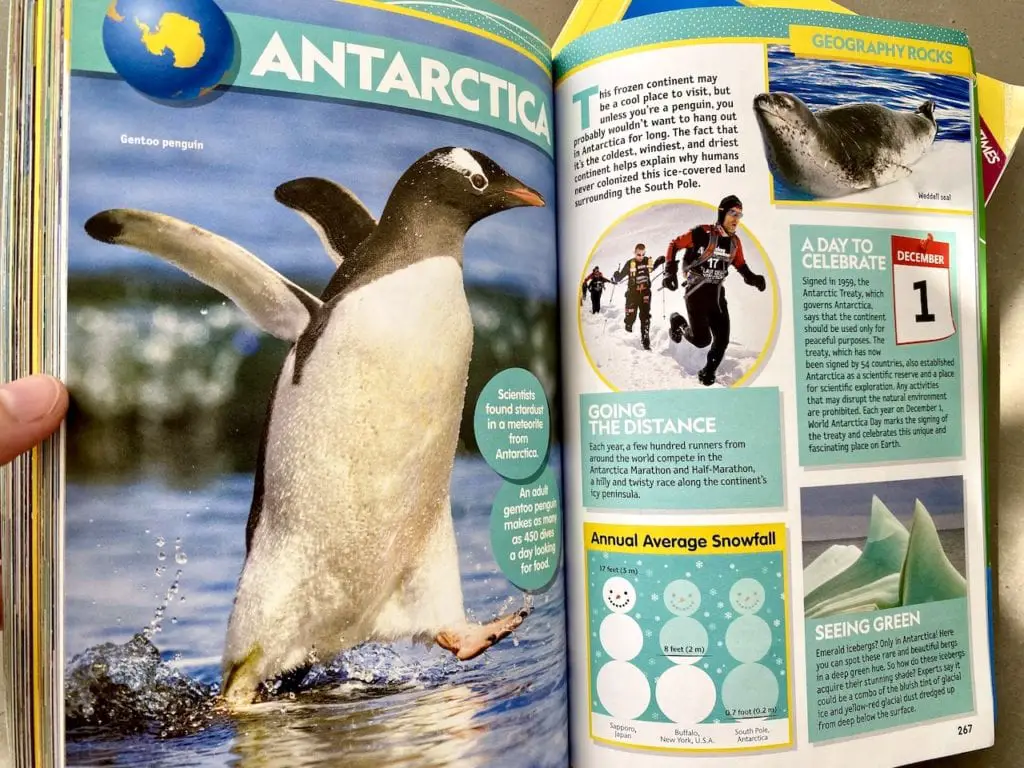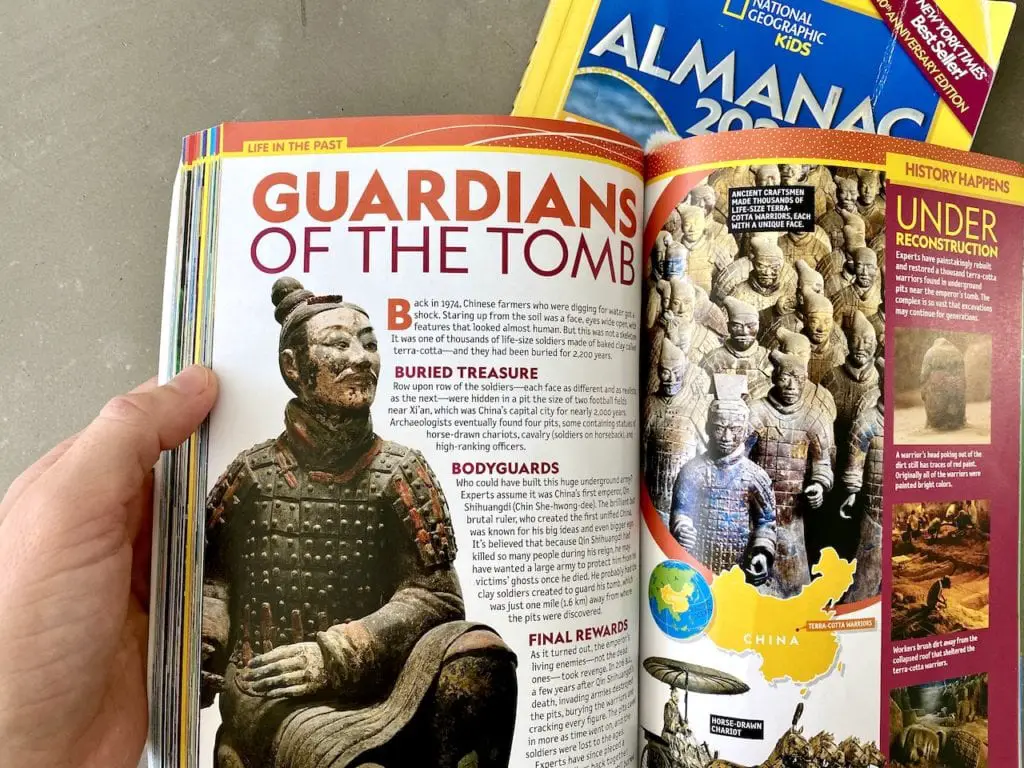 This almanac is ideal for kids starting in early elementary, who can read full sentences. Children from first grade on, will love it and I recommend an adult sitting by to help with harder words as they come up. The images are stunning and the paragraphs are typically no longer than a couple of sentences, making the reading easily breakable for younger children. This is a great book for middle school students as well. As I said before, even adults will enjoy reading the National Geographic Kids Almanac. Priced under $15 in paperback, and currently under $12, it is our favorite National Geographic to take on the road and read before bed and in the car!
National Geographic Nerdlet Animals & Other Little Books
Maybe the cutest National Geographic kids books? This series of mini-books are as big as an adult hand and pack in a ton of curious information.
In the National Geographic Nerdlet book, each animal gets a double page of fame, with cool facts, beautiful photography, and infinite knowledge to impress friends and family.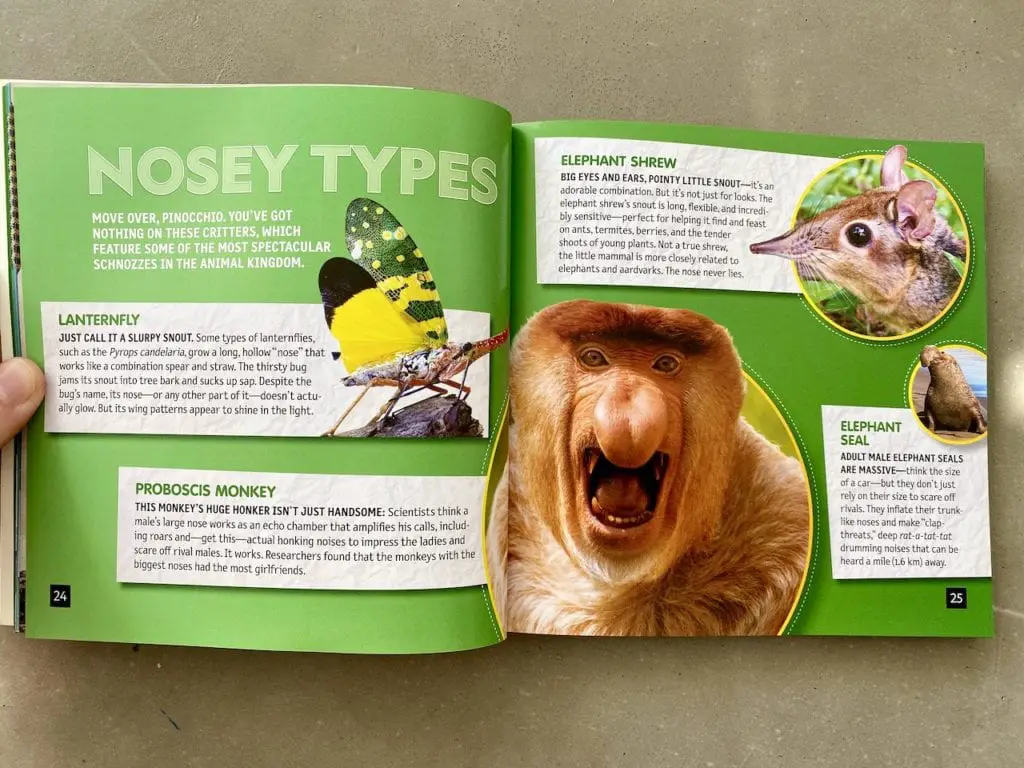 There is even a double page on real-life unicorns. Can you guess which 4 animals stand out as one-horned wonders? How about crocodile tears? If your kids have animal questions, there is a good chance they will be answered by National Geographic Nerdlets Animals.
There are several other National Geographic Kids Little books that we love. The Brain Candy 1 and Brain Candy 2 is for the kids loving fun facts about everything and anything. They'll stay busy with 500 facts! Our daughter thinks it's the best book for 4th graders! A few others, which we haven't tried include: the Surprising Stories Behind Everyday Stuff series, and all of the National Geographic Weird But True books! I have been eyeing those every time I walk into our bookstore for years!!
We love those for being so tiny and they easily tag along to appointments, restaurants, visits, and all the places we'd rather not give screens to our kids! They range between $6 and $10 in paperback.
National Geographic Hardcover Books
If you are looking for a nicer, slightly more luxurious gift, take a look at the National Geographic Hardcover Books.
National Geographic Coolest Stuff On Earth
As you can probably tell by now, we are big fans of cool facts. Our favorite National Geographic Hardcover Book is The Coolest Stuff On Earth. It is over 180 full pages of facts, split in 9 fascinating chapters such as Epic Extremes, Travel Unraveled, and Shocking Science.
We are a homeschooling family and love taking this book out when we practice art. We'll water paint something that catches our eyes, learn about it, and write a few facts in our water painting journal.
Those paragraphs are a little longer than in the National Geographic Kids Almanac and the Nat Geo Nerdlet and Brain Candy books. It is ideal for your mid-elementary kids, all the way to high schoolers. I'd include it on my list of best non fiction books for third graders and up.
In this series, you will find:
All retails between $10 and $20, an excellent value, and not much more expensive than the smaller books, yet National Geographic Hardcover books and absolutely stunning inside!
National Geographic Space Encyclopedia
One of the National Geographic books we keep the closest to us during our homeschooling days, is the National Geographic Space Encyclopedia. This one is NOT a Nat Geo Kids Book, it is a regular encyclopedia, available for kids and adults. If you are looking for the National Geographic Kids Space Encyclopedia, it exists as well!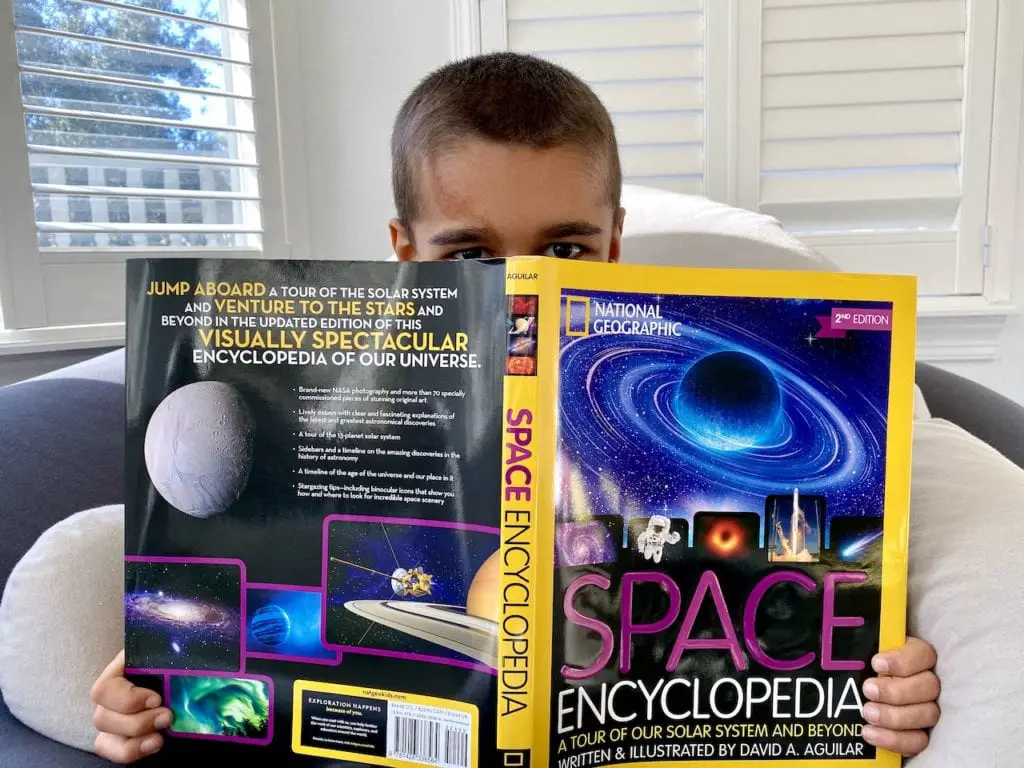 We spend a lot of time learning about space and our solar system, and all three of my kids (first, third, and fourth-graders) are obsessed with planets and outerspace, so we got the adult version of the book and we're loving it!
This National Geographic Space Encyclopedia, cover all topics in very much detail. No question goes unanswered and it uses NASA photography, as well as original commissioned pieces of art. It is nearly 200 pages of knowledge with pages on each planet, as well as comets, dark matter, specific clouds, neutron stars, and more.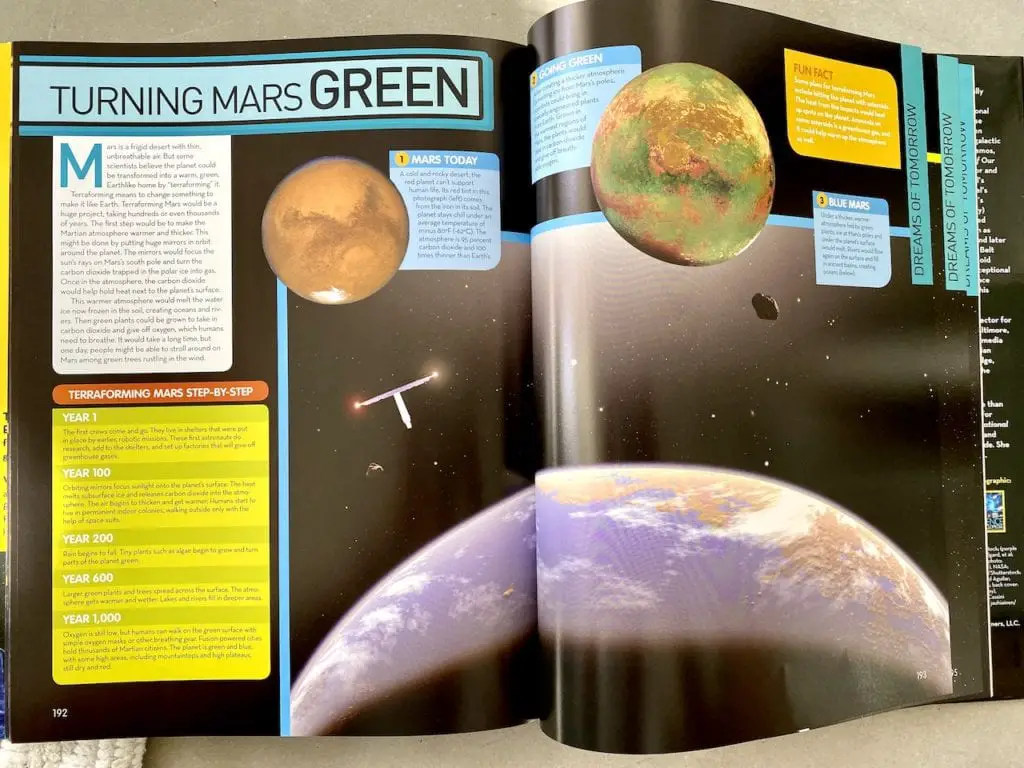 This book is definitely geared more towards young adults (and all adults obviously) and is a great book for high school kids. I am the one reading it to the kids when we homeschool but my third graders spends hours reading it on his own and re-telling me everything he's learned out loud!
If you are looking for National Geographic Encyclopedias, they are a true piece of art and include: Animals, American Indian History And Culture, United States, Science, and many more!
Those retail right around $20 as hardcover.
Nat Geo Little Kids Magazine
If you have younger kids and looking for great books for pre-readers and early-readers, look into the Nat Geo Little Kids Magazine. It is a National Geographic subscription and we have had our kids subscribed since they were 3 years old.
For $20, you receive 10 issues. The magazines are designed for kids ages 6+ if you intend on having them read on their own. We always read to our kids, and those National Geographic Kids Magazine became some of the first books they read on their own in Kindergarten.
It is an amazing to expand your children's curiosity and to teach them facts about their favorite furry friends!
Nat Geo Kids Books
We are huge fans of National Geographics, and have been for many years. I couldn't tell you what is best for your kids and I can't even tell you which book we like best. I probably keep the National Geographic Kids Almanac closest to my heart, for the love my kids have for it. But all feel very different, yet equally amazing. They are, honestly, the best children's books about animals, our planet, cultures, and everything in and around us.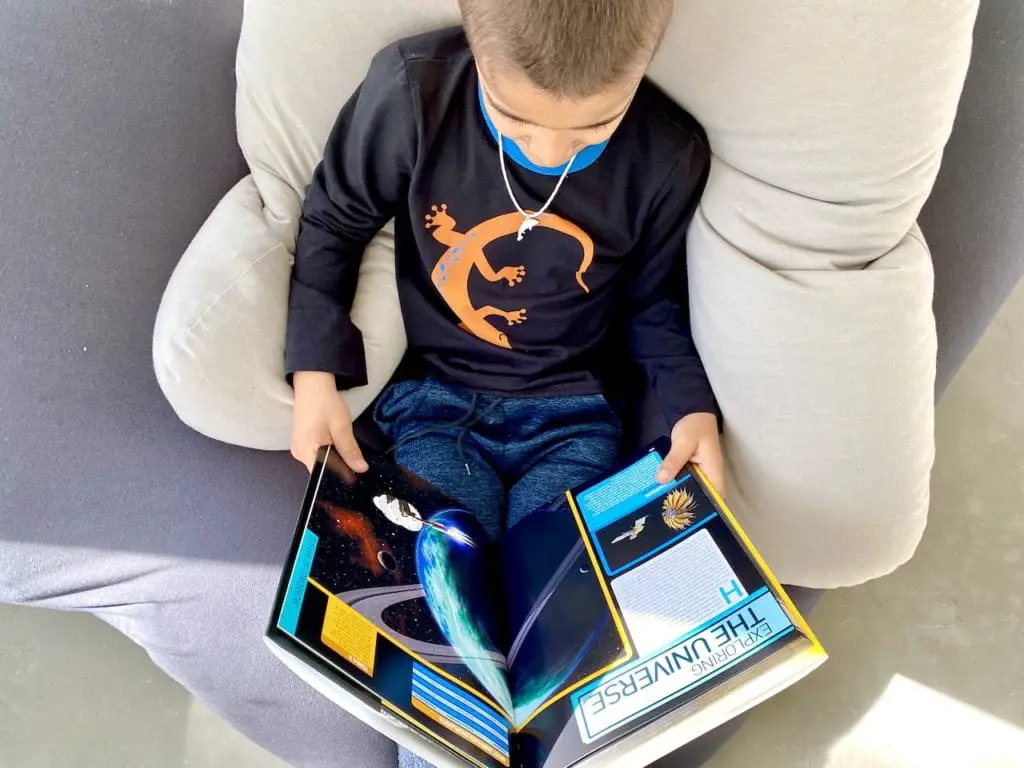 All are definitely on my list of best books for elementary age kids and you can never go wrong with a Nat Geo Kids Book!
---
Pin this for later: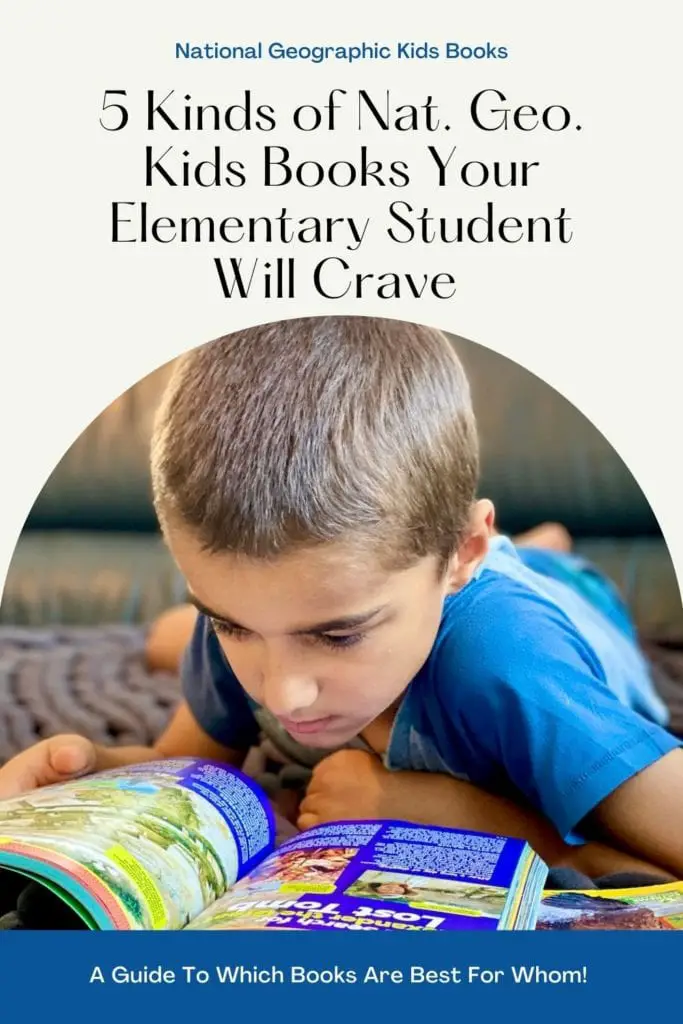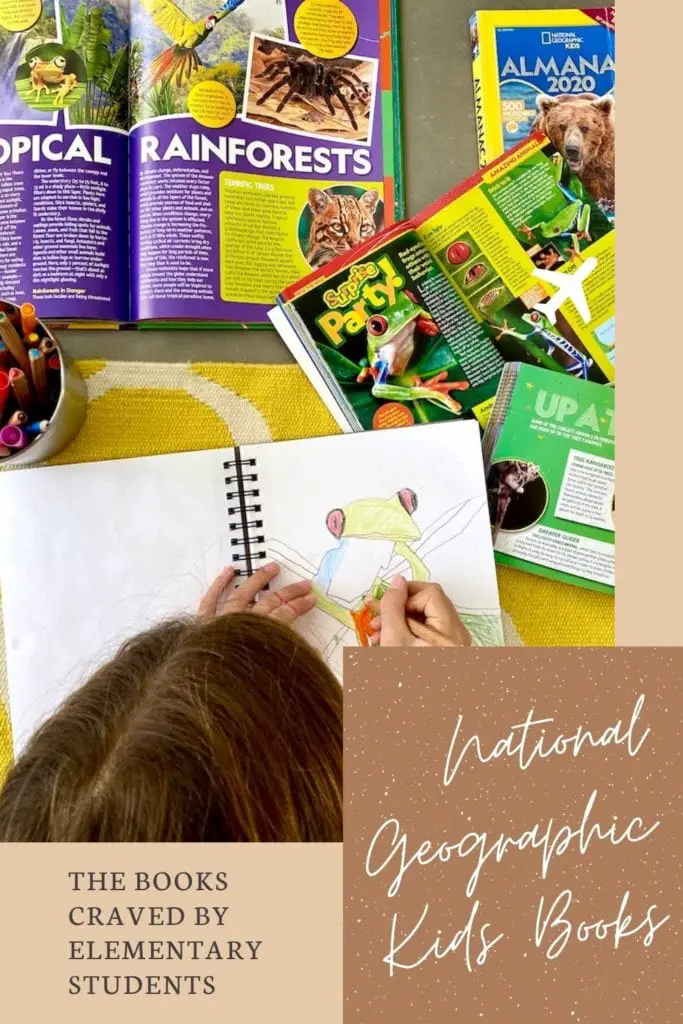 ---
Similar articles you will enjoy:
Best STEM Virtual Summer Camp For Kids
Fun And Free Language Lessons – With Duolingo
Homeschooling On The Road – Our Favorite Resources
If you enjoy reading us, sign up for our newsletter below!