Are you longing for warm sunny winter days? You have narrowed it down to South Florida but want to make sure you choose a family-friendly hotel, close to the beach, in a kid-friendly town? I have the perfect boutique hotel for you: Crane's Beach House in Delray Beach, FL!
Why Delray Beach, FL?
South Florida is a vast area, usually evolving around Miami, FL. While Miami is a fun and eccentric city you should visit at least once, I would probably not choose to spend several days there with kids – unless your budget allows for high luxury.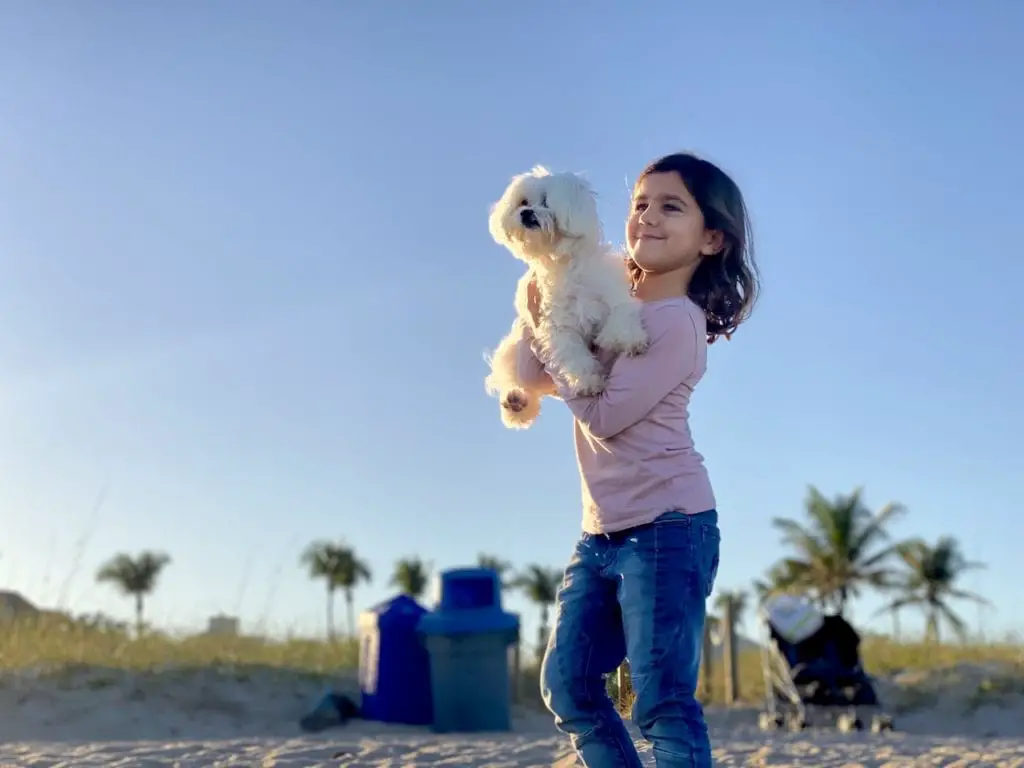 Delray Beach has all of the benefits of South Florida – palm trees, warm ocean, long waves, tropical weather, and sunny winters. But you won't find heavy parties, substance users, hotel-lined beaches, sheriff-patroled streets, and loud bang and booms at night.
We love Delray Beach for its family friendliness. Its size is manageable and the little seaside town can be walked. When you stay at Crane's Beach House, you really don't need to move your car (and car parking is included!). Delray Beach's little town center is a few steps away, with mom and pop shops, cafés, and restaurants. The beach is long and white with no tall buildings backing into it. If you love natural beaches, this is your place.
Crane's Beach House Boutique Hotel & Luxury Villas
Now comes the question – where to stay in Delray Beach, FL with kids?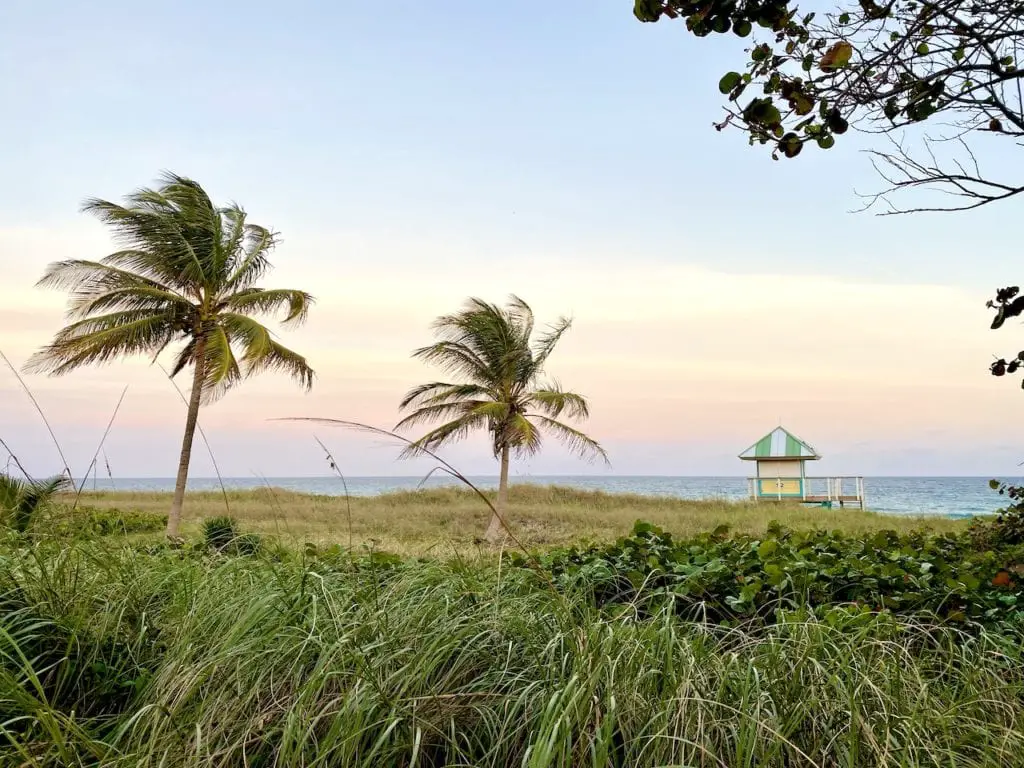 We spent 2 nights at Crane's Beach House and I can't recommend it enough if you are traveling with children. It is so good that I added it to GoWhee app as one of our favorite family-friendly accommodations in Florida.
We loved everything about Crane's Beach House – from its small size, the feeling of being a part of their family, the friendliness of the staff, walking distance to the beach, hot pools, the beautiful renovations, and the incredible amenities!
1- Access To Crane's Beach House
If you are flying in to Crane's Beach House, you have several choices.
The closest airport is Fort Lauderdale (airport code: FLL), which happens to have really good national and international deals most of the time! From the airport, it is a 45 minute drive to the hotel. You can leave home in the morning and have your toes in the sand by 3PM!
The Miami International Airport (MIA) is an hour away from Crane's Beach House. So is Miami, FL itself, making it a super easy day trip if you want to experience the city without staying in it!
Lastly, you could choose to fly into Orlando (MCO) – a 2h 40min drive away. If you are in Orlando to visit the parks, Crane's Beach Hotel is 2h 45min away from Disney, making it an easy beach weekend away.
2- Family-Friendly Accommodations
Crane's Beach House has 3 kinds of accommodations available – Studio, One-Bedroom, and Luxury Villas.
The Studio Room sleeps 2 and has a kitchenette where you can reheat food in the microwave and have your own mini-fridge.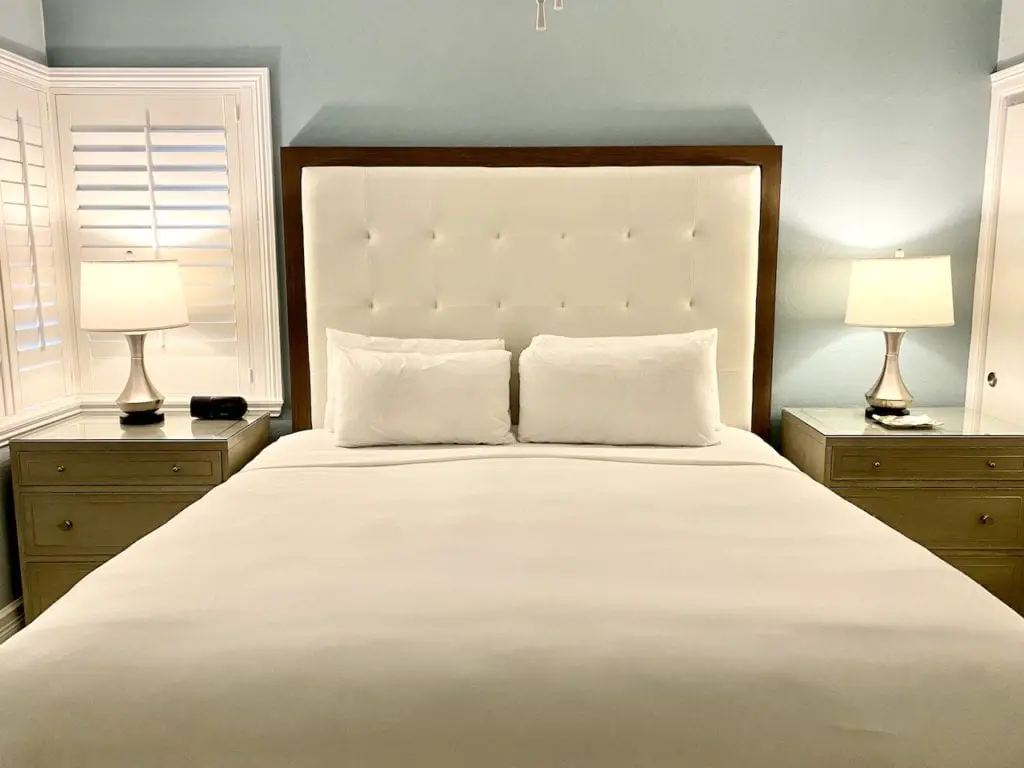 The One-Bedroom Suite is available as Regular, Accessible, or Deluxe. We stayed in the Deluxe One Bedroom Suite and thought it was amazing. It sleeps 4 and has a full one-bedroom for added intimacy. I love anytime a hotel has a full bedroom, allowing us to put the kids to sleep on the sleeper sofa, but still enjoy our evening in the master bedroom, where we know light and sound won't prevent the kids from falling asleep.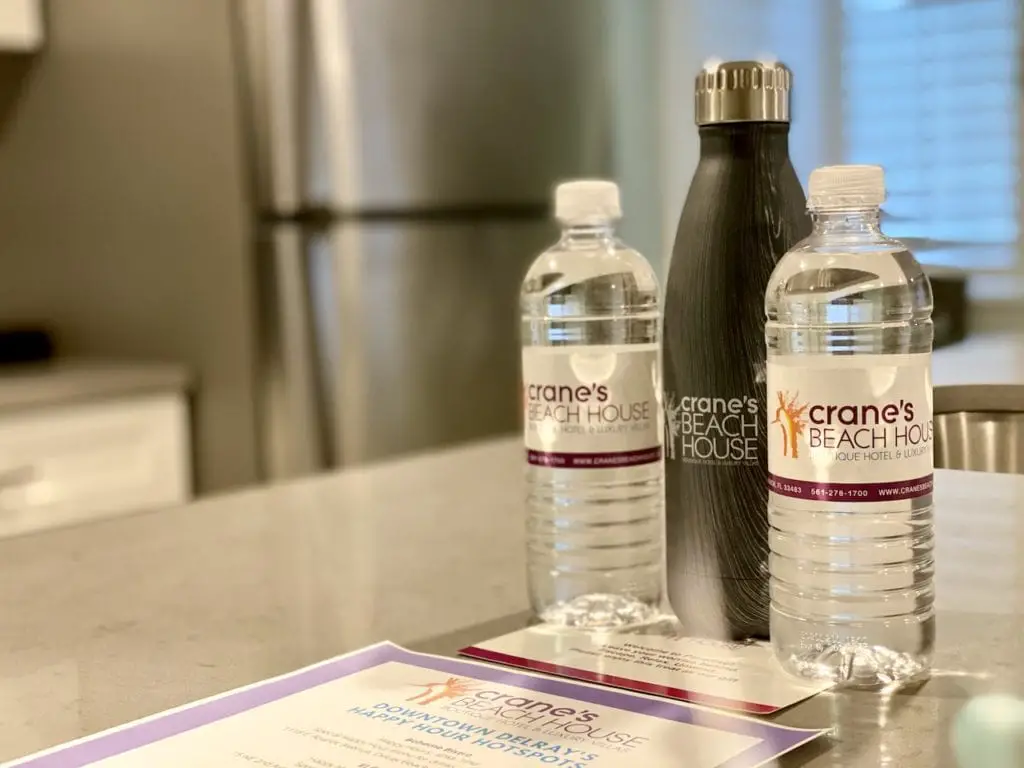 In the room, we found 2 water bottles and a cute branded thermos (free and for us to keep). The kitchen comes stocked with snacks, beer, and wine, which will be deducted from your bill, should you decide to consume them, but they are a nice way to quickly fill the kids' stomachs if you get there late and don't have time to grab food on your way.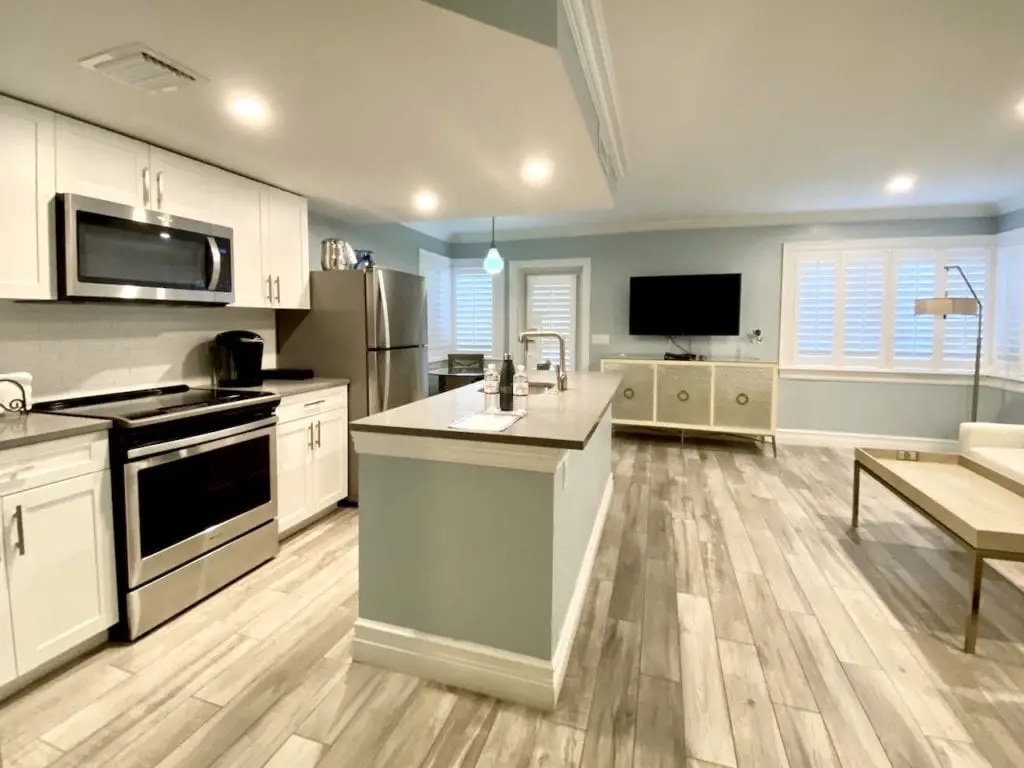 My favorite part of the One-Bedroom Suites? The full stainless-steel kitchen. It allows you to cook all meals and comes stocked with all pans, pots, etc. We cooked nearly all meals, saving us time and money. And believe me, we loved walking back from the beach at sunset, letting the kids play in the pool while we fixed a quick dinner, and calling them in to dine in their swimwear, right on our terrace. No showering kids, washing hair, getting dressed and driving to dinner! A full kitchen is the utmost convenience and comfort when traveling with kids, and it comes with a free daily restocking of Keurig coffees and teas!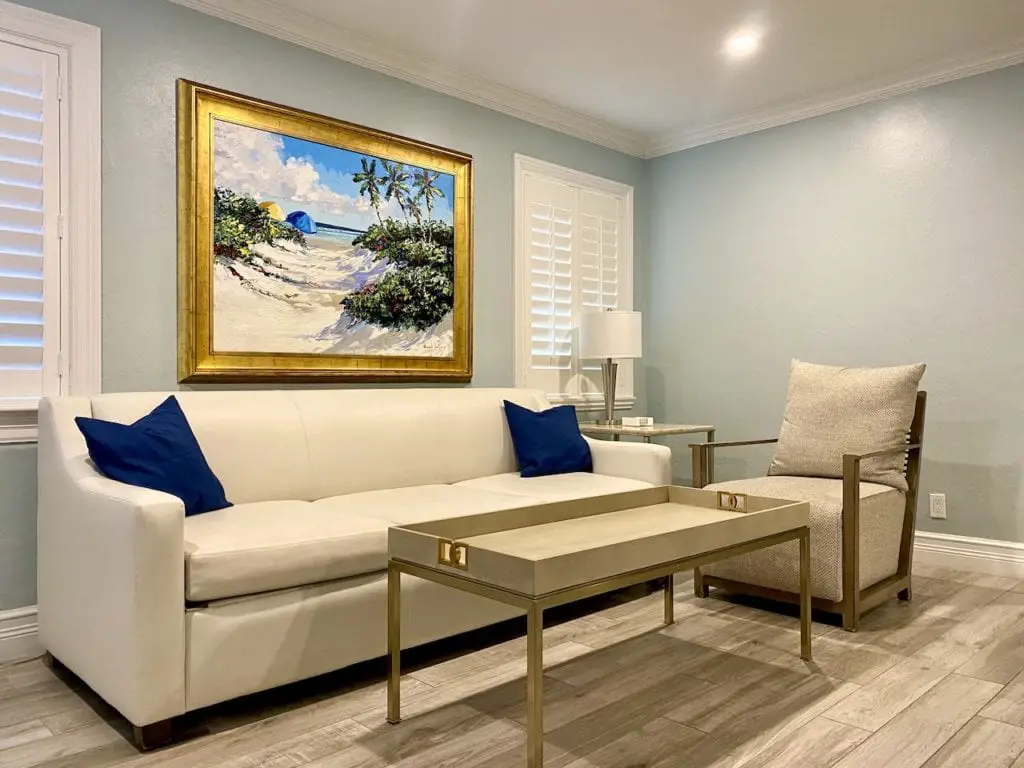 Bonus of the One-Bedroom Suites? Kids under 18 stay free in the same suite as their paying parents!!
The Luxury Villa at Crane's Beach House includes little extras such as complimentary yoga mats and beach chairs, as well as nicer outdoor furniture and an outdoor fan.
3- Crane's Beach House – Access To The Beach
While Crane's Beach House is not beachfront, it is just a couple of minutes' walk down a quiet residential block. No need to grab the car and if you have forgotten something, you are about 3 minutes away from your room.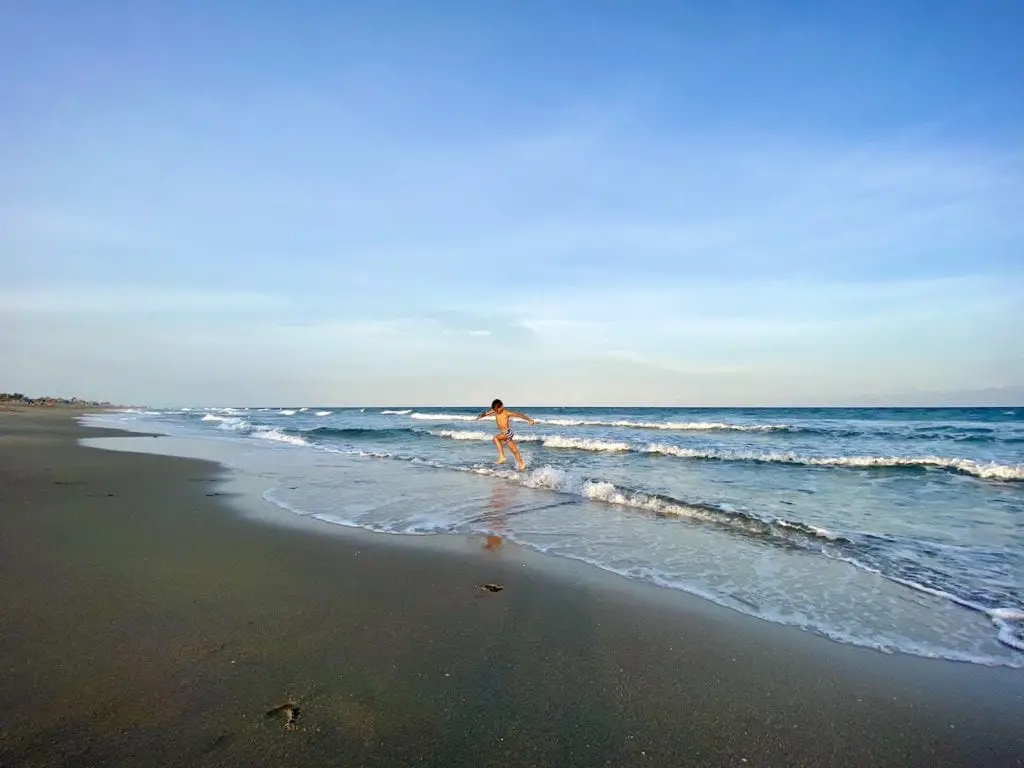 The Delray Beach public beach is absolutely beautiful and you will be spending most of your days right there!
4- The Pools
There are two really cute pools, hidden in a lush tropical décor. Both are very warmly heated, which is the most wonderful thing in the winter!
Some sand around the pools, with lawn chairs and water features, gives the pools in a welcoming feel and will entertain the kids for hours.
5- COVID Measures At Crane's Beach House
We were very impressed with the COVID measures in place at Crane's Beach House Delray Beach, FL. When not in your room, masks are mandatory. Since all rooms open up to the outside, the only time you'd be inside is at check-in, in the main office.
Each room has a Ziplock bag with 2 disposable masks, latex gloves, and hand sanitizers. There is a seal on the front door, ensuring you that no one entered your suite since the cleaning crew, and each hard surface has a Disinfected sticker placed on it. When you need a change of towels, simply place them in a plastic bag and leave it in front of your room for a quick replacement without anyone entering your suite.
We were impressed that our room got made every day and we had virtually no contact with any of the staff – socially-distant check-in, remote check-out, entry-free amenity deliveries. We felt very safe the entire time we were at Crane's Beach House, and if you are a work-from-home / study-from-home family, you can benefit from amazing discounts!
6- Homeschooling / Work Away Getaway Package
Use coupon code WORKAWAY to benefit from the Work Away Getaway package available Sunday through Thursday, starting at $119 / night (+ tax) on the Studio Rooms, and $149 / night (+ tax) on the One-Bedroom Suites. You will need to stay for at least 2 nights and show proof of professional status (i.e., LinkedIn, business cards, etc.). With the Work Away Package, you benefit from a dedicated business concierge, a printing service bundle, complimentary wifi, portable chargers upon request, a bottle of wine or a four-pack of beer / White Claw for after-hours, and a curated list of Delray's hottest Happy Hour spots!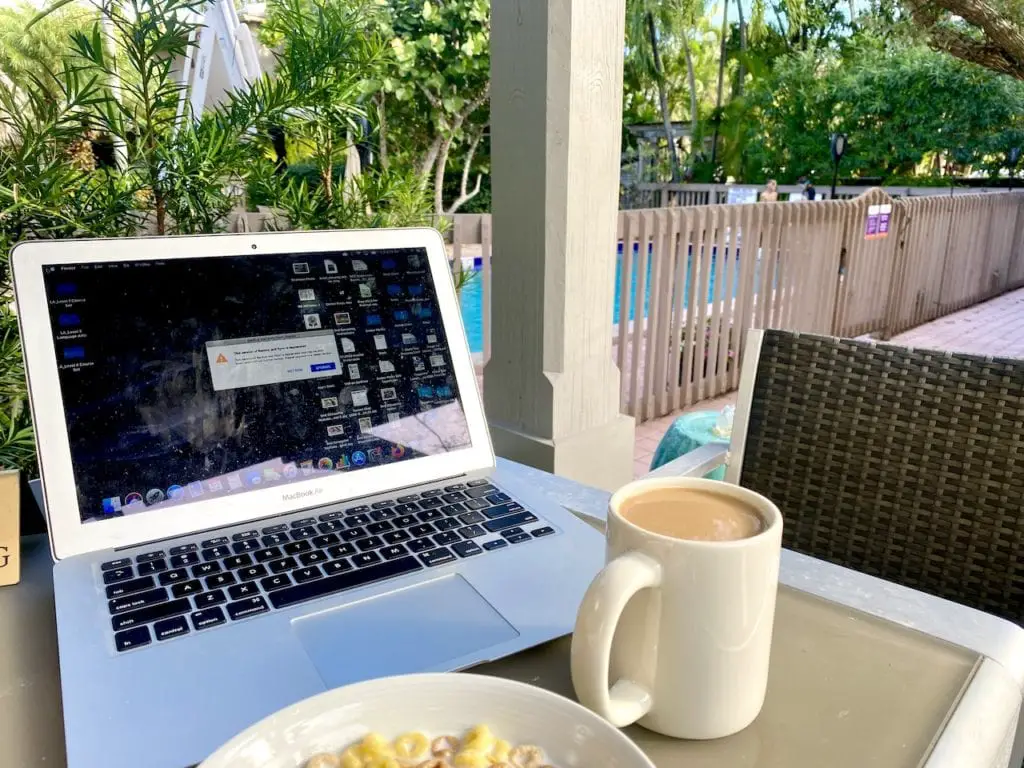 We loved working from the resort. The wifi was fast and I was very impressed when a staff member stopped by to ask if it was ok for us to be disconnected for about 5 minutes while they restarted the router from another family homeschooling their kids.
Family Friendly Hotel In Delray Beach, FL – Crane's Beach House
If you are looking for a beautiful boutique hotel for a family stay in Delray Beach, FL, Crane's Beach Hotel checks all of the family-friendly boxes. We absolutely loved our time there and felt very welcome as a family.
Make sure to check out the rest of our Florida content here.
If you have any questions, please let me know. And if you do stay there, come back and leave a comment to tell us what you thought!!!
---
Pin this for later: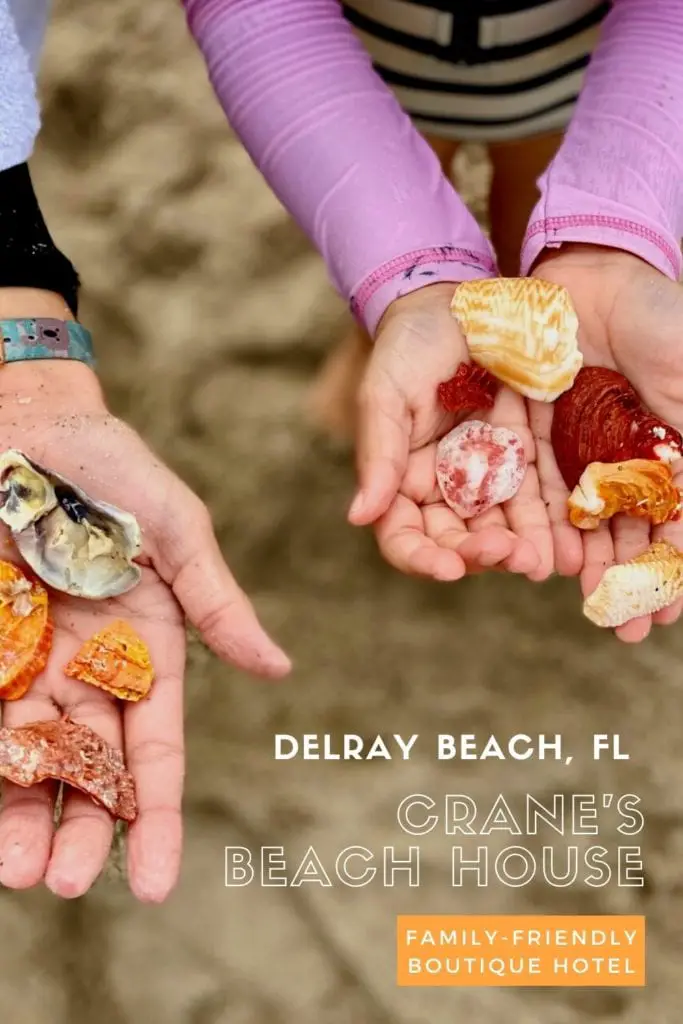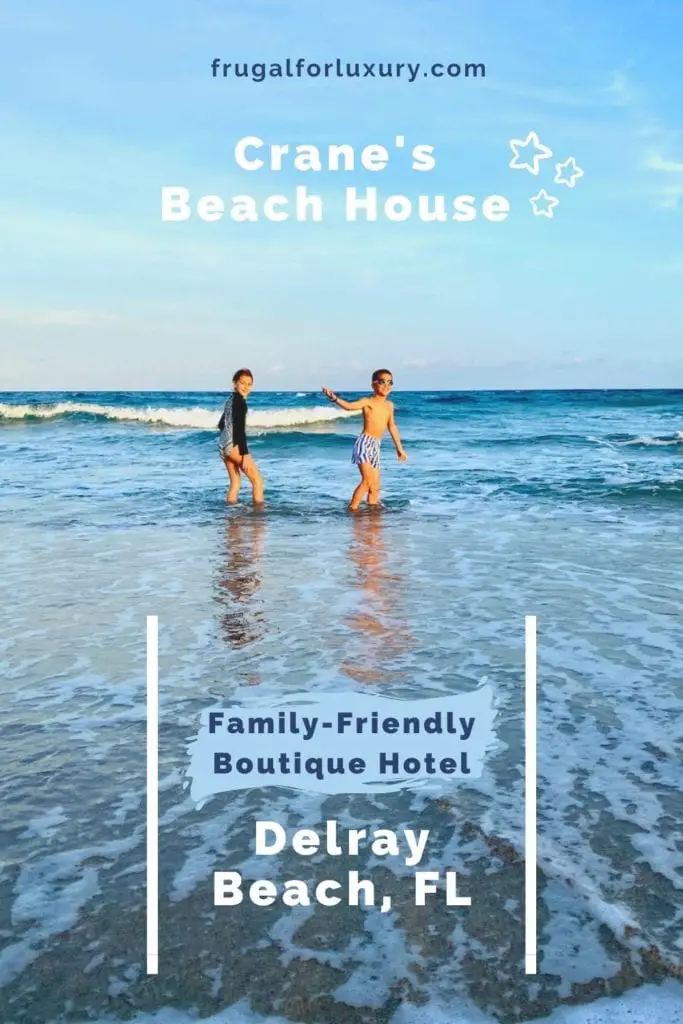 ---
Related articles you will enjoy:
ICON PARK WITH KIDS – THINGS TO DO IN ORLANDO, FL BESIDES THEME PARKS
OUR INTERNATIONAL CONSULTING'S PODCAST – DIGITAL NOMAD WITH KIDS
FUN ON THE FLORIDA TREASURE COAST IN ST. LUCIE COUNTY, FLORIDA
If you enjoy reading us, sign up for our newsletter below!