Disclaimer: I was provided free products from White with Style. All thoughts and opinions expressed herein are my own. This post may contain affiliate links. Please read our disclosure policy for more information.
I could be writing an article about the benefits of coffee… I live off of it, it picks me up after yet-another sleepless night of toddlers sneaking into our bed, but it also really stains my teeth.
No matter how much I love coffee (and I am nowhere close to giving it up), I do enjoy white teeth. If you're like me – haven't slept through the night in 7 years and find yourself drinking too much coffee, tea, or red wine (we're not kidding anyone here!) – here are some of the ways I use to maintain a white smile!
It is known that if you drink or eat staining foods, the benefits of tooth whitening can disappear as quickly as in one month. I typically like to whiten my teeth every 3 or 4 months, and be very diligent in between in order to extend the treatment life.
Happy reading and don't forget to share your own tips!!
1- Quality Teeth Whitening
Because staining is inevitable, I like to use teeth whitening 3 or 4 times a year. I am very cautious with the product that I put on my teeth and have always been a little paranoid about damaging my enamel – we only have one pair of teeth, right?
I have found White with Style to work really well and their product is gentle on the teeth, while removing the unwanted stains. I recommend being careful not to apply product to the gums.
Other than that, I like that they are gluten-free, cruelty-free, and vegan and that 30 minutes is really all I need to see a real difference. My teeth always come out whiter and shinier!
If you think White with Style is for you, I have partnered with them to give you a discount on the Sparkle White Teeth Whitening Kit. Use promo code: FRUGALFORLUXURY to get the kit for $28 instead of $269!
2- Mouth Care
I know you've heard it, but the best way to keep your teeth from staining is to have great mouth hygiene by: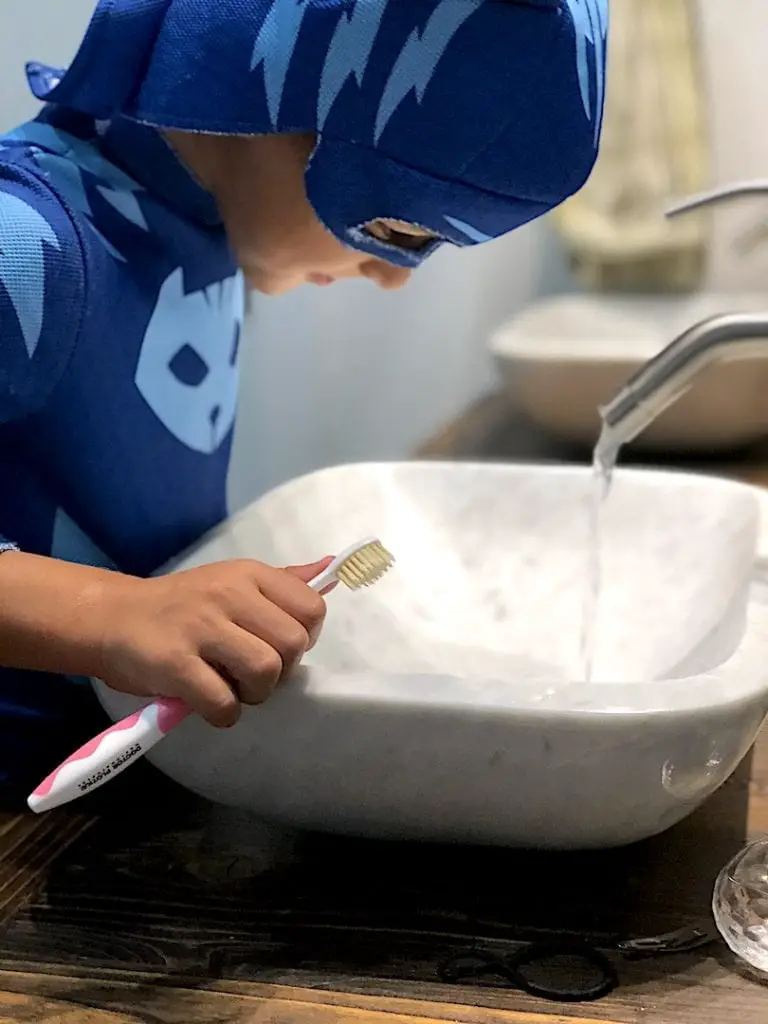 brushing teeth twice a day – within an hour of eating for full benefits
flossing at least once a day
brushing or rinsing immediately after consuming the stain-causing beverages or food
eating a sugar-free gum after eating when you don't have access to a toothbrush – after lunch at the office for example
avoid snacking throughout the day since you set a whole new hour of mouth bacteria every time you put something in your mouth…

3- Choosing The Right Toothpaste
WebMD is recommending to use a whitening toothpaste, but only once or twice a week, to prevent yellowing and to remove surface stains. We love THIS ONE with activated charcoal and organic coconut oil!!
The rest of the time, use a regular toothpaste.
4- Eat Saliva-Triggering Foods
I mentioned chewing gum earlier. Do you know why and how gum truly cleans your teeth? It is a lot less magical than you think – chewing gum has your mouth salivate. In doing so, you are getting rid of food debris faster and you neutralize the acid that causes tooth decay – hence chewing a sugar-free gum right after eating for the greatest benefits!
Other foods triggering lots of saliva include: celery, apples, pears, and carrots. Not only does this benefit my teeth, but my entire body thanks me!
5- Stay Away From Tooth-Staining Foods, Drinks, And Activities
Here is a list of foods, beverages and activities that stain teeth. I am not preaching to quit coffee – I know I would turn into a scary momzilla and we don't want that. What I do, however, is brush my teeth immediately after eating those, or rinse my mouth with water if I don't have access or time to brush my teeth!
coffee
tea
red wine
cranberry / grape juices
dark sodas
blueberries / blackberries / beets
smoking / chewing tobacco
limit sugars as they support the bacteria that cause plaque and gingivitis
6- Eat And Drink Calcium-Rich Foods
Outside of superficial tooth staining, all of us experience enamel eroding as we age. As the enamel erodes, it exposes the yellow dentin below.
But we can strengthen our enamel by drinking and eating calcium-rich foods such as milk, cheese, yogurts, and broccoli!
Happy pearly whites, you all!
---
Pin this for later!
---
Related articles you will enjoy:
Keep Your Super Hero's Teeth Clean This Halloween
10 Meals for Kids Ready Under 10 Minutes
Screen Time? 4 Tips to Manage It!
If you enjoy reading us, sign up for our newsletter below!