Disclaimer: I was provided a free Lotus Trolley Bag but was not asked to share my opinion. All thoughts and opinions expressed herein are my own. This post may contain affiliate links. Please read our disclosure policy for more information.
I vividly remember my first trip to the store with a baby, and I might never forget it! Our first daughter was 4 days old and I was looking forward to my first outing alone with her. She did amazing on the way to the store. I put her car seat on the shopping cart, rolled into the store… and all hell broke loose. She yelled, to the top of her lungs, until I strapped her back into the car. She repeated her impressive performance for the next 8 weeks! Those also happened to be the fastest grocery shopping I have ever done, as you can imagine!
3 kids and nearly 7 years of groceries later, the kids and I have a pretty good handle on the weekly exercise! And I can't wait to tell you about one ingenious product that makes our lives so much easier!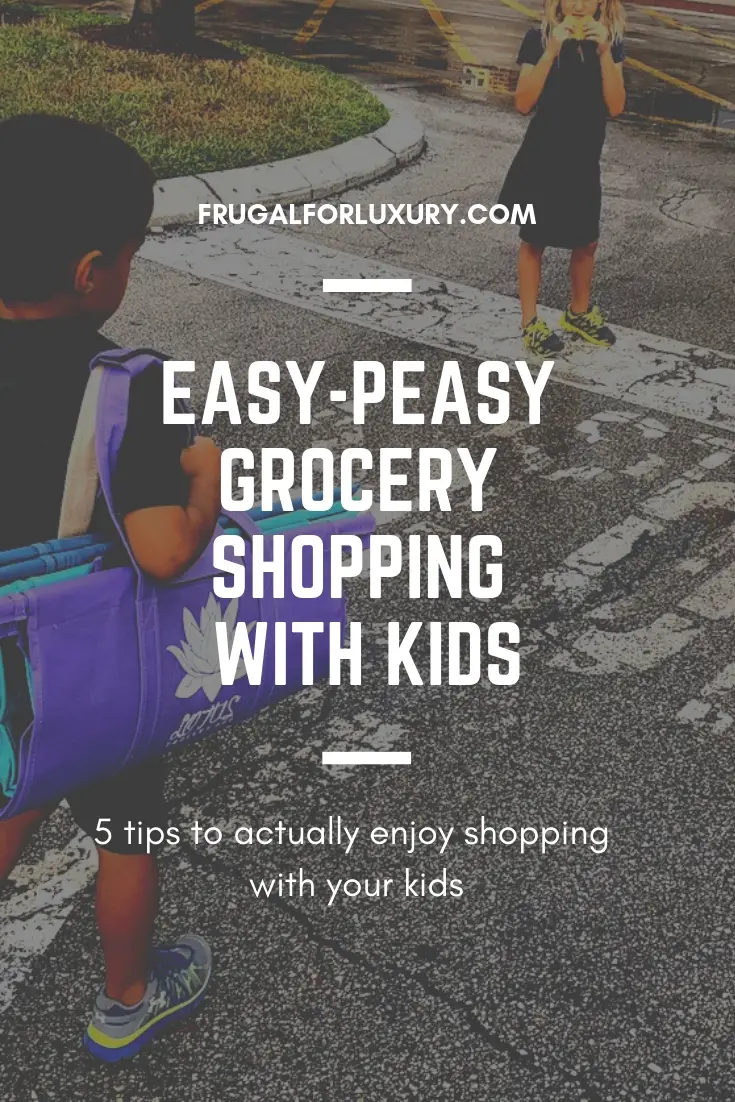 1 – Plan Plenty of Time
I'm a "Speedy Mom"… I like everything to be quick and efficient. We are always running from one place to the next and on a tight schedule. While that can totally work with grocery shopping, it is neither nice for myself nor the kids, and because I actually enjoy grocery shopping and taking my time to look at items in the store, I plan a whole hour between end-of-school and gymnastics to complete our 30 to 45-minute store trip!
Everyone is much happier when I am not stressed and hurrying the kids. We have never used the full hour but it is nice to know we can slowly shop for the upcoming week!
2 – Fill Up Your Lotus Trolley Bags
I can't tell you how much I love my Lotus Trolley Bag! If you have read our airport visit tips, you know that I refuse to use plastic when I don't have to. The last time that I have used plastic bags for our groceries was in 2008. Since then, I have bagged everything in one large insulated bag and 2 IKEA bags, which I would pack on the parking lot after having paid and exited the store.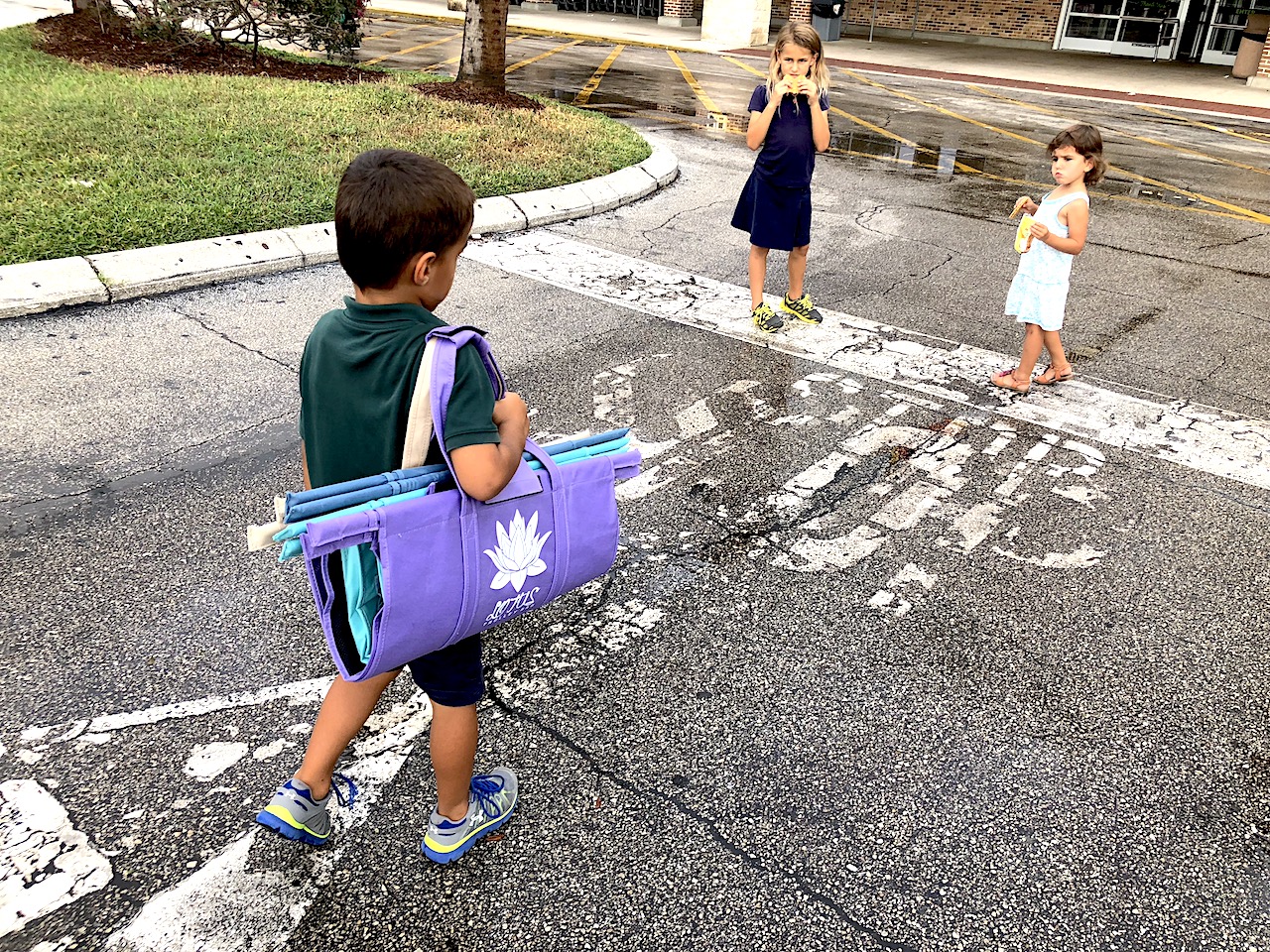 That was until I discovered the Lotus Trolley Bag
. Not only they are convenient, but they keep me true to not using plastic while being convenient and super cute AND they fit all of my groceries for the week for a family of 5!
The Lotus Trolley Bag comes with 4 separate colored bags, velcroed together, and fits most shopping carts with its removable rods.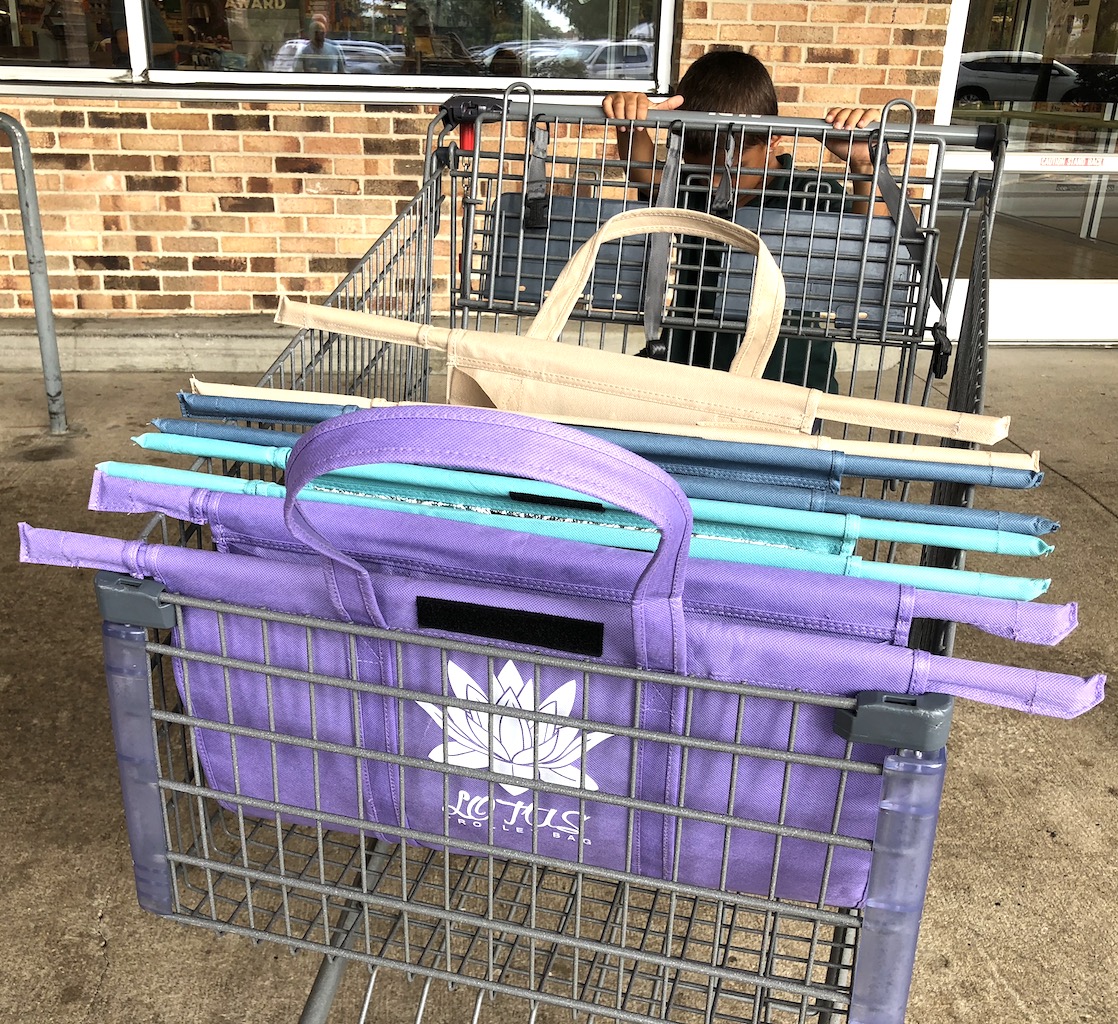 I love how easy they make shopping. One of the bags is insulated and we pack all of our frozen food and meat in there since it will be sitting in the car in Florida heat while the kids are at gymnastics! Another bag has two genius egg and wine pockets, which means that I am no longer driving with the eggs on the passenger seat 🙂
And seriously, how cute is it?! Three of the bags have mesh bottoms so spills don't pool and the double stitching ensures the bags are strong enough to hold my weekly shopping for five!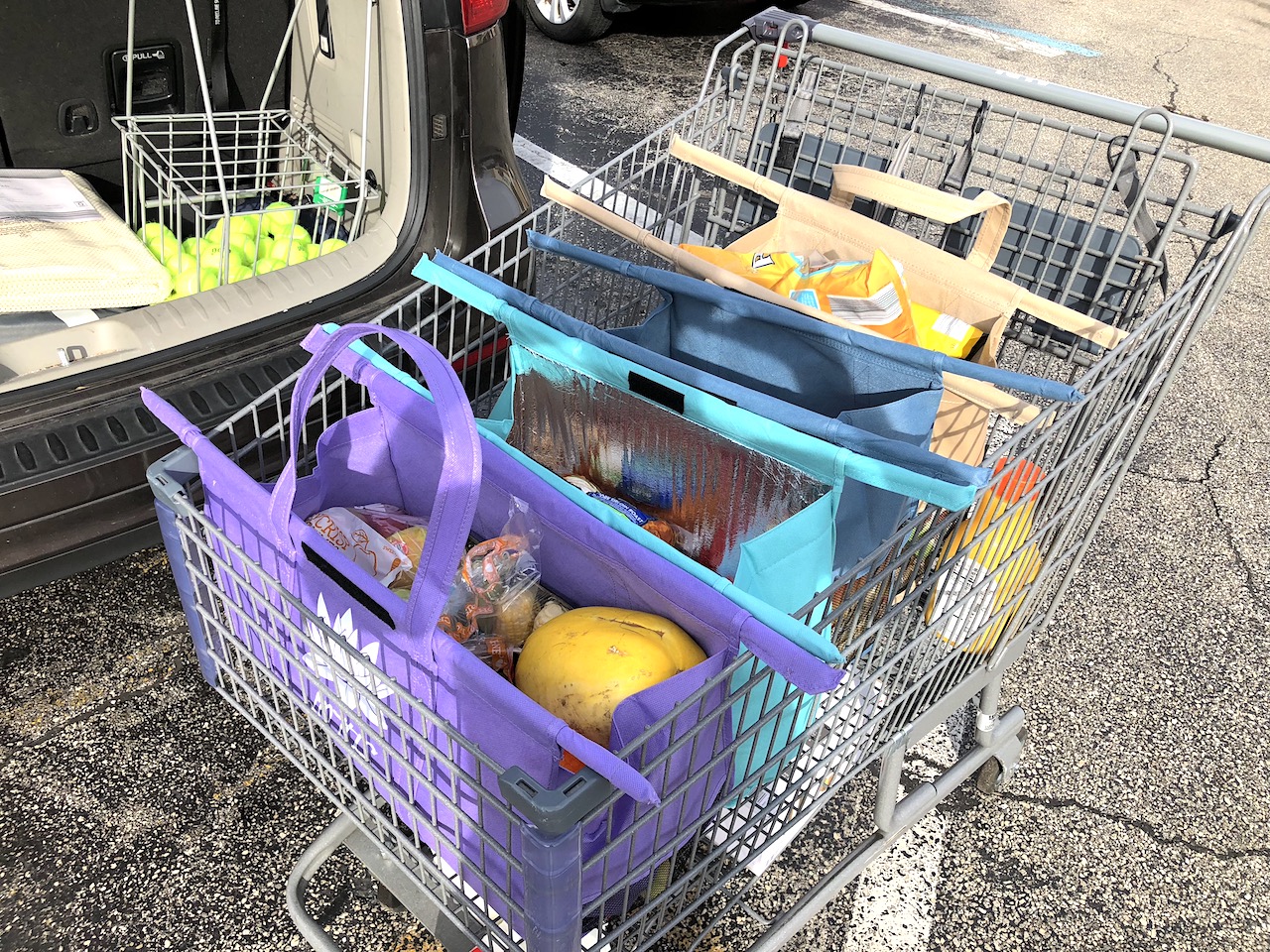 I set up the bags on the shopping cart when entering the store and leave with everything packed up. No more packing heavy bags on the parking lot. My breads no longer fall to the side or bottom of huge bags and make it home shaped like bread. And best of all, I am reducing our plastic footprint, which runs around 1,500 plastic bags per year for the average American family!!
3 – Ask Your Kids to Help
My kids always want to be given responsibilities and help like "big people." The grocery store is the perfect place for that! Ask them to be your little assistants. And since we use the Lotus Trolley Bag, each child is in charge of one bag!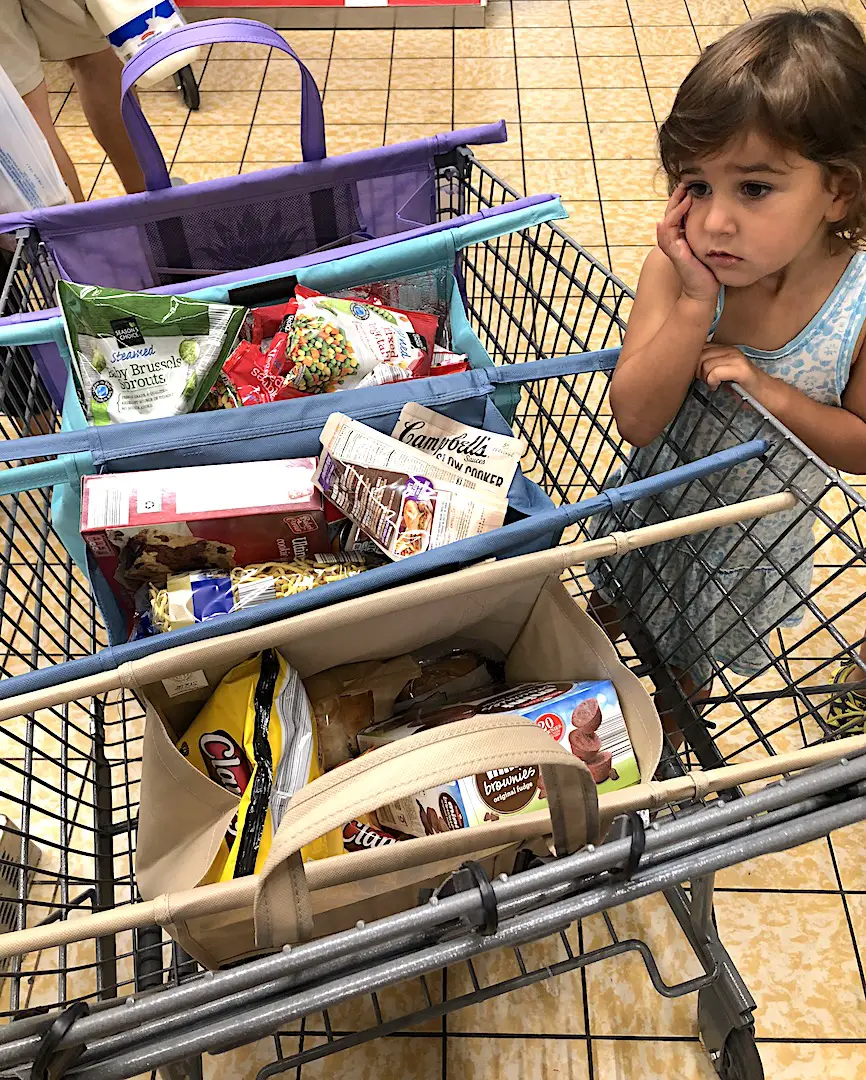 Ask your children to pick 3 zucchinis, a bag of apples, 2 packs of yogurts, etc. My 3-year old's favorite is picking up the milk… each gallon is about as heavy as she is, but she is one determined young lady!
4 – Let the Kids Pick a Few Items
Every week, there are a few items that I know we need to fill up on, and I have little feelings in terms of selection. So when we get to the morning cereals and school snack section, I let them have their picks, within reason. They also get to pick their favorite ice cream, and as long as no one fights and they can all agree.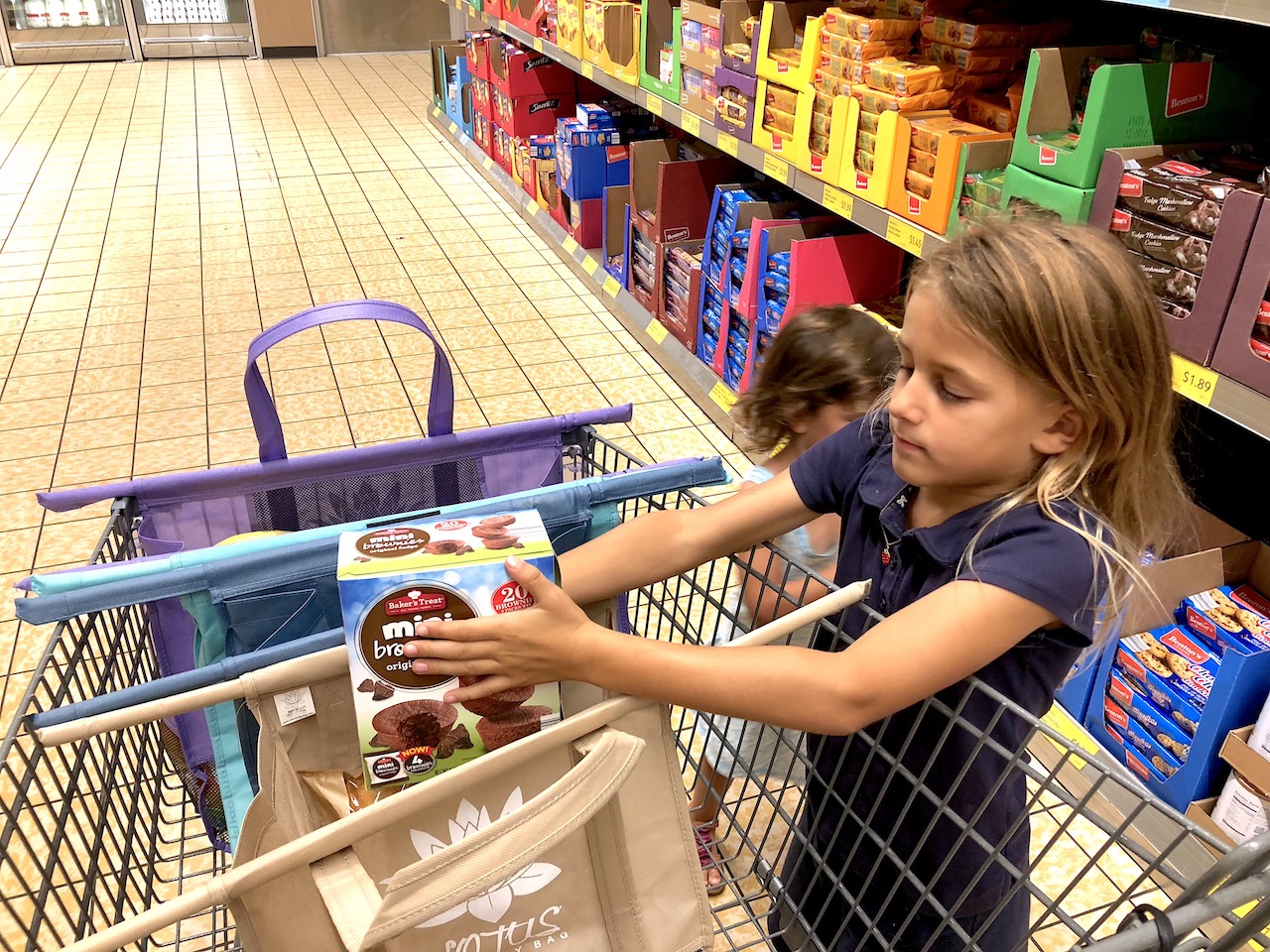 By letting the kids pick a few items, they feel that they have a say and it makes their visit to the store a lot less boring. They also respect the many "no's" for random items during our shopping,  a win-win for all of us!
5 – Let Your Little Helpers Assist with Unloading
I can't explain this one but kids LOVE to unload the cart onto the register belt. Once we get to the cash register, each child is in charge of unloading "their" bag. My bag includes all of the fragile items to avoid any disasters…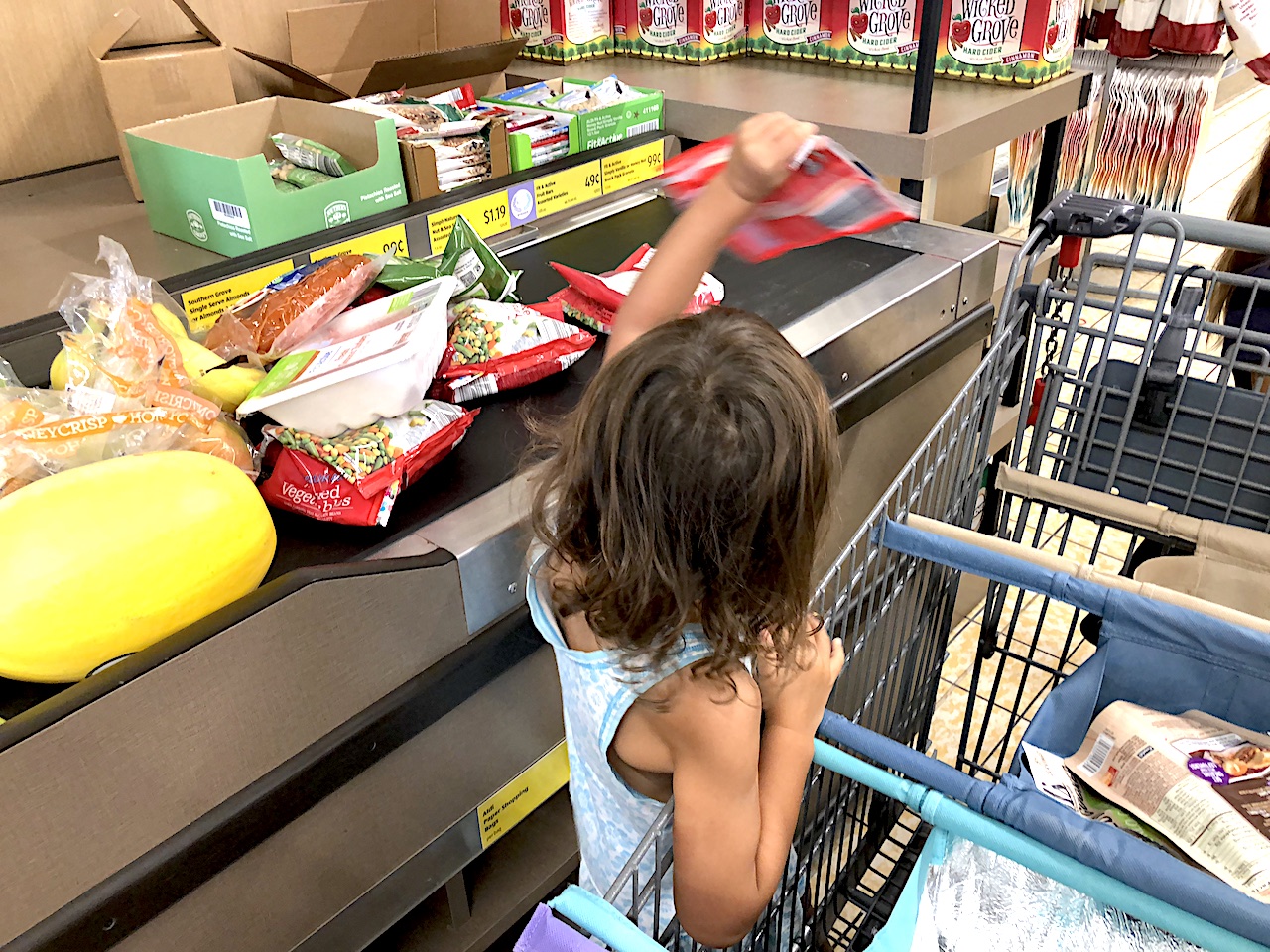 Using those 5 tips makes grocery shopping with kids easy peasy!! Everyone feels like they played a role and we have fairly uneventful experiences. The worst that typically happens is one of them taking off with the cart while I am stuck in front of the fridge, trying to make a decision on which one of the 200 kinds of yogurts would do for the week! Something that I need to work on…! 🙂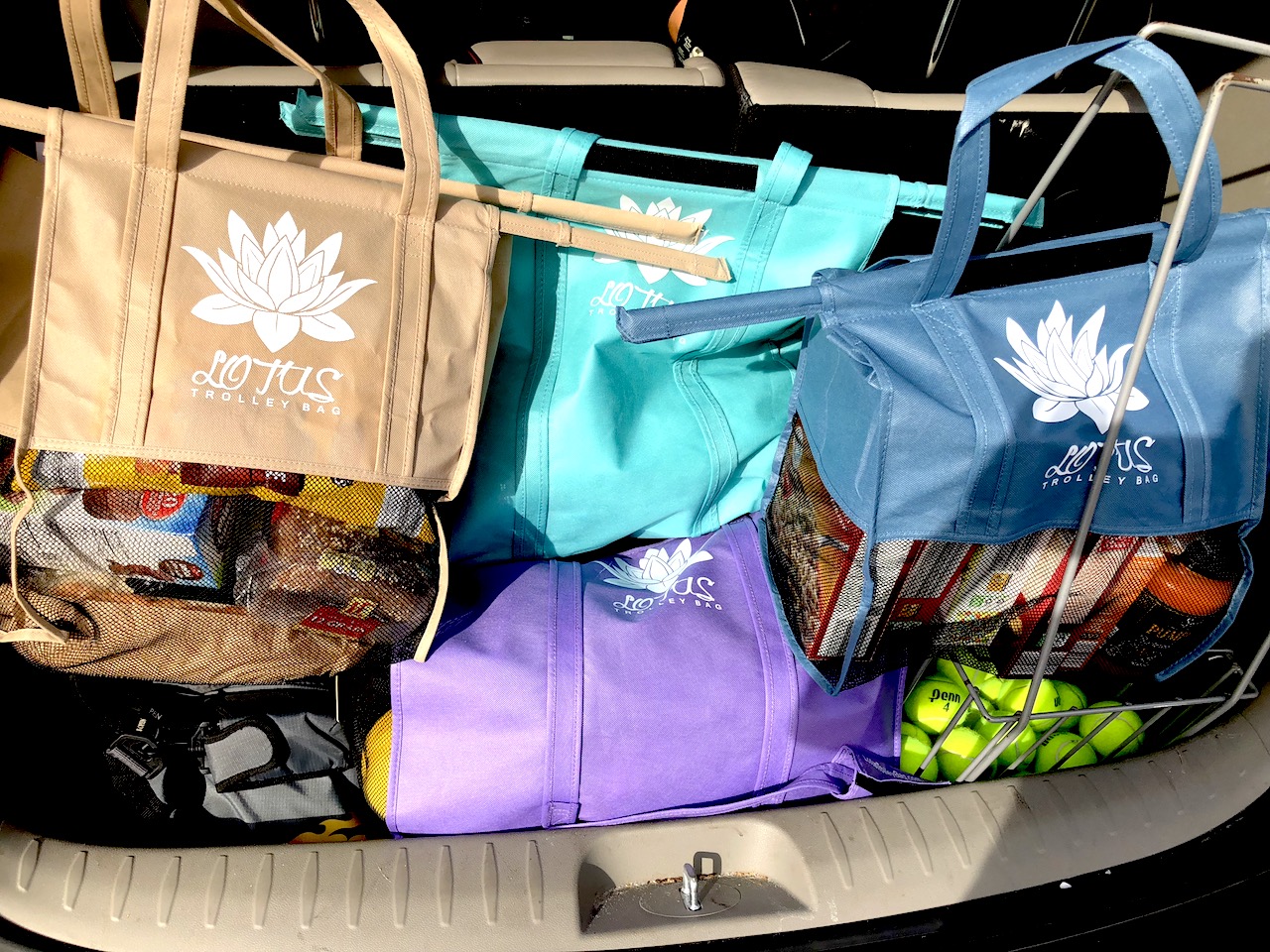 Having a clean car and removing the golf and tennis equipment prior to driving to the store is another goal for this year 🙂
---
Enjoyed the article? Pin it for later!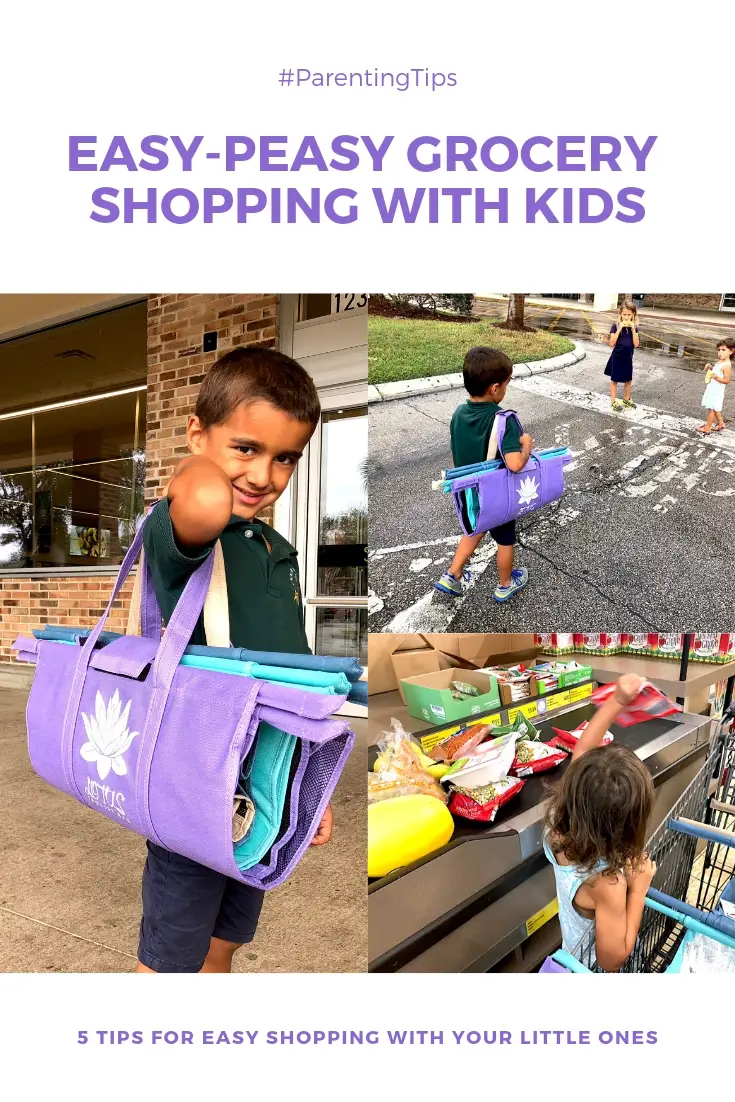 ---
Related articles you might enjoy: 
10 Meals for Kids Ready Under 10 Minutes
5 Tips for Living Your Perfect Unbalanced Life
How to Potty-Train Your Child in 2 Days
If you enjoy reading us, make sure to sign up for our newsletter!