Moving generally brings an array of feelings in people's lives. It is a mix of joy, fun, and excitement for the unknown. You are looking forward to new experiences, a new place, meeting new people, discovering new neighborhoods and activities, settling in a new home. But moving can also be a source of stress and conflicts. Whether you move alone, as a couple, or a family, everyone looses their marks and habits for a little while. The tiredness and stress can create tension. You and your partner might have a different idea of what the move should look like.
When we move, I like to work through the night and put in long and tiring hours to have a home as soon as possible. My husband prefers to take his time to start enjoying the area before being totally moved in. I have the feeling that we are inefficient and will never be truly settled in with boxes all over the house and frames laying on the floor. We have moved many times together and every time, that timing issue gets me frustrated and worked up.
Moving internationally obviously adds a whole new dimension to the exercise. And to be honest, it stretches the spectrum on both sides. It is so much more exciting and fulfilling, but also much more tiring and trying on your family.
I will be giving you tips on how to make your international move with kids a success. Before I get there, this is what we did:
2012 move from Orlando, FL to Zurich, Switzerland: with an 8-week old baby
2013 move from Zurich, Switzerland to Munich, Germany: with a 16-month old daughter and 1-day old son (I mean it – we moved the day we left the hospital with our 13-hour old baby! All of the move preparation happened in my 9th month of pregnancy…)
2014 move to the other side of Munich, Germany after spending 9 months building a home: with a 2.5-year old, a 16-month old, and 4-month pregnant me…
2016 move from Munich, Germany to Orlando, FL: with a 4 year-old, a 2.5 year-old, and a 13-month old
We have moved within Orlando since then and handled a full house renovation…. but moving across countries is what I want to share with you. We have had our fair share of moves, with kids in all stages. And yes, I have packed boxes while breastfeeding and we have slept on mattresses on the ground, but I wouldn't change a thing for the amazing experiences we have lived. Those moves brought so much for our family and children. It also strengthened our bond as a couple and we know that life can pretty much throw anything at us today. We have gone through trying times and grew stronger!
1 – Pre-Move Preparation
Now that you have made the decision to move and booked your one-way tickets, start preparing for the move. If you have enough notice, start preparing about 2 months before leaving.
Unclutter
My first advice, is to get rid of as much as you can. If you are paying for your own move, you will be counting every inch of space in that container. Start selling things you don't use and don't need. Think about whether it would be cheaper to sell your old mattress and buy a new one vs. moving it and needing a bigger container, etc.
Also consider the size of the accommodation you are moving to. When we moved to Switzerland and packed our 2 medium-size couches, they did not even fit our Swiss living-room. It was a lot harder to sell them in Switzerland than it would have been in Florida!
As you look around for what will move with you, make sure you are aware of the electrical requirements of your destination. If moving to a county operating 220 volts (most of the world), you will need to purchase new appliances or invest into good electrical convertors. I typically move my less-used smaller devices such as my hair straightener since it has an integrated convertor. Bigger items like a kitchen mixer don't always have a convertor in them and you might not even be able to use them in the new country. Best is to try to sell it or leave it in storage if your move is temporary!
Wash everything!!
Life gets crazy with kids and I hope I am not the only one with a few unwashed clothes in my and the kids' closets 🙂 (please don't crush my dreams!!) My biggest learning from our very first transatlantic move is that, anything that is not perfectly clean, will get stained while on the ocean! I made the mistake once and never again. And it will take a ton of laundry loads… clean absolutely everything from clothing to linen, rugs, etc. Once you have cleaned it, pack it in a vacuumed bag and don't touch it until move day.
There is something about the marine air and metal container combination. Everything that was worn just once, even if perfectly clean for a second round, turns yellow. The kind of yellow that will never be white again…
Pack for in-transit time
This one is so easy to oversee in the midst of the chaos that just started… Depending on where you are moving to, it could be over a month until you get your things. Pack enough for everyone to live comfortable until then. If you are moving with small babies, you might need clothing in several sizes. Think about weather changes, books and toys the kids might need, personal hygiene (i.e., breastfeeding pump, changing mattress, baby bottles…), safety items (i.e., car seats, strollers, baby carriers…) etc. Have everything packed in suitcases and out of the way so the movers don't load them in the container!!
Language / culture prep
Believe me, there is nothing like showing a local that you are trying to blend in. Before moving, start learning some of the basic language. I have used apps like DuoLingo and Rosetta Stone to brush up on my German and it was very useful to show the Swiss and Germans my efforts to speak their language.
No matter the country you are moving to, if you have never lived there, buy a book to learn about the culture do's and don't's! I grew up in France and thought I knew about neighboring Switzerland. That couldn't have been further from the truth. We bought a book called Working and Living in Switzerland
. Not only was it a pretty light and funny read, but it taught us so much about the country and avoided us many faux-pas in our early days, as well as much less frustration since we knew what to expect!
2 – Packing Tips
Choose the moving solution that is right for you
Most international moves are financed by a company. In our case, we moved because we felt like moving. The only company-paid moved was our 2013 move from Switzerland to Germany. We organized all of the other moves on our own.
Get several quotes from moving companies. Based on how much you want to move, you can choose ocean containers of different sizes, or just a crate. If you are moving light, to a furnished home (more difficult with kids), you might be able to just ship a few luggages and save thousands of dollars that way.
Choose the moving package that is right for you
Since you likely have children moving with you, you will probably be needing at least a 30-foot ocean container. When you speak with the moving companies, pick the package that works for you.
I am all about saving. Our very first international move is also the LAST move I decided to pack on my own. Believe me, it is not worth the stress and work! If my experience can help just one of you not make this mistake, it will have been worth the hours of packing with a newborn!
If your finances allow, and at this point, you're probably not counting the extra $1,000 – let the movers pack your stuff, do the dis-assembly, and re-assembly! You won't only save time and your sanity, but dozens of plates and fragile items!
We now also pay the extra fee for unloading in our room of choice and unpacking. That way, on move-in day, the movers bring the boxes to the rooms we choose, unpack the big stuff, and remove debris! If you are moving to a European location for example, you will be more than thankful for not having to trash debris! In Switzerland for example, where the cost of trash is around 50 cents per kilo, you will probably be better off paying the unpacking / debris removal fee from your moving company! In Germany, where they pick up trash once every two weeks, it could take you months to get rid of everything!
Organize everything for easy un-packing
Get everything packed up is just half of the packing job. The other half awaits you at destination. The last thing you want, is opening boxes after boxes of random items. If I look at my living room right now, I see items that belong to each of my kids' bedrooms, the laundry room, the play area, and the living room itself.
When the packers come, have everything ordered exactly where they belong.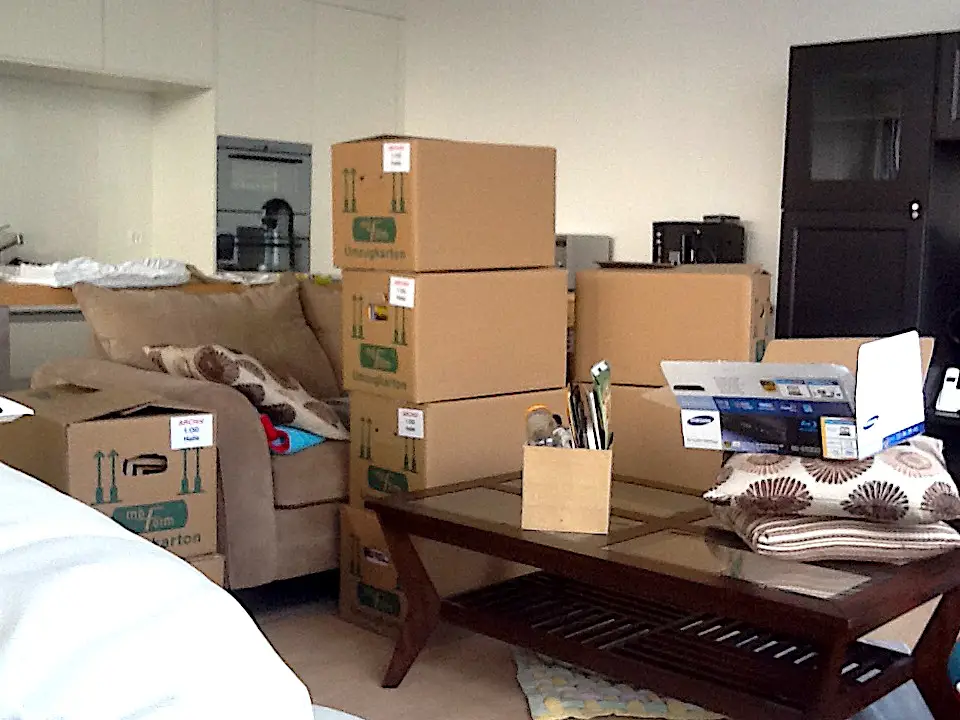 This is what I typically do:
Place everything that gets hung on the walls together. When you get to your new home, you will likely need to reorganize the frames anyways. They don't need to be packed by room since you really don't know what will go where. It is also nice to have them all packed together since they are likely the very last thing you'll need to unpack. Once you get to your destination, leave those boxes untouched until every thing else feels homey!
Put all toys together. Pack all Lego sets back into their boxes. Bring all children's books together. None of the toys / children arts & crafts / kids' activities are left in the kids' rooms. Put all of that together somewhere and let the movers pack them in "Kids' Toys" boxes
Gather all small items that fit in a category and group them all. I typically do this for the following kinds of items: candles, vases, sports items. That way, you will have a box waiting for you at destination with all of your candles. Instead of having a candle packed in each room's box! Much easier to unpack and re-distribute as best fits your new home
Ensure each room looks exactly the way it should look! Before the movers come, I clean my home as if my Mom was coming to visit 🙂 In other words, each room looks like a magazine. That way, movers come in, pack and label each room. When we get to our new residence, they unload in the given rooms and "all we need to do" is unpack and arrange everything in each room.
3 – Settling In
Congratulations, you have moved internationally, with kids. Take a minute to breathe and tap yourself on the back!
Connect with your kids
Remember that the stress and fatigue you are feeling is shared with your kids'. They might just not be able to articulate their feelings yet. They were just removed from everything they ever knew and transplanted into a foreign country they likely don't even speak the language of!
While you want the house to look perfect in order to start living a "normal" life again, make the time to pause and speak with your children. Understand how they feel. Are they finding it hard to make friends, and speak in class? Would they like for you to take them to the park where their schoolmates meet after school? Would they like to take language classes? Are they understanding what the teachers are expecting from them? Do they miss something from home and how can we fill that need? Etc. Your children have so many questions at all ages! It is important to be open and show them your vulnerability.
Join expat Facebook groups
This is my biggest one, even though I am a proponent of making friends with locals to integrate and live the best experience abroad. However, you will need your village… believe me. You will have questions and you will need the support of others who went through the same.
Each city has its Facebook group. Try things such as: Expats in XYZ, or Parents in XYZ. Introduce yourself and see if you can meet up with other parents for a coffee with kids. Share your experience and ask questions! There are no silly questions while abroad. Those groups will be a wealth of information for tips such as finding sports classes in town, public transportation questions, foreign taxes recommendations, etc. You will have endless questions and will find the expat community to be extremely tight-knit and supportive of one another!
Not on Facebook? Join expat websites such as InterNations or The Local. Register with your local embassy or consulate and join some of their events. 
The non-working spouse
My husband and I always both worked in foreign countries. I did start each of our stays however, on maternity leave, and had many expat friends who were the non-working spouse. The employee being moved usually has a much easier time settling in. They are in their work routine and meet people at work. The accompanying spouse often feels alone. S/he needs to make a home out of a house in a place she doesn't know nor understand. S/he usually deals with the kids' emotions while trying to understand her own.
It is important to find a support group quickly in order to make it through the initial phase of shock. Moving to a foreign country is no small task and the social and mental impacts should not be considered lightly. Make sure you connect with school parents and other expats (see next point). Getting involved with your kids can help you create a network quickly!
Explore
Now that you are in the country, explore the area around you and try to live as the locals do. In Finland, that might mean Sunday Sauna. In Germany, grab a sledge and have fun going down the village's hill. Do what the locals do and ask them questions. They love helping foreigners who show interest in their culture and region. I have never encountered someone who wasn't more than happy to help me. This is where your broken language comes in handy – they'll appreciate you trying to communicate in the local language. No worries, they'll likely answer back in English 😉
Find good local schools
This one is a very valuable advice for those who might end up spending more time in the country than originally planned. Many times, an expat's contract assumes that the employee will move back to his home country. For having worked with Global Mobility for a Fortune 100 company, we know that many employees will be over-qualified to ever move back to their country and are very likely to either become a local contract in their host country or keep on moving to different areas of the world.
If you are on an expat contract, it most likely pays for the kids' international school. Once your expat contract becomes a local contract, the $40K school year times 3 children could become a problem and you will need to move the kids to a new school.
If you ever feel like you might stay longer in a country, try to put your kids in a local school immediately. Not only will they be learning the language and make local friends, but they won't have to transition 2 or 3 years down the road when your company stops paying for their private education!
****
If you've made it that far, thank you so much! I know this was a lot of information at once, but moving internationally, with kids, is a big adventure. We have done it several times and loved it but there are things I wish I knew before moving!
If you have any questions at all, please be in touch. Either leave a note in the comments box below or connect via email at laura@frugalforluxury.com. I would love to be in touch!
Good luck to you with the move and Happy International Experience!! 
---
Enjoyed the article? Share it on social media and pin it for later: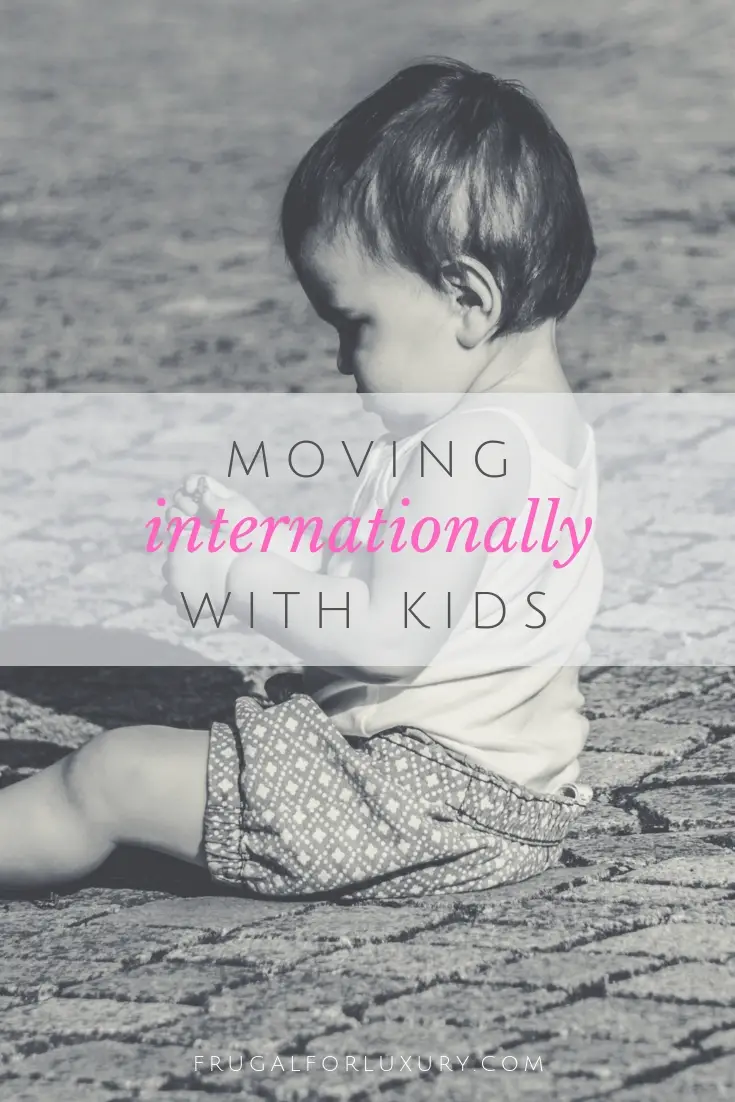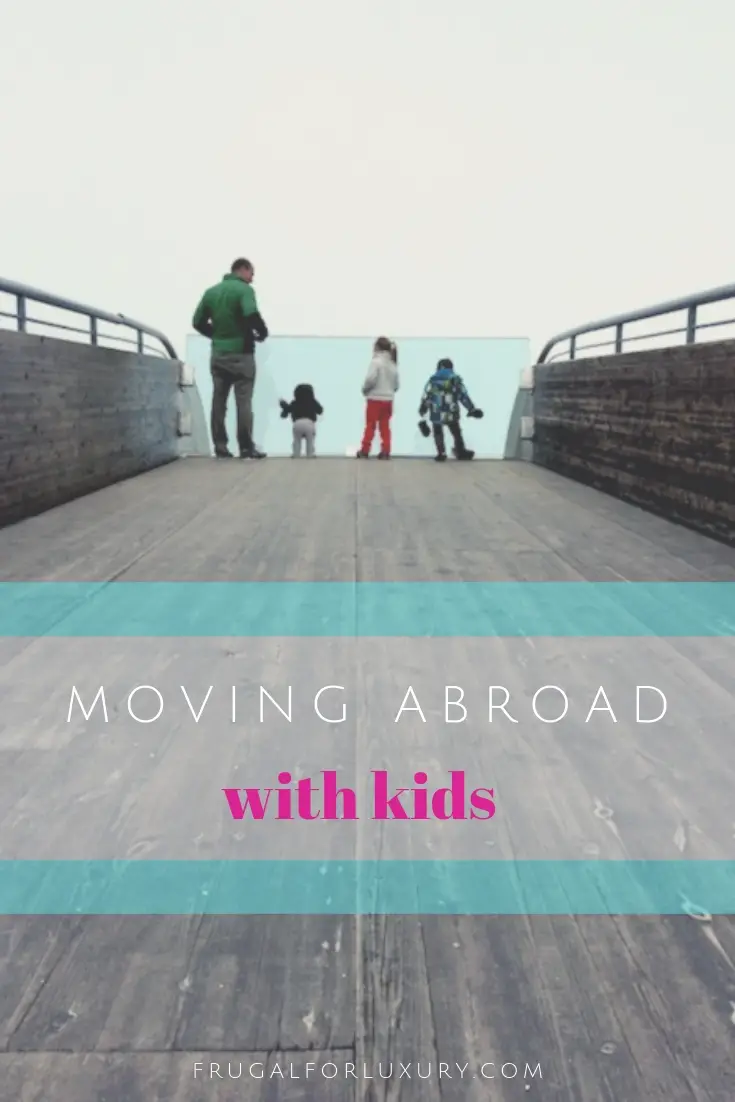 ---
Related articles you might enjoy:
Non-Stop Discount Flights to Europe – with Norwegian
Why NOW is the Best Time to Start Traveling with your Kids
3 Essentials to Keep Airports Cheap and Fun with Kids 
If you enjoy reading us, stay in the know by signing up for our newsletter!